The best 8K TVs have done what once seemed remarkably farfetched just a few years ago – made 8K resolution televisions seem like a reasonable investment.
Not too long ago, the best 8K televisions seemed entirely superfluous: an experiment by TV brands trying to push the limits of screen technology in service of some nice-sounding buzzwords. However, that's steadily changing, as the number of 8K TVs available to buy has almost tripled over the past year.
It's still undeniably fledgling tech, though, with little 8K content to peruse on even the best 8K TVs. Not to mention that current streaming bandwidths can't really cope with it, so having dedicated 8K hardware isn't a necessity by any means – but for those that can afford it, it offers a level of detail above even Ultra HD, and it sure is a sight to behold.
The best 8K TVs today genuinely do offer some of the most exciting and truly next-gen technologies on the market, and those with the capacity and budget for a larger screen will certainly get some benefit from all those added pixels (four times the number of pixels of 4K TVs). And even if you don't, it might not be too long before you can afford an 8K TV for yourself, as some models are beginning to launch at lower prices.
We of course have to mention the added goodies you'll usually find on high-end 8K sets, such as state-of-the-art processors, premium design, HDMI 2.1 support (great for the PS5 and Xbox Series X), and next-level audio systems. There's a reason you'll find 8K screens in the very best Samsung TVs.
The most important metric for an 8K TV upscaling capability – or even AI upscaling – which is the process used by the TV's chipset to showcase lower-res sources like HD or 4K on an 8K screen, utilizing its millions of pixels without sacrificing image quality.
Given the lack of native 8K content or 8K Blu-rays out there, the best 8K TVs today are going to be judged on their ability to upscale, so it's important to make sure your screen doesn't disappoint in that department – though you shouldn't have that problem with the 8K televisions we've listed here.
Best 8K TVs
Ushering in a new era in television technology, Samsung's Mini LED-sporting QN900A Neo QLED 8K TV offers stunning picture quality, exceptional color and brightness, terrific sound and outstanding blacks – all in a package that's unmatched in terms of design – making it a cinch for the best 8K TV today.
For the uninitiated, Samsung's 'Quantum' Mini LEDs are 1/40th the thickness of a regular light-emitting diode, meaning thousands of smaller LEDs can be packed together in a much tighter fashion, allowing for far more accurate dimming zones and black levels that are practically indistinguishable from an OLED to this reviewer's eyes.
Of course, that doesn't mean Samsung's Neo QLED is to able to produce lights and colors at the individual pixel-level like an OLED TV can, only that it does a comparable job when it comes to contrast.
Outside of its new lighting technology, the QN900A excels in terms of picture quality, with an astonishing 8K resolution display that does a brilliant job of upscaling 1080p and 4K content thanks to the AI-based 'Neo Quantum Processor 8K'.
The Samsung QN900A is a pricey television, as is to be expected from this year's flagship, but three sizes across 65-inch, 75-inch and 85-inch allow for some variation of budget – starting at $4,999 / £5,999 for the smallest size.
Read more: Samsung QN900A Neo QLED 8K TV review
The next-best 8K TV is here. As ever, Sony has put out a truly stylish, well-crafted television – the fact that it's 8K is just a bonus. The Z8H/ZH8 Master Series OLED exemplifies everything so good about Sony's debut 8K television, the Z9G/ZG9, but drastically drops the asking price. Whereas the previous model started at $13,000/£14,000, you can get a 75-inch size for the new model for a far lower $4,999/£4,999.
With 2,500 nits of brightness, HDR pictures look truly dazzling, and Sony's approach to backlighting means that the brightness is retained with peerless consistency, even while ensuring shadow detail isn't lost in the mix. Wrapping up a stellar all-round performance is some of the most detailed, powerful and clean sound we've heard from a built-in TV audio system yet.
You will find support for HDMI 2.1, albeit for only one port – rather scant provision compared to some other TV makers. However, the lack of VRR (variable refresh rate) and ALLM (auto low latency mode) at launch has since been fixed by an over-the-air update.
Samsung earns the top spot for its superior upscaling, and packing in more 8K-compatible inputs, but we wager you won't be disappointed with this alternative either.
Read more: Sony Z8H 8K TV review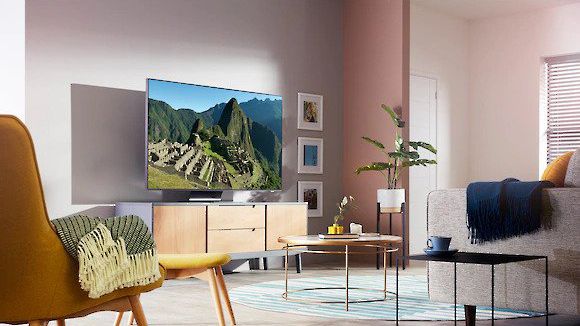 Samsung has carved the way for the best 8K TVs, nowhere more so than with the Q800T 8K QLED.
Samsung launched three different 8K QLEDs last year, rather than the single flagship in 2019, and it means 8K shoppers have some choice around how premium they really want to go.
You're still paying considerably for this 8K screen, but for a 65-inch size you're getting a sharp £1,000 saving over the 75-inch Q950TS – albeit by cutting a few corners.
It's not quite as eye-grabbing as Samsung's 'bezel-free' designs, but there's no denying the strength of the picture. Upscaling is still market-leading, and even HD sources look incredibly detailed on this 31 million-pixel display, even more so than on Samsung's 2019 models.
Black level performance, too, is surprisingly hard-hitting. You won't confuse the set for an OLED, but there are still very inky blacks on show – largely thanks to new Samsung tech that redistributes power between dimming zones to better control the amount of light coming through.
The Q800T also features OTS (Object Tracking Sound), and while it doesn't pack as many drivers as the Q950TS, it's still a knockout audio experience – and one of the best 8K TVs you can buy.
You can technically get a Q700T model in the UK and Europe that's a smidge cheaper, but not in the US – and as Samsung isn't forthcoming with a review unit, we're assuming a bit less confidence in the step-down model.
Read more: Samsung Q800T 8K QLED TV review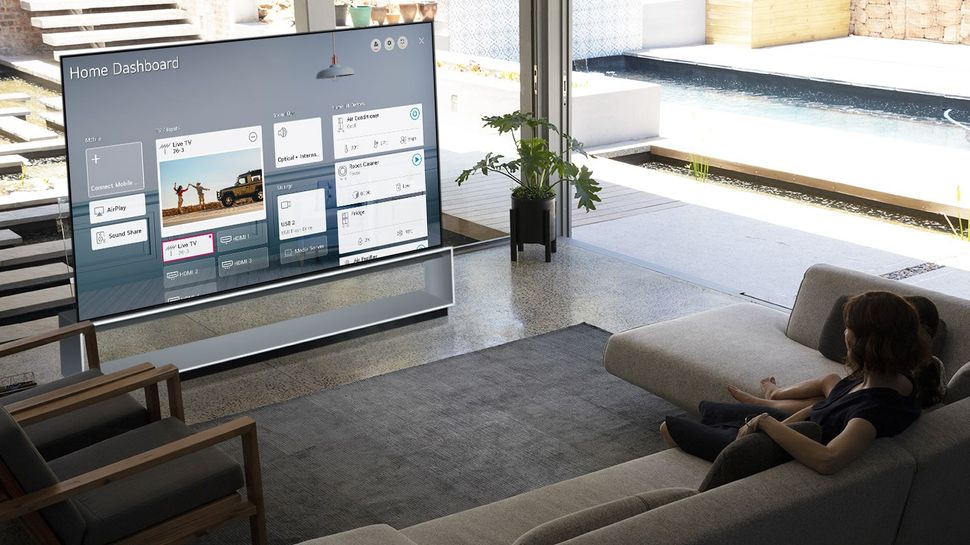 8K resolution on an OLED TV? So far, only LG is really doing it (aside from the very premium BeoVision Harmony, which will set you back an even larger amount of cash).
Bringing these two premium technologies together is nothing short of a marvel, and we can attest to the brilliant picture quality, OLED-level colors and crisp contrast – with a wide soundstage that puts the audio output on an even keel with this exceptional 8K panel.
It's a shame that LG doesn't rank higher in this list, but the combination of a massive price tag and its restrictive size options temper our excitement somewhat. LG is leaning more towards 8K models these days, but the overlap between its 8K and OLED ranges is still pretty limited.
2020's LG ZX OLED does improve matters, adding a cheaper 77-inch size ($12,999 / £12,999) alongside an 88-inch model ($19,999 / £19,999), whereas the previous LG Z9 only had the latter options. You can read our review of the LG Z9 OLED to get a sense of what's on offer, or have a look at prices for the more recent ZX model below.
8K TV FAQ
8K TV FAQ: quick questions answered
What resolution is 8K? 8K resolution measures 7,680 x 4,320 pixels, for a total of 33 million pixels.
Is 8K better than 4K? 8K displays have four times the number of pixels, making for a huge jump up in detail from 4K displays. However, there's little native 8K content available, and truly low-resolution video needs very capable processing to look, well, normal on an 8K screen.
What's native 8K? 'Native' 8K is video that's filmed in 8K, and formatted to be watched on an 8K screen.
Can you get 8K OLED TVs? Yes: the LG OLED Z9. Check out OLED TV vs 8K TV guide too.
Who makes 8K TVs? In 2020, Samsung and LG will both release three 8K models, while Sony, Hisense, TCL, and Panasonic are also in the mix. Everybody's doing it!
Are 8K TVs expensive? Oh, yes. But prices will drop as time goes on.
How big are 8K TVs? 8K displays aren't really worth it without a screen big enough to see all those pixels at work: the smallest you'll find is the 55-inch Samsung Q950R QLED.
Can the human eye even see 8K? Technically, yes, but you'll need to sit closer to the screen than with 4K to see the difference (via Stari).
8K TV price
8K TV price: is the cost worth it?
You'll generally paying something of a price premium for an 8K TV, of course. It's still a far more premium technology than 4K, and therefore sits at the top of TV ranges for the likes of Samsung – who is making it increasingly hard not to opt for 8K if you're after a top-dollar screen with the best processing, picture and audio around.
On the whole, you're not just paying for 8K resolution, then – you're also paying for all the other, high-end technologies that get bundled in.
For a value purchase, we have to recommend a 4K TV, given that 8K screens still aren't necessary in the same way, and will be most attractive for those who like to be early adopters, want a particularly large screen in their home, or only really plan on watching high-res content wherever possible.
8K is worth the price, but only if you have it – and you can get a truly astonishing 4K TV for a decent amount less.
Do I need 8K OLED?
Do I need an 8K OLED TV?
Trying to figure out if you need an 8K OLED TV, or just a TV with one of those technologies?
While there aren't many 8K OLED TVs about just yet, they're still hovering around the market here and there, if just for the LG Z Series listed above and 88-inch BeoVision Harmony we reported on last year.
The thing about 8K resolution and an OLED panel is that they both bring very distinct advantages to the table – and some may be more important to you than others.
If you're after an astonishing level of detail on a massive screen, 8K resolution is a must. Though we must remember that you don't really get the benefit of 8K at smaller sizes, meaning you need a large 77-inch / 88-inch screen or be sat somewhat close to one of the best 65-inch TVs to see the difference compared to a 4K model. (A 55-inch 8K TV just isn't really worth it.)
OLED TVs, on the other hand, excel at deep blacks and bright highlights – something that's hard to recreate with LCD technology, but is increasingly possible with Mini LED backlights. You'll generally find realistic and vivid colors, and brightness control that banishes blooming or halo effects around light sources.
If you only want one of those technology's benefits, then it doesn't make much sense to opt for both, given the increased cost.
However, these days, it's hard to get the very latest processing and highest specification anywhere except at the top of a TV maker's range. Samsung is now saving its best processors for its 8K models, meaning even its best 4K TV can't compete in terms of specs.
Additional resources