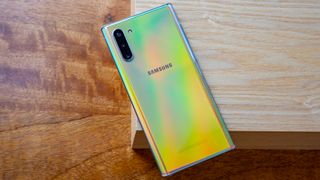 9. Samsung Galaxy Note 10
A smaller phone with a stylus
Release date: August 2019 | Weight: 168g | Dimensions: 151 x 71.8 x 7.9mm | OS: Android 9 | Screen size: 6.3-inch | Resolution: 1080 x 2280 | CPU: Exynos 9825 / Snapdragon 855 | RAM: 8GB | Storage: 256GB | Battery: 3,500mAh | Rear camera: 12MP + 12MP + 16MP | Front camera: 10MP
Easier to hold
Strong video recording
Lacks microSD support
No headphone jack
Yeah, that's right - Samsung now offers two versions of its S Pen-toting Note range, and this one comes with a lower spec than the one you've read about earlier in this list.
The Galaxy Note 10 is better for those with smaller hands, thanks to its much smaller display and smaller dimensions, but the battery life suffers a little for that.
Screen: This may be a Samsung Galaxy Note handset, but the display isn't anywhere near as big as you'd expect. It's a 6.3-inch display with an Infinity-O cutout for the selfie camera.
Battery life: The battery is where the Galaxy Note 10 begins to suffer a little as we found it regularly ran out before the end of a full day, but it's enough for average usage.
Camera: The rear camera of the Galaxy Note 10 is similar to all other flagship Samsung phones released in 2019, and it's good but not the best we've seen on a smartphone.
Mini verdict: The Galaxy Note 10 isn't as high-spec as the Galaxy Note 10 Plus, but if you want a stylus on a smaller phone than the gargantuan Plus then you may want to opt for this.
Read our full Samsung Galaxy Note 10 review
Price comparison: The best Samsung Galaxy Note 10 deals