Thinking of insuring your phone?
If you've just bought one of the best phones in Australia, some of which cost up to AU$2,000, you may want to consider insuring it against damage or theft. You can protect against those scenarios with good contents insurance – to compare contents insurance in Australia, head to our sister site Mozo.com.au.
Here at TechRadar, we check out almost every phone under the sun, putting the ones that matter through our vigorous testing process to create our in-depth mobile phone reviews.
However, with so many to choose from, we've spent hours whittling them down to a top ten, taking into account power, specs, design and value for money. And we'll always point you in the direction of the latest handsets – after all, nobody wants to be carting around a phone that doesn't get any updates in a year's time, right?
So whether it's one of the best Android phones, the latest iPhone or one from a range of other cool manufacturers, we've extensively tested them all so you don't have to!
Here are our rankings for the best phones that are currently available in Australia in 2021. Simply click on the phone you read more about.
Best phones at a glance:
1. Samsung Galaxy S21 Ultra
2. Samsung Galaxy Note 20 / Note 20 Ultra
3. Samsung Galaxy S21 / S21 Plus
4. iPhone 12 / iPhone 12 mini
5. Google Pixel 5
6. iPhone 12 Pro / iPhone 12 Pro Max
7. Samsung Galaxy S20 Ultra
8. Samsung Galaxy Note 10 Plus
9. iPhone 11
10. Samsung Galaxy S20 Fan Edition
Image 1 of 4
Image 2 of 4
Image 3 of 4
Image 4 of 4
We think the S21 Ultra is a fantastic choice for you with one of the best camera suites on a smartphone, phenomenal power, great battery life, a solid design and a whole host of other great features.
Screen: The Samsung Galaxy S21 Ultra features a top 6.8-inch screen with a 120Hz adaptive refresh rate and a QHD+ resolution (and, unlike last year's models, this display can do both simultaneously). Those who like flatter screens will also be happy to know that Samsung has reduced the curve on the glass that adorns Galaxy S21 Ultra's face.
Battery life: The Samsung S21 Ultra's 5,000mAh battery is solid, and we found it'd often see us through a whole day from a full charge. If you're playing around with the 120Hz refresh rate, battery life is likely to drain faster, especially if you're an avid gamer. That said, it's still a top choice if you're after a long lasting phone.
Please note that the Samsung Galaxy S21 Ultra does not come with a charger in the box, so you'll have to use your existing one or buy one separately.
Camera: Samsung's 108MP camera on the Galaxy S21 Ultra is going to be the highlight for many, and the camera doesn't disappoint on this phone. Like its predecessor, you can take 100x zoom photography, but it's far improved here over the Galaxy S20 Ultra with two telephoto cameras working in tandem to do the heavy lifting. You also have a neat new feature in Director's View, which allows you to record video on the rear and front cameras simultaneously – perfect for vlogging.
Mini verdict: The Galaxy S21 Ultra isn't a cheap handset, sporting with a pricetag that's costlier than any competing Android flagship, but if you're looking for the ultimate smartphone experience in 2021 you will be hard pressed to do better than this latest from Samsung.
Read our full review: Samsung Galaxy S21 Ultra
See the best Samsung Galaxy S21 Ultra telco plans
See the best Samsung Galaxy S21 Ultra outright deals
Image 1 of 6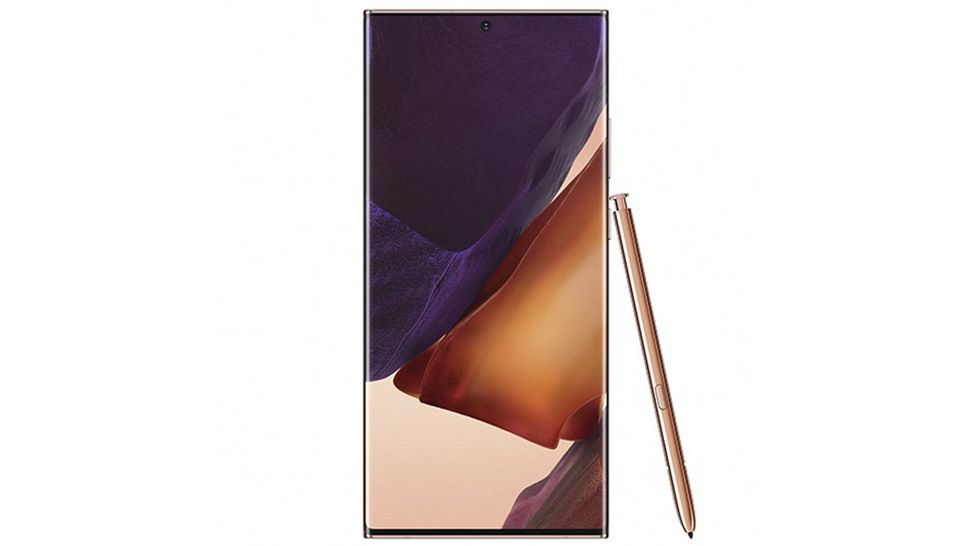 Image 2 of 6
Image 3 of 6
Image 4 of 6
Image 5 of 6
Image 6 of 6
Much like it's done each year prior to this one, Samsung's latest Galaxy Note range expands upon the advancements first laid out by the S-series lineup that arrived several months earlier, while also improving on that groundwork by adding a few tricks of its own.
In a move that makes the Note 20 series much easier to follow from a consumer standpoint, Samsung is mercifully offering only two model types this year: Galaxy Note 20 and Galaxy Note 20 Ultra (so long, Plus model).
Being the top-tier phones that they are, each phone is packed to the brim with a number of class-leading features. That said, the Galaxy Note 20 range's pricing certainly reflects their premium nature, starting at AU$1,499 for the 4G-only Note 20 with 256GB of onboard storage, all the way up to AU$2,199 for the 512GB model Note 20 Ultra with 5G support.
Clearly, the Galaxy Note 20 range is not cheap, but buyers can rest assured that their hard-earned dollars are getting the best that money can buy when it comes to smartphone technology in 2020 – particularly in the case of the sublime Note 20 Ultra.
Screen: Samsung's Note range is known for consistently upping the ante when it comes to smartphone AMOLED displays, and it has done so once again with the utterly glorious screen boasted by the Galaxy Note 20 Ultra.
Unlike the Galaxy 20 Ultra that released earlier in the year, Galaxy Note 20 sports an adaptive 120Hz display, meaning it's able to automatically raise and lower its frame rate in an effort to conserve battery.
Chances are you won't even notice when its refresh rate does drop down, as general UI navigation is buttery smooth most of the time. Unfortunately, the regular Note 20 misses out on the 120Hz display, with Samsung opting for a less-impressive 60Hz refresh rate on the handset's FHD+ screen.
It's also worth noting that both handsets have majorly improved on last year's models in terms of S Pen latency, making the scribbling experience near indistinguishable from writing on actual paper.
Battery Life: In terms of battery life, the Note 20 range gets a significant increase in capacity over the S20 range. We get a 4,300mAh battery on the Galaxy Note 20 and 4,500mAh on the Galaxy Note 20 Ultra. Combine the latter with the Ultra's new adaptive display feature, and you should easily get to the end of your day with juice to spare.
Camera: Although each handset offers near-identical functionality and firmware (resolution and refresh rate options aside), there are some significant differences between the two phones, particularly when it comes to their cameras.
For starters, the Note 20 Ultra predictably receives the lion's share of camera advancements this year, including a 108MP primary sensor, and a periscope lens that's capable of 50x hybrid zoom. Meanwhile, the standard Note 20 offers a 12MP wide lens, a 64MP telephoto lens and a 12MP ultrawide lens, along with hybrid zoom up to 30x.
On paper, that's clearly a step down from the 100x zoom offered by the S20 Ultra, however, we'd argue that the ability to take blurry photos from hundreds of metres away isn't all that necessary to begin with.
The Note 20 range also excels at video capture, offering 8K recording at 24fps in either 16:9 or 21:9 aspect ratios, which will hopefully inspire a new generation of indie filmmakers. Additionally, Samsung has included a wealth of pro video features, such as the ability to switch between front, rear and omni-directional audio recording, along with support for Bluetooth and USB microphones.
If we were to mark down the handsets' cameras for anything, it would be the incredible chunkiness of its camera bump itself, which makes it impossible to lay each phone down flat without an equally-thick case. It's true that the standard Note 20's camera bump is slimmer than its Ultra equivalent, however, the trade-off is a significant downgrade in camera functionality.
Mini verdict: Samsung has done it once again, delivering a pair of magnificent pro-level smartphones that lead the pack in a number of important areas. From its brilliant 120Hz display to its fantastic video recording options, the Samsung Galaxy Note 20 Ultra is the smartphone to beat in 2020. Likewise, Samsung's standard Galaxy Note 20 an exceptional phone at a price point that will make it far more approachable for many people.
Read the hands on review: Samsung Galaxy Note 20
Read the full review: Samsung Galaxy Note 20 Ultra
Image 1 of 2
Image 2 of 2
The Samsung Galaxy S21 and Galaxy S21 Plus aren't the height of spec and prowess as their predecessors used to be – the Samsung Galaxy S20 used to sit at the top of this list – and instead Samsung's Ultra handsets are now taking the limelight. But its strength is in its value: the S21 is a powerful phone that's more affordable than some of its competitors.
Screen: Much has been said about Samsung's switch to Full HD for the Galaxy S21's display, but in our testing we didn't notice the knock down in resolution much unless we were testing the phone side by side with a QHD display. With a 120Hz refresh rate and great brightness, the Galaxy S21's screen will satisfy many. Looking for that larger screen? You'll get it with the S21 Plus.
Battery life: The battery life on the Samsung Galaxy S21 will last you a full day from a single charge, and its 4,000mAh cell means you'll get a lot of usage out of the handset without having to recharge the phone. The battery on the S21 Plus is even better with a 4,800mAh cell inside.
Camera: The Galaxy S21's camera is much the same as the Galaxy S20, but a few software tweaks have been included from Samsung that make it just that touch better. Overall, this isn't as phenomenal as the Galaxy S21 Ultra but for most just wanting to shoot the odd snap, this will suit you perfectly.
Mini verdict: The Samsung Galaxy S21 will be the perfect smartphone for many with its great mix of solid spec, a great design and the fact it's cheaper than the Galaxy S21 Ultra as well as its predecessors. If you own the Samsung Galaxy S20 we wouldn't recommend buying this, but for others this will be the perfect smartphone. If you're looking for a larger screen and a better battery, opt for the very similar but slightly more expensive Plus model.
Read the full review: Samsung Galaxy S21
Read the full review: Samsung Galaxy S21 Plus
See the best Samsung Galaxy S21 telco plans
See the best Samsung Galaxy S21 Plus telco plans
See the best Samsung Galaxy S21 outright deals
See the best Samsung Galaxy S21 Plus outright deals
Image 1 of 1
The iPhone 12 or iPhone 12 mini aren't technically superior to the iPhone 12 Pro series, but both are priced so well (for iPhones) and each has most of the key features you'll won't need much else from an Apple device. The iPhone 12 takes the place of the iPhone 11 with the same 6.1-inch screen, but a few new features like MagSafe. Then there's the new iPhone 12 mini, which is similar but comes in a smaller package.
It's not as good of a value as Samsung's top-ranked handset, but the iPhone 12 is the best iPhone for most people simply because it costs $799. That's not quite as cheap as the iPhone 11 was at launch, but it is more affordable than the iPhone 12 Pro, which starts at $1,000 and goes up. And, unlike the iPhone SE 2020, which we praise for being a good value later, you're getting most of the features found on the Pro-level handsets like the camera's stunning Night Mode.
Screen: The 6.1-inch screen is the same size as the display on the iPhone 12 Pro, fitting in between the iPhone 12 mini and 12 Pro Max sizes, making it an appealing choice if you want a large screen, but not the biggest. If you want the smaller version, it has a 5.4-inch screen. For the first year, the more 'affordable' flagship also gets an OLED screen, which is a big perk. It's a brilliant-looking phone, if you don't mind the notch.
Battery life: These iPhones can deliver all-day battery life, and it's slightly better than the iPhone 11 battery, which we thought was stellar last year. What are you going to be missing? The pricier iPhone 12 Pro series does last a bit longer, but given no phones come with faster chargers this year, you'll have to shell out for Apple's fast charger unit just like the Pro owners.
Camera: This is close to the best iPhone camera, with both a 12MP main camera and a 12MP ultra-wide camera to cram more into the frame. It's missing the triple-lens camera on the Pro models, which adds in a telephoto lens, but you're getting the two essential cameras from that pairing, and it includes a long exposure night mode that will automatically brighten up dark photos.
Read our iPhone 12 review and iPhone 12 mini review
See the best iPhone 12 telco plans
See the best iPhone 12 outright deals
Image 1 of 4
Image 2 of 4
Image 3 of 4
Image 4 of 4
Google's fifth entry into its Pixel series has bucked a number of trends in the flagship smartphone market – it loses some of its predecessor's features, comes in a single configuration, and costs less than a grand – and we applaud its focus.
Screen & Design: All Pixel handsets to date have been known for their large top and bottom bezels (for better and worse), but the Pixel 5 opts instead for the more edgeless design that we're used to on modern handsets. This allows for its gorgeous 6-inch display to all-but fill the face of the phone, making way only for a punch hole selfie camera.
Part of the reason it was able to do away with the top bezel in particular is that Google has moved away from its motion-sensing Project Soli capacities. This means that you'll lose the Pixel 4 face unlocking (replaced with a fingerprint scanner) and the motion gestural control, but we're frankly not phased by either of these dropped features.
Despite having a larger display than its predecessors, its loss of bezels allows for the phone's size to become much friendlier on the pocket and for one-handed operation. Not only does the Pixel 5 fit nicely in the hand, but it also feels great, with the rear and sides being constructed from a singular, textured piece of aluminium rather than glass.
While there's no headphone jack, the IP68 weather resistance rating offsets this loss, and coupled with the durable metal frame makes for a great, rugged phone for everyday use.
The aforementioned display hasn't got the highest resolution or refresh rate on the market, weighing in at 1080 x 2340 and 90Hz, but the OLED HDR10+ panel still makes for gorgeous viewing and smooth operation while managing to stay incredibly power efficient.
Performance: Along with a display that isn't necessarily cutting edge, the Snapdragon 765G isn't the top-spec model either. Both of these traits are the clearest indications that this isn't an XL or Plus model of handset, but they're more than capable enough for the vast majority of users.
The chipset is designed with an integrated 5G modem, helping it to be more power efficient and (obviously) giving it access to the 5G network. With this efficiency along with a more modest screen specification, the Pixel 5's 4,080mAh battery will comfortably last a day of heavy use, and can easily squeeze out two full days if you need it to.
The cleanliness of the stock Android 11 experience out of the box, as well as the integration with Google Assistant makes for a seamless user experience in almost all daily tasks, although if you're buying a phone purely for movie marathons or intensive gaming, look elsewhere.
Camera: Google has become renowned in the industry for its capacity to produce incredible photos and video from phone camera hardware that doesn't impress too much on paper, and that's certainly the case here.
The telephoto lens of the Pixel 4 series has been dropped, but the ultrawide lens that replaces it is arguably much more useful for the average user hoping to capture group shots, landscapes and generally wider scenes.
Mini verdict: Google has managed to condense the most important core features of a smartphone and offer it up in a compact, rugged unit for an incredibly reasonable price. While it's obvious that power users will be looking elsewhere, for the masses that have been paying too much for phones with features that exceed their needs, the Pixel 5 is the perfect antidote.
Read the full review: Google Pixel 5
See the best Google Pixel 5 telco plans
See the best Google Pixel 5 outright deals
Image 1 of 2
Image 2 of 2
The iPhone 12 Pro takes everything great about the iPhone 12 and elevates it. Then there's the iPhone 12 Pro Max that offers better battery life and a slightly more powerful camera as well as a huge screen. The extra for the iPhone 12 Pro may not be worth the notable price hike up to $999 to everyone, but this phone pairing is undeniably the best Apple has released yet.
The iPhone 12 Pro and iPhone 12 Pro Max are the most powerful iPhones to date, and they're also the company's priciest. While the same amount of money could buy you a Samsung phone with a bigger screen and more storage at the base level, most iOS users don't want to deal with Android. Instead, they can look forward to a few key upgrades over the iPhone 11 Pro, like 5G and MagSafe for clipping on accessories (as well as wireless chargers) easily and securely.
Screen: Apple's 6.1-inch OLED screen on the iPhone 12 Pro really grabbed our attention – it's fantastic for video streaming and gaming, even if it's set to 60Hz while other phones are pushing 90Hz and even 120Hz refresh rates. Yes, the notch cut out at the top is still here, but we find it to be easy to ignore after a while, even as other phones do just fine with punch-holes in displays.
Battery life: This is some of the best battery life we've ever experienced on an iPhone, with further optimizations within iOS and a larger cell inside the phone itself. It's still not game-changing, but it's better than other Apple handsets and the iPhone 12 Pro Max is particularly notable.
Camera: The triple camera setup on the iPhone 12 Pro is fantastic. While the three rear cameras aren't too different than the ones in the iPhone 11 Pro, save for the added LiDar sensor that supposedly enables portrait mode-style shots even in Night Mode. The iPhone 12 Pro Max is the one to go for though if you want the very best camera on an Apple device.
Read our iPhone 12 Pro review and iPhone 12 Pro Max review
See the best iPhone 12 Pro telco plans
See the best iPhone 12 Pro outright deals
Image 1 of 5
Image 2 of 5
Image 3 of 5
Image 4 of 5
Image 5 of 5
The Galaxy S20 Ultra is, indeed, ultra – billed as the ultimate Samsung phone thanks to top-of-the-line specs on paper. It's an evolution of the max-specced Samsung Galaxy S10 5G from last year, though the Ultra's execution isn't the best – particularly when it comes to the device's chunky frame and enormous camera bump, leading to a sense of overkill on Samsung's part.
Screen & Design: The 6.9-inch Infinity-O AMOLED screen is the sharpest we've seen, coming in at a whopping 3200 x 1440 resolution (WQHD+) given the model's slim bezels and the narrowest punch-hole we've ever seen. We love that its maximum refresh rate has been bumped up to 120Hz, though it's a shame the resolution must be lowered to FHD+ in order to use it. That said, it's hard to fault the S20 Ultra's 240Hz touch sensor upgrade, resulting incredibly fast touch response times. Once again, the phone retains an in-screen fingerprint sensor, leaving the phone's back unblemished.
In terms of its design, the S20 Ultra is somewhat of an acquired taste. Following on from last year's sleek and gorgeous Note 10 Plus, the S20 Ultra feels quite bulky in the hand – especially once you place it in the included silicone clear case. Its camera bump is also so large that the phone will rock slightly when placed on its back. Another thing worth mentioning: the S20 Ultra almost completely does away with the curved glass screen that's been a mainstay in Samsung's flagship phone range since the Galaxy S6 Edge, resulting in a much flatter display. This design decision will likely please some people, but is sure to disappoint others.
Battery life: The Galaxy S20 Ultra has a massive 5,000mAh battery, which should help with the drains from the phone's 120Hz and 5G connectivity, along with whatever Wireless PowerSharing and mundane binging or gaming you're doing. It should last you a day or more, though we still haven't hit the two-day battery life threshold yet.
Camera: The massive 108MP main shooter allows you to crop into photos after the fact without as much distortion. However, the appeal is limited. Serious creatives with time on their hands may get use out of this feature more than most people. While there is a 16MP ultra-wide lens roughly akin to that from last year's phone, it's the zoom capabilities that take the cake. The 100x 'Space Zoom' is mostly for bragging rights, as photos at that zoom are muddied - but scan it back out to 30x zoom and it will blow other phones out of the water, especially since the competition typically maxes out at 10x. Here, see our massive S20 Ultra camera test for a deep dive.
Mini verdict: The S20 Ultra is truly cutting-edge, with up to 16GB of RAM, 5G capabilities, 8K video recording and compatibility with both mmWave and sub-6 networks. But you'll pay a premium for the privilege: the phone starts at AU$1,999, and while its camera's specs sound remarkable in writing, like the 108MP sensor, it doesn't always get exposure or autofocus right. Meanwhile, the phone's much-touted 100x 'Space Zoom' proves to be a completely unnecessary extravagance that only adds to its overall price (and the phone's thickness), leading us to recommend the S20 Plus over the S20 Ultra.
Read the full review: Samsung Galaxy S20 Ultra review
See the best Samsung Galaxy S20 Ultra telco plans
See the best Samsung Galaxy S20 Ultra outright deals