Calling all gamers - if you've been waiting for the price to drop on Razer Phone deals, then we have some very good news. We've been working with Three to bring TechRadar readers an exclusive discount on the dedicated gaming smartphone, which wowed us with its astonishing screen and speakers when it launched towards the end of last year.
For the next two weeks, you can get a £72 discount on Three's 30GB, 100GB and all-you-can-eat data deals. That's a huge whack of data to make the most of your Razer Phone while away from Wi-Fi. It brings the monthly price of the 30GB tariff under the £40-mark and only one pound a month more than what you'd pay for just 4GB. While the upfront cost is a very reasonable £49 and you get unlimited calls and texts as well.
Take a look at the three promotional deals below, or scroll further down the page for a summary of our full review of a smartphone that offers something different to the iPhones and Samsungs of this world.
Our exclusive Razer Phone deals from Three:
Razer Phone for £42 £39 per month with 30GB data
This is definitely the Razer Phone deal that we'd go for right now. 30GB really is a massive amount of data to play with, and this discount means that it's only £1 extra per month than Three's 4GB tariff. Excellent value.
View Deal
Razer Phone for £46 £43 per month with 100GB data
If you know that your Netflix, Spotify and online gaming habits are going to surpass a 30GB data allowance, then the extra £3 a month you'll pay for 100GB makes perfect sense. To put it in context, it's £800+ cheaper than the equivalent iPhone X tariff!
View Deal
Razer Phone for £50 £47 per month with all-you-can-eat data
Are you an absolute data demon, or just somebody who doesn't want to spend their time constantly checking how much allowance you've used? Either way, there's an exclusive discount on Three's all-you-can-eat data tariff.
View Deal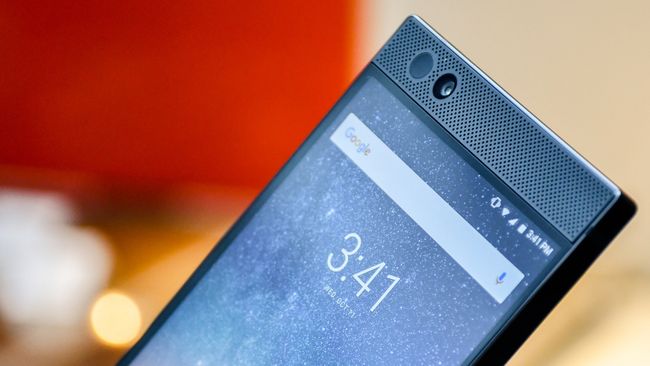 Razer Phone review in brief
A gaming smartphone with super speakers
Screen size: 5.7-inch | Resolution: 2560 x 1440 | Rear camera: 12MP dual | Weight: 197g | OS: Android 7.1.1 Nougat | RAM: 8GB | Storage: 64GB | Battery: 4000mAh
Ideal screen for gamers
Incredible speakers
Plenty of power under the hood
Camera isn't great (but has improved)
From underdog video game peripheral company, to market challenging mobile phone manufacturer - the last few years has been a heady ascent for Razer. It has produced a unique and innovative device that genuinely stands out from the usual smartphone suspects.
That phenomenal 5.7-inch screen is the highlight, with its 2560 x 1440 pixels and 120Hz refresh-rate screen. And the dual-amplified stereo speakers are head and shoulders above what any other phone can offer in 2018. It may still be a fairly niche market when it comes to mobiles, but the Razer Phone is the gadget for you if you love playing games on the go.
Read TechRadar's full Razer Phone review