If you're in the hunt for a brand spanking new Samsung phone but have just seen our predicted Galaxy S8 Note's price, then we think you're going to be very happy with the exclusive deal we've managed to bag from Mobiles.co.uk.
Enter the code TR25OFFS8 at the checkout when you go through to buy, and you'll get the superb Samsung Galaxy S8 for £29 per month and £75 upfront. Trust us when we say that that's the cheapest price around on the S8 right now - well less than £800 over the course of the two year contract.
And you aren't even palmed off with the bare minimum of data - you'll get a 3GB allowance a month, which is a lot of songs to Stream on Spotify, destinations to find on Google Maps and video messages to send on WhatsApp. It's a brilliant Galaxy S8 deal.
Our exclusive Samsung Galaxy S8 deal
Samsung Galaxy S8 | O2 | £100 £75 upfront | 3GB data | Unlimited minutes and texts | £29pm
It's very simple – if you're looking to pick up the Galaxy S8 on contract and want to pay as little as possible, then this is the deal to go for! You'll be on O2, which means you also have access to the networks's Priority rewards for cheap lunches and first dibs on gig tickets. And as well as unlimited texts and calls, you get a respectable 3GB of data. Don't forget to use the TR25OFFS8 code to bag your £25 discount. Total cost over 24 months is £771
Discount code: TR25OFFS8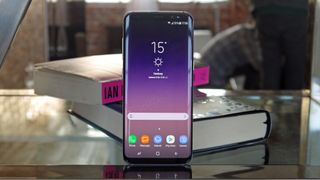 Samsung Galaxy S8 review
The Galaxy S8 is a brilliant phone - another success for Samsung
Screen size: 5.8-inches | Resolution: 1440 x 2560 | Rear camera: 12MP | Weight: 155g | OS: Android 7 | RAM: 4GB | Storage: 64GB | External storage: microSD up to 256GB | Battery: 3600mAh
Amazing, large display
Huge power
Great camera
Irritating biometric unlocking
With its latest flagship Galaxy S8, Samsung is getting nearer and nearer to smartphone perfection. The bezel-less design is something a little bit special in an area of tech that can sometimes feel like it's standing still. There are advancements with the splendid screen and fantastic 12MP camera, too. An excellent phone - and now under £800 for the two years with our exclusive discount.
Mobiles.co.uk NODRAMA10 discount
Mobiles.co.uk is part of the more well-known Carphone Warehouse group. It's been around for more than two decades and has been named 'best online retailer' at the last two Mobile Choice Awards.
Luckily, it's also often the cheapest place to get the best phones. And it's handing some brilliant exclusives TechRadar's way. As well as the above S8 deal, you can also currently get the following two deals with our discount codes:
What's more, this summer it's knocking off a tenner from all upfront handsets prices (except on the Galaxy S8, S8+ and its £22.99 iPhone 7 tariff) if you enter the code NODRAMA10 at the checkout.