The best Wi-Fi 6 routers are the next-generation devices in router connectivity. Wi-Fi 6 is fast becoming the standard in wireless technology, and a lot of newer devices now support and use this next-generation technology. And, if you want to take advantage, only a Wi-Fi 6-capable router will do.
Make the most of Wi-Fi 6 technology with the best wireless router. You'll need a powerful one that will be more than capable of meeting your demands, especially if you have an overcrowded network.
These days, middling internet speeds are inexcusable, especially with all the smartphones, tablets, Ultrabooks, and smart home devices we use at home or in the office. With a reliable and robust Wi-Fi 6 or even Wi-Fi 6E router, your internet signal will experience a boost in speed, which will not mean faster internet but a stronger, uninterrupted signal to every device and computer connected to your network.
We've tested our share of routers, putting them through their paces to help you find the perfect one to cover your space. And, we've gathered our top choices here, including some of the best mesh Wi-Fi routers that are perfect for larger spaces.
The best Wi-Fi 6 routers 2022
Why you can trust TechRadar Our expert reviewers spend hours testing and comparing products and services so you can choose the best for you. Find out more about how we test.
The Linksys Hydra Pro 6 is an affordable Wi-Fi 6 router that is ideal for regular users who aren't quick tech-savvy. It isn't the most robust option on the market, but it provides strong Wi-Fi performance and good coverage to satisfy the average household. During testing, it allowed us to achieve the maximum 100Mbps available from our broadband service, and up to 12.5MB/s downloads from Steam.
Better yet, it's incredibly easy to setup, thanks in large part to the basic Linksys app that automatically creates a single network that combines the 2.4GHz and 5.0GHz bands and provides an overview of all the connected devices.
Because it is more stripped down, there aren't a lot of extra frills or customizations to enjoy here. However, its affordable price more than makes up for that. Besides, most households do not require those anyway.
Read the full Linksys Hydra Pro 6 review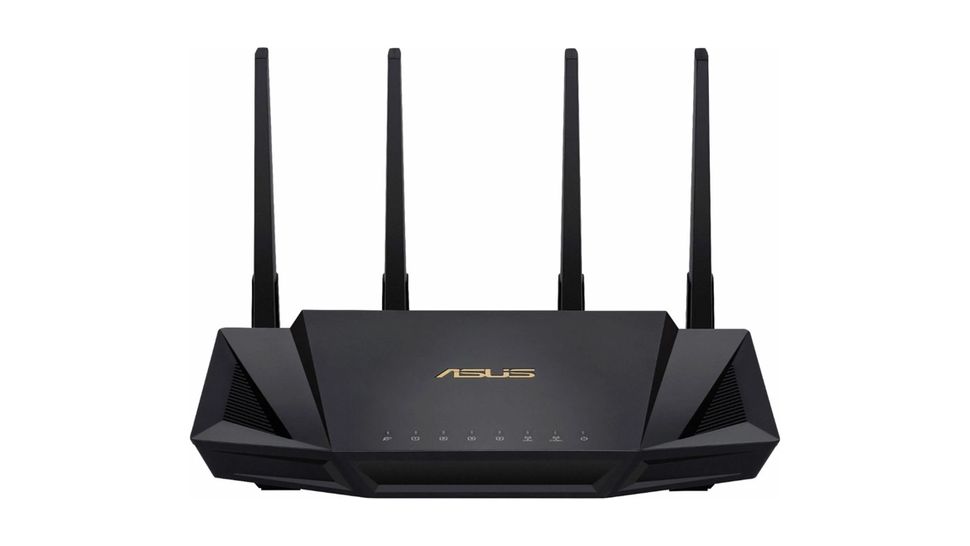 There are some excellent Wi-Fi 6 routers coming to market. Unfortunately, quite a few are just way too much for most homes, not to mention too expensive.
Enter the Asus RT-AX58U. It brings Wi-Fi 6 into your home at a fantastic price, with just enough features to keep most small to medium home networks at the top of their game. So while it might not have the port selection or gaming features that it's big brother, the RT-AX86U, has, it does offer the same parental controls as well as excellent Wi-Fi 6 support.
Read the full Asus RT-AX58U review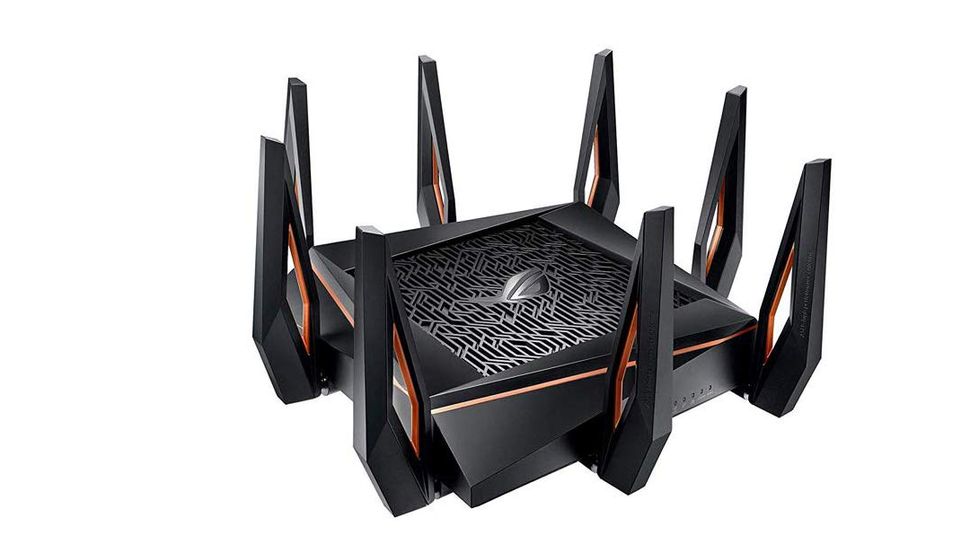 Sometimes running ethernet cable just isn't an option. In fact, if you're a gamer, it can actually be disastrous. You can count on the Asus ROG Rapture GT-AX11000 to help ease your pain. With 8 antennas, MU-MIMO and options to prioritize gaming traffic, this router can help reduce the latency that makes gaming via Wi-Fi a pain.
This router has the same great, easy-to-use interface as the RT-AX88U, but only has 5+1 LAN ports. One of those LAN ports is a 2.5 Gbps line, however, which is great for connecting a NAS or other device that needs a lot of available bandwidth on demand.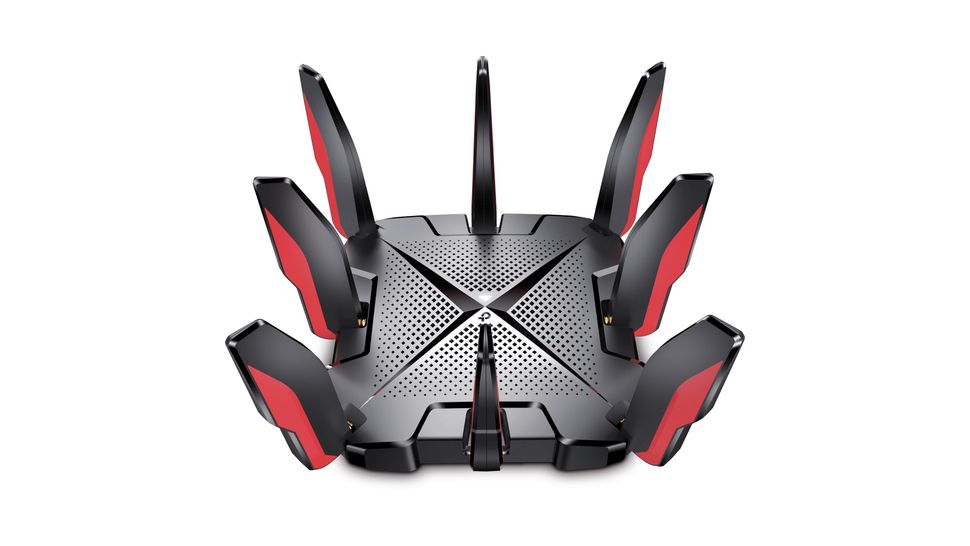 There may be a few things you might not like about the TP-Link Archer GX90. It's big, it's bulky, and it's expensive. However, those are easy to forgive when you realize that you're getting a big bang for your buck.
This is among the best Wi-Fi 6 routers out there, boasting a handful of features for hard-core gamers. That includes a dedicated 5GHz 'gaming band' that lets you hog most of your household bandwidth when you need it. Have younger gamers at home? It also provides good parental controls like content filters to block unsuitable material, with pre-set profiles for children of different ages.
Read the full TP-Link Archer GX90 review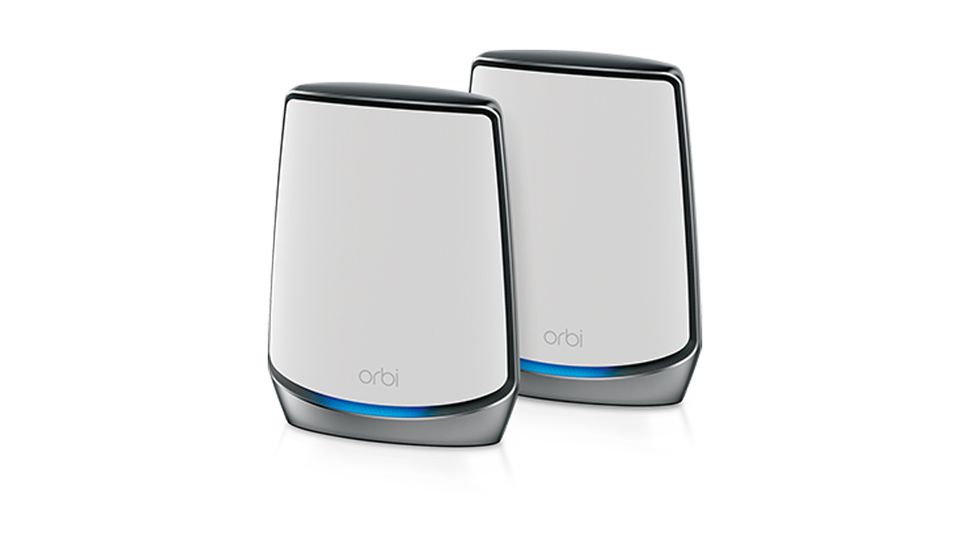 If you're ready to jump on the Wi-Fi 6 bandwagon, the Orbi WiFi 6 is your best bet when it comes to getting the best Wi-Fi 6 routers. That's especially if you need a mesh Wi-Fi system.
It's not by any means a casual purchase, with its steep price tag, but if you're looking to upgrade to a faster and more reliable router to cover a massive space – like your countryside mansion, perhaps, or your crowded smart home – then this one's absolutely worth the money. Plus, it's easy and straightforward to setup, making it great for people who don't have too much experience with Wi-Fi networks.
Read the full Netgear Orbi WiFi 6 router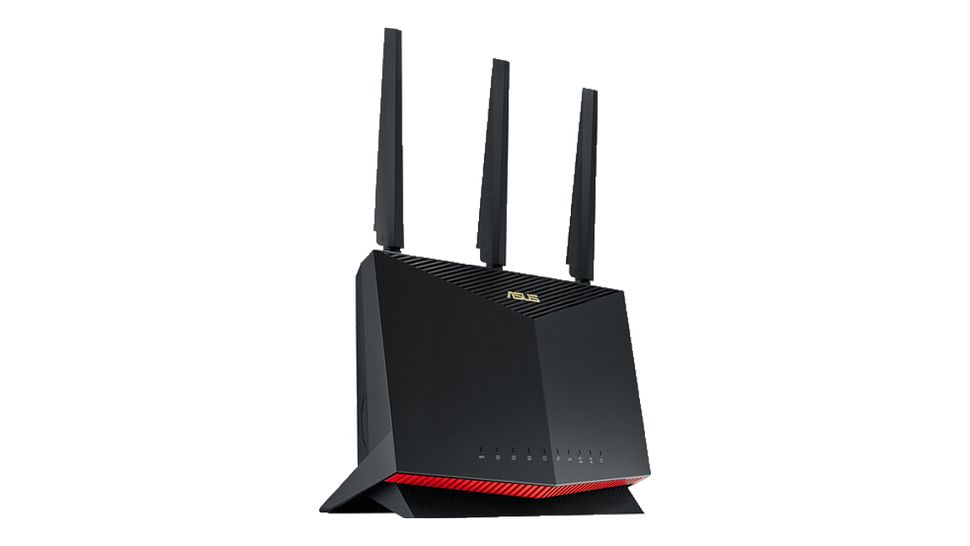 Asus has a winner on its hands with the Asus RT-AX86U. Not only does the company continue with its tradition of excellent gaming-centric devices but it has also introduced one of the more affordable Wi-Fi 6 routers out there, even if it's still a bit pricey compared to most routers on the market.
The device comes with some great features if you're a gamer including assigning an ethernet port as a dedicated "gaming" port, a 2.5 Gigabit Wan port, and NVIDIA GeForce Now Cloud Gaming Optimization. It also comes with some other useful features such as robust parental controls.
Read the full Asus RT-AX86U review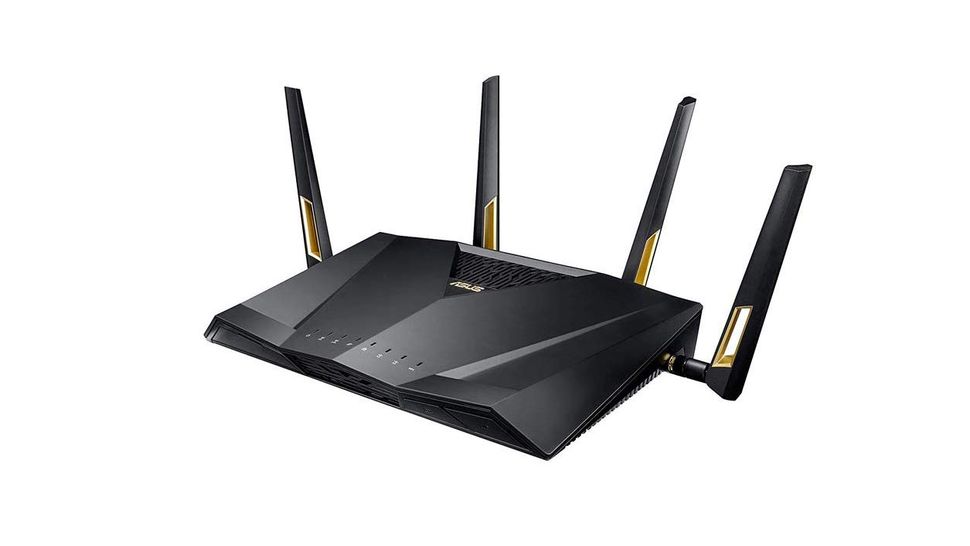 The Asus RT-AX88U has all the bells and whistles that you could want out of a router, including Wi-Fi 6 compatibility. And, it's because it offers so much while resting on the lower end of the current Wi-Fi 6 router price range that makes it our favorite on our list. One advantage of this router over others on the list is the 8 LAN ports. At twice the amount the most other routers carry, the RT-AX88U can save you from having to buy an ethernet switch. Couple that with the excellent web interface and gamer-friendly features, and you have one of the best Wi-Fi 6 routers available right now.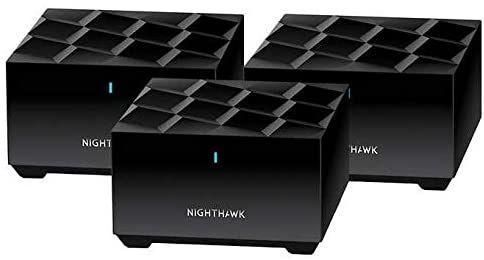 Larger homes need more robust solutions, and while the Netgear Nighthawk MK63 might be an overkill for smaller homes, it's just the ticket if you have a space of up to 3500 sq.ft and need an extremely reliable network for gaming and 4K video.
There are some neat features you're getting here as well, including the ability to create a guest network and a network map for monitoring all devices connected to your network. There are no parental controls, however, and as long as you can live with that and the high price tag, this might be the best Wi-Fi 6 router for you.
Read the full Netgear Nighthawk MK63 review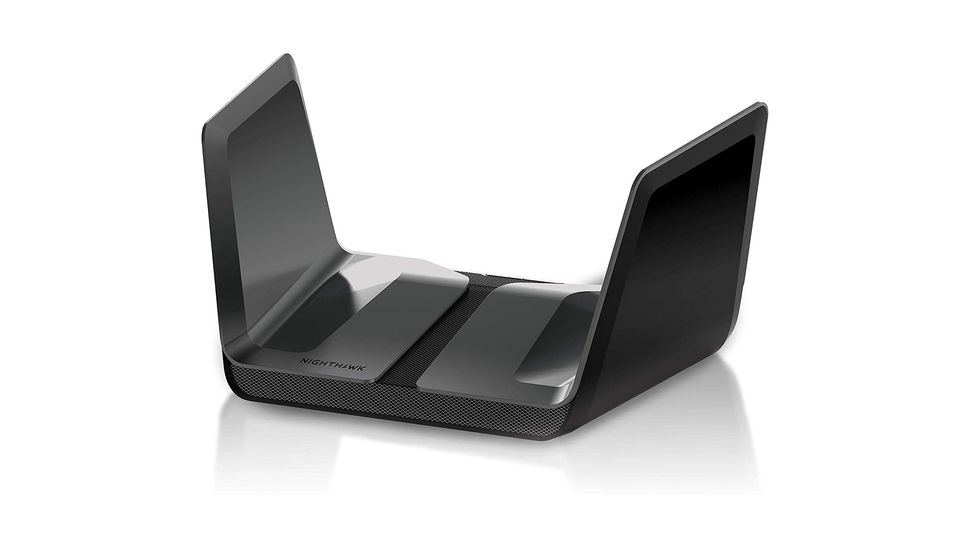 Netgear's Nighthawk routers have always come highly recommended, and the Wi-Fi 6 models don't fall from the tree. This is another Wi-Fi 6 router that ticks a lot of boxes when it comes to features, and surprisingly is on the cheaper side of the market. The one thing that made the RT-AX88U beat out the AX8 is the fact that it only has 5+1 LAN Gigabit LAN ports. Otherwise, this router is an excellent affordable alternative for ASUS's model.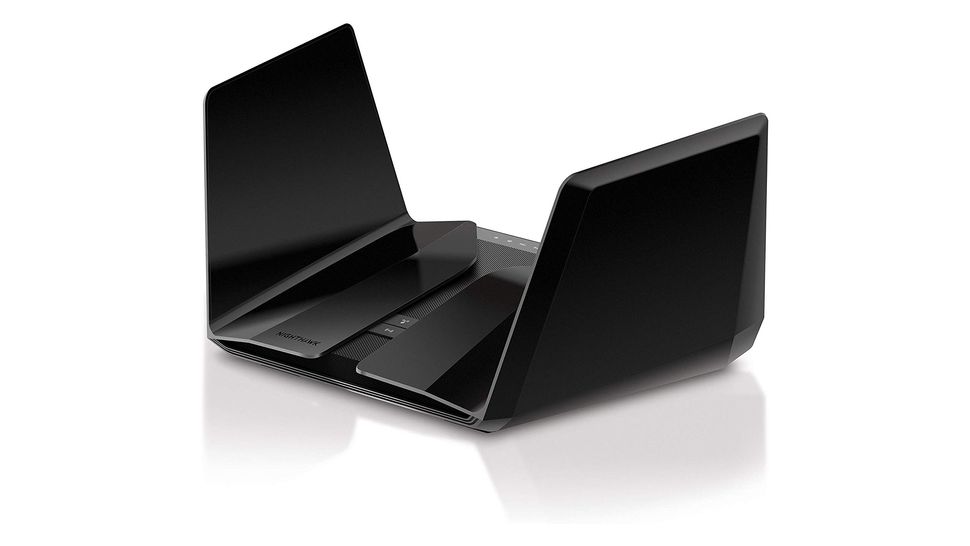 The Nighthawk AX12 is Netgear's analog answer to the Asus ROG Rapture GT-AX11000, and as such it a great alternative. Inside the Batwing-looking appendages on the side are eight antennas, which delivers increased range and high-performance even when multiple devices are connected. If you have a device that needs high bandwidth on demand, this is an excellent router for you. One of the 5+1 LAN connections is a 5 Gigabit port, which once again, is great if you have a NAS.
Should I buy a Wi-Fi 6 router?
Operating over 2.4GHz and 5GHz frequency bands, Wi-Fi 6 delivers a faster connection and much better performance than its predecessor. Upgrading to a Wi-Fi 6 router, therefore, will give your network a significant boost.
That isn't all Wi-Fi 6 does, however. Besides that uptick in speed, Wi-Fi 6 routers also offer better support for crowded environments – that means networks to which several PCs, mobile devices, smart home devices, and Internet of Things are connected. They are much better equipped to handle multi-device households, offices, and other areas, which – let's face it – are most spaces these days.
This means that a Wi-Fi 6 router allows for larger amounts of data to be transferred all at once without worrying about overwhelming your network and experiencing slowdowns.
Still, even if your network isn't congested with devices and traffic, it's still a wise choice to buy a Wi-Fi 6 router. More and more devices are coming out with Wi-Fi 6 support, and you'll have to get one just to stay up to speed.
How we test Wi-Fi 6 routers
Because Wi-Fi 6 is a new wireless technology, we have to do things a bit differently. Still, doing so is very similar to testing non-Wi-Fi 6 routers, and we take it just as seriously as we do the other.
We take a look at the design first, naturally. We make sure that there are enough ports for wired connectivity, see just how easy (or hard) initial setup is, and check that the overall look doesn't turn off the target market.
Because some Wi-Fi 6 routers are mesh routers, we determine whether or not they have the type of aesthetic that will blend well into any space. Having several routers spread around your home or office, after all, isn't exactly something to easily miss.
We then move on to performance. We check the range and strength of coverage, perform the usual Ookla speed and file download tests, and of course, test them against real-world scenarios like having multiple devices connected at once.
We then take all that information we've collected from each router we test and set it against the price to determine whether or not the router is a great value to consumers. That's when we finally decide whether or not it's worth our recommendation.