In the past couple of months, the Samsung Galaxy S8 has become a safe haven to those Samsung fans needing something a little more budget. Galaxy S10 deals and the S10 Plus are now available to buy but are somewhat pricey, even the new budget S10e deals aren't too cheap yet. And while Samsung Galaxy S9 deals have dropped dramatically in price, they still don't quite touch the realms of budget.
But with some impressively low prices, we can always rely on the S8. Your best option used to be on Vodafone but it now seems that the providers are splitting the duties, with great deals ranging from EE to Three.
So if you're looking for a cheap Samsung device, our price comparison below lists all the current cheapest prices of Samsung's still-brilliant 2017 flagship phone. The Samsung Galaxy S8 still remains one of Samsung's greatest releases despite finding itself 5 phones behind. Here you can find, filter and compare the best Samsung Galaxy S8 deals currently available in the UK.
Underneath the price comparison, you'll find our editors' selections for all of the best value S8 deals currently available from the major networks, EE, O2, Vodafone and Three.
Filter and compare Samsung Galaxy S8 deals available in the UK: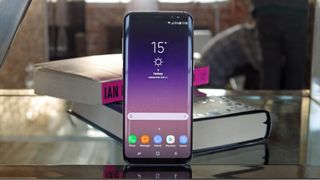 With the Galaxy S8, Samsung is getting nearer and nearer to smartphone perfection - so much so that the Galaxy S9 barely seems to have improved on it. The bezel-less design is something a little bit special in an area of tech that can sometimes feel like it's standing still. There are advancements with the splendid screen and fantastic 12MP camera, too.
Read TechRadar's full Samsung Galaxy S8 review