Image 1 of 5
Image 2 of 5
Image 3 of 5
Image 4 of 5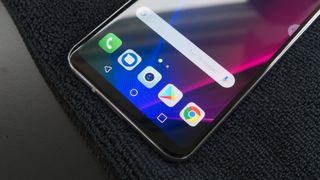 Image 5 of 5
7. LG V30
An impressive combination of power and performance
Release date: September 2017 | Weight: 158g | Dimensions: 151.7 x 75.4 x 7.3mm | OS: Android 7 | Screen size: 6.0-inch | Resolution: 1440 x 2880 | CPU: Snapdragon 835 | RAM: 4GB | Storage: 64/128GB | Battery: 3300mAh | Rear camera: 16MP+16MP | Front camera: 5MP
Streamlined design
Excellent audio performance
Low-light photography not great
If you're looking for a powerful phone that packs everything that's good about the Android world, look no further than the LG V30.
The LG G6 is a fine device, but the V30 is the sleek, refined and powerful version of that phone. It's got the most powerful processor around, a great camera and delivers one of the best sonic performances from a phone on the market right now, thanks to the dedicated Quad DAC inside.
This means the LG V30 is a great phone to pick up if you value great-sounding tunes, and want a well-made phone into the bargain. Yes, the price is high, but the combination of features justifies that to a compelling degree.
If you're after a phone that's not from the 'Big Two', we'd recommend this one as a close second to the Google Pixel.
How good is the camera?
Image 1 of 4
Image 2 of 4
Image 3 of 4
Image 4 of 4
Also consider: The Samsung Galaxy Note 8 is a similar device in terms of both power and cost, while you get a slightly better camera and the use of the S Pen; however the V30 probably just edges it for audio performance.