Over the past few years, Amazon has become home to some truly awesome TV shows (The Tick! The Exapnse!). But although competition is heating up in the online streaming space from the likes of Disney+, Netflix is still our all time favourite streaming platform – at least for now.
This is especially the case when it comes to the best TV shows on offer. That's because it consistently offers a huge range of TV shows, including exclusives you won't get anywhere else, originals created by Netflix, as well as lots of classic seasons and old favourites as well.
However, with such a wide selection of shows to choose from, it can be tricky to work on which is the best Netflix series to watch, especially because the platform is always being updated with shows both old and new on a weekly, and sometimes daily, basis.
We've put together this guide to the best Netflix shows that you can watch in the UK right now – and so you can keep up-to-date with Netflix's busy release schedule, which we'll be updating you on once a week.
There's a great selection of new shows to watch on Netflix right now, including the second season of The Chilling Adventures of Sabrina, which is even stronger, darker and spookier than the first, star-studded US TV show Easy about modern-day love and sex, the David Attenborough-narrated Our Planet to geek out about nature in front of, new foodie series Street Food to tuck into, supernatural series Chambers, starring Uma Thurman.
Netflix is now also home to Lucifer, the police comedy-drama based on the Neil Gaiman character by the same name from the Sandman.
May Netflix Updates
At the end of April, Netflix lifted the lid on Chambers, a supernatural series starring Uma Thurman about a heart attack survivor who tries to find more about her heart donor.
We also welcomed Street Food, a new foodie series from the creators of the excellent Chef's Table.
On May 24, Renee Zellweger will star in What/If a thriller drama that, according to Netflix, focuses on "the ripple effects of what happens when acceptable people start doing unacceptable things." Intrigued? So are we.
In movie news this week there are new flicks to suit all tastes. We've got Stanley Kubrick's Spartacus, Shaun of the Dead for a big helping of comedy and The Girl With All The Gifts and Snowpiercer, for sci-fi thrillers. Check out the best movies on Netflix UK for more excellent film choices.
Image credit: Netflix
Then there's a lot to look forward to later in the year too. The third season of GLOW will land at some point in June 2019, fans of Stranger Things will be happy to hear that Netflix has now confirmed the highly-anticipated third season will arrive on July 4 2019, as well as When They See Us, the hard-hitting new drama miniseries from Ava DuVernay.
More details have also been revealed about The Witcher TV show. The Netflix adaptation of The Witcher game and book will be released before the end of 2019, the company has now confirmed.
Netflix has also released the highly-anticipated trailer for Black Mirror Season 5, which will land exclusively on the platform on June 5, 2019.
In other Netflix news, the streaming platform has now amassed an enormous 139 million subscribers, more than the populations of Tokyo, Delhi, Shanghai, Sao Paolo, and Mumbai combined.
But will it continue its long reign as the best streaming platform for much longer?
Now that Apple has released its own streaming service, Apple TV Plus, and Disney's offering, Disney+ is coming soon, competition is mounting.
What's coming soon on Netflix?
One of the best things about Netflix is it manages to cater for every taste. From gritty true crime and thrillers through to fantasy, space adventures and plenty of cartoons and fun for kids. We can't guarantee it, but we're pretty sure there's something for everyone.
Let's not forget that a lot of the best Netflix series right now are originals that have been created by the Netflix team and the studios behind them. In short, Netflix is really on a roll.
Here's some of the brilliant Netflix UK shows you can expect in 2019: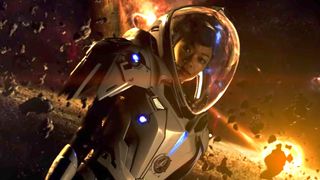 Netflix UK FAQ: quick questions answered
How much does Netflix cost in the UK? There are a few different plans you can choose from in the UK, depending on whether you want to watch in SD, HD, or Ultra HD (4K), and how many separate devices you want to watch on. The current pricing is as follows:
Basic– £5.99 per month – With the cheapest membership option, you can watch one one screen at a time in Standard Definition, and download videos to one mobile device.
Standard – £7.99 per month – This membership allows you to watch in HD on two screens at a time and download videos to two mobile devices.
Premium – £9.99 per month – The most expensive subscription allows you to watch in HD and Ultra HD on four screens at a time, and download videos to four mobile devices.
Netflix says that "High Definition (HD) and Ultra High Definition (Ultra HD) availability subject to your internet service and device capabilities and not all content [is] available in HD or Ultra HD."
How can I get a free Netflix account? Netflix offers new customers a free month of the service as a trial period – simply choose a membership type and payment plan and your first month will be free.
At the end of this period, if you choose to continue watching Netflix, you'll be charged one "low monthly fee" regardless of how much you used the service and on how many devices you watched videos on.
Netflix will send you a reminder towards the end of your trial period – if you want to cancel your membership, you can do so at any time during this period and you won't be charged.
Can I watch live TV on Netflix? No – you can only watch films and TV series from Netflix's rather extensive library. If you want to watch live TV in the UK, you can try services like Sky's Now TV, BBC iPlayer, or ITV Hub.
Is Amazon Prime better than Netflix? The answer to that question really depends on the shows and movies you want to watch. Check out our roundup of the best Amazon Prime Video TV Shows for an idea of what you can watch on Amazon Prime. You can also read our Amazon Prime review for more information on what the service offers.
Do you get Netflix free with Sky Q? Netflix can be accessed on a Sky Q box, but it doesn't come for free – you'll still need to sign in with a paid-for Netflix subscription. However, if you opt for Sky's Ultimate on Demand package, it will integrate Netflix billing with your Sky bill, while reducing its cost and unlocking Netflix recommendations within the Sky Q interface. If you're paying for both services, it's well worth combining them in this way as a result.