Los nuevos MacBook Pro con pantallas mini LED pueden revolucionar los laptop
Apple puede iniciar una nueva revolución en el mercado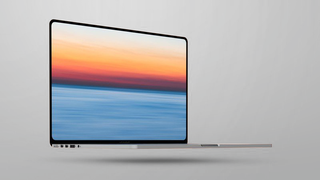 (Image credit: MacRumors)
Los dos próximos modelos de MacBook Pro — el MacBook Pro de 14 pulgadas y el MacBook Pro de 16 pulgadas (2021) — pueden usar paneles mini LED y un chipset M1X (o M2) más potente. Según fuentes de la industria, su lanzamiento oficial podría estar a la vuelta de la esquina.
El respetado analista Ming-Chi Kuo — una de esas fuentes — cree que la participación de Apple en la producción de mini LED podría tener un efecto dominó en la industria, impulsando la adopción de esta tecnología para convertirla en un estándar de la industria.
"Creemos que son los MacBooks, y no los iPads, los que mueven los envíos de mini paneles LED", dice Kuo (según informa MacRumors). "Los envíos de MacBook no han crecido mucho en los últimos años. Sin embargo, esperamos que crezcan significativamente en un 20% año a año, o más, en 2021 y 2022, debido a la adopción de los mini paneles LED, el chip Apple Silicon y diseños totalmente nuevos."
Kuo es el mismo analista que afirma que el próximo MacBook Air vendrá en una gama de colores como el iMac 2021. También se prevé que tenga una pantalla mini LED.
No lo sabremos con seguridad hasta finales de 2022, ya que parece probable que los anuncios de los productos Macbook Pro y MacBook Air se realicen en algún momento del tercer trimestre. Antes, según Bloomberg, hay previstos varios eventos para lanzar nuevos productos de varias líneas de la familia Apple, como el iPhone 13 y un iPad mini rediseñado.
---
Análisis: no es probable
Es comprensible que la gente quiera tener mini pantallas LED en los productos Mac por la atracción que ejerce todo lo "nuevo y brillante". Pero quizás hay que mirar con escepticismo que esta tecnología se convierta en un estándar de la industria.
La razón es que la gama de productos de Apple suele considerarse más lujosa que asequible. La gente que suele poder permitirse un MacBook Pro o un iPad Pro quizás pueda asumir el coste adicional de una tecnología de pantalla cara. Pero un usuario típico de Chromebook o un estudiante que necesite un dispositivo de trabajo barato no podrá enfrentarse a un coste así.
Por eso es muy poco probable que las pantallas mini LED u OLED se conviertan en un estándar a corto plazo, aunque Kuo cree que el interés de Apple por esta tecnología ayudará a reducir los costes de fabricación y a aumentar la oferta. No quiero decir que no vaya a ocurrir nunca, pero ahora es difícil.
Por otra parte, las pantallas OLED y mini LED existen desde hace años en forma de televisores los productos siguen siendo tremendamente caros. Apple tiene mucha influencia en el mercado de la tecnología, sí, pero que una tecnología así venga de serie en los portátiles dentro de un par de años parece algo muy lejano.
El beneficio de usar una pantalla mini LED lo notarán sobre todo los usuarios profesionales que quieran:
Negros más profundos
Mayor relación de contraste y brillo
Eficiencia energética
Que no se queme como el OLED
A menos que trabajes en un sector creativo, como el arte digital o la edición de vídeo, quizás no obtengas muchas ventajas con respecto a las pantallas LCD actuales.
Las pantallas LCD no van a ser el pilar de la industria para siempre, pero pensar que las cambiaremos por mini LED u OLED en breve parece imposible independientemente de la influencia que tenga Apple en la fabricación de portátiles. Al final, como dice la frase popular, "si algo no está roto, no lo arregles".
Sign up for Black Friday email alerts!
Get the hottest deals available in your inbox plus news, reviews, opinion, analysis and more from the TechRadar team.
Jess is a former TechRadar Computing writer, where she covered all aspects of Mac and PC hardware, including PC gaming and peripherals. She has been interviewed as an industry expert for the BBC, and while her educational background was in prosthetics and model-making, her true love is in tech and she has built numerous desktop computers over the last 10 years for gaming and content creation. Jess is now a journalist at The Verge.