The Simba mattress sales are an excellent opportunity to upgrade your bed with one of the best mattresses in the UK at a very reasonable price, and we have all the vital details for you. Right now Simba is running its Easter Sale with up to 55% off, however if you're after a mattress from its current range then you're looking at 40% off. That is, unless you're interested in the eco-friendly Simba GO, which has been excluded from Simba mattress sales for a while now.
The 40% off the rest of the range is great news though, and it means that if you're after the high-end Simba Hybrid Luxe mattress in a super king size you can get it with £1,100 off. And whatever mattress you choose is sure to delight you; Simba's one of the UK's top sleep brands and you'll find its mattresses in our best mattress, best memory foam mattress and best mattress for side sleepers rankings.
If you don't absolutely have to have a brand new mattress, there are even bigger discounts to be had on Simba's refurbished models, which can get you a Simba Hybrid Pro with prices starting at just £463.60. There's also 40% off selected Simba bed bases, and for that final touch there's also 65% off Simba's 200 thread count Performance Bed Linen.
None of these discounts are especially new; we're looking at the evergreen Simba mattress sale that runs for most of the year. Nevertheless these are decent prices for quality mattresses; if you want the very best savings then you'll likely have to hold out until later in the year. Specifically, Black Friday is when the lowest prices will probably happen; last year on Black Friday we saw Simba take 45% off its mattresses.
Simba's mattresses come with a 200-night risk-free trial period, so if you change you mind, Simba will collect your mattress and refund you; there's also a 10-year guarantee. So then, let's take a look at the best Simba mattress sales and deals available right now...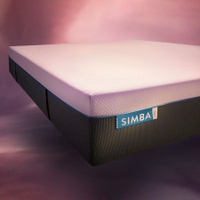 Simba Hybrid Pro: was £1,159 now from £695.40 at Simba
TechRadar's favourite – Sitting in the middle of the Hybrid lineup, the Hybrid Pro is our favourite in the Simba range. Here, there's a seven-layer design that adds a temperature-regulating layer of wool beneath the top cover, and an extra layer of AeroCoil springs (up to 5,000 in total) for superior support, neither of which you'll find in the original. With this deal, a double is £959.40, and you get a free mattress protector included, too.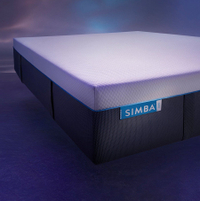 Simba Hybrid Luxe: was £1,579 now from £947.40 at Simba
Top of the range - The king of all of Simba's mattresses, the Hybrid Luxe has a 10-layer design. Compared to the Pro, which is one down in terms of price, this mattress swaps out the regular wool for bamboo-infused wool (for "unrivalled temperature and moisture control") and adds a tier of high-carbon steel springs. There are also extra layers of support foam. As with most of the rest of the range, RRPs have increased a bit (by £50 on the single). With this deal, a double costs £1,379.40, and there's a free mattress protector with all sizes, too.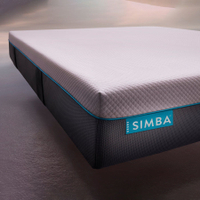 Simba Hybrid Mattress: was £799 now from £479.40 at Simba
The second-cheapest hybrid in Simba's range is the original. It has all the same layers as the cheaper Hybrid Essential, but an extra layer that's designed to ensure support right up the the edges of the mattress, so there's no dipping at the sides. RRPs have risen slightly (by £50 on the single), and the current deal reduces the double size to £647.40. You can get 35% off bedding with your purchase.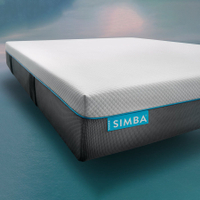 Simba Hybrid Essential Mattress: was £749 now from £449.40 at Simba
Cheapest hybrid - The Hybrid Essential mattress is Simba's cheapest hybrid, but still uses many of the same materials and sleep tech as its pricier offerings. The pared-back 4-layer design includes cooling Simbatex foam, Aerocoil microsprings for weight distribution and motion isolation, and a zoned foam base for support. The RRP increased in December – from £699 to £749 on the single. When the discount kicks in at checkout, a double costs £539.40.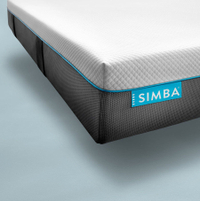 Simbatex Foam mattress: was £679 now from £407.40 at Simba
No springs - If you don't want springs, you could save by opting for one of Simba's two foam-only mattresses. Both are built with Simbatex foam, which has an open-cell design for improved airflow and temperature control compared to regular memory foam. This, the pricier of the two, includes an extra comfort layer, which is infused with graphite for extra cooling clout, and a removable cover. Currently, a double is £479.40, and while you won't get a free mattress protector, you can get a 35% discount on one if you decide to bundle one in.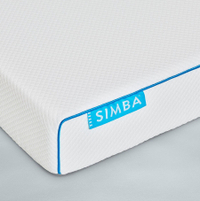 Simbatex Essential Foam: was £399 now from £239.40 at Simba
Cheapest option – This bargain mattress has a simple, four layer design that includes a knitted cover (non-removable), layer of cooling Simbatex foam, and a zoned high-density foam base. The RRP has risen slightly – in November, a single was £379 at list price, now it's £399. With this deal, a double is £299.40.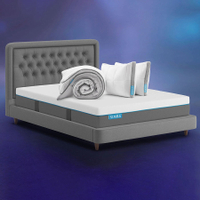 Simba mattress + bedding + frame bundles: save up to 43% at Simba
If you're in the market for some new bedding, or even a bed frame, to go alongside your mattress, the check out the bundle section on the Simba site. Here you could save up to 43% compared to buying all the bits separately. There are different options so you can just pick the one with the things you need.
Which Simba mattress should I choose?
Why you can trust TechRadar We spend hours testing every product or service we review, so you can be sure you're buying the best. Find out more about how we test.
Simba's mattress range has expanded quite a bit of late: its original three mattresses are the Simba Hybrid (RRP from £679), the Hybrid Pro (from £1,089), and the Hybrid Luxe (from £1,279). All three original hybrids are available to buy in a variety of sizes, including European mattress sizes.
New additions to the Simba range include a cheaper hybrid option, the four-layered Simba Hybrid Essential from £699, the sustainable Simba GO hybrid from £1,499, the Simbatex Foam Mattress from £699 and its cheapest option, the Simbatex Essential Mattress, starting at £379.
You'll get a 1-year risk-free trial period on any Simba. If you change your mind during the trial period, Simba will refund your money and collect the mattress. Just make sure that you cover it with a good mattress protector, as otherwise you may not be able to return the mattress if it's covered in stains or is damaged.
The 25cm deep Simba Hybrid is a multiple award-winner, and is a feast of 2,500 titanium Aerocoil springs, high-definition Simba-Pure foam and a breathable sleep surface. The best Simba mattress deal we've seen recently on this is 41% off.
It's a good entry-level hybrid, though if you want a very affordable all-foam alternative, read our Emma Mattress review too.
Next up is the Pro, a 28cm deep mattress that contains seven layers for additional support and comfort. Here you get 5,000 titanium Aerocoil springs, two deluxe spring-comfort layers, and temperature-regulating wool.
So it's packing more tech than the Hybrid and is the better choice if you want more support, added pressure relief and a little bounce. The biggest discount we spotted on this in 2022 was 41% off, equating to over £610 saved on the biggest size, making it one of the best mattress sales from Simba last year. Read our Simba Hybrid Pro mattress review to see what we thought of it during testing.
At the top of the range sits the Simba Hybrid Luxe. With a depth of 31cm, this ten-layer mattress is able to house up to 5,000 25mm titanium Aerocoil springs and 1,000 40mm springs, delivering the ultimate in bounce, spinal support and breathability. Add in three spring-comfort layers and a thermal-regulating bamboo wool layer, and this should suit hot sleepers and back and stomach snoozers.
Simba also makes a range of bedding, including a weighted blanket, pillows, a mattress protector, and sheets. Check out our Simba Hybrid Firm pillow review or Simba 3-in-1 duvet review for a couple of examples.
12 industry awards tells you everything you need to know about the Simba Hybrid. Here's a medium-firm mattress that offers a high level of comfort and support at a cheaper price. This is the one we recommend to people who want to experience the benefits of a hybrid mattress (good back support, cooler sleep) but don't have a big budget to play with.
In the Simba mattress sale, you can normally pick up a double size Hybrid Original for £743.40 (was £1,239). That's very competitive compared to similar hybrids, though it doesn't quite beat the best Nectar mattress sales in terms of sheer value for money.
The Simba Hybrid original comprises five layers including a soft and breathable sleep surface, and a layer of open-cell Simba-Pure foam that's designed to keep you cool at night. A spring-comfort layer contains 2,500 patented titanium Aerocoil springs, which works with a layer of high-definition Simba-Pure foam with edge support. Keeping all of that in place is a zoned Simba-Pure support base.

Prices for the Simba Hybrid range from £399 for a kids' mattress (now £239.40 in the Simba mattress sale) to £1,109 for a super-king (£665.40). Simba regularly offers this mattress at a discount. For example, last year the UK company slashed a massive 50% off the price as part of its Amazon Prime Day sale, and there were also huge savings to be made in the 2020 Simba Black Friday sale – you can read more about that further down the page.
The Simba Hybrid Pro features seven carefully engineered layers that amount to a generous overall depth of 28cm. Helping you to drift away into a restful slumber are a soft, breathable sleep surface, complimented by a heat-regulating wool layer.
Whereas the Hybrid Original packed in an admirable 2,500 coils, the Pro doubles down on comfort by housing over 5,000 patented titanium Aerocoil springs, open-cell. Those combined with high-definition Simba-Pure foam layers, plus a zoned Simba-Pure support base, mean you can expect higher levels of spinal support and full body comfort; find all the details in our Simba Hybrid Pro mattress review.
Prices for the Simba Hybrid Pro range from £999 for a single (when not in the Simba mattress sale) to £1,519 for a super-king (now £911.40). Like the Simba Hybrid, the Pro model is regularly offered at a discount. In September it was on sale for 35% off, while the best deal we've seen on it recently would have saved you 41% if you were a new customer.
We'd be surprised to see anything less than 35% off during the Simba Black Friday sale, but the current 40% off (45% when buying the Hybrid Pro are part of a bundle) is great value if you need a new mattress urgently. With its combination of quality and value, it's no wonder this medium-firm mattress scores five stars on the Simba site, generated from over 93,000 user reviews.
Simba's top-of-the-range mattress promises a truly indulgent sleep experience, with ten layers nestled inside this 31cm deep hybrid. The Simba Hybrid Luxe features a soft, hypoallergenic knitted cover, a layer of heat-regulating bamboo wool, a total of 6,000 patented titanium Aerocoil springs, plus three Simba-Pure foam layers for the ultimate in body-cradling bliss. Out of the three, this is the best Simba mattress for hot sleepers and anyone dealing with night sweats and hot flashes.
There are two layers of 2,500 coils at the top of the Hybrid Luxe to ensure the mattress responds fast to each move you make in bed, keeping you comfy and relieving pressure through a range of sleeping positions. From our analysis of user reviews, back and stomach sleepers seem to enjoy it the most, and people with heavier bodies felt noticeable support and cradling without sinking too far in.
Prices for the Simba Hybrid Luxe range from £1,279 for a single (now £701.40 in the Simba mattress sale) to £2,299 for a super king. Seeing as the Hybrid Luxe was only launched last year, it's too early to say whether Simba will offer regular discounts on it but we expect so. We have already spotted deals offering between 35% and 41% off, so keep your eyes peeled for Simba Black Friday deals on this one.
The most recent addition to the Simba range is the Simba GO hybrid mattress, its most eco-friendly mattress yet. This super-sustainable option delivers six layers to help you sleep better and features a 75% recycled Simba Renew layer, an organic latex comfort layer, Aerocoil springs and a zoned layer of pocket springs. And as our Simba GO mattress review found, it lives up to the hype, with excellent pressure relief and impressive temperature regulation, although we'd note that front and heavier weight sleepers might find it a little too soft.
Price-wise the GO is up there with the Simba Hybrid Luxe, but for many people its green credentials are going to give it that vital edge. Simba also offers carbon neutral delivery to most of the UK, and when your Simba GO reaches the end of its life, you'll find that it's designed to be especially easy to disassemble and recycle. And while it's new, you can already get a discount; right now Simba is offering a voucher enabling you to take 40% off the RRP at the checkout, which means you can pick up the double with £860 off.
Another new addition to the Simba range, the Simbatex Foam Mattress features an four-layer, foam-only design. There are actually two versions available: the Simbatex Foam, and the even cheaper Simbatex Essential Foam mattress.
The Simbatex Foam mattress is affordable, but this doesn't mean Simba has cut any corners. Its Simbatex foam is said to provide 30 times more airflow than traditional memory foam, helping it to provide an impressively cool sleep experience. It's supportive with good motion isolation, however some may find it's just a little on the firm side.
Need to know more? Our Simbatex Foam Mattress review has all the facts, and if you decide it's the option for you there's currently a voucher for 40% off available when you order from Simba.
Simba Black Friday and Cyber Monday mattress deals: what you need to know
Many leading UK mattress brands take part in the holiday shopping season, and the Black Friday mattress deals tend to bring with them the lowest prices of the year (in the US, these roll into the Cyber Monday mattress deals, but that's not such a thing in the UK). So what did the Simba Black Friday and Cyber Monday 2022 offer look like? Simba offered a 45% discount on all of its mattresses (apart from the cheapest Simbatex, which was 40% off). The deal kicked in before Black Friday and ran until the end of the week of Cyber Monday.
Price drops of 40% off or even 41% were common throughout 2022, but 45% off was an especially good deal. You do also need to factor in the fact that RRPs have also risen, so 45% off now isn't as cheap as 45% off used to be. In 2022, the range was also expanded significantly to include both the eco-friendly Go, and the two cheaper foam-only models that were previously only part of the Amazon Simba range.
In the 2021 Simba mattress Black Friday sale, the brand offered a 45% discount on all of its hybrid mattresses, plus 50% off mattress bundles. The sale launched on 14 November and remained unchanged until midnight on Cyber Monday. At the time, that was the best Simba sale of 2021. In 2020, the deal was lower, with 35% off all of Simba's mattresses. At the time, that was the best Simba sale of 2021.
Swipe to scroll horizontally
Simba Hybrid Original price history

| Header Cell - Column 0 | Single | Double | King |
| --- | --- | --- | --- |
| Black Friday 2022 | £411.95 (RRP £749) | £549.45 (RRP £999) | £631.95 (RRP £1,149) |
| Black Friday 2021 | £356.95 (RRP £649) | £879 (RRP £1,598) | £549.45 (RRP £999) |
We'll be updating this guide with the best Simba mattress discounts and sales as and when they become available, so bookmark this page if you are just at the research stage and aren't ready to buy just yet.
Do you need a Simba mattress discount code?
When shopping directly with the brand, you do not need to input any Simba mattress discount codes. If you see any of the hybrids for sale on authorised third party retailer websites then you may need to enter a promo code depending on the terms and conditions published by that specific retailer.
On the Simba website, all you need to do is simply choose the hybrid you want and you'll clearly see the before and the discounted price listed on the screen. So when you head to checkout, your 40% discount will automatically have been taken off the standard price for you.
Simba makes a range of bedding too, including duvets, pillows, bed sheets, a weighted blanket and a high-tech mattress protector. For extra guidance on what type of coverage your bed needs, see our mattress protector vs mattress pad comparison feature.
---
Read more: