The 30 best Cyber Monday mattress deals still available
We round up the best Cyber Monday mattress sales still live, and help you pick the right one for you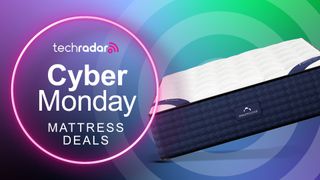 (Image credit: DreamCloud / Future)
The Cyber Monday mattress deals are over, what are you doing here? Only joking, there are loads still available, although we can't vouch for how long they'll stick around. In most cases this will be your best chance for the lowest prices before the end of the year.
We've been covering the Cyber Monday mattress sales for several years, and we're constantly monitoring mattress prices from all the top sleep brands. This means we know what a good great looks like, and which offers aren't quite as good as they seem. And on this page we've collected all that information for you.
If you're not sure which model or brand you want, your first stop should be TechRadar's best mattress guide. All the beds featured there have had a generous discount. Read on for a roundup of the best Cyber Monday mattress deals still available to buy...
⤴ Back to the top | ⤵ Jump to US deals | ⤵ Jump to UK deals
US – Best Cyber Monday mattress deals still live
Best Cyber Monday topper deals
⤴ Back to the top | ⤴ Jump to US deals | ⤵ Jump to UK deals
Best Cyber Monday mattress deals – UK