Cocoon by Sealy Chill mattress review: two-minute review
The Cocoon by Sealy Chill mattress sits on the lower end of the mid-range bracket, consistently priced at $799 for a queen during regular sales with free bedding and sheets included. It graces our best mattress guide as a suitable option for hot sleepers who don't want to spend a lot for a specialty cooling mattress, but how does it fare in other areas, like pressure relief and edge support?
I slept on a twin Cocoon Chill mattress for three weeks and asked five additional participants to share their experiences, as well. Here's what you need to know...
My fellow testers and I unanimously agree that the Cocoon by Sealy Chill is a firm mattress, collectively rating it an 8 out of 10 on the firmness scale. We found it most comfortable for back sleeping, as we felt well-aligned and supported in that position; it's definitely one of the best mattresses for back pain. (As the only stomach sleeper of the bunch, I didn't feel my hips sink, either.) The side sleepers of the group appreciated the Chill's responsive top foam layer that gently contoured our joints; however, it'll turn off those who like a softer, more cushioned feel.
With a top knit cover made from phase-changing materials, I was anticipating a cooling sensation as soon as I sat on the mattress, but to my dismay it wasn't noticeable at all. Despite this, the Cocoon Chill effectively kept me comfortable and dry during both a sudden spring heatwave and a nighttime fever. Given its status as an affordable all-foam mattress, this aspect of the Cocoon by Sealy Chill stood out as the most impressive feature for me.
As expected, the Chill mattress does a very good job of absorbing motion, which is a plus for couples. Edge support is surprisingly robust for a foam-only bed (though as a firm mattress, I suppose it makes sense.) My biggest quibble is with the setup process, particularly all of the plastic I had to wade through after unpacking it. The Chill mattress was also quite heavy to set up solo, and there was a lingering off-gassing odor that eventually faded upon cracking a window.
Head below for more details on how the Cocoon by Sealy Chill performed in key areas according to TechRadar's mattress testing methodology – along with general considerations regarding cost and value, ease of setup, and top competitors.
Cocoon by Sealy Chill mattress review: price
A lower mid-range name-brand cooling mattress
Queen costs $799 after an evergreen 35% discount
Comes with free bedding and pillows
The Cocoon by Sealy Chill is among the least expensive name-brand mattresses out there – not to mention one of the cheapest cooling mattresses you can buy. Thanks to an evergreen Cocoon by Sealy mattress sale, the Chill mattress is always available at a 35% discount; bear in mind though that there may be a better deal in teh upcoming Memorial Day mattress sales.
Here's the 2023 pricing for the Cocoon by Sealy Chill mattress:
Twin: $769 (normally on sale for $499)
Twin XL: $869 (normally on sale for $559)
Full: $969 (normally on sale for $629)
Queen: $1,239 (normally on sale for $799)
King: $1,539 (normally on sale for $999)
Cal King: $1,539 (normally on sale for $999)
The Cocoon Chill mattress comes bundled with a free sheet set plus two pillows (up to a $199 value). Better yet, we regularly see Cocoon by Sealy promo codes that knock an extra $25 off, dropping the sale price of a queen Chill mattress to $774. Since the Chill is exclusively sold at Sealy, there's no need to browse third-party mattress sales for lower prices elsewhere.
Nectar is the closest competitor when it comes to value. A queen Nectar Mattress is typically on sale for under $700 during Nectar mattress sales, with free bedding and pillows occasionally bundled in. Nectar also offers a 365-night trial and lifetime warranty, which beat Sealy's 100-night trial and 10-year warranty. But, as our Nectar Mattress review says, it's not a dedicated cooling model so it may sleep too warm for some.
Cocoon by Sealy Chill mattress review: specs
Swipe to scroll horizontally
| | |
| --- | --- |
| Price (queen size) | MSRP $1,239 |
| Type | All-foam |
| Materials | Memory foam, polyfoam |
| Firmness | Firm (8/10) |
| Depth | 10 inches |
| Delivery | Free shipping & returns |
| Trial | 100 nights |
| Warranty | 10 years |
Cocoon by Sealy Chill mattress review: materials & design
A 10-inch foam mattress with four layers
Hybrid and Extra-Chill Foam upgrades available
Phase-changing cooling cover is spot-clean only
The 10-inch Cocoon Chill is a 4-layer mattress with a six-inch polyfoam support base, motion-absorbing comfort foam, contouring memory foam, and a stretch-knit cover woven with Phase Change Materials (PCM) to draw away body heat. The cover is advertised as 'cool-to-touch' but that wasn't my experience, as I'll elaborate on later.
For an extra $199, you can upgrade to the Extra-Chill Foam model, which infuses phase-changing materials into the comfort foam and adds an enhanced cooling cover. Meanwhile, if you'd prefer a bouncier and slightly cooler bed, the Cocoon by Sealy Chill Hybrid mattress adds a layer of coils and starts at $739 for a twin.
The cooling cover is not removable for washing, but you can spot-clean stains. That's all the more reason to invest in one of the best mattress protectors to safeguard it from spills, bed bugs, and allergens.
Design score: 4 out of 5
Cocoon by Sealy Chill mattress review: comfort
Rated firm – 8 out of 10 on the firmness scale
Most comfortable for back sleeping
Not for those who like a plusher mattress
I slept on a twin Cocoon by Sealy Chill mattress for three weeks. Since comfort is subjective – and I can only speak for myself as a 5-foot-4, 145lb side/stomach sleeper – I asked five people to nap on it for at least 15 minutes, after which they'd share their impressions. My group included men and women of varying ages, builds, and sleep needs.
We found the Chill mattress slightly firmer than Sealy's self-assessment of medium-firm, giving it a collective score of 8 out of 10 on the firmness scale. This consensus was consistent among our testers, with the lowest individual firmness rating (7.5) coming from the largest participant, a 6-foot-3, 250lb side/back sleeper.
For most of our back sleepers, the Cocoon Chill provided plenty of lumbar support and even weight distribution. The side sleepers among us liked the Chill's subtle contouring and pressure point relief along the shoulders, hips, and knees. As the occasional stomach sleeper of the group, I liked that my hips didn't sink below the rest of my body.
Petite to average-sized sleepers found the Chill mattress comfortable, despite its firmness. However, one tester (6ft, 190 lbs) felt it might not provide enough support for larger individuals, although our heaviest participant was satisfied with it. Those who prefer a softer mattress may find the Chill too firm. A heavier back sleeper in the group who's accustomed to a soft foam mattress at home says he aggravated his lower back injury after trying the Chill mattress.
To further test the Cocoon Chill's pressure relief, I placed a 50lb kettlebell in the center of the mattress. It compressed about 1.5 inches, then quickly snapped back into place upon removing the weight. That's not a deep drop, but it did translate to the ideal amount of pressure relief for my fellow testers with joint and back pain.
Sleepers who want to sink into their mattress should take a look at our Saatva Loom & Leaf mattress review instead – or if you're exclusively a side sleeper, the Helix Midnight mattress is made especially for you. While the larger sleepers of the testing panel felt supported by the Chill overall, a hybrid like the DreamCloud mattress may hold up better for bigger bodies over time.
Comfort score: 4 out of 5
Cocoon by Sealy Chill mattress review: temperature regulation
Impressive temperature regulation
However, cover isn't cool-to-touch
No specialty bedding required
The Cocoon by Sealy Chill's temperature regulation truly impressed me, an occasional hot sleeper who enjoys being swaddled. Between a sudden springtime heatwave and a brief illness, the Chill mattress kept me dry and comfortable throughout it all.
Initially, I was disappointed when I didn't feel the cooling sensation from the top cover as Sealy claims – but that didn't matter. The cover's phase-changing fibers worked in tandem with the breathable comfort foam layer to dissipate heat and wick away moisture. When I came down with a fever towards the end of the testing period, I didn't wake up with soaked pajamas and sheets. (I was just slightly sweaty.)
Keep in mind that Sealy recommends maintaining a room temperature between 68 and 72 degrees F for the PCM to be its most effective. There were a couple of nights when my bedroom was slightly north of the max at 75 degrees F, but I still didn't overheat.
Meanwhile, there aren't any obvious requirements regarding the type of bedding you should use. I alternated between the free cotton sheet set Sealy included with the mattress and a set of cotton sheets I already owned. I also slept with a midweight polyester comforter during all three weeks of testing.
Upgrading to the Chill Hybrid or adding Sealy's specialized cooling foam may yield even better results here, but the entry-level Cocoon by Sealy Chill is an outstanding cooling mattress in its own right.
Temperature regulation score: 4.5 out of 5
Cocoon by Sealy Chill mattress review: Motion isolation
Above-average motion isolation
A popular choice for couples
As a firmer memory foam mattress, the Cocoon Chill should absorb virtually any moment. Although I witnessed more movement than I had anticipated during testing, it still performed above average in this category.
I sleep in a twin bed so it's impossible to comfortably accommodate more than one person. To test the Chill's motion isolation, I suspended a 10lb kettlebell from six inches high and dropped it next to an empty wine glass at various distances away to simulate a partner's movements.
When I dropped the weight four inches away from the empty glass, there was an obvious wobble. The movement wasn't as pronounced from 12 and 25 inches away, but the glass was briefly unsteady before returning to position. Notably, the glass did not topple over during either drop test.
These results suggest that you might feel your partner shift positions or get in and out of bed, but not enough to totally disrupt your slumber. It's also worth noting that couples who've reviewed the Cocoon by Sealy Chill unanimously commend its motion isolation, even if they weren't fond of the mattress otherwise.
Motion isolation score: 4 out of 5
Cocoon Chill mattress review: edge support
Good edge support for an all-foam bed
Supportive with minimal sinkage
Edge support is crucial, regardless of mattress size. Strong edges prevent sagging, aid sleepers with mobility issues who need to sit before entering or exiting the bed, and reduce the risk of accidentally rolling overboard while sleeping.
Memory foam mattresses aren't known for their edge support, but my fellow testers and I thought the Cocoon by Sealy Chill performed well in this area. Sitting along the middle perimeter and corners revealed some sinkage, but not uncomfortably so. Plus, I never felt in danger of falling out of bed while sleeping on it.
I also tested the Chill's edge support by placing a 50lb kettlebell along the middle perimeter. It compressed by an inch, with no bunching in the top layer. (As an aside, it appears my Chill mattress tops off at nine inches – an inch shorter than advertised.)
For an all-foam mattress, the Cocoon by Sealy Chill's edge support is better than average. Still, if top-notch edge support is a must for you, consider a hybrid with reinforced springs instead.
Edge support score: 4 out of 5
Cocoon by Sealy Chill mattress review: setup
Free sheets and pillows are packed with the mattress
Plastic is easy to unravel, but there's a lot of it
Anticipate some off-gassing
The last two mattresses I reviewed arrived flat and included in-room delivery and setup, so admittedly, I was a tiny bit disappointed to revert back to a standard bed-in-a-box that I had to set up myself. (It's the same reason why people recommend you never fly first class, I suppose.)
Inside the box was my twin Chill mattress plus the free sheets and pillows bundle, all vacuum-sealed. I managed to maneuver the 40-pound twin mattress by myself, but if you opt for a queen (64 pounds) or a king (83 pounds), you'll want to ask a friend or family member to help, especially since white glove delivery is not an option.
Unlike most mattresses I've unpacked, I didn't need to use a plastic cutter since the plastic was perforated. This made the process easier, although that was canceled out by the massive amount of plastic I had to wade through when all was said and done. Once unfurled, the mattress began to inflate with a loud hiss for a couple of minutes.
Sealy says its Cocoon Chill mattress takes up to 48 hours to fully expand, but I was able to sleep on it 12 hours after unboxing with no issue. I did get a whiff of some off-gassing during setup, but the smell didn't linger. (Opening a window helped.) Sealy uses CertiPUR-US foam low in volatile organic compound (VOC) emissions for minimal off-gassing odors and a healthier indoor sleep environment.
Setup score: 3.5 out of 5
Cocoon Chill mattress review: customer reviews
Rated 4.7 out of 5 stars from almost 8,000 reviews
Top marks for motion isolation and pressure relief
Some say it's too firm and prone to sleeping hot
In addition to my experience and feedback from my 5-person testing panel, I analyzed hundreds of user reviews on Sealy's website to provide a broader picture of the Cocoon Chill's performance. As of April 2023, it has a 4.7-star rating (out of 5) from almost 8,000 reviews.
The most common themes among the 5-star reviews are immediate back and hip pain relief, excellent motion isolation, and a cooler night's sleep. On the flip side, those who don't like the Chill mattress say it's too firm and prone to sagging over time – and several shoppers say it sleeps warm, despite the cooling materials.
If you're keen to know how the Cocoon by Sealy Chill mattress performs in certain areas, you can filter reviews by keywords and sort by star rating.
Should you buy the Cocoon by Sealy Chill mattress?
The Cocoon by Sealy Chill mattress was a hit among my testing panel, with most of them proclaiming that they'd consider buying one for themselves, or at least recommend it to a friend. So who is the Chill mattress best suited for?
Based on my assessment, I recommend the Cocoon by Sealy Chill mattress for back and stomach sleepers since it's the right level of firmness for adequate support, alignment, and pressure relief in those positions. The side sleepers in my group felt contoured in all the right places, but it could be too firm for those who like to feel 'hugged' by their mattress. (Check out our guide to the best mattresses for side sleepers for our favorite plush models for side sleeping.)
I also recommend the Cocoon Chill for individuals seeking a mattress for back pain. Participants with back and joint aches enjoyed almost-immediate relief thanks to the gentle contouring of the top comfort foam layer. Couples should find this mattress suitable, as well, since it absorbs most movement, reducing the risk of your partner waking you up in the middle of the night.
Now, would I recommend the Cocoon by Sealy Chill mattress for hot sleepers? Absolutely. It's not the coolest bed I've slept on, but it still did an excellent job of keeping me comfortably dry during a sudden heatwave and my brief bout with a fever. Also consider the overall value – a queen regularly sells for $799 and comes with free bedding and pillows. You'll be hard pressed to find a cheaper cooling mattress that performs as well as the Cocoon by Sealy Chill.
Cocoon by Sealy Chill mattress review: also consider
Swipe to scroll horizontally
| | | | | |
| --- | --- | --- | --- | --- |
| Row 0 - Cell 0 | Cocoon by Sealy Chill | GhostBed Luxe | Casper Snow | Nectar Mattress |
| Price (queen) | MSRP: $1,239 (usually sells for $799) | MSRP: $3,195 (usually sells for $1,598) | MSRP: $1,995 | MSRP: $1,049 (usually sells for $699) |
| Type | All-foam | Memory foam | Hybrid | Memory foam |
| Materials | Memory foam, polyfoam | Memory foam, Ghost Bounce foam, high-density foam | Memory foam, foam, innersprings | Memory foam, polyfoam |
| Firmness | Firm (8/10) | Medium-plush (5/10) | Medium-firm (7/10) | Medium (6.5/10) |
| Depth | 10 inches | 13 inches | 12 inches | 12 inches |
| Delivery | Free shipping & returns | Free | Free | Free |
| Trial | 100 nights | 101 nights | 100 nights | 365 nights |
| Warranty | 10 years | 25 years | 10 years | Lifetime |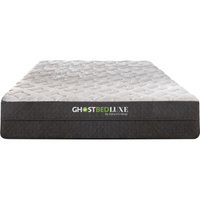 GhostBed Luxe Mattress
The GhostBed Luxe is plusher than the Cocoon by Sealy Chill, making it perfect for side sleeping. The top layers of this 13-inch mattress are dedicated to cooling, while the bottom layers provide pressure relief and all-over support. GhostBed mattress sales regularly shave 50% off the list price, effectively placing it in the high mid-range bracket. The trial period is comparable to Sealy's at 101 nights, but GhostBed instead offers a much longer 25-year warranty.
Read our GhostBed Luxe review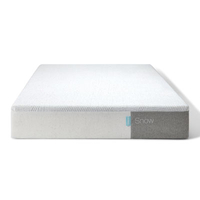 Casper Snow Mattress
Hybrid mattresses generally sleep cooler than full-foam models since innersprings promote better airflow – but the all-new Casper Snow also boasts advanced cooling tech such as a cool-touch cover, perforated gel foam layers, and HeatDelete Bands that purportedly regulate temperature for up to 12 hours. While it's a similar firmness to the Cocoon Chill, the Casper Snow offers more bounce – but also more motion transfer so couples will want to bear that in mind. Like Sealy, Casper offers a 100-night trial plus a 10-year warranty.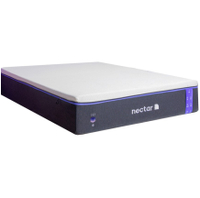 Nectar Mattress
This popular mid-range option rivals the Cocoon Chill in overall value thanks to perpetual discounts and occasional bundle deals. However, Nectar offers some of the best perks in the industry with a full year to trial it at home plus a lifetime guarantee. Smack-dab in the middle of the firmness scale, the 12-inch Nectar Mattress should comfortably suit most petite to average sleepers, though it'll potentially run warmer than a dedicated cooling model like the Chill. (There's always the premium Nectar Premier Copper, which is plusher and has a phase-changing, copper-infused cover.)
Read our Nectar Mattress review
How I tested the Cocoon by Sealy Chill mattress
I slept on a twin Cocoon by Sealy Chill memory foam mattress for three weeks between March and April 2023. I alternated between the cotton sheets Sealy included with my purchase and a set of cotton sheets I already owned, and used a mid-weight polyester comforter throughout the entire duration. Outside of a surprise springtime heatwave, I maintained a room temperature of 70 degrees F.
To supplement my own perspective, I assembled a 5-person panel to sleep on the Chill mattress for at least 15 minutes in their preferred positions and sit along the edges. Participants varied in height and weight, with our smallest tester being 5ft and 111lbs, and our biggest tester being 6ft3in and 250lbs. Several participants, (myself included) experience regular joint and back pain; one participant recently recovered from a knee replacement.
In addition to the above, I gauged the Chill's features beyond my preferences and potential biases by performing a series of standardized tests to evaluate firmness, edge support, and motion isolation. Outside reviews from verified Sealy shoppers were also taken into consideration.
First reviewed: April 2023