What does CertiPUR-US certified mean and why does it matter for your mattress?
Many foam mattresses are CertiPUR-US certified, but what does it mean for your sleep setup?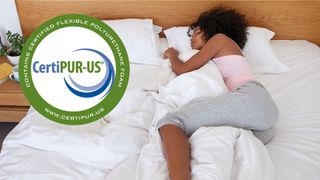 (Image credit: CertiPUR / Getty)
It's time to buy a mattress and you want something that's going to be part of a healthy sleep setup. There are several safety certifications a mattress might be awarded, such as OEKO-TEX and eco-INSTITUT certification, but CertiPUR-US is one of the most common. Every mattress in our best mattress (US) guide has CertiPUR-US certification, and it pops up regularly in our guides and reviews. But what does CertiPUR-US certified mean? And how important is CertiPUR-US certification when buying a mattress?
What does CertiPUR-US certification mean?
CertiPUR-US is a certification awarded to flexible polyurethane foams. Flexible polyurethane foams are the foams most commonly used in mattresses, particularly memory foam mattresses (including our best memory foam mattresses). CertiPUR-US certification shows the foam meets certain health and safety standards. It only applies to the foam in a mattress, not the entire design.

To achieve CertiPUR-US certification, a foam must undergo independent testing and conform to the regulations below:
Made without ozone depleters
Made without PBDEs or TCEP, TCBPP, TDCP, TEPA Tris flame retardants
Made without mercury, lead, and other heavy metals
Made without formaldehyde
Made without phthalates regulated by the Consumer Safety Commission
Made with low Volatile Organic Compound (VOC) emissions (less than 0.5 parts per million)
These are the standards a foam must reach to achieve CertiPUR-US certification. CertiPUR-US introduced these standards to ensure the foam is better for you and better for the environment. We'll cover what each term means in greater detail below.
CertiPUR-US certification only refers to the regulations above. It doesn't mean the mattress foam is chemical-free, eco-friendly, or hypoallergenic. If these factors are important to you, consider taking a look at our guide to the best organic mattresses for some options made with natural and organic materials. Organic mattresses are typically made with latex foam, not polyurethane foam. You can learn more about latex vs memory foam with our guide.
How important is CertiPUR-US certification for mattresses?
CertiPUR-US certification indicates a brand is reputable, but it isn't a guarantee of quality (nor is it particularly uncommon). It's important to remember CertiPUR-US only refers to the foam, not the whole mattress.
We think CertiPUR-US certification primarily offers reassurance. A mattress with this certificate has gone through some degree of independent testing and is free from certain chemicals. Most of our recommended foam mattresses have a CertiPUR-US certification, including the vast majority of our best cheap mattresses.
While CertiPUR-US certification is common, not all mattress foams achieve it. This is sometimes the result of location. CertiPUR-US is based in the United States, so international mattress brands are less likely to be covered. If you're purchasing a mattress made in Europe, try checking for EuroPUR certification. Similar certifications include Eco-label, LGA, and Blue Angel. Although CertiPUR-US is US-based, it's becoming a common global standard, particularly among international mattress brands that sell to US markets.
Do CertiPUR-US certified mattresses contain fiberglass?
Foams certified by CertiPUR-US do not contain fiberglass. However, that doesn't mean the whole mattress is fiberglass- free. Fiberglass is often used in the mattress cover or the fabric 'sock' that is pulled over the foam. If you want a fiberglass-free mattress, head over to our best mattresses without fiberglass guide.
Fiberglass is typically used in mattresses as a flame retardant. While this is a legitimate practice, the fiberglass should be kept inside the mattress at all times. Only remove the mattress cover if you know it is safe to do so.
Who gives out CertiPUR-US certifications?
The CertiPUR-US certification program is administered by a nonprofit organization. All products are analyzed in independent, accredited testing laboratories. CertiPUR-US prides itself on transparency and you can access its full technical guidelines for more information.
All CertiPUR-US foams are tested and analyzed twice in the first year of receiving certification. They are then recertified annually. Certified foam producers are also subject to on-site spot checks from CertiPUR-US, to ensure consistency.
How do you know if a mattress has CertiPUR-US certification?
There are a few ways to find out if a mattress is CertiPUR-US certified. The mattress brand site is a good place to start, as CertiPUR-US certification will often be noted on the item page (if it qualifies). Look out for the CertiPUR-US logo, shown below. Otherwise, head across to the CertiPUR-US site and search its directory of participating brands.
If you can't find CertiPUR-US certification listed either on the brand site or in the CertiPUR directory, it's likely that the foam isn't certified. In that case, you could try contacting the brand directly, to find out what certification its products have.
What makes a foam CertiPUR-US certified?
We've explored what CertiPUR-US tests for, now let's take a closer look at why CertiPUR-US tests for these elements, and what they mean for your sleep setup.
Made without ozone depleters
The ozone layer acts as a shield between the Earth and the sun's dangerous radiant energy. Ozone-depleting chlorofluorocarbons (CFCs) can cause damage to this important barrier, which is why they were banned by the Montreal Protocol in the year 2000.
CFCs are no longer used in the US, but some international manufacturers still use ozone depleters in their foam. Foam with CertiPUR-US certification contains no CFCs and no other ozone depleters.
Made without PBDEs or certain Tris flame retardants (TCEP, TDBPP, TDCP, TEPA)
PBDEs (polybrominated diphenylethers) are flame retardants that have been effectively banned by the Environmental Protection Agency due to their environmental impact. Certain Tris flame retardants (including TCEP, TDBPP, TDCP, TEPA) have been linked to health issues. Both PRDEs and the noted Tris flame retardants are prohibited in CertiPUR-US foams.
Made without mercury, lead, and other heavy metals
Heavy metals are rarely used in the manufacturing of mattress foam, but as they pose a risk to health, CertiPUR-US does test for them. CertiPUR-US uses molecular analysis to check for even trace amounts of heavy metals, to ensure the foam is completely free from mercury, lead, and other heavy metals.
Made without formaldehyde
Formaldehyde has been identified as causing poor indoor air quality. As with heavy metals, formaldehyde isn't used in the manufacturing of mattress foams, but CertiPUR-US tests for it anyway. Small chamber emission testing guarantees an absence of formaldehyde.
Made without phthalates regulated by the Consumer Safety Commission
Phthalates are typically used as a softening agent in certain consumer products. The Consumer Product Safety Improvement Act (2009) banned eight phthalates from use in children's toys and children's care items (but not in other products). If a foam has CertiPUR-US certification, it doesn't contain these phthalates either.
Made with low Volatile Organic Compound (VOC) emissions
Volatile Organic Compounds (VOCs) contribute to air pollution and are thought to affect indoor air quality. CertiPUR-US uses a small chamber test, standardized by the International Organization for Standardization (ISO), to verify low emissions of VSOs (classified as less than 0.5 parts per million).
Sign up for Black Friday email alerts!
Get the hottest deals available in your inbox plus news, reviews, opinion, analysis and more from the TechRadar team.
Ruth is TechRadar's Sleep Writer. She's here to help you find the perfect sleep setup for your budget and personal preferences. As well as keeping a keen eye on everything that's going on in the world of mattresses, she regularly speaks to experts to help you learn how to improve your sleep habits, whether that's by debunking sleep myths or explaining the science behind it all. Prior to joining the TechRadar team, she wrote features and product guides for new parents hoping to get a decent night's sleep, as well as writing for.a variety of online spaces.