Buying one of the best cheap mattresses doesn't mean having to settle for a low-quality bed. There are some surprisingly good options available, and we've rounded up the best of the bunch, with prices starting as low as $130. So even if you don't have a lot of money to spend you can still find the best mattress for your requirements.
While you won't find high-end features and fancy materials in a cheaper mattress, it's still possible to get a perfectly acceptable bed for not a lot of money, from brands such as Siena Sleep, Zinus, Allswell, IKEA, Brooklyn Bedding and Linenspa. They're cheap, but they still deliver when it comes to comfort and support.
Of course you should be thinking about more than just the price when you're buying a mattress, particularly if it's one you're planning to sleep on every night; that's why we've rated each mattress in this guide according to how it can help you sleep better, and what sleep styles and body types it's most suitable for.
While mattress trials tend to be less generous (and even non-existent) when it comes to budget beds, you should still try to get a trial of 30 nights or more when you buy. And don't forget about mattress sales; some of these beds won't be discounted often (the Memorial Day mattress sales should bring some decent reductions, though), but there are still some surprisingly good savings to be made, and we'll let you know all about them.
Need a small, cheap bed? Our guide to the best twin mattress under $100 might be what you need; otherwise, let's run through the best cheap mattresses available at the moment.
The best cheap mattresses in 2023 - as chosen by experts
Why you can trust TechRadar We spend hours testing every product or service we review, so you can be sure you're buying the best. Find out more about how we test.
If you're looking for a highly rated affordable mattress with a fantastic brand pedigree, then the Siena Memory Foam Mattress is the best choice for you. Why? Because Siena Sleep is owned by Resident Home, the parent company of Nectar Sleep, maker of the best memory foam mattress in America. So the Siena has a lot of research and development behind it to help you sleep well at a fraction of the cost of comparable beds.
In fact, like the Nectar (read our Nectar Mattress review for more) the Siena Memory Foam is constructed of five layers, including a soft-touch cover and non-shift base. This affordable mattress also places a focus on breathability, just like the Nectar, so you should sleep a little cooler. That said, if you really struggle with overheating we'd recommend the Brooklyn Bedding Chill Mattress (number four).
Considering how cheap it is, the Siena Mattress still uses three layers of foam, including responsive memory foam that adapts to your body. That means it will slightly hug your curves to cushion your back, arms and legs, but without sucking you in. And as befitting a medium-firm bed, it uses a 2" layer of dense polyfoam to boost support in addition to comfort. This layer is where you'll find a series of 'ripples' that allow the foam to breathe.
From our research, some reviews state that the only drawback to the Siena Mattress is weaker edge support. Edge support makes it easier to get out of bed and also increases your sleep space because you'll still be supported even when sleeping right up to the edge.
You'll have 180 nights to trial the Siena at home, and it's covered by a 10-year warranty with free shipping and returns. While that trial period and warranty pale in comparison to the Nectar's 365-night trial and lifetime warranty, they are still very generous for such an affordable mattress. The Siena Memory Foam is regularly discounted, making the price even cheaper; currently it's $399 for a queen size, with $300 off. That's excellent value.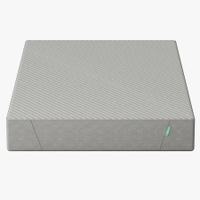 Siena Memory Foam Mattress: was $499 now from $199 at Siena Sleep
The Siena is our favorite affordable mattress, and it's currently available with $300 off, which means that you can get a queen size for just $399; that's an exceptional saving. You'll get free shipping and returns, as well as 180 nights to decide whether this mattress is right for you, and a 10-year warranty.
The Zinus Green Tea Memory Foam is Amazon's best-selling mattress in a box. It's racked up over 131,000 user reviews to date, and is available in eight different sizes (from narrow twin to Cal king) and four different heights: 6, 8, 10 and 12 inches. That's an impressive amount of customization for an affordable mattress, and the Zinus Green Tea has other standout features too….
The first is the use of CertiPUR-US certified memory foam (same as the Siena above) that's free of toxins. Zinus goes a step further by infusing the foam with green tea extract to keep it fresher for longer. This works in tandem with ActivCharcoal that absorbs moisture. That alone will make the Zinus Green Tea Memory Foam the best affordable mattress for people dealing with night sweats, as the Zinus will absorb sweat better than comparable cheap beds.
You can also expect a decent level of pressure relief from the Zinus Green Tea Memory Foam bed, thanks to a Z:Base foam layer. It will contour to your body to provide that slight hugging feel foam is known for, all while reducing pressure on your back, hips and shoulders.
There are four different thicknesses to choose from, and we would recommend the 12" version of side sleepers and lighter weight bodies that need more cushioning. The 10" version should suit most people with its medium-firm feel, while the 6" version should only be considered if you are a stomach or back sleeper that enjoys a firmer mattress - especially one that can be placed on the floor for occasional use.
You'll get a 100-night trial from Zinus, while Amazon's mattress returns policy ranges from 30 to 100 nights, so best check before you buy. The Green Tea Memory Foam is a very popular cheap mattress at any time of year, and recent mattress sales at Amazon have made it even more affordable, with a queen size 12" often discounted to around $349.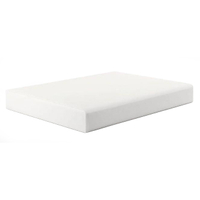 Zinus Green Tea Memory Foam Mattress: from $169 at Zinus
The Zinus Green Tea is a popular option on Amazon and often available with sizeable discounts. Buy it from Zinus, though, and you'll get a 100-night trial as standard, although you'll likely have to pay extra for the privilege; the 12" queen size is currently on sale at $419.
Finding a decent cheap hybrid mattress might seem like an impossible dream, but if that's what you're after, the Allswell Mattress is about as good as it gets. It's a bouncy hybrid consisting of layers of quilted memory foam, polyfoam and pocketed coils, and it delivers a surprising level of support and pressure relief for its price, starting at $259 for a twin (and possibly less than that with Allswell coupons).
It's an impressively cool mattress, thanks partly to the airflow that the pocket coils provide, but also thanks to a polyester and spandex blend cover that's quilted with a thin layers of charcoal and copper gel memory foam, which helps draw heat away from the body.
Obviously this isn't a high-end hybrid, but the Allswell does a great job for the price, providing good motion isolation so you're less likely to be disturbed in the night by a restless partner. It's a great option for back and front sleepers of light and average weight, however side sleepers may find it just a bit too firm, while heavier sleepers are likely to find that they sink through the foam and end up resting uncomfortably on the coil layer. Some user reviews also raise the issue of its long term durability.
That said, however, considering its price this is still a fine option if you're looking for a cheap hybrid and feel that it'll be comfortable and supportive enough for your needs; our Should I buy the Allswell Mattress guide can tell you more.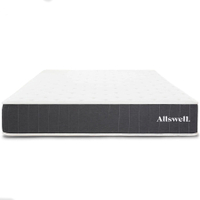 Allswell Mattress: was $259 now from $220.15 at Allswell
You'll have a hard time finding a cheaper hybrid mattress than the Allswell, and there's a lot too like about this option. You can get 15% off the MSRP by signing up to SMS updates; this brings the price of a queen down to $322.15, and you'll get a 100 day trial with free shipping and returns plus a 10 year warranty.
The Dreamfoam Essential is a new option from Brooklyn Bedding that replaces its popular RV mattress, the Chill. As far as we can tell, however, it's pretty much the same mattress at the same price, and it still comes in a huge choice of sizes and depths, ranging from 6 to 14 inches. It's one of the most affordable cooling mattresses you'll come across, albeit with the understanding that there is a world of difference between this and a premium cooling mattress such as the Tempur-Pedic Tempur Breeze (which costs thousands).
The Dreamfoam Essential uses open cell foam to increase airflow and ensure the entire mattress is more breathable. This is impressive for such a cheap cooling bed, though how effective it will be for you depends on the severity of your hot sleeping. If it's mild, you should be ok here and will find the Brooklyn Bedding Dreamfoam Essential comfortably cool to sleep on. If it's worse and you can stretch your budget a little further, we'd instead recommend the Cocoon by Sealy Chill Mattress, priced $799 for a queen with $179 of free bedding at Cocoon. That one uses phase change material to constantly absorb then dissipate heat as you sleep.
As mentioned earlier, the Brooklyn Bedding Dreamfoam Essential is available in a variety of heights. If you want the firmest option, choose the 6" or 8" version but keep in mind that these won't offer the support and pressure relief of the taller 10" to 14" models. The 10" version suits most sleepers, while side sleepers, those who like softer mattresses and people with a lighter than average body weight would be best suited to the 12" and 14" models.
After looking through the user reviews we can see that some customers rate the 14" option as still being too firm, but you'll have 120 nights to trial yours at home. If you change your mind, returns are free, as is shipping. The Dreamfoam Essential is currently 25% offy, with a queen size reduced to a starting price of $393 (was $524) - that's tied as the cheapest price we've seen on it yet.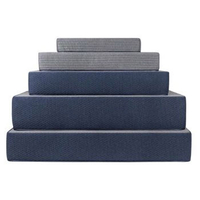 Brooklyn Bedding Dreamfoam Essential Mattress: was $274 now from $205.50 at Brooklyn Bedding
The Dreamfoam is cheap and cheerful and does a pretty good job of cooling, and you can currently get 25% off its already knockdown price. $393 will get you a 6-inch model in queen size, which would be fine for guests; alternatively a 10-inch queen size can be had for $524.30.
The Hasvåg is one of IKEA's most affordable mattresses - it's priced $179 for a twin size, with a queen costing $249. That puts it close in price to the to the Zinus Green Tea Memory Foam bed above, though the Zinus comes in much thicker (taller) options too.
The IKEA Hasvåg Mattress is a more traditional spring mattress that comes vacuum-packed and rolled to keep the price nice and cheap. As a thinner mattress designed to offer firmer support coupled with some cushioning, we'd recommend it as a good affordable mattress for use on kids beds, or for upgrading your guest bedroom on a shoestring. This isn't the best choice for you if you like plush mattresses though - you're better off with the 12" Zinus above. We wouldn't recommend it for heavier bodies either as the 8.1/4" depth won't be enough to support you properly.
The Hasvåg Mattress is rated as a medium-firm, which is the most popular firmness level we see. Up to 375 Bonnell springs contribute to this, and these traditional springs deliver more bounce and responsiveness, but they can become noisy over the years. So keep that in mind if you plan on getting heavy duty use out of the Hasvåg. The cheaper price here is also thanks to IKEA's use of PU foam instead of memory foam, so it won't be as contouring.
Still, this is a fantastic price for a rolled mattress and you'll have 90 nights to get a refund if you change your mind. Even better, you'll have an entire year to exchange the Hasvåg for another IKEA mattress if it isn't right for your sleep. This isn't a perk we normally see with affordable mattresses, but it's part of the brand's 'Love It or Exchange It' policy.
You'll have a hard time finding a cheaper hybrid than the Linenspa Hybrid Memory Foam Mattress, and if you're in need of a cheap option with sink-in plush comfort, it could well be a good fit for you. The Linenspa is essentially a sprung mattress with a built-in mattress topper to add instant plushness and cushioning, so it'll soften around your hips, shoulders and knees when you're sleeping on your side, though it will still keep your spine aligned so you don't twist out of shape.
This cheap mattress comes in three depth options, from 8 to 12 inches. We've reviewed the cheapest, 8-inch model, and came to the conclusion that it would be a great and supportive choice for growing children, but that it might not be comfortable enough for all adults or sleeping positions; certainly a deeper model would prove more acceptable to adults.
Its open coils provide bounce and airflow, making the Linenspa one of the better cooling options in this round-up, while its foam helps reduce motion transfer; although you're specifically looking for a mattress to share with a restless sleeper, we fell the Siena Memory Foam at number one would be a better choice.
If you have a heavier than average body, we doubt you'd get the support you need to stay aligned when sleeping on the Linenspa Hybrid Memory Foam Mattress. So instead look for a firmer mattress that will keep you on top of the bed, rather than letting you sink too deeply into the bed where your spine could curve.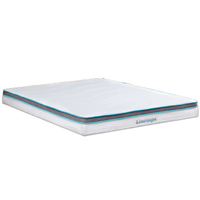 Linenspa Memory Foam Hybrid Mattress: from $129.99 at Linenspa
The 8-inch Linenspa Hybrid is another mattress that's also available through Amazon, but it's not always cheaper than buying from Linenspa. If you're set on this particular bed it's worth checking both sites; bear in mind you'll get free shipping from both, but if you buy from Linenspa you'll get a 10-year warranty.
How to choose the best cheap mattress
When choosing the best affordable mattress for you, there are three specific things to consider: what position do you prefer sleeping in, do you share your bed, and do you have any specific health issues that impact your quality and duration of sleep?
For example, if you share with a restless sleeper, we recommend a cheap mattress with good motion isolation so you are less disturbed by their tossing and turning. That gives you a better chance of sleeping through the night.
Hot sleepers are better off with an affordable mattress that contains cooling materials. The Siena Memory Foam Mattress, while not a proper cooling bed, uses a specific type of foam to promote airflow to help you sleep cooler. The Brooklyn Bedding Chill takes this a step further with open-cell foam and ActivCharcoal to keep your mattress cooler and fresher, which is great if you overheat and sweat at night.
For couples and bed sharers, look for decent edge support so that you can spread out and make the most of your mattress. Because of the focus on a lower price, affordable mattresses won't have the robust edge support of premium beds, but the Linenspa has stronger edge support than cheaper rivals.
In terms of firmness, medium-firm suits most people, while side sleepers are best-suited to a medium or softer mattress, and stomach and back sleepers are better supported when sleeping on firmer surfaces.
If you decide you want something that will last much longer, take a look at our Saatva Classic mattress review that we compiled after three weeks of testing. The Classic is an exceptional hybrid that comes with a lifetime warranty.
Are cheap mattresses worth the money?
There's no getting around the fact that even the best affordable mattresses won't last as long as mid-range or luxury mattress. That's down to cheaper mattresses using cheaper materials - on average, though there are some rare exceptions to that, such as the Siena Memory Foam Mattress.
Even so, most of the beds featured in our cheap mattress guide have a 10-year warranty, so they should still last you six years or more if you care for them. That means covering them from day one with the best mattress protector you can afford, rotating them every three months to spread out wear and tear, and learning how to clean a mattress to ward off dust mites, bed bugs and moisture that can age your bed faster (and make it unhygienic to sleep on).
Cheap mattresses are more prone to mattress off-gassing but this isn't dangerous to your health and should dissipate within a few hours to a few days.
What is the best cheap mattress in 2023?
From our extensive research of cheap mattresses, we rate the Siena Memory Foam as 2023's best cheap mattress because it ticks the boxes for most of our key criteria.
That includes better pressure relief than the other beds featured in this guide, as well as breathability, motion isolation, a higher build quality than the average budget mattress, and the medium-firmness suits most sleepers. The Siena also comes on a 180-night trial and is covered with a 10-year warranty.
Beyond the Siena, we also recommend the Brooklyn Bedding Chill as the best affordable mattress for hot sleepers. It also comes in a range of sizes and thicknesses, making it suitable for home and RV use.