The best sleep trackers can help you get better sleep in a whole variety of ways. From reminding you to wind down shortly before bedtime, to monitoring your heart rate and breathing overnight, to helping to diagnose issues interfering with your sleeping habits – a good sleep tracker can help you get a better night's rest, leveling up your whole life as a result.
Sleep tracking is a great way to understand more about your nightly sleep habits, identify the root issue of problems, and suggest solutions. It's not just smartwatches that can do this: you can get dedicated devices designed specifically to monitor your sleep habits that slip underneath your mattress, or noise-canceling earbuds that also monitor your sleep, or smart rings. If you hate wristwear overnight or want a dedicated sleep tracker without the screen, we've got you covered.
We've included devices at a variety of different price ranges and formats below to suit different needs and highlighted how to choose the right sleep tracker for your personal style. For more information, make sure to check out the full review of each product so you can dive into the esoterica of the tracker in more detail.
Other devices, including some of the best fitness trackers and best smartwatches, are also worth considering, as many offer sleep tracking as standard. Some measure your heart rate to show how long you spent in each stage of sleep (deep, REM and light) as well as any waking moments. Alternatively, they might measure heart rate variability and blood oxygen saturation (SpO2) to identify if you might be suffering from irregular rhythm issues or breathing disturbances like sleep apnoea.
Best sleep tracker 2023
Oura is a smart ring designed to help you balance rest and activity, prompting you to meet goals for daily movement while also getting enough sleep to fully recover. It really comes into its own at night, and the new third-generation model has an improved sleep staging algorithm that allows it to more accurately detect whether you're in light, deep, or REM sleep. In our tests, it was the best sleep tracker for detecting the difference between settling down for the night and actually drifting off.
The new ring also has an improved optical heart rate monitor, which now tracks your heart rate constantly throughout the day and night, allowing for more accurate comparisons and analysis. It also contains a SpO2 sensor plus seven temperature sensors, and after a few nights, the Oura app will establish a baseline and let you know about any deviations from the norm, which could be indications of things like illness, your menstrual cycle, or stress.
It also detects whether you're an early bird, a night owl, or somewhere in between - what's known in the sleep industry as chronotypes - and offers actionable advice to optimize your sleep schedule. It even measures and provides sleep scores on days you get only broken or infrequent sleep, which is perfect for shift workers or those who get irregular, biphasic sleep.
All the data is clearly presented in the Oura smartphone app, with detailed explanations and analysis only a finger tap away. The only downside of the ring as a sleep tracker is its price; at $299 (about £230 / AU$420) it's one of the most expensive tools around, and there's an additional monthly subscription fee if you want access to the most detailed insights.
Read our full Oura (Generation 3) review
Even the best mattress doesn't guarantee a great night's sleep. The Withings Sleep Analyzer is a pad you can slip underneath to keep a track of your sleep quality without having to wear anything on your wrist.
It means you can just jump into bed and you don't have to worry about putting on an extra sleep tracker, and if you do own a fitness tracker or smartwatch you can rest assured that it will be possible to charge it while you doze.
The Withings Sleep will monitor lots of stats too, including your sleep phases, your heart rate, the amount of time you've been snoring and the duration of your sleep.
If you just want to crawl into bed and have all of your sleep quality recorded and ready for you to digest in an easy-to-use app, the Withings Sleep is the perfect sleep tracker for you.
Read our full Withings Sleep Analyzer review
The Kokoon Nightbuds are a set of lightweight headphones packed with all the sleep tech you could ask for. Like the Bose Sleepbuds II they can play soothing sounds to help you drift off, but they also work like regular Bluetooth headphones to stream any audio from your phone, and (like the Amazfit Zenbuds) have an optical heart rate monitor built into one earpiece tracks your sleep patterns overnight.
Sleep tracking data is quite simple; you can see the duration of your sleep and how long you spent in each sleep stage, but there's no deep analysis of exactly what this means, or personalized advice on how to improve your sleep in the future. Accuracy is impressive, though; your ear is an excellent place for an optical heart rate sensor as it's less susceptible to light leakage, and blood circulation isn't going to be disturbed by your sleeping position.
The audio is the main feature here; the app doesn't just feature a wide array of white noise and nature sounds, but also contains a library of guided meditations and abstract music that you can combine with the ambient sounds to create a personal soundtrack. The Nightbuds are comfortable too, and stay firmly in place even if you're a side-sleeper thanks to their stretchy headband and the soft 'prongs' on their silicone earpieces.
Read our full Kokoon Nightbuds review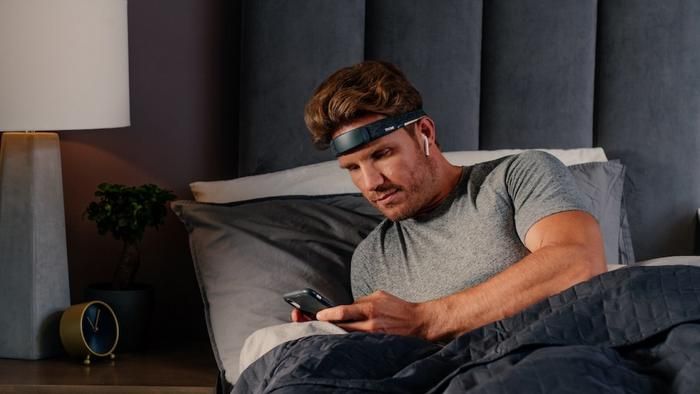 The Muse S is a soft headband that monitors brain activity through your skin, as well as tracking movement, heart rate, and skin temperature. It uses that cocktail of data to help guide you through meditation sessions during the day, and to provide detailed sleep tracking at night.
The band sits comfortably around your head, with the central pod in the middle of your forehead, and is an interesting option for anyone who struggles to wear a watch at night. It connects to the Muse app on your phone via Bluetooth, and eases you off to sleep with gentle soundscapes or spoken-word 'journeys' (essentially gentle bedtime stories to help you relax).
Once you're settled down, the Muse S will monitor your sleep, including restlessness and which side you sleep on. In the morning, all the information is ready to review in the app, which gives you an extremely detailed breakdown of your nocturnal activity and wellbeing.
What we enjoyed most about the Muse S was its meditation training, but it's also an excellent sleep tracker and a good option if you want to incorporate mindfulness into your daily routine.
Read our full Muse S review
The Amazfit Zenbuds might look like true wireless headphones, but they're something quite different, sitting somewhere between a sleep tracker and a white noise machine. Rather than streaming music from your phone, these tiny sleep earplugs play gentle sounds (ranging from soft rainfall to a kitten's snores), which are uploaded from the accompanying mobile app. If you're thinking that sounds quite similar to the Bose Sleepbuds, you'd be right, but that's not all.
Once you've drifted off to sleep, the Zenbuds begin monitoring your heart rate and movement, detecting when you move between sleep stages and any disturbances overnight. They can even detect when you've rolled over, and how long you spent lying on each side, your front, and your back. As we found in our tests, the results may be surprising.
The Amazfit Zenbuds are impressive, comfortable to wear (even for side sleepers) and are surprisingly affordable too. If you suffer from poor sleep, they come highly recommended.
Read our full Amazfit Zenbuds review
How to choose the best sleep tracker for you
Why you can trust TechRadar We spend hours testing every product or service we review, so you can be sure you're buying the best. Find out more about how we test.
First off, it's worth taking a look at your budget. If money's no object, you may as well go for the best overall fitness tracker in the Oura ring, which provides incredible sleep metrics in great detail as well as generic daily wellness and fitness statistics, at the cost of an expensive unit plus membership to the Oura service.
It doesn't track your workouts in the same way a watch might, but rumors point to features such as workout tracking coming down the line for the next generation of Oura devices, or possibly being added as a patch to the current gen.
If your budget is more restrictive, or you don't like wearables, you might opt for the under-mattress pad the Withings Sleep Analyzer, which is far more affordable and will still do a great job monitoring your sleep. Best of all, you can plug it in and then more or less forget about it - no removing it from your finger, ears or wrist to recharge, just leave it under your bed. Alternatively, you may prefer a middle ground, which is where earbuds such as the Amazfit and Kokoon nightbuds come in. These aren't quite wearables, but don't run up to the same price as the Oura ring, with gentle sounds lulling you to sleep in addition to monitoring your vitals.
How we test
All our sleep trackers are tested for at least several days and sometimes over a week, long enough for the tracker to build up a longitudinal picture of our sleep. We look for accuracy, testing them against other devices, whether they need to be charged and if so, how long the battery lasts compared to the figure on the box. We also access the advice the product gives when it comes to improving sleep.
Finally, we'll check all the above and examine whether the product is worth parting with your hard-earned cash. Sleeping better is one of the simplest ways to improve your health and happiness, but it's also one of the most difficult things to improve. That's why you can be sure we take sleep health tech seriously!