If you struggle to get enough rest at night, the right sleep tracker can help you identify the source of the problem and give you advice on how best to tackle it.
We've tested the best sleep trackers available today, putting each one through its paces over the course of several nights to find out which one gives you the most insight into your sleep, and can help you feel more rested in the morning.
Many fitness trackers and smartwatches offer sleep tracking as standard, measuring your heart rate at night to show how long you spent in each stage of sleep (deep, REM and light) plus any periods awake. Some can also monitor blood oxygen saturation (SpO2), which can reveal whether you might be suffering from breathing disturbances that are interrupting your sleep and leaving you feeling groggy in the morning.
Here we've rounded up the very best watches for monitoring your sleep, plus dedicated devices that are designed specifically to watch over you at night, whether that's by measuring data through your finger, or from underneath your mattress.
The best sleep trackers
Oura is a smart ring designed to help you balance rest and activity, prompting you to meet goals for daily movement while also getting enough sleep to fully recover. It really comes into its own at night, and the new third-generation model has an improved sleep staging algorithm that allows it to more accurately detect whether you're in light, deep, or REM sleep. In our tests, it was the best sleep tracker for detecting the difference between settling down for the night and actually drifting off.
The new ring also has an improved optical heart rate monitor, which now tracks your heart rate constantly throughout the day and night, allowing for more accurate comparisons and analysis. It also contains an SpO2 sensor plus seven temperature sensors, and after a few nights, the Oura app will establish a baseline and let you know about any deviations from the norm, which could be indications of things like illness, your menstrual cycle, or stress.
All the data is clearly presented in the Oura smartphone app, with detailed explanations and analysis only a finger tap away. The only downside of the ring as a sleep tracker is its price; at $299 (about £230 / AU$420) it's one of the most expensive tools around, and there's an additional monthly subscription fee if you want access to the most detailed insights.
Read our full Oura (Generation 3) review
Even the best mattress doesn't guarantee a great night's sleep. The Withings Sleep Analyzer is a pad you can slip underneath to keep a track of your sleep quality without having to wear anything on your wrist.
It means you can just jump into bed and you don't have to worry about putting on an extra sleep tracker, and if you do own a fitness tracker or smartwatch you can rest assured that it will be possible to charge it while you doze.
The Withings Sleep will monitor lots of stats too, including your sleep phases, your heart rate, the amount of time you've been snoring and the duration of your sleep.
If you just want to crawl into bed and have all of your sleep quality recorded and ready for you to digest in an easy to use app, the Withings Sleep is the perfect sleep tracker for you.
Read our full Withings Sleep Analyzer review
The Muse S is a soft headband that monitors brain activity through your skin, as well as tracking movement, heart rate, and skin temperature. It uses that cocktail of data to help guide you through meditation sessions during the day, and to provide detailed sleep tracking at night.
The band sits comfortably around your head, with the central pod in the middle of your forehead, and is an interesting option for anyone who struggles wearing a watch at night. It connects to the Muse app on your phone via Bluetooth, and eases you off to sleep with gentle soundscapes or spoken-word 'journeys' (essentially gentle bedtime stories to help you relax).
Once you're settled down, the Muse S will monitor your sleep, including restlessness and which side you sleep on. In the morning, all the information is ready to review in the app, which gives you an extremely detailed breakdown of your nocturnal activity and wellbeing.
What we enjoyed most about the Muse S was its meditation training, but it's also an excellent sleep tracker and a good option if you want to incorporate mindfulness into your daily routine.
Read our full Muse S review
The Amazfit Zenbuds might look like true wireless headphones, but they're something quite different, sitting somewhere between a sleep tracker and a white noise machine. Rather than streaming music from your phone, these tiny sleep earplugs play gentle sounds (ranging from soft rainfall to a kitten's snores), which are uploaded from the accompanying mobile app. If you're thinking that sounds quite similar to the Bose Sleepbuds, you'd be right, but that's not all.
Once you've drifted off to sleep, the Zenbuds begin monitoring your heart rate and movement, detecting when you move between sleep stages and any disturbances overnight. They can even detect when you've rolled over, and how long you spent lying on each side, your front, and your back. As we found in our tests, the results may be surprising.
The Amazfit Zenbuds are impressive, comfortable to wear (even for side sleepers) and are surprisingly affordable too. If you suffer from poor sleep, they come highly recommended.
Read our full Amazfit Zenbuds review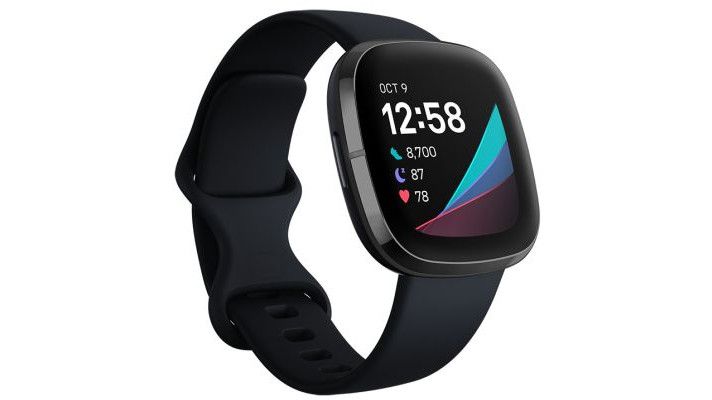 All the best Fitbits offer sleep tracking, monitoring your heart rate variability throughout the night to determine how long you spend in light, deep and REM sleep, but the Fitbit Sense is also packed with mindfulness tools that will help you measure your stress levels and keep them under control.
It also measures blood oxygen saturation during the night, helping you spot signs of sleep apnea, which can leave you feeling shattered in the morning. If it detects a potential problem, the Fitbit app can generate a report that you can share with your doctor to start a conversation. Skin temperature is measured overnight as well, so you can spot variations over time.
It's also the most comfortable smartwatch we've ever tried thanks to its super soft silicone Infinity Band, which has no hard pieces against your skin.
During the day, you'll benefit from a rich set of activity tracking profiles with on-board GPS, guided breathing tutorials, an ECG sensor, and on-demand stress checks.
Read our full Fitbit Sense review