The Layla Essential offers good value for its very wallet-friendly price, and a select few types of sleepers are likely to love it – namely solo back sleepers of light to average weight. However, co-sleepers will likely struggle with the above-average motion transfer, and the medium sleep feel won't be supportive enough for stomach sleepers or those of heavier weight.
Pros
+

Affordable price; good quality

+

Comfortable for back sleeping

+

Good temperature regulation
Cons
-

Above-average motion transfer

-

Edge support is lacking

-

Heavy bodies likely need more support
Why you can trust TechRadar We spend hours testing every product or service we review, so you can be sure you're buying the best. Find out more about how we test.
Layla Essential mattress: Two-minute review
The Layla Essential mattress slashes the price and cuts a few corners compared to the brand's standard all-foam model. I slept on a queen size for three weeks to see how this wallet-friendly offering compares to the rest of today's best mattresses, and was reasonably impressed.
The slimline nine-inch tall, all-foam mattress has a straightforward design that includes memory foam, support foam, and a zip-off, washable cover. While it's unlikely to please everyone, the Layla Essential mattress could be a terrific purchase of exceptional value for a specific cohort of customers. Specifically, solo sleepers of light to average weight who prefer back sleeping are most likely to enjoy the Layla Essential to the fullest. Combination sleepers (back and side sleeping) on a budget may also find that this mattress suits their needs. The medium sleep feel means stomach sleepers and people of heavier weights risk misalignment and discomfort, and would be better with something firmer and more supportive.
I found there was an above-average amount of motion transfer here. Co-sleepers – especially if one partner rouses easily and the other fidgets throughout the night – should opt for a mattress that absorbs motion better. Edge support was similarly below-par, which may prove to be a problem for co-sleepers who want to be able to comfortably enjoy the full sleeping surface, or anyone with mobility issues who needs a sturdy surface to push off against when getting up in the morning.
I'm concerned that the lack of edge support may also point to dwindling durability over time. Note: I didn't have the same experience in my Layla Hybrid mattress review – the edge support and motion isolation was great there, which suggests these performance niggles are a concession you're making for that lower price point rather than an issue with Layla's mattresses in general.)
However, I was more impressed with the temperature regulation. I didn't have any issues with overheating on the Essential, which is particularly notable because not all of today's best cheap mattresses excel in this area. Keep reading for more extensive details in my full Layla Hybrid mattress review.
Swipe to scroll horizontally
| Section | Notes | Score |
| --- | --- | --- |
| Comfort | Medium firmness (6/10) with slight contouring. Best for average/lightweight back sleepers. | N/A |
| Value | Budget or lower-mid range. Decent quality for the price, but some tough competition in this bracket. | 3.5/5 |
| Design | 9" tall design with memory foam and base foam. Zip-off cover. | 4/5 |
| Temperature | Decent temperature regulation for an all-foam design. | 4/5 |
| Motion isolation | Not great – bed-sharers and light sleepers may wish to look elsewhere. | 3/5 |
| Edge support | Noticeable sagging when sitting on the edge. Could be sturdier. | 3.5/5 |
| Customer service | Free delivery and returns, decent trial and warranty for the price. | 4/5 |
Layla Essential mattress review: Design & materials
On the thin side at nine inches tall
All-foam design, with memory foam and base foam
Zippable, washable cover
The Layla Essential is a nine inch tall, all-foam mattress. That's on the slightly shorter side – TechRadar recommends a minimum of 10 inches for most adults. The design comprises two different types of foam, zipped up in a washable cover (98 per cent polyester and 2 per cent lycra). The first layer, made of 'Open Cell+' Memory Foam, is two inches thick.
Layla says that this specific type of memory foam is designed to promote airflow, breathability, and temperature regulation. According to the brand's product page and its own tests, Open Cell+ Memory Foam boasts three times the cooling power of conventional memory foam – the latter of which can have a habit of clinging on to the sleeper's body heat. However, the proof of this is in the sleeping, and you'll find my personal experience of temperature regulation under the 'Performance' section of this review.
Foam density is an indicator of quality and longevity, and at 2.5 pounds, the memory foam here is under what we'd usually expect for a good quality mattress foam. However, very few brands actually share the density of the foams used in their mattresses, making it difficult to directly compare budget-friendly models based on this spec (in short, it might be that most cheaper mattresses use foams of a similar or lower density). The base layer consists of seven inches of polyurethane foam to bolster support and durability.
The two foams are CertiPUR-US certified. This means that they've passed rigorous tests that meet standards for the protection of human health and the environment.
A cover in Layla's signature hexagonal print finishes the whole thing off. This cover can be zipped off for easy cleaning.
Layla Essential mattress review: Price & value for money
Budget to lower mid-range, depending on where and when you buy
Cheapest option from Layla
Sold via Amazon or direct from Layla
Layla carries three mattresses, and the Essential is the cheapest of the bunch by a considerable margin. The standard Memory Foam mattress is about twice the price of the Essential. Meanwhile, the Hybrid is about triple the price of the most cost-efficient option.
It's sold directly from the brand – although it can be difficult to find on the Layla website – as well as via Amazon. Depending on where and when you buy, in the wider market, the mattress is on the higher end of the budget bracket or the lower end of low-mid range. Promotional sales prices are fairly common, so you can anticipate saving at least $100 if you buy at the right time. The Layla Essential mattress is priced as follows:
Twin size: MSRP $549 (usually sold at $349-449)
Twin XL size: MSRP $599 (usually sold at $399-499)
Full size: MSRP $649 (usually sold at $449-549)
Queen size: MSRP $699 (usually sold at $499-599)
King size: MSRP $799 (usually sold at $599-699)
Cal king: MSRP $799 (usually sold at $599-699)
At the time of writing (late October 2023), the promotional deal for the Layla Essential sounded almost too good to pass up, saving you $200 off the MSRP. Earlier in the month, each mattress was only $100 off the MSRP. For added value, Layla offers free shipping to your doorstep to 48 states. It'll also throw in two free pillows to the mix.
While it's common for mattress sales to happen all year round, Layla's discounts fluctuate depending on when you buy. Traditionally, the cheapest prices appear in the Black Friday mattress deals, but other good times to buy include the Labor Day mattress sales in September, the Presidents' Day mattress sales in February and the Memorial Day mattress sales in May.
How good value this mattress is will depend on when you buy. Sitting at the top of the TechRadar best cheap mattress guide are the Siena memory foam mattress and the Allswell (read TechRadar's Allswell mattress review). Both are typically a bit cheaper than the Layla Essential and similar quality. The Layla Essential does, however, compare favorably to most of today's best Amazon mattresses.
Value for money score: 4 out of 5
Layla Essential mattress review: Comfort & support
Layla calls it medium firm' but I found it medium (6 out of 10)
Most comfortable in back sleeping position
Heavier bodies may sink and misalign
As a lightweight sleeper, I found that the sleeping surface of the Layla Essential mattress gently hugged my body without fully sinking in across all positions. Since the top memory foam layer is only two inches thick, this wasn't too surprising.
I tested the mattress across all sleeping positions, and found it most comfortable for back sleeping. I felt that my full weight was supported without any pressure mounting up. Side sleeping, which I'm naturally prone to, wasn't exactly uncomfortable, but it didn't feel optimal either. In the long run, I think my hips would have tensed up more than they typically do. (For more options here, head to TechRadar's best mattress for side sleepers roundup.)
Stomach sleeping was in a similar middle ground. In general, most people who prefer stomach sleeping should choose a firmer mattress (eight or more out of 10) for optimal alignment – especially medium to heavier bodies.
According to the brand, the Layla Essential provides "just enough hug to support your body at critical pressure". It also deems it to be medium-firm. To objectively assess support, I placed a 55-pound kettlebell in the middle of the mattress, to mimic the sinkage from a person's body weight and center of gravity. I measured just shy of 3.25 inches of sinkage. Firmer mattresses with more robust support won't sink quite as much. Based on previous mattresses I've reviewed – as well as this kettlebell test – I believe a medium rating (6 out of 10) is more accurate.
All things considered, the Layla Essential mattress performs best for back sleeping and is most suitable for lightweight and medium-weight sleepers who prefer this position. Most stomach sleepers and heavier bodies should likely seek out firmer, more supportive alternatives.
Layla Essential mattress review: Performance
Decent temperature regulation for an all-foam design
Some motion transfer – not the best for couples or light sleepers
Noticeable sinkage when sitting along the edges
As well as assessing this mattress' comfort and support, I also tested for a range of other key performance criteria. Specifically: motion isolation, edge support and cooling. Here's how I got on.
Temperature regulation
A good night's sleep can be wrecked by overheating – whether that's primarily caused by a mattress, your body's own chemistry, or a mix of both. Although memory foam mattresses aren't inherently ideal to regulate temperature (they conform closely to the body and create opportunities to trap, rather than disperse, airflow), the Layla Essential takes care to address this.
I run hot at night intermittently, part of which can be exacerbated by a lack of breathability in a mattress. During this review, I was glad to find that I didn't experience night sweats. (This was even more impressive given I did my testing at the height of summer in Los Angeles.) This is most likely attributed to the 2-inch top layer of Open Cell+ Memory Foam, which is designed to encourage airflow through the mattress. However, it's not very cool to the touch and simply won't provide the same breathability as a mattress that isn't all-foam. If you tend to run hot at night, I recommend considering a hybrid mattress (which tends to be more breathable as the springs create space for air to circulate) or shelling out on one of the best cooling mattresses.
Temperature regulation score: 4 out of 5
Motion isolation
I'm a solo sleeper, so motion isolation isn't my primary concern in a mattress. Regardless, I did another kettlebell test to see how light sleepers with a fidgety partner would fare with varying degrees of movement on the surface of the Layla Essential. I placed a wine glass in the center of the mattress, dropping a 10-pound kettlebell at 4, 10, and 25 inches away from it. The glass fell almost every time at 4 inches away, wobbled a moderate amount from 10 inches away, and moved only a small amount from 25 inches away.
These tests indicate that the Layla Essential doesn't excel at motion isolation, which could be a red flag for co-sleepers who rouse easily. Moreover, when the weight dropped, it made a notable slamming sound. This may be another deterrent for partnered sleepers, though perhaps not a solid pass for solo sleepers.
Motion isolation score: 3 out of 5
Edge support
Some mattresses have reinforced edges along the top/bottom and/or sides of the mattress. This helps to maximize the safe and usable sleeping / sitting surface area of the mattress. It also prevents early sagging, thus bolstering the mattress' durability and longevity. The Layla Essential doesn't reinforce its perimeter.
To assess the edge support objectively, I put the 55-pound kettlebell at the bottom and side of the mattress. The sinkage clocked in at approximately 3.5 inches. Since the sinkage was slightly less at the center of the mattress (about 3.25 inches), that's an indication of less-than-great edge support.
I never felt in danger of rolling off the mattress when lying down, but the lack of edge support was also pretty notable while sitting on the side of bed. This could be a dealbreaker for co-sleepers who require a bigger surface area. People who regularly sit on the bed's edge may also find that it's not as supportive as they'd like it to be, and that it may sag more rapidly than alternatives with robust edge support.
Edge support score: 3.5 out of 5
Layla Essential mattress review: Customer service
Mattress delivered vacuum-packed, rolled and boxed
Free doorstep shipping via Fedex Home Delivery to 48 states
No issues with off-gassing
Free shipping is always a perk, which Layla provides across all its mattress models. You're not able to choose a delivery window, but you can track shipping details and time estimates via FedEx.
The Layla Essential is delivered to your doorstep, vacuum-packed in two layers of plastic and rolled in a box. As a solo unboxer, I found the mattress to be super easy to roll and maneuver onto my bed frame. That's probably thanks to its slim profile, and it came as a welcome surprise. The mattress hissed only a mild amount once I unwrapped the first layer of plastic, and ceased by the time I cut open the thicker layer of plastic. As it began to expand, I could only notice a very light off-gassing odor when I sniffed it up close. However, I didn't detect an odor that night. (The brand says you can sleep on it directly after unboxing, but it'll expand completely within 24 hours. It felt fine to sleep on that night.) Again, both foams are CertiPUR-US certified, so a lack of safety wasn't a concern on the off-gassing front.
Image 1 of 3
This mattress comes with a 10-year warranty and 120-night trial. Some brands offer longer trials and warranties, but this is decent for the price of the mattress. If you decide to buy via Amazon, make sure you read the small print on this – there are sometimes extra hoops to jump through to ensure your trial and warranty are honored. (And figuring out how to return a mattress to Amazon isn't always straightforward, either.)
Customer service score: 4 out of 5
Layla Essential mattress review: Specs
Swipe to scroll horizontally
| | |
| --- | --- |
| Type | All-foam |
| Materials | Memory foam, other foam |
| Cover | Removable and machine washable |
| Handles | No |
| Firmness (1-10) | I rate 6 (medium); Layla rates 'medium firm' |
| Height | 9 inches |
| Trial period | 120 nights |
| Warranty | 10 years |
| Price bracket | Budget or lower mid range |
| Queen price price | MSRP $699 (usually sold at $499-599) |
| Sizes | Twin, twin XL, full, queen, king, Cal king |
| Delivery | Free standard delivery |
| Returns | Free |
Layla Essential mattress review: Other reviews
Average 4.5 stars on brand website and Amazon
Happy customers cited great value for cost
Less satisfied customers noted poor edge support
The Layla Essential has only 12 reviews with an average of 4.5 stars on the brand's official product page November 2023). Amazon has a bit more to go on, with 68 reviews with an average of 4.5 stars. While this isn't a very sizable pool to run with, positive reviews across both sites commonly noted the value of the purchase… so long as it aligned with their preferences for firmness (neither too firm nor too soft) and sleeping positions. In addition, some commenters appreciated the early or on-time delivery. Others, like me, were pleased with the unboxing experience.
Less enthusiastic customers were unhappy with the firmess, whether they deemed it too firm or too soft for what they expected (firmness levels are highly subjective, so this type of criticism should be taken with a grain of salt – almost all mattress review sections are peppered with people complaining their purchase it too firm or too soft). Some experienced next-day pain and/or continuing pressure build-up across different sleeping positions. In addition, some customers called out the disappointing edge support – feeling as though they might roll off or that the mattress wouldn't hold up for as long as it should.
Should you buy the Layla Essential mattress?
Buy it if...
✅ You're on a budget: The most appealing thing about the Layla Essential is probably its price. Depending on when and where you buy it, this mattress sits in the lower mid-range or budget brackets, and offers good value for that price. It's also the cheapest Layla by some way.
✅ You're a back sleeper: During my review, I found this mattress comfiest for back sleeping. I'd specifically recommend it to light- to average-weight back sleepers, who should get on with this level of support.
✅ You sometimes sleep warm: All-foam mattresses, and especially budget-friendly ones, can run hot. I didn't have that issue with the Layla Essential, which stayed neutral throughout my testing period.
Don't buy it if...
❌ You can afford to spend a bit more: While the Layla offers good value for its affordable price, if you can stretch to spend a bit more, the Nectar is TechRadar's #1 rated memory foam mattress, and comes with a full year's trial and forever warranty. Read more in our Nectar memory foam mattress review.
❌ You sleep on your stomach or weigh above average: The medium sleep feel and relatively shallow profile of the Layla Essential means it probably won't be supportive enough for anyone of heavier body weight, or stomach sleepers. A good, firmer, budget-friendly option is the Siena memory foam mattress, or if you're of very heavy body weight, head to TechRadar's roundup of the best mattresses for bigger bodies, and invest in a specialist option.
❌ You share a bed: I found the Layla Essential didn't isolate movements as effectively as many mattresses I've tested, which could be an issue for those who share a bed, especially if you're a light sleeper. If you can afford it, try one of Layla's pricier models – I was impressed with the motion isolation in my Layla Hybrid review.
Layla Essential mattress review: Also consider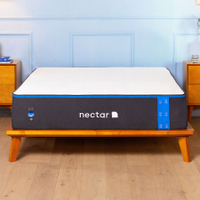 Nectar mattress
If you're okay with shelling out an extra hundred dollars or so (at evergreen sale price), check out Nectar's Memory Foam Mattress. With 5 layers of foam and 12-inch thickness at 6.5 out of 10 for firmness, it'll please a wider variety of sleepers, especially those who lie on their side – while optimizing comfort and support. Read more in our Nectar Mattress review.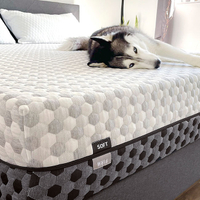 Layla Memory Foam mattress
Intrigued by the Layla brand but want to upgrade to a cooler, more co-sleeper friendly model? Their standard Memory Foam mattress offers 10.5 inches of height plus the unique option to flip the mattress for different levels of firmness (4 out of 10 on the soft side, 7 out of 10 on the firm side). You'll also get additional cooling, pressure relief, and motion transfer thanks to copper gel foam, which are sure to please a wider range of sleepers.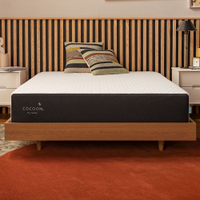 How I tested the Layla Essential mattress
I slept on the Layla Essential mattress for three weeks in August in Los Angeles, where nights were cool enough as far as peak summer goes, averaging around mid-60s Fahrenheit. (I usually slept with a ceiling fan on and next to a partially open window, but did not sleep with the air conditioning on overnight.) During testing, I used bamboo sheets and a duvet, often sleeping on top of both and using a throw blanket instead. In addition to reviewing this mattress based on my own body type, needs, and preferences, I did several weighted tests to objectively assess features including softness, motion isolation, and edge support.
First reviewed: November 2023
Michele Ross is a freelance wellness, beauty, and lifestyle writer based in Los Angeles. She contributes to publications including Well+Good, Editorialist, and RealSelf; has worked with brands including HUM Nutrition, Goldfaden MD, and Beast Health; and has served as a content strategist and ghostwriter for doctors and dietitians. Her goal is to empower readers to make informed decisions about their routines that work for their specific needs and concerns.