Layla Hybrid mattress review: two-minute review
The Layla Hybrid is a dual-sided, flippable mattress that uses copper-infused memory foam and a support core of individually wrapped coils. It offers two firmness options—one soft and one firm, with neither side skewing too strongly in either direction—so buyers can test out both sides at home and discover which side works best for their body type and sleeping position. (Before purchasing a new mattress, don't forget to consult the TechRadar best mattress buying guide.)
Both sides boast terrific motion isolation, which makes it great for co-sleepers. The firm side offers the best pressure relief for back sleepers, and should be comfortable enough for stomach sleeping for those of all weights. Naturally, the firm side has less sinkage, which makes it easier to move around the bed (or get in and out of bed) with less effort. Meanwhile, the soft side offers great pressure relief with a cozy amount of cradling for side sleeping, particularly for those of light to average weight, though this side is also comfortable enough for such sleepers on their back or stomach. However, heavier sleepers will likely prefer the firm side—or may even require an alternative mattress that's even firmer depending on their preferences.
In addition to offering a 2-for-1 deal of sorts with 'Flippable Firmness', the Layla Hybrid comes with a soft, zipped cover with built-in handles for easy flipping when needed. Moreover, the cover is breathable enough so as not to trap excess heat. As an extra bonus, each purchase of the Layla Hybrid mattress, no matter the size, comes with two complimentary memory foam pillows.
After testing both sides of the mattress in a variety of sleeping positions, I was impressed by the features of each. I was even surprised to find out that I could sleep on either side with a great deal of comfort, though I did find that certain sleeping positions were a bit more comfortable on one side over the other.
Keep reading to see how each side fared in terms of pressure relief, motion isolation, edge support, and cooling—as well as general considerations including cost and value, ease of set-up, and more.
Layla Hybrid mattress review: price
Upper-mid-range
Regular sales can reduce price by a few hundred dollars
Comes with free shipping and two free memory foam pillows
The Layla Hybrid mattress is the second offering from the brand, following its original Memory Foam Mattress (which is also flippable). The hybrid model is nearly twice the cost of the all-memory foam one; non-sale prices for the Layla Hybrid start at $1,299, while those for the Layla Memory Foam Mattress start at $749. In the wider market of hybrid mattresses, the Layla Hybrid falls somewhere in the upper middle range in terms of price.
The MSRP for the Layla Hybrid mattress is as follows:
Twin size: MSRP $1,299
Twin XL size: MSRP $1,399
Full size: MSRP $1,399
Queen size: MSRP $1,499
King size: MSRP $1,699
Cal king size: MSRP $1,899
Fortunately, the brand regularly offers promotions lowering the price of the Layla Hybrid mattress. For instance, a President's Day sale was underway at the time of writing this review, which reduced the cost of each size by $200. If you're not in a rush to buy a new mattress, it's worth waiting to see if you can snag the Layla Hybrid at a discount. (Tip: consult TechRadar's mattress sales guide, which is updated regularly to reflect sales and promotional offers.)
Final cost aside, Layla offers free shipping via FedEx Home Delivery to 48 states; Alaska and Hawaii aren't included. However, this will be to your doorstep only—not your unit in case you live in an apartment. Upping the value of a Layla Hybrid mattress purchase is the inclusion of two memory foam pillows. When bought separately, the MSRP of a queen pillow is $89 and a king pillow is $104, which amounts to worthy savings if you planned on purchasing new pillows along with your mattress.
Layla Hybrid mattress review: specs
Swipe to scroll horizontally
| | |
| --- | --- |
| Price (queen size) | MSRP $1,699 (usually $1,499) |
| Type | Hybrid |
| Materials | Copper-infused memory foam, poly foam, pocketed coils |
| Firmness | Soft side: medium-soft (4-4.5/10), firm side: medium-firm to firm (6.5-7/10) |
| Depth | 13" |
| Delivery | Free |
| Tria | 120 nights |
| Warranty | 10 years |
Layla hybrid mattress review: materials and design
Hybrid mattress with memory foam and pocketed coils
Flippable design provides choice of comfort levels
Copper-gel memory foam promotes cooling
The big selling point of the Layla Hybrid is, of course, its flippable design with two comfort options. Its support core features six-inch pocketed coils to absorb motion. (The center has 14 gauge coils, while a double row of 16 gauge coils are along the edges.) The next layer of the firm side has 1.5 inches of poly foam, which is intended to amplify support as well as airflow. This is followed by a one-inch layer of copper-gel memory foam, which offers a firm feel and additional cooling properties.
Moving from the support core to the soft side, the next layer has two inches of poly foam followed by 2.5 inches of copper-gel memory foam. More sink on this side means greater contouring for the body.
All foams used in the Layla Hybrid are CertiPUR-US certified, which means they've been tested, analyzed, and approved to meet exacting standards for emissions, content, performance, and durability. In simple terms, foams that are CertiPUR-US certified are safer for humans and the environment alike than those lacking this certification.
Finally, the cover is removable for easy cleaning.
Design score: 4.5 of 5
Layla Hybrid mattress review: comfort
Firm side:
Can be beneficial for all body types
Excellent for back sleeping
Good for stomach sleeping
Since I had recently tested another firm mattress (which was rated as 7 out of 10 for firmness), I figured it made sense to start with the firm side of the Layla Hybrid to assess its pros and cons comparatively. The brand rates the firm side at around a 7 out of 10 for firmness, which equates to a slight firm ranking, though I'd say it ranges around a 6.5 (medium-firm) to 7.
To quantify pressure relief, I placed a 55-pound kettlebell in the center of the mattress, which simulates a sleeper's weight sinking into it. The amount of sink measured around three inches—a full inch more than the last mattress I tested, which in part explains the following discoveries.
For reference, I'm a lightweight sleeper (under 130 pounds). I preferred the firm side most for sleeping on my back; I felt fully supported and comfortable, and didn't have a sense of it being too firm. It offered noticeable pressure relief around my lower back while still contouring my hips enough thanks to the memory foam; my spine felt aligned and I didn't wake up with any aches or pains. It also performed pretty well for side sleeping—much more so than the previous firm mattress I tested—though I didn't experience the same amount of pressure relief around my shoulders and hips as I did on the softer side. (More on this to come.) While I don't often sleep on my stomach, I made sure to try this position as well, and have no complaints there. I didn't feel any excess tension on my stomach or hip bones.
I asked my neighbor, an average-weight combination sleeper, to assess how comfortable she found the Layla Hybrid. Overall, her takes on the firm side pretty much mirrored my own.
Soft side:
Good for lightweight to average weight side sleepers
Will likely be too soft for heavier sleepers and some stomach sleepers
The brand rates the soft side of the Layla Hybrid as a 4 to 4.5 out of 10 for firmness, which is on the firmer end of soft mattresses (or the softer end of medium-firm mattresses). Upon testing this side, I'd deem it closer to a 4.5. I also did the kettlebell test on the soft side of the Layla Hybrid, which measured five inches.
Transitioning from the firm side to the soft side of the Layla Hybrid wasn't as jarring as I expected it to be. In fact, I found that I enjoyed both sides of the mattress and could easily stick with either to promote a comfortable night's rest. (Note: I'm a combination sleeper, so the same might not apply to everyone.) With that said, I found the soft side much more amenable for side sleeping. Upon getting into bed in this position, my shoulders and hips reveled in instant contouring and pressure relief. Sleeping on my back on this side was also comfortable, and I was pleased to find that my hips didn't sink too much. I also had no issues while sleeping on my stomach.
My neighbor tested the soft side as well. While she didn't have major complaints about comfort or pressure relief, she simply preferred the firmer side by a slight margin. However, it's worth noting that heavier sleepers (over 230 pounds) and stomach sleepers typically require firmer mattresses to offer the most comfort and support, so it's likely that this side of the mattress in particular will be too soft for them.
Comfort score: 4.5 of 5
Layla Hybrid mattress review: temperature regulation
Each layer is intended to support temperature regulation
Mattress cover doesn't trap heat
Not warming, but not significantly cool to the touch
Memory foam mattresses often get a bad reputation in terms of temperature regulation, as they conform closer to the body and can thus trap heat. The Layla Hybrid bypasses this issue on several fronts. First, the support core of pocketed coils permits greater airflow compared. Next, the poly foam in the next layer has deep channels to enhance cooling even further—and the copper-infused memory foam, which helps to regulate body temperature, is in the top layer. Moreover, the brand mentions that the cover is breathable.
I sometimes run hot at night, so I was interested to see if all of the purported temperature-regulating properties of the mattress actually checked out. (For reference, I tested this mattress during the winter in Southern California; the nightly temperatures typically averaged around 45 to 50 degrees Fahrenheit.) Luckily, during my three-week testing period, I didn't wake up at any point on either side feeling sweaty or otherwise too hot. With that said, the mattress isn't noticeably cool to the touch. Still, it gets my approval for sleepers who tend to overheat at night—especially those who like the feel of memory foam but could use more airflow and breathability.
Temperature regulation score: 4.5 of 5
Layla Hybrid mattress review: motion isolation
Foam layers on both sides absorb motion well
Great choice for co-sleepers
Motion isolation is a major factor in a mattress for co-sleepers—especially if one or both sleeps lightly or has sleep issues otherwise. To gauge how well the Layla Hybrid performed in this department, I placed a wine glass at the center of the mattress and dropped a 10-pound kettlebell at varying distances—four inches, 10 inches, and 25 inches—away from it to see how much the glass moved, or if it would fully tip over. This test mimics the potential for sleep disruption should a co-sleeper (or even a pet) get in or out of bed, switch sleeping positions throughout the night, or fidget from time to time.
Both the firm and soft sides of the mattress absorbed the weight drops very well. At four inches, the wine glass wiggled a few times, but quickly recovered. It wobbled significantly less so with the weight dropped 10 inches away, and barely moved with the weight dropped 25 inches away. While the softer side absorbed motion a bit better than the firm side—which makes sense given the former's thicker, softer layers of foam—I was impressed by the firm side's limited movement compared to other medium-firm and firm mattresses I've reviewed.
Motion isolation score: 5 of 5
Layla Hybrid mattress review: edge support
Provides sturdy edge support on both sides
Never felt in danger of rolling off
Adequate edge support is important when researching and ultimately buying a new mattress, as it can increase the amount of usable space for sleeping and sitting without feeling in danger of slipping or rolling off. Strong edges also help prevent sagging from normal wear and tear as the years pass.
I tested the edge support on both sides of the Layla Hybrid mattress by placing my 55-pound kettlebell along the perimeter of the bed. On the firm side, the amount of sink clocked in just shy of three inches; on the soft side, the amount of sink was around 4.5 inches. Both measurements were slightly below those I took with the same weight placed at the center of the bed, which reflected the double row of higher-gauge coils along the bed's edges.
This test confirmed how durable the edges of the Layla Hybrid mattress are—even, impressively, on the softer side. In addition, throughout the whole testing period, I experienced no issues rolling around the bed's surface, laying close to the edges, or sitting upright alongside them.
Edge support score: 5 of 5
Layla Hybrid mattress review: setup
Mattress delivered vacuum-packed and rolled in a cloth duffel bag
Difficult to move and unwrap solo
Off-gassing smell lasted into the first night
The Layla Hybrid comes with free shipping to your doorstep in the United States (excluding Alaska and Hawaii). While I wasn't able to choose a delivery window, I was able to include my building's door code in the shipping details, as well as track the status of the shipment via a FedEx tracking number that Layla provided via email.
The mattress arrived vacuum-packed and rolled in a cloth duffel bag, instead of a box. Though I appreciated this from a sustainability standpoint (I'm saving the cloth bag for future use), it was challenging to move the bag—which was listed as 127 pounds—on my own from the entrance of my building to my unit, especially on carpeted floors. Fortunately, a neighbor saw me and helped me push it to the entrance of my apartment unit.
Aside from the cloth bag, the mattress arrived with one layer of "sticky" plastic and an inner layer of thicker plastic. The mattress expanded about halfway when I unwrapped the first layer—which was accompanied by about two minutes of audible wheezing—and the rest of the way upon cutting open the second layer on my bed frame. I didn't think that the off-gassing smell was too bad—that is, until I left my studio apartment only to smell it immediately upon walking in about two hours later. Moreover, I could notice the smell while sleeping that night. Of course, this wasn't ideal, but I felt at least a bit better knowing that the foam used is CertiPUR-US certified.
According to the quick-start guide included in my shipment, the Layla Hybrid takes its full shape within minutes of unrolling and is suitable to sleep on straight away.
In light of my experience, I recommend enlisting the help of someone for setting up the Layla Hybrid mattress. (For reference, it was one of the more challenging bed-in-a-box setups I've done on my own.) In retrospect, I found the entire unboxing experience to be the part most lacking in my full Layla Hybrid review.
Setup score: 3 of 5
Layla Hybrid mattress review: customer reviews
Many customers are happy with pressure relief and comfort
Co-sleepers of different sizes/sleep preferences enjoy its versatility
Some are unimpressed by cooling claims and firmness levels
As of mid-February 2023, the Layla Hybrid mattress has a just over 1,000 reviews on the brand's website. While I couldn't find an exact average rating, it appears to have somewhere around 4.5 out of 5 stars. However, it seems unusual that not a single 1- or 2-star rating appears on the site.
After investigating a variety of customer reviews, verified buyers who were most pleased with the Layla Hybrid often cited improved sleep quality due to pressure relief and comfort, benefits for combination sleepers, and the perk of essentially being able to test "two mattresses" (soft and firm) in the comfort of their own home. Moreover, several reviewers mentioned that they and their co-sleepers happily agreed on a single side that suited them both, even if their body types/sizes and sleep preferences weren't the same.
Customers who gave a 3-star rating were most unhappy with temperature regulation and firmness levels. Some found that the mattress didn't live up to its cooling claims as they still felt hot at night. Meanwhile, other reviewers didn't enjoy either side of the mattress, stating each side was too firm or too soft for their needs. (Mind you, however, comfort in this regard tends to be highly subjective.)
The Layla Hybrid is also available on Amazon, yet it only has 12 reviews at 3.9 out of 5 stars at the time of writing. Satisfied customers simply stated that the mattress was great. Out of those who gave poor reviews, one was displeased that a shorter edge of the bed sloped downwards, while another cited pain while side sleeping.
Should you buy the Layla Hybrid mattress?
All things considered, I found the Layla Hybrid mattress to be worth the value for different sleeping positions. Moreover, based on the weighted tests I did as well as customer reviews, I think it's a great hybrid mattress for co-sleepers given its prowess for motion isolation, as well as versatility that can accommodate a variety of body sizes and sleeping preferences. I was also impressed by the edge support.
While I enjoyed sleeping on the Layla Hybrid on both sides as a lightweight combination sleeper, the firm side will be best for most back sleepers, while the soft side is more ideal for side sleeping and lightweight sleepers. Heavier sleepers may not be able to benefit at all from the soft side, and may even require a mattress with a higher firmness rating. Sleepers who are seeking a highly cooling mattress may find that the Layla Hybrid underperforms for their temperature regulating needs.
The Layla Hybrid comes with several built-in perks that may give it an edge over other mattresses you're considering to buy. Free shipping and two complimentary pillows with purchase can potentially amount to hundreds of dollars in savings. In addition, the fact that the mattress is flippable may allow you to repurpose it for another family member or friend with a different sleep preference. It can also be beneficial to keep in a guest bedroom to accommodate visitors who have varying body types and/or sleeping preferences.
Layla Hybrid mattress review: Also consider
Swipe to scroll horizontally
| Header Cell - Column 0 | Layla Hybrid | Layla Memory Foam | Nectar Memory Foam | Saatva Classic |
| --- | --- | --- | --- | --- |
| Price (queen) | MSRP $1,699 (usually $1,499) | MSRP $1,099 (usually $949) | MSRP $1,049 (usually $699) | MSRP $1,995 (usually $1,695) |
| Type | Hybrid | Memory Foam | Memory Foam | Innerspring |
| Materials | Copper-infused memory foam, poly foam, pocketed coils | Copper-infused memory foam, poly foam | Memory foam, other foams | Memory foam, pocketed coils |
| Firmness | Soft side: medium-soft (4-4.5/10), firm side: medium-firm to firm (6.5-7/10) | Soft, medium or firm | Medium-firm (6.5) | Plush, medium or firm |
| Depth | 13" | 10.5" | 12" | 11.5" - 14.5" |
| Delivery | Free | Free | Free | Free |
| Trial | 120 nights | 120 nights | 365 nights | 365 nights |
| Warranty | 10 years | 10 years | Forever | Lifetime |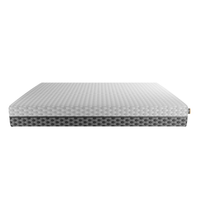 (opens in new tab)
Layla Memory Foam Mattress (opens in new tab)
If you like the idea of having a flippable mattress but are on a tighter budget, the brand's original, all-memory foam mattress can be a good alternative. You'll save hundreds of dollars from the hybrid model while still enjoying the same perks of free shipping to 48 states and two free pillows.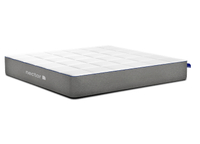 (opens in new tab)
Nectar Mattress (opens in new tab)
Not set on getting a hybrid mattress but still need to prioritize motion isolation? The medium-firm Nectar Mattress, which uses CertiPUR-US foam, is a great value for the price (which is at a similar cost to the Layla Hybrid).
Read our Nectar Mattress review.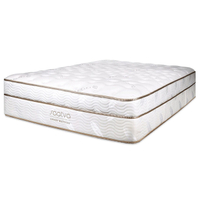 (opens in new tab)
Saaatva Classic (opens in new tab)
If you're willing to pay more for greater luxury and superb temperature regulation, check out the Saatva Classic mattress. This innerspring model comes in soft (3), luxury firm (5.5), and firm (8) to suit a variety of personal preferences. It's a bit pricier than the Layla Hybrid by a few hundred dollars, though you can snag it on sale throughout the year. Bonus: It comes with free white glove delivery.
Read our Saatva Classic mattress review.
How I tested the Layla Hybrid mattress
I tested the Layla Hybrid mattress for a total of three weeks, with roughly 10 days on each side. My testing period took place during the winter in Southern California, where the temperature at night averaged in the mid-40s Fahrenheit. I used linen sheets to promote breathability and temperature regulation throughout the full trial. I also enlisted the help of a neighbor to get an additional take on both sides of the mattress, and asked her for feedback while resting on her back, side, and stomach.
I performed standardized tests on both the firm and soft sides of the Layla Hybrid to objectively assess softness, edge support, and motion isolation so I could gauge them beyond my personal preferences and potential biases.