Best mattress for college students in 2023: 5 beds to suit any kind of budget
The best mattresses for college students that'll help you unwind from the chaos of campus life
Best mattress for college students: quick list
1. The quick list
2. Best under $299
3. Best under $499
4. Best under $699
5. Best under $899
6. Best over $1,000
7. Best mattress toppers
8. How to choose
The best mattress for college students could be a standard innerspring model, a basic futon, a plush memory foam bed, or even a luxury hybrid. No matter which type you choose, you'll want something that'll set you up for academic success through proper, restorative sleep. Not sure where to look? We've rounded up five of our favorite college mattresses here.
Our choices span from budget (under $299) to luxury (more than $1,000), with twin XL and queen sizes as our standard cost metrics. (These sizes are the most common in college dorms and among adults, respectively.) Notably, several of our picks are featured in our overall best mattress guide and have been vetted by our expert sleep testers. We also took verified customer reviews into consideration, particularly for mattresses we've yet to sleep on ourselves.
In addition to the above, we've highlighted some of our favorite mattress toppers for college – an economical choice if your dorm or apartment comes with a mattress that's in tip-top shape but doesn't mesh with your sleep needs. Meanwhile, if you're searching for shopping tips, our FAQ section at the end of our list is where we answer your questions about how to buy the right college mattress for you.
Whether you just want a simple bed to get you through your final year of classes or a cozy mattress to last throughout your entire undergraduate journey, we've got you sorted. Along with listing today's best prices for each featured mattress, we've also rounded up this month's biggest mattress sales to save you more money. Now onto our list of the best mattresses for college students across every price bracket...
The quick list
The best mattress for college students in 2023 - as chosen by experts
Why you can trust TechRadar We spend hours testing every product or service we review, so you can be sure you're buying the best. Find out more about how we test.
Best under $299
Best mattress for college students under $299
Specifications
Firmness (1-10):
Medium firm (6.5)
Shipping:
Free shipping & returns
Price (MSRP):
$129.99 - $269.99
Reasons to buy
+
A super-affordable hybrid
+
Great temporary solution
+
Best for lightweight sleepers
Reasons to avoid
-
Most adults may prefer the 10-inch version
-
Takes a while to expand
If you're on a limited budget and just need something to get you through a couple of semesters, the Linenspa Memory Foam Hybrid mattress is a solid choice. With a price tag of $149.99 for a twin XL and $249.99 for a queen, it's among the least expensive hybrid mattresses we've ever seen. However, its open coil design more closely resembles a traditional innerspring mattress.
It boasts a high rating on Amazon – 4.5 stars out of 5 based on over 130,000 reviews as of July 2023 – and we quite like it, too. In our Linenspa Memory Foam Hybrid mattress review, we note that the open coils provide plenty of bounce and adequate airflow, while the foam has a soft, gentle contouring effect. A downside to all of that bounce is poor motion isolation so we recommend this mattress for solo sleepers.
At 8 inches, this is a thinner mattress than we'd advise for most older teenagers and adults. Lightweight stomach sleepers should get by just fine on this bed as-is, but larger individuals can possibly boost the height, softness, and support with a separate mattress topper. (Check out some of our favorite bed toppers below.)
Alternatively, opt for the 10-inch Linenspa Memory Foam Hybrid mattress, which better balances support and plushness. It costs $229.99 for a twin XL, and a queen retails for $319.99 – still firmly in budget territory. This certainly won't be your 'forever mattress,' but as a 'right now mattress,' the Linenspa will get the job done.
Best under $499
2. Siena memory foam mattress
Best mattress for college students under $499
Specifications
Firmness (1-10):
Medium firm (6.5)
Shipping:
Free shipping & returns
Price (MSRP):
$499 - $799
Reasons to buy
+
Support for front and back sleeping
+
Sleeps cool for an all-foam bed
+
Includes a 180-night trial
Reasons to avoid
-
Possibly firmer than advertised
-
Might not suit side sleepers
Need a serviceable (and inexpensive) mattress to get you through the next four years? Take a look at the Siena memory foam mattress. For the uninitiated, Siena is a sibling brand to Nectar (on this list at #4), and just like Nectar it's always on sale. After a perpetual $300 discount, a twin XL Siena mattress sells for $299, and a queen is just $399.
Although it's clearly a cheap mattress, Siena doesn't skimp on quality. It's 10 inches tall and boasts a 5-layer construction, including a 5.5-inch polyfoam base layer, two inches of contouring transitional foam, and a 2.5-inch layer of gel-infused memory foam. On top is a woven poly-blend cover designed to wick away moisture, and a shift-resistant cover at the bottom helps the mattress stay in place as you sleep.
Siena claims its memory foam mattress is medium-firm, but some sleepers think it skews firmer than that. It's ideal for back or stomach sleepers who prefer not to sink too deeply into their bed. This lack of give also contributes to a cooler sleeping surface compared to most all-foam models, which tend to be cushy to the point of stifling. The gel-infused foam layer and breathable cover likely help here, too. (That said, the Saatva Classic at #5 is a better option for sleepers who regularly overheat.)
With an impressive 180-night trial, you can give yourself at least an entire semester to determine whether the Siena mattress is right for you. If you're not fond of it, send it back for a full refund, free of charge. Otherwise, your purchase will be backed by a 10-year warranty, which more than covers a standard undergrad career.
Best under $699
3. Allswell Supreme mattress
Best mattress for college students under $699
Specifications
Firmness (1-10):
Medium-soft
Shipping:
Free shipping & returns
Price (MSRP):
$517 - $797
Reasons to buy
+
A luxury hybrid at a budget price
+
Oodles of pressure relief
+
Decent edge support
Reasons to avoid
-
Cooling upgrade needed for hot sleepers
-
Some might find it too soft
If you're contemplating taking your mattress with you post-graduation, you'll want to seek a more durable bed. This will take you into the mid-range bracket, but on the lower end of that price scale is the Allswell Supreme. It retails for $547 in twin XL and $687 in queen. Allswell rarely offers sales on its already-cheap mattresses, but you can take advantage of the occasional 15% to 25% off discount, provided you don't mind signing up for SMS updates to receive Allswell coupons.
The Allswell Supreme is a hybrid mattress that consists of individually-wrapped coils that are reinforced along the edges, a 2-inch layer of responsive pressure-relieving memory foam, and a 2.5-inch layer of copper-infused gel memory foam for cooler, more hygienic sleep. A plush Euro top comes standard, but for an extra $75 you can upgrade to a cooling Euro top for added protection from night sweats.
As of July 2023, 86% of the nearly 600 Allswell shoppers who reviewed this mattress would recommend the Allswell Supreme. Its medium-soft feel should suit side sleepers craving ample pressure relief. The combination of coils and gel foam yields sufficient breathability; however, a few reviewers warn that the Allswell Supreme runs warm. If you're concerned about overheating, consider upgrading to the cooling Euro top or adding a separate cooling topper.
At a lofty 14 inches tall, the Allswell Supreme will add a luxurious vibe to your dorm room or apartment, but if it's an authentic hotel mattress you want, the Saatva Classic (at #5) will fit the bill better, albeit at a much higher cost. Still, the budget-friendly Allswell Supreme will be inviting enough for you to want to forego those grueling all-night cram sessions.
Best under $899
Best mattress for college students under $899
Specifications
Firmness (1-10):
Medium firm (6.5-7)
Shipping:
Free shipping & returns
Price (MSRP):
$599 - $1,698
Reasons to buy
+
Comfy for side sleeping
+
Doesn't sleep too warm
+
Superb value
Reasons to avoid
-
Removable cover not washable
-
Lacks support for heavier bodies
If the Allswell Supreme (at #3) is too plush for your tastes, check out the slightly pricier Nectar Mattress. This medium-firm foam mattress is another mid-range gem that'll get you through your college years (and beyond). Frequent Nectar mattress sales mean you'll never have to pay full price, either – a twin XL is typically priced at $569, while a queen is available for as low as $699.
The Nectar is 12 inches tall and made up of a 3-inch high-density gel memory foam layer, two inches of dynamic response foam, a 7-inch polyfoam core, and a moisture-wicking polyblend cover. Although the cover is removable, it's not washable, and Nectar strongly advises against removing it as doing so could compromise the integrity of the mattress. Thus, it's wise to buy a mattress protector to safeguard it against stains and spills.
Testing the Nectar Mattress ourselves, we realize just why it's one of the most popular mattresses on the market. In our Nectar Mattress review, we say it's an excellent side sleeper mattress, sleeps noticeably cool for a foam bed, and isolates motion incredibly well, which is beneficial if you plan to share a bed with someone. On the other hand, heavier individuals may need a more supportive mattress (like the Saatva at #5), and predominant back or front sleepers might prefer something with less give (such as the Siena at #2).
For most students, though, the Nectar will offer a just-right balance of comfort and support at a fantastic value. It comes with a one-year trial and a forever warranty, which are incredible perks for its relatively low price. Free or discounted bedding bundles are also common, which can help you save money on new sheets, pillows, and a mattress protector – especially for twin XL, a size that's harder to shop for.
Best over $1,000
Best mattress for college students over $1,000
Specifications
Firmness (1-10):
Plush soft, luxury firm, or firm (3, 5-7, or 8)
Height:
11.5 or 14.5 inches
Shipping:
Free white-glove delivery; $99 returns
Price (MSRP):
$1,099 - $2,799
Reasons to buy
+
Designed to suit almost any sleeper
+
Superb temperature regulation
+
Excellent edge support
Reasons to avoid
-
Not exactly budget friendly
-
Doesn't isolate motion as well
The Saatva Classic is bonafide a luxury mattress, but if your budget allows, it's an investment that could do wonders for your overall sleep quality (and in turn, your academic performance). Better yet, you'll be able to haul it with you once you graduate so it'll be one fewer thing you'll need to buy for your post-college digs. Though it's expensive, you'll seldom have to pay full price since regular Saatva mattress sales shave up to $500 off.
The Saatva Classic mattress features an organic cotton cover, a Euro pillow top with Lumbar Zone quilting, high-density foam in the center and along the perimeter, and a two-tier coil system with pocketed springs made from 14.5-gauge recycled steel plus 13-gauge coils in the base. Choose from three firmness levels (plush soft, luxury firm, or firm) and two height profiles (11.5 or 14.5 inches). The structure and price will largely remain consistent, no matter how you customize your Saatva mattress.
In our Saatva Classic mattress review, we slept on the 14.5-inch firm version. Our testing panel thought it was comfortable for side and back sleeping, but combi and stomach sleepers might prefer the plush soft or luxury firm models for more contouring and cushioning. Temperature regulation and edge support are also aces, but motion isolation could be better, which will be less of an issue for solo sleepers.
Saatva offers a 1-year trial and a lifetime warranty, the same as Nectar at #4. It also includes free white-glove delivery, a real boon considering that it's quite a heavy mattress. (Thus, it's a sensible choice for longer-term living arrangements.) It may not be your typical college mattress, but the Saatva Classic will help you catch those much-needed Zs to help you earn those coveted As.
Conversely, for a luxurious hotel-like mattress at a lower cost, consider the 14-inch Allswell Supreme hybrid at #3.
Best mattress toppers for college
Best mattress toppers for college
Your dorm room may already come with a mattress, but if it's uncomfortable for you yet still in decent condition, a mattress topper will give it an instant upgrade. Not only is a topper usually less expensive than a complete mattress, but it's also easier to transport.
Here are three of our favorite mattress toppers for college students: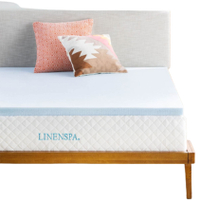 Linenspa Gel-infused Memory Foam Mattress Topper
This budget mattress topper costs less than $100. Choose from a 2- or 3-inch profile, depending on how much contouring you want. Either way, you'll enjoy loads of pressure relief, especially if you favor sleeping on your side. Although this memory foam topper is infused with cooling gel, some Amazon reviews suggest that it doesn't always sleep so warm.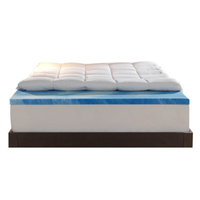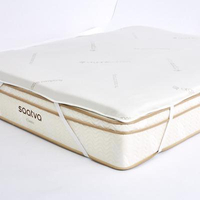 Saatva Foam Mattress Topper
This may not be a budget topper, but compared to a full-fledged Saatva mattress it's a straight-up bargain. It's only 1.5 inches high, which works for those beds that only need a slight comfort boost. The organic cotton cover does a great job of wicking away moisture, too. Despite the anchor straps, though, this topper is prone to moving around so it might not be the right choice for fidgety sleepers.
Read more: Saatva Foam Mattress Topper review
How to choose the best mattress for college students
Cost is likely the top consideration for most people buying a mattress for college as students generally have a limited budget to work with. However, to ensure you're getting the best value for your money no matter how much you spend, there are several key factors to keep in mind:
Size: Campus dorms are usually limited on space so twin XL is the most common mattress size. As for off-campus housing, measure the dimensions of your room to see if it could possibly accommodate a larger full or queen bed instead.
Firmness level: How hard or soft you want your sleep surface to be will depend on your sleep style, weight and build, and personal preference. Medium-firm is a balanced level of firmness that should benefit most sleepers.
Temperature regulation: If you tend to sleep warm at night, consider materials that help regulate airflow – for instance, pocket springs, breathable memory foam, latex foam, and phase-changing fibers. Innerspring mattresses and hybrids generally sleep cooler than all-foam beds.
Movability: Don't overestimate how easy it is to move a mattress – hybrids, in particular, can be quite heavy. Unless you're going to remain in one location for an extended period of time, think about buying a mattress that's relatively simple to haul.
Durability: If you're buying your mattress with the goal of owning it beyond your college years, you may need to expand your budget a bit. Lower-cost mattresses are typically good for a limited amount of time with nightly use.
Return policy: When buying a mattress online, most people aren't trying it in person first. Seep companies offer a trial period during which you can return your mattress for a full refund if you're not satisfied. Note that these terms vary by brand, including the length of the trial and any applicable return shipping fees.
Need an assist in finding the right mattress for college? Take a look at our guide on how to choose a mattress to help you understand exactly what to look for.
What kind of mattress is good for students?
This answer depends on your living arrangements. Sleeping in a campus dorm? Chances are you're sleeping on a twin XL mattress, which is the most common size used in dorms. Off-campus? You may have room to spare for a full or queen.
However, if you're in cramped quarters, a futon could be a practical space-saving solution. It can function as a sofa during the day, then transform into a bed when it's time to sleep. It'll require a mattress that can withstand the rigors of frequently transitioning between a couch and a bed. Fortunately, futons are generally inexpensive.
If your dorm or apartment includes a mattress but it's not comfortable for you, save money by purchasing a mattress topper for an instant change in the bed feel. Note that this option only really applies to mattresses that are otherwise in good shape.
Ready to shop? Scroll down for today's best deals on mattresses for college:
Sign up to receive daily breaking news, reviews, opinion, analysis, deals and more from the world of tech.
Alison is a freelance writer and editor from Philadelphia, USA. She is an expert mattress tester and sleep product reviewer, and has been sharing trusted buying advice and retail news for over a decade. When she isn't reviewing mattresses or hunting for deals, Alison can be found teaching/training in martial arts, fawning over skincare, and indulging in her quarantine-borne hobby: cooking.