The best mattress toppers 2023: 11 affordable ways to upgrade your bed
Best
Contributions from
last updated
Find the best mattress toppers to boost your bed's comfort without investing in a new mattress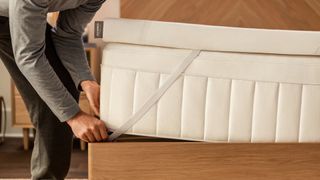 (Image credit: Tempur-Pedic)
Finding one of the best mattress toppers can be a really cost-effective way to upgrade your bed and improve your sleep, without having to go the trouble and expense of buying one of the best mattresses.
If your current mattress isn't really doing it for you any more, a good mattress topper might be all you need to make it feel more comfortable and supportive, giving it a few more years' life before you have to replace it. You can also use a mattress topper to adjust the feel of your bed more subtly; you might want to make it a little softer or firmer, or add some memory foam hug to a traditional innerspring bed.
Don't confuse mattress toppers with mattress protectors, which are much thinner and all about protecting your bed from stains and spills, or mattress pads; our mattress pad vs mattress topper guide can explain the differences on that front.
Below, we've gathered together a selection of the best mattress toppers available now, for a range of different budgets and needs. Read on to discover the best options available now.
The best mattress toppers 2023: as chosen by experts
Why you can trust TechRadar We spend hours testing every product or service we review, so you can be sure you're buying the best. Find out more about how we test.
Deluxe upgrade
1. Puffy Deluxe Mattress Topper
Material: Memory foam, bamboo rayon, polyester
Thickness: 2.5"
Trial: 101 nights
Warranty: Lifetime
Right now we rate the Puffy Deluxe Mattress Topper as the best mattress topper on the market; it comes in two firmness options and at 2.5 inches thick it won't mean you have to invest in new, deeper sheets. Our reviewer found that it gently cradled and conformed to her joints in all sleeping positions, but noted that because it's made with memory foam it has a sink-in feel that not everyone will get along with, and it sometimes traps heat, which is worth knowing about if you tend to sleep hot. It's hypoallergenic with a removable and washable cover, and it comes at a good price that's usually discounted.
Read more: Puffy Deluxe Mattress Topper review
Double action
2. Sleep Innovations Dual Layer topper
Material: Memory foam, fiber
Thickness: 4"
Trial: n/a
Warranty: 10 years
This Sleep Innovations mattress topper is comprised of a layer of gel-infused memory foam and a removable and washable pillow top with an elasticated skirt that anchors the whole thing securely in place on your mattress, giving you the body contouring support of memory foam and the hygiene benefits of a mattress protector, all in one. Our reviewer found it to be a versatile choice for a variety of sleep positions, but noted that its four-inch depth may necessitate extra-deep sheets. While this is billed as a cooling topper, we feel any actively cooling effects (although it didn't trap heat either).
Read more: Sleep Innovations Dual Layer Mattress Topper review
Cradling support
3. Tempur-Adapt Mattress Topper
Material: Tempur material
Thickness: 3"
Trial: n/a
Warranty: 10 years
Tempur-Pedic's Tempur-Adapt mattress topper is an outstanding luxury option that's well worth paying extra for. This three-inch topper is made with Tempur's own TEMPUR material, which is more responsive and breathable than most memory foam. It's soft and supportive, making it great for side sleepers but also suitable for back and stomach sleeping; in our review, our tester found it supremely comfortable, but noted that it might be slightly too soft for some tastes. The washable cover is a bonus, and you get a 10-year warranty but no trial period, which is disappointing, considering the high price point.
Read more: Tempur-Adapt Mattress Topper review
Slimline winner
4. Saatva Foam Mattress Topper
Material: High-density foam
Thickness: 1.5"
Trial: 180 nights
Warranty: 1 year
Saatva mattress toppers are a great way to get a taste of the feel of its luxury handcrafted mattresses. There are three options but we'd recommend the Memory Foam option, as it's the most affordable and contours extremely well to the body to provide superb support. Its high-density foam reduces motion transfer, making it a great choice for couples, and while it's only 1.5 inches tall, it's effective. In our review we found that it transformed a too-firm mattress into one that was a lot more comfortable for side sleeping. Bear in mind that you can only spot-clean this one as it's not machine-washable.
Read more: Saatva Foam Mattress Topper review
Low price
5. LinenSpa Gel-Infused Mattress Topper
Material: Gel-infused memory foam
Thickness: 2"
Trial: n/a
Warranty: 3 years
With prices starting at just under $40, this LinenSpa opper is a great budget choice. It's two inches thick (a three-inch version is also available) and a cheap way to give older mattresses a boost. We haven't had a chance to test this one but the Amazon reviews are impressively positive. Its foam is gel-infused to help keep sleepers cool, but many reviews that say that it sleeps slightly warm; most of these customers still scored it highly, suggesting this isn't a deal-breaker. Its softer foam makes it a good choice for joint pain, and we think it's best suited to lighter builds and those who sleep on their sides.
Super firm
6. Viscosoft High Density Mattress Topper
Material: Gel-infused memory foam
Thickness: 3" or 4"
Trial: n/a
Warranty: 5 years
The Viscosoft High Density topper is particularly suited for back sleepers, reducing pressure points, supporting the lumbar and keeping the spine in a neutral alignment. Many customers say that it helped ease their aches and pains and improved their sleep quality, but be aware it's still not a 'firm' option (probably not one for stomach sleepers). The cover's machine washable and the gel-infused foam is designed to optimize airflow and prevent overheating, although there are some reports it sleeps slightly warm. It also absorbs motion well, making this a good choice for those sleeping with a restless partner.
Organic comfort
7. Avocado Organic Latex Mattress Topper
Material: Organic latex, wool and cotton
Thickness: 2.75"
Trial: 365 nights
Warranty: 10 years
The Avocado Organic Latex Mattress Topper is made with certified-organic materials and as mattress toppers go, it's pretty advanced. There are two sleep feels to choose from: Plush for a softer sleeping experience, or Firm for giving older, softer beds a bit more support and pressure relief. The presence of wool makes this topper an excellent choice for hot sleepers looking to make their bed cooler, and customer reviews agree, with many praising how well it regulates temperature. It's expensive, though; the biggest sizes cost more than a mid-range bed-in-a-box.
Big body hug
8. Lucid 4" Gel Memory Foam Mattress Topper
Material: Gel-infused memory foam
Thickness: 4"
Trial: n/a
Warranty: 3 years
Lucid's four-inch mattress topper is a great mid-range memory foam option for those looking for cushioning comfort and softness. On Amazon it's rated 4.4 stars over around 30,000 reviews at time of writing, with many customers noting that it improved their sleep, although some complain that its too soft, and difficult to move around on. It's spot clean only, so we'd recommend adding a mattress protector for hygiene purposes; this will also help keep the topper in place, as it doesn't have any straps and just sits on top of your mattress (there is however the option to choose a version with a cover).
Lots of options
9. Turmerry Organic Latex Mattress Topper
Material: Organic latex foam
Thickness: 2" or 3"
Trial: 60 nights
Warranty: 5 years
Turmerry's Organic Latex Mattress Topper is the most customizable option on our list, with three firmness levels – soft, medium and firm – along with two thicknesses, so there are options for everyone from side sleepers through to back and stomach sleepers. There's no cover included as standard, but there is the option to add one at checkout. Latex toppers are great at providing pressure relief and support, and this one's excellent choice for anyone suffering with aches and pains. It's not as luxurious at the Avocado option higher up our best mattress topper list, but it's far more affordable.
Super soft
10. Tuft & Needle Mattress Topper
Material: Open cell foam
Thickness: 2"
Trial: 100 nights
Warranty: 3 years
The Tuft & Needle Mattress Topper is made from open cell foam, providing pressure relief and contouring for lighter and average weight sleepers, without the distinctive memory foam 'hug'. Back sleepers who suffer with back pain will find that this topper adds a little contouring at their lower back, which can help alleviate pain. It's also a good choice for side sleepers looking to soften their mattress a little whilst still keeping them supported. At only two inches thick, the Tuft & Needle Mattress Topper isn't going to drastically alter the feel of a mattress but it will add softness and cushioning to a firmer bed.
Smart topper
11. Eight Sleep Pod 3 Cover
Material: Encasement, active grid, base unit
Thickness: Not stated
Trial: 30 nights
Warranty: 2 years
The Pod 3 Cover a high-end smart cover that pumps water to cool or warm your bed to a just-right feel, with a temperature range of 55°F up to a super-toasty 110°F. It also packs app-controlled sleep and health tracking features as well as an alarm that gently wakes you using vibration and a gradual temperature change. Our review found that it all works really well, however to enjoy its best features you'll need to pay a monthly subscription on top of the eye-watering price tag, but for that you'll get a bed that learns how you sleep and delivers the perfect temperature for you throughout the night.
Read more: Eight Sleep Pod 3 Cover review
Why buy a mattress topper?
They may not look like much at first glance, but a good mattress topper can make an instant difference to your sleep comfort. They are often much, much cheaper than buying a new mattress, plus they couldn't be easier to use. In most cases, you simply need to unseal them from their vacuum packed plastic covering, then pop them on top of your mattress to let them fully inflate. Some do so within minutes while others take hours – always follow the manufacturer's instructions.
Other benefits of a mattress topper include:
Increased comfort or softness for firmer beds
Increased firmness and support for softer beds
They help extend the lifespan of a middle-age mattress
They help you break in a new mattress
They quickly boost the comfort of a guest bed
Most toppers can also be used on sleeper sofas
There are plenty of reasons to buy a mattress topper, especially if the comfort and support of your existing bed isn't quite right for your body or sleeping position. Tell-tale signs include pressure point pain (hips, shoulders, back), or if you're waking up feeling stiff, sore and bent out of shape. Let's discuss this further in our next Q&A…
Are mattress toppers worth it?
The answer to this question depends on the age and state of your current mattress. If it's more than six years old, then a good mattress topper could boost its comfort or support in the final year or two of its life until you have the budget to buy a new bed. But if it's older, and providing you don't have a luxury natural mattress with a longer lifespan, then it's unlikely to be giving you the spinal support and pressure relief you need. Therefore, a mattress topper won't cut it – you need a new mattress.
Not even the best mattress topper can save a sagging bed either. However, there are definitely instances where mattress toppers are worth it and then some. For example, if you have a new mattress that's still too firm for your body and sleep style, then the right mattress topper can add lashings of extra comfort while you break in your new bed.
If you enjoy the feeling of being hugged during sleep, a memory foam topper is your best bet. These contour the body and dish out maximum pressure relief, easing sore joints that are otherwise aggravated when you lie down. Tempur-Pedic has its own NASA-developed material called Tempur, and this is widely recognized as one of the best for easing sore joints and reducing pressure on impact points (hips, back, etc).
Mattress toppers are also worth it if you want to make a soft mattress firmer. You'll need a thicker bed topper for this job, and ideally one made from latex or an equally firmer material. But remember, if your bed is sagging, a topper won't save it.
A good mattress topper can also make a world of difference to the comfort of your sleeper sofa, especially if yours is flimsy. Just check the weight capacity of your sleeper sofa and the dimensions of the mattress area before you buy a new topper for it.