The 1.5-inch Saatva Foam Mattress Topper is a premium topper that'll give your mattress a small yet obvious boost in comfort. We're fans of Saatva's mattresses — just read our Saatva Classic mattress review and Saatva Loom & Leaf mattress review to find out why. So what about its entry-level mattress topper?
After sleeping on a twin Saatva Foam Mattress Topper for three weeks, I'm sharing my thoughts on where it ranks among the best mattress toppers on the market. Keep in mind, my perspective comes from being an average-sized combination (side/front) sleeper who's recently recovered from a back injury (although I did sleep in all positions on this topper).
To boost your sleep comfort further, take a look at our guide to this year's best mattress for all budgets. Otherwise, keep scrolling for my full Saatva Foam Mattress Topper review...
Saatva Foam Mattress Topper review in brief
The Saatva Foam Mattress Topper is a 1.5-inch high-density foam layer wrapped in an organic cotton cover, which is removable, but not machine-washable. There are also four anchor straps to help secure the topper in place; however, this didn't prevent my Saatva topper from sliding around while I slept.
Its low profile is designed to offer a medium-firm feel with a subtle boost in comfort. Saatva recommends its foam topper for side sleepers — and this side sleeper agrees as it made my too-firm mattress softer around my shoulders. However, my mid-section sank too much for my liking when resting on my stomach or back.
To my pleasant surprise, I didn't wake up in a sweat while sleeping on the Saatva Foam Mattress Topper. It has a moisture-wicking cotton cover, but it otherwise isn't a dedicated cooling topper. For chronically hot sleepers, consider an option specifically designed to regulate temperature — such as Saatva's graphite or latex toppers.
At a glance: Saatva Foam Topper
Type: Memory foam mattress topper
Best suited to: Side sleepers
Dimensions (queen): 60" x 80" x 3"
Trial period: 180 nights
Warranty: 1 year
Among mattress toppers, it's a premium purchase. A twin Saatva Foam Mattress Topper retails for $195 in a twin, while a queen costs $295. It's also not on sale very often. You do get a 180-night trial, which is easily the best we've seen for a mattress topper. On the flip side, it only comes with a 1-year warranty.
Still, if you're a side sleeper who wants to experience the remarkable pressure relief and hotel-quality comfort of a Saatva mattress on a budget, the Saatva Foam Mattress Topper is an excellent way to do that. My full review is below if you're keen to learn more...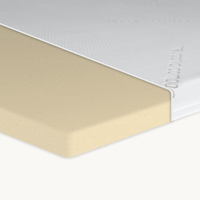 View the Saatva Foam Mattress Topper from $195 at Saatva
This is the least expensive of Saatva's mattress toppers, with a queen retailing for $295. They're often excluded from sales, but we've spotted 12% off in the past. Still, it's a much cheaper option than shelling out for a full-on Saatva mattress.
Saatva Foam Mattress Topper review: Materials
Includes 1.5 inches of high-density foam
Organic cotton cover is removable but not washable
The Saatva Foam Mattress Topper is made up of two parts: a 1.5-inch high-density foam core and a removable organic cotton cover. According to Saatva, its high-density foam has a density of 5 pounds per cubic foot — compared to 3 pounds per cubic foot in standard high-density foam. This purportedly results in greater durability, ample pressure relief, and plenty of contouring.
Though the cover is removable, you can't pop it in the washing machine or dryer. You'll have to learn how to clean a mattress topper since this one is spot-clean and air-dry only. The cover is also treated with a botanical antimicrobial treatment to prevent bacteria, mold, and mildew. Still, you'll want to wrap it in one of the best mattress protectors for an extra line of defense against spills and stains.
Saatva Foam Mattress Topper review: Price and deals
Saatva's least expensive mattress topper, from $195
Rarely discounted in Saatva's sitewide sales
Includes a 180-night trial and 1-year warranty
The Saatva Foam Mattress Topper is the most affordable of the brand's line of luxury toppers. A twin retails for $195, while a queen goes for $295.
Below is the official 2023 pricing for the Saatva Foam Mattress Topper:
Twin: $195
Twin XL: $195
Full: $245
Queen: $295
King: $345
Cal King: $345
Spilt king: $390
As frequent as Saatva mattress sales and deals are, discounts often elude Saatva's mattress toppers. At most, we've seen 12% off across the board, which dropped the price of a queen Saatva Foam Mattress Topper to $259. Otherwise, you'll just have to be patient and wait for another discount to surface, or check out the latest Saatva coupons for ways to save.
The 1.5-inch Saatva Foam Mattress Topper is ideal for those who only need a subtle boost in comfort. However, its 1-year warranty is relatively short for the price. The similarly-priced Tuft & Needle Mattress Topper has a slightly taller 2-inch profile but comes with a 3-year warranty plus a 100-night trial. Meanwhile, the 2-inch LinenSpa Gel-Infused Mattress Topper is a sound budget-friendly alternative. It retails from $40 and includes a 3-year warranty, but it lacks a dedicated trial period. (Saatva offers 180 nights to test it out at home.)
Saatva Foam Mattress Topper review: Design & features
High-density foam layer with cover included
Organic cotton cover helps wick away moisture
Elastic anchor straps are located on each corner
The Saatva Foam Mattress Topper consists of a 1.5-inch high-density foam core and an organic cotton cover. The foam core lacks any apparent cooling properties, but the cover is designed to wick away moisture and draw away heat. (However, it's not machine-washable — you'll have to spot-clean stains.)
There are four elastic anchor straps on each corner of the cover to help secure the topper, but they're not adjustable so it may still be prone to shifting during sleep. This was actually my experience — had I been able to make the straps tighter, my topper likely would have stayed put all night. Of course, this will also depend on the mattress you have and how often you move in your sleep.
Saatva Foam Mattress Topper review: Performance
Best for side sleepers seeking pressure relief
Not a proper cooling topper but didn't sleep hot
Elastic straps didn't always keep the topper in place
For three weeks, I slept on a twin Saatva Foam Mattress Topper, evaluating it in overall comfort (firmness and support), temperature regulation, and ease of setup. To supplement my experience, I also analyzed customer reviews from verified Saatva shoppers to provide a clearer idea of this topper's performance. Here's what I discovered...
Setup
My Saatva topper came rolled up and vacuum-sealed in a brown box. It took some time for the topper to fully expand, potentially due to it being packed away for a few weeks prior to testing. It arrives with the organic cotton cover pre-attached so there's no need to fuss over putting that on. Setup is fairly easy to do solo, but you may appreciate the help if you have a larger bed.
The elastic anchor bands were easy to attach, but I wish they were adjustable. Even with these bands, my Saatva Foam Mattress Topper shifted out of place almost every night I slept on it. The smooth surface of my Tempur-Pedic Tempur-Adapt mattress may have been a contributing factor, but I think being able to adjust the straps could have prevented the topper from moving.
Fortunately, I didn't detect any obvious off-gassing smell with the Saatva Foam Mattress Topper. The CertiPUR-US certified foam Saatva uses contains minimal levels of volatile organic compounds (VOCs) so they're less prone to emitting the "chemical" odor that accompanies most foam-based beds.
One minor issue I noticed during set-up was the cotton cover bunching up in several areas. (Again, I did have it in the box for about a couple of weeks.) However, this didn't affect the overall performance of the mattress topper, and the cover naturally flattened out over time.
Score: 4.5/5
Temperature regulation
I tested the Saatva Foam Mattress Topper on top of my Tempur-Pedic Tempur-Adapt mattress. The Tempur-Adapt retains a lot of heat, so I was pleasantly surprised to find that my night sweats disappeared when I added this Saatva topper to my Tempur-Pedic mattress. For context, I primarily sleep on polyester-cotton bedding (sheets and a middleweight comforter) and keep my room temperature between 70 and 73 degrees F.
This baffled me since this isn't Saatva's dedicated cooling topper. Sure, there's the breathable organic cover, which was comfortable to sleep on. It's also possible that the Saatva topper served as a barrier between me and the heat-retaining Tempur Material for a cooler experience overall.
In any case, the Saatva Foam Mattress Topper doesn't sleep as warm as I had anticipated, but if overheating is your primary concern, you'd be better off with a dedicated cooling topper. Consider the Saatva Graphite Mattress Topper with a cool-to-the-touch cover or the Viscosoft Active Cooling Mattress Topper, which also has adjustable straps.
Score: 4/5
Firmness and support
As an average-sized combination (side/front) sleeper, I was eager to try the Saatva Foam Mattress Topper and test the brand's claims of it being excellent for side sleepers. This was particularly important to me since my Tempur-Adapt mattress felt too firm for side sleeping.
After three weeks of sleeping on the Saatva Foam Mattress Topper, I noticed improved pressure relief around my shoulders when sleeping on my side, along with all-over support so I remained aligned. For stomach sleeping, I much preferred the firmer feel of my Tempur-Adapt mattress. (This was also the case whenever I temporarily rested on my back.)
Keep in mind that this is a 1.5-inch foam topper. It's not going to totally alter the feel of your mattress, but rather, it'll make subtle improvements in pressure relief while adding a touch of plushness. Though it has a medium-firm feel, back and front sleepers may still find it too soft along their midsections — side sleepers seeking added pressure relief should benefit most from this topper.
Score: 4/5
Saatva Foam Mattress Topper review: Customer reviews
Only sold at Saatva, where it has a 4.8/5 star rating
Fans say it makes firm mattresses more comfortable
However, some claim it sleeps too warm
The Saatva mattress topper is exclusive to the brand and can only be purchased at Saatva.com. As of April 2023, it has a 4.8-star rating out of 5 from nearly 170 reviews. Note that this is a cumulative score for Saatva's entire line of mattress toppers.
Positive reviews for the standard foam version say that it effectively softens a firm mattress, with many customers getting one upon receiving a Saatva mattress that felt too hard. Sleepers also praise the topper's pressure relief, build quality, and Saatva's responsive customer service.
The rare 4- and 3-star reviews mention the topper sleeping warm and not being soft enough for their preference. Remember that that firmness is subjective — with a 1.5-inch profile, this topper isn't designed to be extremely plush.
Should you buy the Saatva Foam Mattress Topper?
Side sleepers who want to make their existing mattress that little bit softer will be able to achieve that with the Saatva Foam Mattress Topper. It won't completely transform the feel of your bed but its effects will be profound — case in point, it eased the pressure around my shoulders better than my Tempur-Adapt mattress could.
The Saatva Foam Mattress Topper didn't sleep warm for me, but outside of its organic cotton cover, it doesn't have any obvious cooling tech. Consider the graphite version of the Saatva mattress topper if you deal with regular night sweats — or if you're on a tighter budget, check out the Lucid 4" Gel Memory Foam Mattress Topper.
Meanwhile, if you're a stomach or back sleeper, the Saatva foam topper may make your mattress softer than you'd like around your midsection. The firmer 1.5-inch Saatva Latex Mattress Topper will offer better support for those positions. (Bonus: latex naturally sleeps cooler than synthetic foam.)
The Saatva Foam Mattress Topper is on the higher end of the price spectrum, but it's still the most affordable way to bring home Saatva's signature comfort. The 1-year warranty is disappointing, considering there are cheaper options that offer longer coverage. On the other hand, the 180-night trial is the longest we've seen among any mattress topper, so you can take your time in figuring out whether or not you like it.
First reviewed: March 2023