Hypoallergenic, non-slip and adding a cloud-like layer of memory-foam comfort, the 2.5inch Puffy Deluxe Mattress topper is a cost-effective way of giving your bed a new lease of life. Coming in two different firmness ratings, it's best for most back and side sleepers. Although be warned — it runs a little hot.
Pros
+

Adds a luxurious memory-foam feel

+

Two comfort options

+

Suitable for all mattress types

+

Crafted with hypoallergenic materials

+

Washable cover
Cons
-

Distinct (and divisive) memory foam feel

-

Sleeps a little hot
Why you can trust TechRadar We spend hours testing every product or service we review, so you can be sure you're buying the best. Find out more about how we test.
If you're looking to add some tailored comfort to your mattress without investing in a new bed, the Puffy Deluxe Mattress Topper can make your dreams come true. This hypoallergenic 2.5inch memory foam sleep solution is available in two different firmness levels, making it ideal for back and side sleepers, or those who suffer from allergies.
I have an extra firm spring mattress that I love, but sometimes it's a bit too firm on my joints. I naturally tend to sleep on my front, but toss between my side, stomach and back. I tested out the brand's firm mattress topper for three weeks to see whether it could upgrade my sleep.
If you're not into memory foam, our best mattress topper guide can point you towards some strong alternatives. Or, if your bed is beyond the state of saving, check out this year's tried and tested best mattresses.
Puffy Deluxe Mattress Topper review in brief
Coming with two different firmness ratings – soft and firm – the Puffy Deluxe Mattress Topper offers a quick and affordable way to customize the comfort levels of most beds.
At a glance: Puffy Deluxe Mattress Topper
Type: Memory foam mattress topper
Best suited to: Side and back sleepers and those with allergies
Dimensions: 60 x 80 x 2.5
Trial period: 101 nights
Warranty: Lifetime
I tested out the firm 2.5inch topper on my extra firm spring mattress and found that it supported my body well, gently cradling and conforming to my joints no matter whether I slept on my side, back or front.
Made from hypoallergenic materials like bamboo rayon and polyester, the washable memory foam topper comes with an anti-slip grip backing and durable stretch pockets, to help secure it in place. Price-wise, the product sits in the luxury bracket of toppers, but regular sales mean you'll rarely pay the MSRP.
This topper has a distinct memory foam feeling, which also meant that this mattress ran hot a couple times. Plus, this topper might not suit heavier-bodied front sleepers who need support to maintain the natural alignment of their spines.
Puffy Deluxe Mattress Topper review: Materials
Memory foam filling with a bamboo rayon and polyester cover
Hypoallergenic materials used
Runs a little hot
The Puffy Deluxe Mattress Topper is a memory foam sleep solution that comes with a 40% bamboo rayon and 60% polyester cover.
I tried out the Puffy Deluxe Mattress Topper in the firm rating and found it to gently mould to the contours of my body, while firmly supporting my frame.
Memory foam often gets a bad rep of retaining heat and in this case, I found this to ring true a couple of times. Even though the foam used in this topper has an 'open cell' construction which allows for 'better airflow', personally I found this topper to run hot on two occasions during my testing process
If you suffer from allergies, you'll be pleased to know that this topper uses hypoallergenic materials which are designed to keep out dust mites, and reduce the spread of allergens. Plus, the removable cover means you can wash it and keep it clean month in, month out.
Puffy Deluxe Mattress Topper review: Price and deals
Sits in the low end of the luxury mattress topper market
Regular offers, so you won't pay full price
Starting from $179 for a Twin, setting you back $229 for a Queen and reaching $249 for a Cal King, the Puffy Deluxe Mattress Topper sits just within the luxury price bracket. However, like many other sleep brands, Puffy runs regular deals and sales that knock dollars off, meaning you'll rarely, if ever, pay full price. The official MSRPs at the time of writing this were:
Twin MSRP: $179
Twin XL MSRP: $189
Full MSRP: $209
Queen MSRP: $229
King MSRP: $249
Cal King MSRP: $249
This means the Puffy Deluxe Mattress Topper is similar in price to the Tuft & Needle Mattress Topper, which does a great job at making firm beds softer, and it gives the more expensive memory foam Saatva Foam Mattress Topper a run for its money.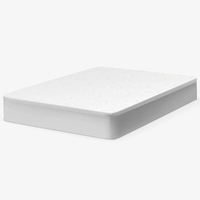 View the Puffy Deluxe Mattress Topper from $179 at Puffy
Give your bed a boost with this 2.5inch customizable memory foam topper which is available in two firmness ratings. Hypoallergenic, coming with a lifetime warranty and crafted with a non-slip backing, no matter how much you twist and turn this topper won't budge. The MSRP for a Queen is $229 but regular sales slash prices.
Puffy Deluxe Mattress Topper review: Design and features
Deep elastic pockets and straps (suitable for mattresses up to 15" deep)
Thin grip layer
Appealing cloud-print design
If you're concerned about your topper pinging off in the middle of the night, worry no more. The Puffy Deluxe Mattress Topper is suitable for mattresses up to 15 inches deep and is designed with deep elastic pockets and straps that fit securely over the corners of your bed. No matter how much you twist and turn, the topper will stay put night after night.
The topper also comes with a thin grip layer which — as its name suggests — helps to grip onto your bed and eliminate movement.
While the cloud-prints look pretty, I'm told that these are here purely for aesthetics and won't influence the performance.
Puffy Deluxe Mattress Topper review: Performance
Setup
Setting up the Puffy Deluxe Mattress Topper was very easy. It comes wrapped in plastic and rolled into a box inside a box. It took me just under 10 minutes to unpack it and there were two boxes and one sheet of plastic to dispose of.
Within minutes, the topper looked like it was ready to be slept on. Although Puffy recommends leaving it 24-48 hours for full decompression.
Image 1 of 3
The only downside to this topper was that it came with a distinct off-gassing smell. However, I specifically closed the doors and windows in the small bedroom so I could test for any odors. After sleeping on this topper for a few days, this new-product-smell seemed to dissipate.
Temperature regulation
Temperature regulation is important when sleeping. If you're too hot, you'll have trouble staying or getting to sleep. Having slept on the Puffy Deluxe Mattress Topper for three weeks, I found this sleep aid to run hot a couple of times and so did my partner.
The topper has an 'open cell' construction, which Puffy says allows for better air flow through the foam. But even when I was using 100% cotton sheets, I woke up feeling hot a couple of times. However, out of 21 nights this only happened on two memorable occasions. If you sleep hot, it's important to take this point into consideration when thinking about investing in a memory foam topper, as this material often has a rep with retaining heat.
Like most memory foam products, this topper is soft to the touch and warms up slightly the longer you leave your hand there, gradually molding to your outline.
Firmness and support
Super comfy and super supportive, the firm Puffy Deluxe Mattress Topper was able to soften my extra firm spring mattress in minutes.
The first thing to note is that the topper definitely has a memory foam feel. I found this mattress topper to support my 5ft 5 frame and 132lbs body, no matter whether I slept on my side, front or back, as the memory foam gently hugged my frame, preventing my hips from dipping or too much pressure building up on my joints. However, heavier-bodied front sleepers might not get enough support from this topper to keep their spine aligned as they sleep.
Despite being crafted with memory foam, the firm mattress topper didn't have that horrible quicksand sinking feeling. It felt like you were being gently cradled in all the right places. I would therefore say this topper is a fair 'firm' rating. However, my partner (who doesn't like the feel of memory foam) rated this topper as a 7/10 on the firmness scale.
Puffy Deluxe Mattress Topper review: Customer reviews
Scores full marks (5 out of 5 stars) from 487 reviews
Makes your bed feel brand new, for much less
No problems with the durability
The best way to get an all-round impression of a mattress is to see what other customers think. The Puffy Deluxe Mattress Topper is only available to buy directly, which means I can only go by the reviews on the brand's own website.
As of July 2023, the topper scored a brilliant 5 out of 5 stars from 487 reviews. Customers highly praised the topper for being able to make any mattress feel like a brand new bed, never mind how old it actually is. While others stated that this topper feels like you're 'sleeping on a cloud', thanks to the plush 2.5-inch memory foam design. Many also highlighted that this design helps cushion joints and ease back pain and did so without that horrible sinking feeling.
Durability can be hard to comment on, having only tested the topper for three weeks. However, according to the reviews, customers seem to have no sagging issues or problems with the quality of the product.
Should you buy the Puffy Deluxe Mattress Topper?
If you suffer from allergies, your bed or sofa bed needs some TLC and you love the feel of a memory-foam sleep, then yes, invest in the Puffy Deluxe Mattress Topper.
This plush 2.5-inch product gives you the power to instantly transform the comfort levels of your bed (and for much less than buying a new mattress could), taking it from drab to dreamy in minutes. Coming in two sleep feels, I'd say the firm topper is ideal for side and back sleepers, as the dense memory foam filling works hard to prevent your hips from dropping too low when you sleep. Lighter-bodied front sleepers may also find this firm topper comfy as it supports you and acts like a gentle hug around your body. However, heavier-bodied front sleepers might need a thicker topper to support their frames.
Still unsure whether to bite the bullet? Puffy gives you 101 nights to make up your mind or you get all of your money back for free. It's also backed by a lifetime warranty.
But if you're looking for a thicker model, you might like the 3-inch Tempur-Pedic TEMPUR-Adapt mattress topper, which is specifically crafted to respond to an individual's temperature, weight and shape in ways that most memory foam can't. Or, if you find you sleep hot, the Avocado Organic Latex Mattress Topper contains wool, which makes for a cool night's sleep.
Becks is a lifestyle journalist who specialises in writing about wellness and home products, from mattresses to weighted blankets and cooling comforters. She loves a good pillow for drifting off easily at night, as well as a snug duvet for cozier sleeping.