Avocado Green Mattress review in brief
100% certified organic mattress
Ideal for back sleepers, heavier sleepers, and co-sleepers
May be uncomfortable for side sleepers or lightweight sleepers
The Avocado Green Mattress is among the most popular organic mattresses available today. The brand sets itself apart by prioritizing eco-friendliness and sustainability, putting in the time and effort to get many certifications to back up their claims. Avocado also takes pride in its high-quality materials and craftsmanship; each Green Mattress is needle-tufted by hand.
We tested a queen-sized Avocado Green Mattress for three weeks across all sleeping positions. We took care to test its performance in all major areas (pressure relief, motion isolation, edge support, cooling, and ease of set up), which you can learn about in more detail in the following sections.
Avocado Green Mattress at a glance
Best for: back sleepers, heavier sleepers, co-sleepers, sleepers who run hot
Type: mattress in a box
Firmness: medium-firm (7/10)
Materials: 100% organic Dunlop latex, wool, and cotton; coils
Depth: 11 inches
Weight: 76-158 lbs
Sizes: Twin, twin XL, full, queen, king, Cal king
By the end of our testing period, we believe that the Avocado Green Mattress—which clocks in at 7 out of 10 for firmness—is a quality option for organic mattresses, but specifically for back sleepers, heavier sleepers, and co-sleepers in these categories, as it will offer the support these types of sleepers require. We also appreciate that this mattress is very breathable, so sleepers who run hot will enjoy this feature. On the other hand, side sleepers and lightweight sleepers will likely want to look elsewhere; this mattress is unlikely to provide enough cushioning and support these sleepers need.
As far as the value for money goes, we believe that it's a great mid-market organic option if you're shopping for the best mattress in a box. However, certain costs can run up quickly—namely if you add on the pillowtop option (for a firmness level of 6 out 10), factor in standard shipping (starting at $99), and/or if you opt for white glove delivery (for $249). Yet even with these extra costs, it's still a good value for money when reviewed against its biggest organic and luxury competitors.
Be sure to read the TechRadar best mattress buying guide before you purchase this mattress, or any other.
Avocado Green Mattress review: materials and design
Hybrid mattress with three layers of support
100% organic cotton and wool
The Avocado Green Mattress is organic and hybrid. It comprises three layers: a cover, a comfort layer, and a base/support layer. The cover is soft and breathable, and boasts 100% GOTS-certified organic cotton and wool. It doesn't trap heat on account of its moisture-wicking properties, which is a terrific benefit for sleepers who run hot at night. In addition, the wool used is antimicrobial and won't retain dust mites, so sleepers with allergies and/or those who worry about buildup can rest easier. The wool also acts as a natural fire barrier. (If you're hoping to buy an organic hybrid mattress that avoids animal products entirely, consider buying the Avocado Vegan Mattress (opens in new tab), which is PETA-certified. It boasts the same qualities and features as the Green Mattress, but skips the wool in favor of cotton only.)
Two inches of Dunlop latex are used in the comfort layer of the mattress, and one inch of it is used in the base/support layer. The latex is GOLS-certified organic and is used to fend off wear and tear over the years. The base/support layer also has 1,414 coils across five ergonomic zones, as well as a perimeter of steel. This construction helps to limit motion transfer and provide edge support.
After a few weeks of testing, the only signs of wear we noticed were some superficial wrinkles concentrated around the area of the bed where our hips rested. While we didn't find this to be a major point of concern, some reviewers note that dips get more pronounced and permanent within a few years of use, and have led to discomfort.
If you're considering different types of mattresses aside from organic and hybrid varieties, consult the TechRadar best memory foam mattress guide.
Avocado Green Mattress review: comfort
7 out of 10 for firmness
Offers wonderful support for back sleepers
Latex foam layer offers only a slight amount of give
Since we had recently switched from testing mattresses and toppers that were closer to a 6 out of 10 for firmness, it took a few nights to adjust to a firmer option—even though it was only one point up on the firmness scale. Moreover, our relatively lightweight reviewer is a combination sleeper most prone to side sleeping. They found that this position wasn't ideal for this mattress since it didn't comfortably contour the shoulders and hips. (Note: If you're a side sleeper set on purchasing an Avocado Mattress, you may want to opt for the pillowtop upgrade. It brings the firmness level down to a 6 out of 10. However, we didn't test this add-on for this specific review.)
However, our reviewer had been interested in making the switch to back sleeping for personal reasons. Once they did so, the Avocado Green Mattress proved to be much more comfortable within a few nights' time. (They had previously tested out back sleeping on softer but still medium-firm mattresses, which sank too much around the hips.) We also tested stomach sleeping on this mattress, which was more comfortable than side sleeping.
All things considered, we believe that the Avocado Green Mattress offers the most comfort for back sleepers in particular.
Avocado Green Mattress review: support and pressure relief
Great neck and back support
Comfortable enough for stomach sleeping
Pressure will likely build up while side sleeping
Again, the Avocado Green Mattress is a 7 out of 10 for firmness. This places it on the firmer end of the medium-firm scale. To test its support and pressure relief for ourselves, we put a 55-pound kettlebell in the middle of the mattress. This allowed us to simulate the weight of the densest part of a sleeper's body (i.e., hips) to see how much it would sink. We measured the amount of sinkage to be two inches, which is relatively small and adequately reflected the brand's 7 out of 10 firmness rating.
The only time that we felt pressure build up was while side sleeping; our shoulders and hips got tense, as it didn't offer contouring. However, back sleeping was a different story. We found that the mattress provides a perfect amount of support at the hips especially, and we didn't struggle with any pressure around our neck and shoulders either. Stomach sleeping also proved to be comfortable as the mattress was firm enough for this position.
Want more options? We had recently reviewed the Helix Midnight, which offered great pressure relief for side sleeping. We recommend checking out the review if you're a side sleeper open to non-organic hybrid mattresses. Otherwise, an organic competitor known for its benefits specific to pressure relief is the Nolah Natural 11 Mattress (opens in new tab), which t uses Talalay latex. According to Nolah, this type of latex boasts 33% more pressure relief than other varieties, including Dunlop (which Avocado uses) and synthetics.
Avocado Green Mattress review: temperature regulation
Breathable cotton and wool
Moisture-wicking properties promote a cool, dry night's rest
It's important to consider temperature regulation when buying a new mattress. Breathability should be a key factor in your final choice, especially if you run hot at night and tend to sweat in your sleep.
Our reviewer sleeps hot every so often, and was pleased to find that the Avocado Green Mattress performed very well in terms of temperature regulation and breathability. It didn't trap body heat and we didn't feel as though we overheated or woke up sweating at any point during the testing period. Moreover, the mattress feels cool to the touch. (We were impressed by Avocado's prowess in this section, especially when compared to other bed-in-a-box options we've tested in the past.)
The use of breathable organic cotton and wool allow the Avocado Green Mattress to have these beneficial properties; they promote airflow and wick away moisture should it build up. It's also worth noting that we used linen sheets throughout the testing period. Linen one of the more breathable fabrics available for bedding, so note that use of less airy materials can impact how hot you will run while sleeping.
Avocado Green Mattress review: motion transfer and edge support
Minimal motion transfer is great for co-sleepers
Terrific edge support
We performed a motion transfer test to gauge how much movement can be felt in different areas of the bed; this simulates how much a co-sleeper may be impacted if you change sleeping positions or they make any movements in bed. A mattress with minimal motion transfer is key, especially for co-sleepers who are fidgety and/or wake easily.
To assess motion transfer, we dropped a 10-pound kettlebell at different measurements away from a wine glass that stood upright at the center of the bed. This test helps to assess how much disruption a co-sleeper may experience when their sleeping partner moves at various distances away from them.
The wine glass shook a few times, but didn't fall over, when we dropped the 10-pound weight four inches away from it. The glass shook even less when we dropped the weight 10 inches away from it. Finally, the glass didn't budge on the first bounce when we dropped the weight 25 inches away from it, though it shook on the next few bounces from the kettlebell. From this test, we concluded that the Avocado Green Mattress performs well in terms of motion transfer. Co-sleepers will appreciate this feature.
We then performed a different test to gauge edge support. Edge support indicates how firm and sturdy the mattress will be to support your weight when you sit on the side of the bed, move around the perimeter of your bed, and get out of bed. Strong edge support also reduces the risk of sagging.
In order to measure the edge support for the Avocado Green Mattress, we placed a 55-pound kettlebell on the side and bottom perimeters of the bed. The weight sank only two inches, which was equal to the measure of sink at the bed's center. We also sat on the edge of the bed to tie our shoes, as well as rolled around on the mattress (all the way to the edges) to check if we felt in danger of rolling off. It performed well in these regards, too.
We weren't surprised at the positive results from this test, as the Avocado Green Mattress boasts a layer of pocketed coils strategically spread out across ergonomic zones and a reinforced steel perimeter along its edges.
Avocado Green Mattress review: price and deals
Avocado Green is the brand's mid-range mattress option
Sits in the middle price-wise in the wider organic mattress market
Best to wait for deals to save 10% or more
In terms of cost, the Avocado Green Mattress sits squarely in the middle of the company's range. It's nearly twice the cost of its "super affordable" Eco Organic Mattress (opens in new tab), but still around half the cost of its Luxury Organic Mattress (opens in new tab). Note: Prices will increase by $400 to $600 if you opt for the pillowtop upgrade.
In the wider organic mattress market, it's also approximately in the middle from a price standpoint, but trends a bit upwards of that compared to hybrid mattresses that use synthetic materials.
A queen-sized Avocado Green Mattress currently costs $1,999 without any sales or promotions. However, the brand offers discounts from time to time—usually at around 10%—which can mark down the price by a few hundred dollars. During our testing period (shortly after Black Friday mattress deals and Cyber Monday promos were live), Avocado featured slightly lower RRPs combined with a 10% off sitewide sale. During that time, a queen Avocado Green Mattress retailed for $1,900, then dropped to $1,710 after the discount.
Here are the prices for all sizes of the Avocado Green Mattress:
Twin size RRP – $1,399
Twin XL size RRP – $1,499
Full size RRP – $1,699
Queen size RRP – $1,999
King size RRP – $2,599
California king size RRP – $2,599
Similar to Avocado, many of its competitors also offer deals throughout the year. Ultimately, any savings you'll get from one brand to the next will depend on when you buy it; the upcoming Presidents' Day mattress sales are likely to be your next opportunity for a solid discount, but be sure to consult the TechRadar mattress sales guide to keep tabs on deals.
If price is no object, you're a fan of the Avocado brand, and you prefer medium mattresses, you may want to upgrade to their Luxury Organic Mattress (opens in new tab) (starting at $2,799 for a twin and $3,899 for a queen). It's 5 out of 10 for firmness and comprises 17 premium layers of organic and natural latex, wool, silk, hemp, and cotton. It also has 3,136 individually pocketed coils for superior comfort. If you're on a budget yet want an organic hybrid mattress, check out the Awara Natural Hybrid Mattress (opens in new tab). Whether or not it's on sale, it will still be at least a few hundred dollars less than the Avocado Green (starting at $799, up to $2,198 during promotional periods).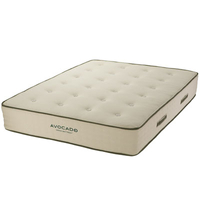 (opens in new tab)
See the Avocado Green Mattress from $1,399 at Avocado (opens in new tab)
Back sleepers, heavier sleepers, sleepers who run hot, and co-sleepers in these camps are the key categories of people who will enjoy the Avocado Green Mattress the most. Avocado offers a 1-year trial period and a 25-year warranty (full coverage through year 10, limited coverage through year 25) for this mattress.
Avocado Green Mattress review: setup
Ideal to unbox with two people
Minimal odor upon unboxing, but low off-gassing risk
Standard shipping for boxed mattresses up to 150 pounds starts at $99. The brand calls this doorstep delivery, meaning they'll place it at the doorstep of your house or at the bottom of the stairs if you live in a unit on an upper floor. (We tested the queen mattress, which is 114 pounds though the shipping label listed the package weight at 130 pounds.)
The Avocado Green Mattress product page notes that the mattress will be ready to ship within three to five business days. Once it's ready, you can select your preferred date and time window for shipping.
For review purposes, we were given the option of white glove delivery (aka in-home delivery, per Avocado), which we proceeded with. Customers can choose this option—with which deliverers will unbox the mattress, place it on your bed frame, and dispose of your old mattress and the shipping materials—for $249.
(Some mattress brands will offer free shipping, whether standard or white glove. For instance, purchase of the luxury organic Saatva Zenhaven (opens in new tab) comes with complimentary white glove delivery, but the mattress is sold at a significantly higher price point.)
The delivery arrived within our pre-selected time frame on the date of our choice. The packaging included the recyclable outer box (made of 50% post-consumer content), a tight layer of opaque plastic, and one additional layer of thick plastic. The packaging was minimal, as was expected from an eco-friendly, Certified B Corporation brand. The two delivery people could push the box into our apartment unit with ease. However, the first layer of plastic was wrapped more tightly (and seemed to be stickier) than other bed-in-a-box wrappings we had recently reviewed.
Once they cut open the second/thick layer of plastic, the mattress fully expanded (and was ready to rest on) within a minute—making a loud hissing sound in the process. We could also perceive an odor from up to 2.5 feet away for about an hour after the mattress expanded. (We left our bedside window closed in order to fully notice and smells.)
Since Avocado uses natural and organic materials, toxicity and off-gassing aren't major concerns, especially compared to other mattresses that use synthetic materials. The smell dissipated fully by nighttime, which was less time compared to other mattresses we've reviewed.
Avocado Green Mattress review: customer reviews
Some customers love its medium-firm to firm support, while it's too firm for others
Some customers complain that it loses durability within a few years
The Avocado Green Mattress boasts a 4.7 out of 5 star rating from over 16,000 reviews (at the time of writing). Avocado is the only online retailer for its mattresses, so we couldn't pull user reviews from other sites.
Common points from positive reviews include that the Avocado Green Mattress offers a great level of firm support, provides pressure relief, and absorbs weight well (especially for heavier sleepers). Customers also like its temperature-regulating quality, and most of them were happy to upgrade to this mattress from their old ones. Others also believed that the mattress was a good value for the cost, and some prized the brand's values and quality too.
Customers who left negative reviews often noted that the mattress was too firm for what they wanted or expected. (Remember, softness and firmness are subjective, must be considered based on your own body weight and sleeping position, and will ultimately vary from one person to the next.) Some experienced shipping issues and getting their needs met through customer service, even if they ended up liking the mattress. Perhaps the biggest concern worth noting is that some customers wrote that the mattress sags over time, which contributes to body aches and poor sleep quality.
Should you buy the Avocado Green Mattress?
Given major points of consideration—ranging from firmness and comfort to price and the competition—we recommend buying the Avocado Green Mattress under certain conditions. It gets our seal of approval for back sleepers, heavier sleepers, sleepers who run hot, and co-sleepers in these categories above all. We also believe that it's a good value for the cost of the mattress, especially given its organic and high-quality materials and when compared to competitors in the organic and hybrid spaces (even with shipping costs).
However, side sleepers and lightweight sleepers will be better served by looking for another organic/hybrid mattress. Yet if they're set on purchasing an Avocado, they will likely benefit from paying $400 to $600 extra for a pillowtop add-on (additional cost varies by mattress size) to cradle their shoulders, hips, and knees. Anyone seeking a soft or medium-soft mattress should also look elsewhere.
As a reminder, another option similar to the Avocado Green Mattress is the Nolah Natural 11 Mattress noted above. It offers 6 out of 10 firmness (making it suitable for back and side sleepers alike), may provide greater pressure relief, and potentially save you a few hundred dollars, depending on whether you buy it during a promotional sales period.