Tempur-Adapt mattress review: two-minute review
The Tempur-Adapt mattress is Tempur-Pedic's mid-range model, albeit it's still quite pricey relative to many of the best mattresses on the market. (It has a starting MSRP of $1,699 for a twin.) After three weeks of sleeping on a twin-sized Tempur-Adapt, here's what I (and my 5-person testing panel) discovered about this popular memory foam mattress...
My fellow testers and I are habitual back sleepers, but all of us felt the most comfortable lying on our backs. In this position, we experienced the "legendary pressure relief" Tempur-Pedic promises, along with all-over support that kept us well-aligned. It was a similar experience when we slept on our stomachs, but side sleeping was a mixed bag. I found it too firm along my shoulders, while another side sleeper said it was too soft along her hips.
Motion isolation is incredible. Tempur Material absorbs almost every movement with ease so couples will benefit from it. Edge support is sufficient — there was some noticeable give when we sat along the edges but none of us feared falling off the bed. Unfortunately, temperature regulation is where the Tempur-Adapt faltered. Despite measures to make my sleeping environment as pleasant as possible, I woke up warm or downright sweaty while sleeping on the Tempur-Adapt mattress.
White-glove delivery is standard, which will be a welcome perk for anyone who can't maneuver their mattress solo. The Tempur-Adapt arrives flat, ready to sleep on as soon as it's placed on your bed frame. Mattress removal is also included if you need it. Since I had no way to dispose of my previous mattress, I took advantage of this convenience.
Keep scrolling to learn more about how the Tempur-Adapt fared when it came to pressure relief, motion isolation, edge support, and temperature regulation — following TechRadar's mattress testing methodology. There are also general considerations regarding cost and value, plus ease of set-up.
Tempur-Adapt mattress review: price
Tempur-Pedic's mid-range model
Save up to $300 during rare Tempur-Pedic sales
Short trial and warranty, but in-home delivery is included
The Tempur-Adapt mattress is second only to the entry-level Tempur-Cloud bed-in-a-box in terms of pricing. The MSRP for a Tempur-Adapt is $1,669 for a twin and $2,199 for a queen. It's worth noting that these are lower ticket prices than we've recently seen from Tempur-Pedic — the retail price for a twin was previously $1,949 while a queen was $2,749.
Below is the official 2023 pricing for the Tempur-Adapt Mattress:
Twin MSRP: $1,699
Twin XL MSRP: $1,699
Full MSRP: $2,049
Queen MSRP: $2,199
King MSRP: $2,899
Split King MSRP: $3,398
Cal king MSRP: $2,899
Split Cal king MSRP: $3,398
Despite its mid-range status in the Tempur-Pedic mattress lineup, the Tempur-Adapt is still among the priciest memory foam mattresses on the market. Tempur-Pedic mattress sales only run during major holidays. In fact, we saw $300 off the Tempur-Adapt during Tempur-Pedic's Presidents' Day sale. That's one of the more substantial savings we've seen as Tempur-Pedic usually takes $100 to $200 off.
However, Tempur-Pedic mattresses are sold at a number of third-party retailers like Amazon, Raymour & Flanigan and Mattress Firm. You can browse their respective mattress sales for possible savings outside of shopping events, although these stores generally follow Tempur-Pedic's pricing conventions at the time. (Also, we'd recommend buying straight from the manufacturer for easier aftercare.)
For the amount of money you pay, Tempur-Pedic doesn't offer much in terms of its trial and warranty periods at 90 days and 10 years, respectively. (Plus, it costs $175 to return it.) On the other hand, in-home delivery and mattress setup are included, which is a perk most brands don't include for free, if at all.
Tempur-Adapt mattress review: specs
Swipe to scroll horizontally
| | |
| --- | --- |
| Price (queen size) | MSRP $2,199 |
| Type | All-foam |
| Materials | Tempur Material, polyfoam |
| Firmness | Medium-firm (7.5) |
| Depth | 11 inches |
| Delivery | In-home delivery and setup |
| Trial | 90 days |
| Warranty | 10 years |
Tempur-Adapt mattress review: materials and design
An 11-inch mattress with three layers
Cover has a cool-to-the-touch feeling
Tempur Material adapts to your weight and temperature
The 11-inch Tempur-Adapt mattress contains three layers — an 8-inch polyfoam base layer, a 1.5-inch support layer of dense Original Tempur Material in the middle, and a 1.5-inch comfort layer of softer TEMPUR-ES Material on top. Together, these layers are designed to provide adequate pressure relief, support, and response time. A hybrid upgrade is available, which adds a layer of individually-wrapped coils for more bounce.
Tempur Material features an open-cell construction to help disperse heat, along with a knit cover made from specialized yarn that gives it a cool-to-the-touch feeling. These work in tandem to regulate temperature and prevent overheating.
The cover is spot-clean only so you'll want to invest in the best mattress protector to safeguard it from spills, bed bugs, and other unpleasantries. Note that Tempur-Pedic recommends using its own-brand mattress protector to enhance the contouring properties of the Tempur Material.
Design score: 4.5 out of 5
Tempur-Adapt mattress review: comfort
Rated 7.5 out of 10 on the firmness scale
Exceptional for back sleepers
Won't suit all side sleepers
For three weeks, I (an average-sized side/stomach sleeper) slept on a twin Tempur-Pedic Tempur-Adapt mattress — but since comfort is subjective, I recruited a panel of five individuals to provide their perspectives by napping on it for at least 15 minutes. My group included men and women of varying heights, weights, and sleep preferences.
The Tempur-Adapt mattress comes in one firmness, which we collectively rate a 7.5 out of 10 on the firmness scale. Although one person in our group said it was soft (especially along her hips while side sleeping), the majority of us found it close to Tempur-Pedic's self-assessment of medium.
It took me a couple of weeks to break in the Tempur-Adapt when sleeping on my side. (It was particularly firm around my shoulders.) However, I liked resting on my stomach since the mattress gently cradled my hips level while keeping them level with the rest of my body.
My testing group and I agree that the Tempur-Adapt is most comfortable for back sleeping. All of us felt immediate pressure relief in our backs, and regardless of our stature, our body weight was evenly distributed so we were well supported. (Interestingly enough, nobody in our group is a natural back sleeper.)
I had just completed my Saatva Loom & Leaf mattress review so I was used to sleeping on a slightly softer mattress. The Tempur-Adapt felt a touch too firm for me at first, but I gradually eased into it. Meanwhile, most of my fellow testers usually sleep on a firm mattress at home and found it plusher than they're used to but still comfortable.
I tested the Tempur-Adapt's "legendary pressure relief" by placing a 56lb kettlebell in the middle of the mattress to simulate someone sinking into it. The weight compressed the mattress by around 2.5 inches, and it took 20 seconds for the Tempur Material to snap back into place.
What did we human testers think? We liked the responsiveness and soft hug of the top TEMPUR-ES layer, especially those of us who experience regular aches and pains. As someone who's dealt with a recent lower back injury, I appreciated how the Tempur Material relieved pressure from my hips and lumbar.
Final verdict? The Tempur-Pedic Tempur-Adapt mattress provides the best pressure relief and all-around support for back sleepers. Stomach sleepers should also get on with it, but if you favor your side you might not find that keen balance of comfort and support. Check out any of the best mattresses for side sleepers instead.
Comfort score: 4 out of 5
Tempur-Adapt mattress review: temperature regulation
Sleeps hot, despite its cool-to-the-touch cover
Specialty bedding could help improve this
I'm prone to overheating at night yet can't help cocooning myself in covers. Thus, I was excited to put the Tempur-Adapt through its paces here, given the Tempur Material's response to temperature and the cool-to-the-touch surface.
Despite wearing lightweight pajamas and using cotton-polyester bed linens, I woke up warm to sweaty most mornings. I even transitioned from a mid-weight comforter to a lightweight crocheted blanket and still couldn't cool off.
There are a couple of things to note here. First. Tempur-Pedic says its Tempur Material could lead to an increase in blood circulation, which could result in needing fewer covers. (That didn't make a difference to me, unfortunately.)
Second, Tempur-Pedic warns that mattress protectors may impede the Tempur Material from doing its thing, which is why the brand recommends using a Tempur-Pedic mattress protector. My polyester mattress protector is quite thin but it possibly affected how well the Tempur-Adapt could regulate temperature.
Still, I was not expecting this level of discomfort, especially for a premium mattress with a cooling cover.
Temperature regulation score: 2 out of 5
Tempur-Adapt mattress review: motion isolation
Tempur-Material absorbs nearly every movement
An excellent choice for co-sleeping
The Tempur-Adapt may have failed the temperature regulation segment of the review, but it passed its motion isolation tests with flying colors.
A twin bed is meant to comfortably accommodate one person so to measure motion isolation I dropped a 10lb weight next to an empty wine glass from six inches high and varying distances away. This is meant to simulate a partner's movements as they shift positions or get in and out of bed.
When I dropped the weight 25 inches away, the wine glass remained firmly in place. I counted one jiggle when I performed the same test from 12 inches away. When I released the weight from four inches away, the wine glass briefly wobbled back and forth before returning to its original position.
What does this mean? If you share a bed with a fidgety co-sleeper or someone who has a different schedule than you do, you'll barely notice a thing because the Tempur-Adapt absorbs nearly every movement. Plus, plenty of happy couples have left glowing reviews praising its low motion transfer.
Motion isolation score: 4.5 of 5
Tempur-Adapt mattress review: edge support
Provides adequate edge support
Top cover bunches up a bit
No danger of falling off
Regardless of whether you sleep on a twin or a king, edge support is a key feature to consider. Not only do strong edges prevent sagging, but they can aid sleepers with mobility issues who need to sit before getting in or out of bed. (Not to mention, it lessens the fear of possibly rolling overboard while you sleep.)
I placed my 56lb kettlebell along the Tempur-Adapt's edges along the middle perimeter and at the bottom. The weight compressed the mattress two inches at either edge. It did create a slight bulge in the top layer, but the edges returned to form once I removed the kettlebell.
My fellow testers and I also sat on the center edge plus along the corners. Some of us felt more sinkage than others, but none of us felt like we were in danger of falling off. We didn't experience any issues with getting up from the mattress, either.
Based on these assessments, the Tempur-Adapt mattress has average edge support. However, like standard foam, Tempur Material has a lot of give to it so this is to be expected. Hybrid mattresses are generally a better option if you need exceptional edge support since they combine foam with reinforced coils. (The Tempur-Adapt is available as a hybrid, as well.)
Edge support score: 3.5 out of 5
Tempur-Adapt mattress review: setup
Arrives flat, and delivered right to your room of choice
Mattress removal is also included free of charge
No obvious off-gassing smell
There was little I had to do to set up the Tempur-Adapt mattress. Since it arrives flat, Tempur-Pedic includes free in-home delivery straight into your room of choice. All I had to do was confirm a delivery date and time.
About a week after my initial contact with a local logistics company, a couple of crew members placed a fully-formed Tempur-Adapt mattress on my platform bed. I could have slept on it right away if I wanted to but since my delivery was nice and early at 9 am on a Monday morning, I opted to wait anyway.
The complimentary white glove delivery is a nice perk if you live alone, are recovering from an injury, or sleep on a larger bed. (Depending on the size, the Tempur-Adapt weighs between 44lbs and 96lbs.)
Optional mattress removal is also available. I took advantage of this service since I had no way to dispose of my previous mattress. Note that you'll have to include this in your delivery notes when you make your appointment.
I didn't detect an obvious off-gassing smell from the Tempur-Adapt mattress. Tempur-Pedic uses CertiPUR-US-certified foams low in the volatile organic compound (VOC) emissions that could make your new mattress stink. (Avoiding the whole process of unfurling a vacuum-sealed foam bed may have aided in an odorless experience, too.)
Setup score: 5 out of 5
Tempur-Adapt mattress review: customer reviews
4.5 out of 5-star rating on Tempur-Pedic's site
Praised for its contouring properties and pain relief
Many complain about overheating
To supplement my experience and that of my testing panel, I combed through hundreds of user reviews to provide an even greater perspective of how well this mattress performs. The Tempur-Adapt Medium mattress has a 4.5-star rating out of 5 from nearly 1,000 reviews on Tempur-Pedic's website as of March 2023.
Those who like the Tempur-Adapt mattress say that it's helped alleviate issues like snoring and back pain. Plus, many sleepers praise its contouring properties and low motion transfer. On the other hand, some reviewers say it sleeps too hot, while several side sleepers claim it's too firm. You can filter reviews by keyword and star rating so you can find exactly what you'd like to know about this mattress.
The Tempur-Adapt mattress is sold at a selection of third-party sellers, with an average rating of at least 4 stars. However, most of those reviews appear to be sourced from Tempur-Pedic's website, so it's best to just look there.
Should you buy the Tempur-Adapt mattress?
I recommend the Tempur-Pedic Tempur-Adapt mattress for back sleepers who are seeking exceptional pressure relief and all-over support. Despite not being natural back sleepers ourselves, my testing panel and I felt the most comfortable resting in this position, followed by sleeping prone (on our stomachs). Side sleepers, on the other hand, may not get on as well with it. Although I gradually settled into the Tempur-Adapt after a couple of weeks, side sleeping wasn't the most comfortable for me on this mattress.
Co-sleepers who want a mattress that absorbs nearly every movement should also be satisfied with the Tempur-Adapt based on my testing plus the glowing reviews from content couples. Hot sleepers, meanwhile, will want to avoid sinking money into this mattress unless they're willing to pay extra for Tempur-approved bedding. (Personally, I don't know how much of a difference this would make so go for a dedicated cooling mattress instead.)
The most important thing I took from my testing is that brand reputation alone should not dictate your mattress purchase. My expectations were admittedly quite high due to it being a premium mattress from a renowned company. Despite my issues with it, I still believe it's a well-made mattress that'll perfectly suit a certain type of sleeper. It's quite an investment, though, so try to take advantage of the rare Tempur-Pedic sale when you can.
Alternatively, for a more affordable way to bring Tempur-Pedic's signature comfort into your home, check out our Tempur-Adapt mattress topper review.
Tempur-Adapt mattress review: Also consider
Swipe to scroll horizontally
| Header Cell - Column 0 | Tempur-Pedic Tempur-Breeze | Saatva Loom & Leaf | Helix Midnight |
| --- | --- | --- | --- |
| Price (queen) | MSRP: From $4,499 | MSRP: $1,399 | MSRP: $1,373 |
| Type | Memory Foam | Memory foam | Hybrid |
| Materials | Tempur Material | Memory foam, regular foam | Memory foam, polyfoam, wrapped coils |
| Firmness | Soft, medium, medium hybrid, firm | Relaxed firm (5-7), firm (8) | Medium (5-6) |
| Depth | 12" - 13" | 12" | 12" |
| Delivery | Free white-glove delivery | Free white-glove delivery | Free |
| Trial | 90 nights | 365 nights | 100 nights |
| Warranty | 10 years | Forever | 10 years |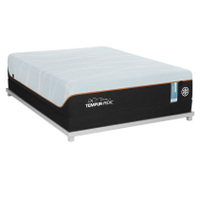 (opens in new tab)
Tempur-Pedic Tempur-Breeze Mattress (opens in new tab)
If you want to enjoy the cradling comfort of Tempur Material without overheating, you'll want the Tempur-Breeze, which sleeps between 3 and 8 degrees cooler, depending on the version you choose. It's loaded with cooling tech such as Tempur-CM Material (which cycles out heat and humidity) and a layer of PureCool+ Phase Change Material. The downside: it's Tempur-Pedic's priciest mattress.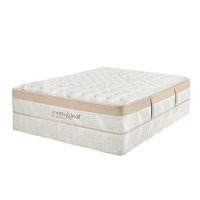 (opens in new tab)
Saatva Loom & Leaf Mattress
(opens in new tab)This memory foam mattress is comparable to the Tempur-Adapt in price and construction. Notable here is a gel-infused foam lumbar crown, a boon for anyone with lower back pain. Motion isolation is also excellent, but it does tend to sleep warm. White glove delivery is included, as are a one-year trial and a lifetime warranty — arguably making it a better value than the Tempur-Adapt.
Read our Saatva Loom & Leaf review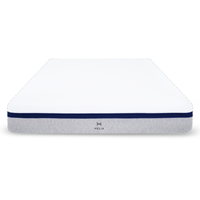 (opens in new tab)
Helix Midnight Mattress
(opens in new tab)Side sleepers, this is made just for you. Despite being a hybrid, the Helix Midnight has a plusher feel than the Tempur-Adapt and provides exceptional pressure relief along the shoulders and hips. It also has impressive temperature regulation and very good motion isolation, but edge support could be better.
Read our Helix Midnight review
How I tested the Tempur-Adapt mattress
I slept on a twin Tempur-Pedic Tempur-Adapt Medium mattress for three weeks between January and February 2023. Although it's officially winter in my part of the world at this time, overnight temperatures ranged from below-freezing to unseasonably mild. I used cotton-polyester linens and alternated between a mid-weight polyester comforter and a lightweight crocheted blanket.
In addition to my own experience, I asked a 5-person panel to sleep on the Tempur-Adapt mattress in multiple positions for at least 15 minutes and sit on the edges. Participants ranged in height and weight, with our smallest tester being 5ft4in and 125lbs, and our biggest tester being 6ft and 190lbs.
To objectively evaluate the Tempur-Adapt's firmness, edge support, and motion isolation, I performed standardized tests to gauge these features beyond my preferences and potential biases.
First reviewed: February 2023