I wouldn't pay Simba's £60 RRP for its Stratos pillow, but catch it at a reduced price and you'll get a simple and straightforward pillow that does the job, and which I find supportive and comfortable in all sleeping positions. It needs reshaping regularly if you don't want it to flatten out, though.
Pros
+

Eco-friendly

+

Soft polyester fill

+

Quite effective cooling

+

Washable
Cons
-

Not ideal for side sleepers

-

Needs regular plumping

-

Overpriced
Why you can trust TechRadar We spend hours testing every product or service we review, so you can be sure you're buying the best. Find out more about how we test.
The Simba Stratos pillow is by far the cheapest option in Simba's compact pillow line-up, and compared with its stablemates it doesn't really have a lot on offer. It's a straightforward pillow filled with "Simba Renew Bio"; that is to say, breathable clusters of polyester fibres made from recycled plastic bottles, encased in a cotton outer cover that boasts Simba's Stratos technology on one side to help regulate temperature.
It's very sustainable and pleasingly soft, and as it comes from one of the UK's best mattress brands, it's one that I expected to perform well. But can it compete with the best pillows on the market? I've been giving it a thorough testing for the past three weeks, so let's find out.
Simba Stratos pillow: review in brief
Simba Stratos pillow at a glance
Type: Microfibre pillow
Best suited to: Front and back sleepers
Dimensions: 50x75x13cm
Trial period: 30 nights
Warranty: 1 year
I'm incredibly hard to please when it comes to pillows. As an absolutely dyed-in-the-wool combination sleeper who switches positions multiple times throughout the night, I find it almost impossible to find a pillow (or more usually a combination of pillows) that doesn't annoy me in one way or another.
A pillow that's just right when I'm on my back or on my front usually turns out to be far too shallow when I'm on my side, which is the position I usually wake up in. And conversely, a deeper, firmer pillow that's ideal for when I'm on my side is way too lofty for lying on my back or my front – my go-to going-to-sleep positions.
Honestly it's a nightmare, and I really don't hold up much hope of any single pillow ever meeting my ultra-princessy needs. And yet surprisingly the Simba Stratos has come pretty close. It's pleasingly soft and cushioning, delivering just about the right amount of support when I'm on back or on my stomach, and while it doesn't seem quite lofty enough for side sleeping, I've actually been getting on all right with it. It's essential a basic but decent pillow that I'm not sure quite justifies its price.
Simba Stratos pillow review: price and deals
Retails for £60
35% discount when you buy a Simba mattress
Occasional 50% discount on Amazon
The Simba Stratos pillow is only available in the UK, and it's sold through Simba's online store for £60. That feels just a little steep to me for what you get, and unlike much of Simba's range, the Stratos pillow isn't regularly discounted; at the time of writing, there's a 35% discount available if you buy it alongside a Simba mattress, bringing the price down to a more reasonable £39.
If you want to get it cheaper without springing for a new mattress, head instead to Amazon where it's currently available with a 25% voucher; that brings the price down to £45. It's also occasionally reduced half price on Amazon.
This is the cheapest pillow in the Simba range; currently the alternatives are the Simba Hybrid Pillow at £109 (although you can have a 25% discount if you buy two), and the Simba Hybrid Firm Pillow that's currently on sale at £119.25, reduced from £159. Oh, and there's also the new Simba Cooling Body Pillow at £109; I'll be giving that a write-up very soon.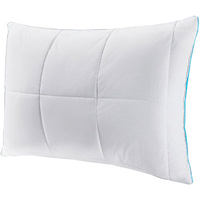 View the Simba Stratos Pillow for £60 at Simba
The Stratos is Simba's cheapest pillow, and frankly at £60 it feels a little overpriced; I'd advise you get 25% (or maybe more) off at Amazon instead. It's soft and supportive with a quite effective temperature-regulating side, and filled with sustainable recycled polyester fibres.
Simba Stratos pillow review: design and materials
Recycled fibre fill
Cotton cover with one temperature-regulating side
Machine-washable
We see all kinds of pillows here at TechRadar, and in comparison to many of them (I'm particularly looking at you, Zamat Butterfly Shaped Cervical Memory Foam Pillow) the Simba Stratos is decidedly simple and straightforward. It weighs in at around 800g, and inside there are clusters of polyester fibres; these are made from recycled PET bottles and they're biodegradable. This fibre fill gives the Stratos a soft, downy feel, and like down it's not so soft that your head sinks right down to the mattress when you lie on it; it's nicely cushioning and supportive.
On the outside is a cover made from responsibly-sourced cotton, and on one side is Simba's temperature-regulating Stratos technology that, as promised, genuinely does feel cool to the touch. The cover isn't removable, which is absolutely fine by me; it means you should really put the Stratos inside a pillowcase. However the entire pillow is machine-washable, so you can keep things clean and fresh.
Simba Stratos pillow review: performance
Soft and supportive
Cool to the touch
Benefits from occasional plumping
I've been sleeping on the Simba Stratos Pillow for over three weeks to see how well it delivers in terms of setup, support, comfort and temperature regulation. As I'm a combination sleeper I've been able to test it properly in side, back and front sleeping positions; here's what I discovered...
Setup
5 out of 5 stars
Simba claims that its deliveries are 100% carbon neutral, and the Stratos pillow turned up in plastic packaging that, says Simba, is 50% recycled. Inside that was a recycled storage bag, and inside that was the pillow itself, with no extra plastic wrap.
Getting it set up was as easy as pulling it out of the storage back, popping a pillowcase on it and putting it on the bed; as it wasn't vacuum-packed there weren't any issues with off-gassing.
Temperature regulation
4.5 out of 5 stars
I can't honestly say that I've ever had a problem with pillows getting too warm before, except maybe in really hot weather when frankly everything was too warm. However Simba makes a big deal of its cool-to-the-touch Stratos technology on one side of this pillow, and I'm pleased to report that, yes, the Stratos Pillow does feel cool to the touch, although putting it inside a pillowcase reduces the effect. The pillow's good and breathable, and ultimately it felt comfortable, temperature-wise, the whole time I tested it.
Interestingly, though, one of my cats, who generally sleeps on my pillow all day, has studiously avoided sleeping on the Simba Stratos. Is it because it feels too cool for his liking? He isn't saying.
Firmness and support
4 out of 5 stars
I usually sleep on a pair of pillows, but I often find that two is too many while one usually isn't enough. Noting how soft the Simba Stratos pillow is, I initially put it on top of a thin fibre-filled pillow; this combination turned out to be a bit too lofty for my needs, though, and I've since been using it solo.
In this configuration the Stratos has turned out to be surprisingly comfortable and supportive in all sleeping positions; it cradles my head and supports my neck when I'm on my back, it's not too high when I'm on my stomach, and when I'm on my side I can squish things up a bit so that my spine's adequately aligned. Basically it does the job for me; I've noticed that it needs pretty regular plumping to keep things soft, but that's not a huge deal. although it does make me wonder how long the Stratos will hold its shape for.
Simba Stratos pillow review: user reviews
New product so not many reviews
Reviewers praise its softness
Some found it lost its shape easily
The Simba Stratos pillow hasn't been on sale for all that long, and as such at the time of writing it's only garnered 13 reviews on the Simba website, with an average score of 4.7 out of 5. The majority of these are positive but don't go into a whole lot of detail, but there's approval of its temperature regulation, softness and support; a less impressed customer calls it out for being too soft, but still praises its overall quality.
The Stratos is also available on Amazon, but it appears to have inherited its listing from the discontinued Simba Pure pillow, and as such there are a lot of reviews that clearly refer to the older model. So I can't read too much into its 4.2 rating, but looking through the more recent reviews that clearly are of the Stratos, I find that they're mostly positive, but the negative reviewers find it too soft, a couple note that their pillows lost their shape after a couple of months.
Should you buy the Simba Stratos pillow?
It's hard to get too excited about the Simba Stratos pillow. It has decent eco-credentials and the cooling tech is a nice touch, but on the whole it feels like a pretty ordinary fibre-fill pillow that's overpriced at RRP.
Because I spend a lot of time with mattresses, I'm used to the RRP of sleep products being a fantasy figure that rarely correlates with what you'll actually pay, but in this case £60 very much seems to be what you'd pay for the Stratos if you bought it from Simba. The 35% off Simba offers if you buy the Stratos alongside a mattress feels more realistic, and if you instead buy on Amazon you'll occasionally catch it reduced to half price, which seems spot-on.
I actually like this pillow a lot more than I expected to. I've slept well on it; it's pleasantly cushioning and gives me just enough support in whatever position, and I don't need a second pillow. I'll be interested to see how long the Stratos holds its shape for, as it does need a good old plumping every few days and, as you'll see from my photos taken after a few weeks of testing, it's already getting just a little saggy.
This isn't a pillow you're going to fall madly in love with, but if you need something of an all-rounder (as I do), you could get on with it rather well – as long as you don't pay over the odds.
A professional writer with over a quarter of a century's experience, Jim has been covering mattress and sleep-related subjects for TechRadar, Tom's Guide and T3 over the past few years, gathering an in-depth knowledge of the workings of the mattress industry along the way. Previously Jim has covered a wide variety of subjects, working widely in the tech and gaming sectors, and more recently covering the design and wellness industries.