The Emma Mattress is a reliable, well made, contouring all-foam bed-in-a-box. It's ultra-comfortable – especially for side sleepers who'll appreciate the gently cradling memory foam on their shoulders and hips – although can trap body heat slightly, so perhaps one avoided for very hot sleepers. Factoring in the regular sales, you're getting excellent value for money.
Pros
+

Affordable in all sizes

+

Hugely comfortable

+

Great motion isolation

+

High levels of pressure relief
Cons
-

Weak edge support

-

Can sleep slightly warm

-

A bit soft for back sleepers

-

Lacks support for heavier people
Why you can trust TechRadar We spend hours testing every product or service we review, so you can be sure you're buying the best. Find out more about how we test.
Emma Mattress review: Two minute review
The Emma Mattress, also known as the Emma Original, is well-known in the UK as a reliable, affordable bed in a box designed to boost your sleep comfort for less. It holds a spot high up in the TechRadar best mattress guide as well as topping its best memory foam mattress ranking, because it's fantastic value for money and delivers all-over comfort from the first night.
The simple but effective design layers up three different types of foam: one to promote cooling, one contouring memory foam layer for comfort, and one sturdy base foam. There are two cover options – the standard cover (which is the one that appeared on my review model), or a 'Comfort cover', which is thicker. The Comfort cover is used on the 'Emma Original Plus' mattress, and is the only difference between that and the standard Original model.
The Emma definitely has a softer feel than other comparable models I've tested, though it isn't overly squishy – you'll sink in, but you won't feel as though you're being swallowed whole. I'd rate it around a five out of 10 in terms of firmness, with 10 being 'rock hard'. This mattress dishes out plenty of pressure relief for all sleeping positions, but it's especially comfortable for side sleeping, thanks to the way to foams contour around the sleeper's joints. It has enthusiastic reviews for this sleep style and I'd rate it as one of the UK's best mattresses for side sleepers.
It won't suit everyone though. The medium level of firmness won't be supportive enough for some back/stomach sleepers, and especially those of heavier body weight (in fact, the heaviest testers on my review panel found it a bit too soft, full stop). On the flip side, the Emma might also be a bit too firm for very lightweight sleepers. You do have a generous 200-night trial period though, which gives you plenty of time to assess if you've chosen the right firmness for you.
The Emma Original is a good choice for people who share a bed, because those squashy foams absorb motion extremely well. That means you won't disturb each other when changing positions or when getting in and out of bed at different times. This is ideal if one of you is a restless sleeper, prone to flipping between positions.
One area where the Emma fell down a bit in terms of performance was on temperature regulation. All-foam mattresses can run a bit warm in general, and I found that was occasionally the case with this model, although the cool cover material helped negate that a little.
Despite a few small performance complaints, I'd still say the Emma Original delivers incredible value for money. It sits in the lower-mid price bracket, undercuts most of its competitors, and punches about its price tag when it comes to quality. Overall, the Emma Mattress is a great choice if you're looking for an affordable bed-in-a-box that is cosy, supportive and affordable. The table below summarises my opinion on all the different performance factors. Alternatively, read on for my full, in-depth Emma mattress review.
Swipe to scroll horizontally
| Section | Notes | Score |
| --- | --- | --- |
| Comfort | Medium feel, squishy, sink-in surface. Excellent pressure relief. | N/A |
| Value | Sits in the lower-mid bracket, undercuts competitors, great value. | 4.5/5 |
| Design | All-foam, 25cm tall. Two different cover options, both removable. | 4/5 |
| Temperature | Can cling on to body heat on warm nights; not the best for hot sleepers. | 3.5/5 |
| Motion isolation | Absorbs movements extremely well, great for those sharing a bed. | 4.5/5 |
| Edge support | Edges slope a little, may be an issue if you're on a smaller model. | 3.5/5 |
| Customer service | Free delivery, option to add old mattress removal, long trial and free returns. | 4.5/5 |
Visiting from the US? We're focusing on the UK model here – check out the US version on Emma.com (it's similar to the one reviewed here, but not exactly the same).
Emma Mattress review: Materials & design
25cm deep, all-foam mattress
Three foam layers including memory foam and zoned base foam
Two cover options ('Original Plus' version has a thicker cover)
The Emma Original is a 25cm tall, all-foam mattress with two different cover options. Let's take a look at what's going on inside. The uppermost foam layer is referred to as 'Point Elastic Airgocell' foam, and its main purpose is to help with temperature regulation. Beneath that you'll find a tier of memory foam, which molds to the sleeper's body shape and hugs the joints.
Finally, there's a layer of 'HRX' base foam. As well as providing a sturdy bottom to the Emma mattress, it has cutouts to make it softer in some places and firmer in others; there are seven zones in total, designed to ensure the sleeper's spine is correctly aligned and you're comfortably supported.
On my Emma Original review model, I tested the standard cover. This is made from soft-touch fabric, and is hypoallergenic and breathable. It can be zipped off and cleaned in the washing machine.
If you want, you can upgrade to the 'Comfort' cover, which is the version included in the Emma Original Plus mattress. This cover is extra-thick and plush, and still has the same breathable, hypoallergenic and machine-washable properties as the standard cover.
It's also worth flagging that the Emma Original is available in a good range of sizes. There's all the usual UK sizes, as well as a small double, and there are also EU sizes. ore size availability with the Emma Original compared to the competitor models mentioned above, as Emma Sleep also offers EU sizes in addition to standard mattress sizes. These include an EU single, an EU double and an EU queen.
Emma Original vs Emma Original Plus
On the product page for the Emma mattress, you'll find two options: the Emma Original mattress and the Emma Original Plus mattress. These are exactly the same internally – it's just that they have different covers.
The Original has the standard cover, and the Plus has a thicker, more plush version. The rest of the mattress is exactly the same. At full price, the Plus version is marginally more expensive, but it's fairly common for Emma to heavily discount only one version at a time, which will make the decision for you as to which you buy (read more in the Price section below). Both have handles to help with maneuvering.
What other Emma mattresses are there?
The Emma Original is the cheapest of the brand's lineup, and the only all-foam option. The cheapest hybrid is the NextGen Premium (read our Emma NextGen Premium mattress review). This has the same firmness as the Original, and adds a layer of tall springs. You can see how the NextGen Premium compares with our Emma Original vs NextGen Premium mattress head-to-head.
The next most expensive model is the Luxe Cooling (read our Emma Luxe Cooling mattress review). That's the firmest option in the lineup, although still only medium in terms of firmness. The springs are shorter than on the Premium, and there are specialist foams geared towards cooling.
Finally at the top of the range is the Emma Zero Gravity. The USP here is that there's a gel grid that's designed to make the sleeper feel like they're floating. You can find out more on the comparison page on the Emma website.
Emma Mattress review: Price & value for money
Sits in the lower-mid price bracket
Great value for money
Regular sales, and often either the Original or Plus will be discounted
The Emma Mattress sits in the lower-mid price bracket, and is extremely good value for money. Like many bed brands, Emma runs regular sales, but RRP also fluctuates so it's worth paying attention to price rather than advertised discount. (For example, at time of writing, there's no deal on, but RRPs are lower than usual, so it would be a good time to shop.) Here are the current prices on the Emma Original and Plus models:
Single: £499 (usually priced £249.50)
EU single: £549 (usually priced £274.50)
Small double: £639 (usually priced £319.50)
Double: £699 (usually priced £349.50)
EU double: £759 (usually priced £379.50)
King: £799 (usually priced £424.50)
EU queen: £869 (usually priced £434.50)
Super king: £899 (usually priced £449.50)
In the past, I've seen Emma mattress sales only discount one of the two versions (Original or Plus) at a time. Other times, there might be a deal on a bundle, but not the mattresses individually. The Black Friday mattress deals traditionally bring with them the lowest prices of the year, and late November is typically a great time to shop.
Depending on deals, the Emma Original almost always sits in the lower-mid price bracket. All-foam mattresses are generally cheaper than anything with a spring layer, but even still, the Emma undercuts many memory foam competitors, and is one of the best value mattresses around.
The general sense among our testing panel is that the Emma Mattress is well-made and should last several years at least. The foam is high-quality, and the cover also fits well and is tightly stitched. Emma is clearly confident about the durability of the Original, as it comes with a 10-year warranty and you get to test it out for 200 nights to ensure it's the right choice for your sleep.
Competitors include the Nectar Memory Foam mattress, which is typically around £480 for a double (based on evergreen Nectar mattress sales), and the Simbatex Foam mattress, which is usually around £799 for a double in, unless there's a Simba mattress sale on.
Value score: 4.5 out of 5
Emma Mattress review: Comfort & support
A medium firmness, rated 5-6 out of 10
Super comfortable for side sleepers, with excellent pressure relief
A bit soft for some back/stomach sleepers, especially of heavier weight
The Emma Original has a medium sleep feel – I judged it to be around a 5-6 out of 10 in terms of firmness. This is a mattress that you sink into rather than lying on top of, and the foams mould around your joints to deliver dreamy cushioning and excellent pressure relief. Placing a hand into the mattress, the surface feels pleasantly squishy. There's no bounce, and the premium foam take a second to return to shape when pressure is removed. All of the testers on my review panel felt nicely 'held' by the Emma Original, and most agreed there was a good amount of sinkage to feel comfortable but still well supported.
When considering what firmness level to opt for, there are certain guidelines to follow that will help you find something that's firm enough for proper spinal support, but soft enough to avoid uncomfortable pressure building up.
The general rule is that heavier you are, the firmer your mattress should be. Within that, also factor in your habitual sleep position: side sleepers can get away with a slightly softer mattress (so medium to medium-firm, depending on body weight) while back and stomach sleepers should opt for something sturdier (so medium-firm to firm). All that tallies with the experiences of myself and my testing panel when reviewing the Emma Original.
I found this mattress to be cosy and comfortable from the first night. I'm 5ft 2in and weigh 50kg, and I found it especially supportive for side sleeping. I felt some very slight pressure at the hips when sleeping on my side – a common experience among people with a lighter body weight – but certainly not enough for it to be painful.
The heavier side sleepers on my testing panel had a mixed response: the heaviest found that they sank in too much and found it hard to turn over easily to the other side, as the memory foam was very hugging and isolated motion to a high level. But the side sleeper with an average body weight slept deeply on the Emma Mattress and hardly felt the need to move throughout the night as it was so comfortable and cushioning.
The back and stomach sleepers on my testing panel also found the Emma Original comfortable, though again, those with a heavier body weight said that they sank in too much.
Emma Mattress review: Performance
Can cling on to body heat and occasionally sleep a bit warm
Barely any motion transfer, excellent choice for those sharing a bed
Noticeable sloping when sitting on or lying close to the edge
As well as considering the design, comfort and price, I also reviewed the Emma Original mattress on key performance aspects. These include: how well it regulates temperature, how well it absorbs movements on the surface, and how sturdy the edges are. Here's how I got on.
Temperature regulation
All-foam mattresses, and especially those like this one that have a softer, more hugging sleep feel, can have a habit of clinging on to body heat. Although on the whole I found the Emma Original to be fairly breathable, it did run a little warm at times during my review period. By the morning, the mattress felt a little warmer directly under and around the body, and noticeably cooler on the unused parts.
Emma says its cover has heat-regulating properties, and I actually found these to be pretty effective. The cover on my review model felt cool to the touch at all times, even when I doubled up on blankets on colder nights. I also tried the Emma Original with a mattress protector and the surface still felt fresh and cool despite the extra slightly padded layer.
I didn't find the heat retention on the Emma Original excessive, and it didn't disrupt my sleep, but it wouldn't be my top recommendation if your main problem is overheating at night. (Consider checking out one of the best hybrid mattresses if you do run hot – the springs create space for air to circulate, boosting breathability.)
Temperature regulation score: 3.5 out of 5
Motion isolation
For anybody who has a restless sleep partner, minimal motion transfer is crucial as this will keep the mattress stable as the person shifts around. Not only can motion transfer be annoying, but it can prevent both sleepers from getting proper night's sleep too.
I tested the motion transfer on the Emma Original in two ways: first by lying side by side with another individual and gauging the movement as they shifted position; and second, by performing a simple drop test involving a weight and an empty wine glass. It performed very well in both tests.
I dropped a 6kg weight from roughly 5 inches above the mattress and roughly 25 inches away from the wine glass, and then again getting nearer in increments each time until it was approximately 5 inches away. I was impressed at how little the wine glass moved in all drop tests.
These high levels of motion isolation were also apparent in my real-world tests. Even though the small double I was reviewing was pretty cramped with two people on it, I could barely feel my partner's movements when they changed position or got in or out of bed. I feel confident in giving the Emma Original mattress high scores when it comes to motion isolation, and would recommend this mattress to anyone sharing a bed with a restless sleeper.
Motion isolation score: 4.5 out of 5
Edge support
One area of performance where the Emma Original fell short was on edge support. I felt definite sloping when sitting on the edge of the bed, which increased for the heavier testers on my review panel. I also placed a 20kg near the edge of the Emma Mattress and this created noticeable sloping too.
I tend to sleep solo, near the edge of the mattress, and I still felt supported and stable. When I asked a heavier person to try it out, although they experienced no significant problems with rolling when sleeping alone, they did notice some sloping if they lay too close to the mattress edge.
The weak edge support became more pronounced during co-sleeping. If you're set on the Emma Original, I'd recommend those who share a bed to invest in a larger size, especially if both of you are of an average to heavier weight and like to spread out when sleeping.
Edge support score: 3.5 out of 5
Emma Mattress review: Customer service
Arrives boxed, rolled and vacuum-sealed, no noticeable off-gassing
Free delivery and returns, option to add old mattress removal
10-year guarantee and 200 night trial
As a bed-in-a-box mattress, the Emma Original is vacuum-packed, rolled and packaged in a cardboard box for shipping. Delivery is free, and there is an option to pay a bit extra for your old mattress to be removed on the same day. Emma says collected mattresses will be recycled by a partner company.
Setting up the Emma Original was straightforward, despite the fact that my review sample did not come with the small plastic cutting tool that is usually included. I assumed this was an oversight on the part of the Emma Sleep team when packing the mattress, but it turned out not to be too much of a problem. Included on the actual packing box are basic picture instructions, as well as a QR code that leads to more in-depth information.
At 20.8kg, my small double test mattress was a manageable weight and size and I managed to move the box into the bedroom and remove the Emma Mattress from the outer cardboard box with relative ease. Placing it onto the slatted bed frame was easy too, as was removing the main plastic vacuum-sealed packaging. Just a simple snip with the scissors to make the initial tear and the plastic was easy to rip away – no cutting tool required after all.
Image 1 of 3
The Emma Original arrived folded and rolled in the box, and once opened out it started inflating immediately. In fact, this was so quick that it's worth making sure you place the mattress as close to the right spot as you can on the bed frame to avoid having to drag and shift it into position as it fills out. This is important if you are unpacking it by yourself without any help – especially if you are tackling one of the larger sizes.
Emma Sleep recommends leaving the Original to inflate for two to six hours before you sleep on it, and says it will be 90-95% inflated within 48 hours (and another couple of days before it reaches its full height). I left it a full 12 hours to inflate before I slept on it, and I experienced no problems in terms of comfort.
I was impressed by the lack of off-gassing when I rolled out the Emma Mattress. I checked in over the day as the mattress was expanding and the room still smelled fresh, with no noticeable off-gassing pong like I've experienced with similar beds. Do note that off-gassing experiences can vary from person to person, even within the same product.
The Emma mattress comes with a 10-year guarantee and 200 night trial. The latter is pretty generous for a mattress in this price bracket; it means that you'll be able to test the mattress over the course of a few months and make sure you really love it before committing to keeping it. Returns are free, too.
Customer service score: 4.5 out of 5
Emma mattress review: Specs
Swipe to scroll horizontally
| | |
| --- | --- |
| Height | 25cm |
| Foam | Memory foam, other foams |
| Springs | None |
| Cover | Removable and washable, two options |
| Handles | Yes |
| Firmness (1-10) | 5-6 (medium) |
| Trial | 200 nights |
| Warranty | 10 years |
| Price bracket | Lower-mid |
| Price (double size) | RRP £474 |
| Sizes | Single, small double, double, king, super king, EU single, EU double, EU queen |
| Delivery | Free |
| Returns | Free |
Emma Original mattress: Other reviews
Overall, very positively reviewed across a number of retailers
Lots of praise about comfort and pressure relief
Some complaints around it sleeping warm and sagging over time
Because mattress comfort is a very personal thing, to get a rounded view of how the Emma Original has been recieved in general, I took a look around the web at other customers' reviews.
On the brand website, Emma only shows a handful of reviews, and naturally they're all the positive ones. So I had a hunt around other retailers to get a more balanced overview. Overall, reviews are very positive. On Amazon, this mattress has a 4.3 average over 1,675 reviews. On MattressNextDay, it has a 4.8 average over 19 reviews. On John Lewis, it has a 4.2 average over 224 reviews.
Across all platforms, positive reviews consistently praise how comfortable this mattress is to sleep on, how good the pressure relief is, and how it led to a more restful night's sleep. Customers also commented that it was excellent value for money (which I'd agree with). Amongst the complaints, a handful people commented that this mattress was warm to sleep on, and there are a few more who found it was starting to sag or develop dips after a couple of years of use. On the latter point, I'd expect this issue to be more pronounced if you weigh above average.
Should you buy the Emma Original mattress?
Buy it if...
✅ You're a side sleeper: The Emma Original's medium feel, combined with contouring foams, make it a perfect side-sleeper mattress. It'll provide excellent support in this position, while cushioning the joints and preventing pressure from building up in the lower shoulder or hip. For this reason, it's also a great pick for anyone struggling with joint pain.
✅ You want excellent value for money: This mattress undercuts similar models from competitors. It's the best quality mattress TechRadar has reviewed in in the lower-mid price bracket.
✅ You share a bed: Bed-sharers should look for a mattress with high levels of motion isolation, and here the Emma Original excels. You won't feel the moments of a restless partner on this mattress.
Don't buy it if...
❌ You sleep warm: The Emma Original can sleep a little warm at times, so isn't the best pick if you struggle with overheating at night. Consider a hybrid model like the Simba Hybrid Pro if that's you.
❌ You weigh above average: The medium sleep feel will be a little too soft for heavier bodies, and you may find the all-foam design starts to sag sooner than you'd like, too. Something sturdier, like the Panda Hybrid Bamboo mattress, will provide better support.
❌ You typically lie on your back or stomach: As a rule, back/stomach sleepers should look for a mattress that is a little firmer, to prevent their hips from dropping too low into the sleep surface. The Nectar memory foam mattress has a firmer feel that might suit back / stomach sleepers better.
Emma Mattress review: Also consider
Swipe to scroll horizontally
| Header Cell - Column 0 | Emma Mattress | Nectar Memory Foam Mattress | Simbatex Foam Mattress | Emma Premium Mattress |
| --- | --- | --- | --- | --- |
| Price (double size) | RRP £474 (usually around £379) | RRP £1,119 (usually around £480) | £799 (usually around £479) | £1,331 (usually around £494.55) |
| Type | Memory foam mattress | Memory foam mattress | All-foam mattress in a box | Mattress in a box |
| Materials | Memory foam, polyester elastane | Gel memory foam, CertiPUR-US foam, poly-blend | Knitted cover, soft CertiPUR Simbatex foam, open-cell foam, high density foam | Hybrid memory foam and tall springs |
| Firmness | Medium 5-6 (out of 10) | Medium 6.5 (out of 10) | Medium-firm 7.5 (out of 10) | Medium-firm 6.5 (out of 10) |
| Depth | 25cm | 25cm | 25cm | 25cm |
| Delivery | Free | Free | Free | Free |
| Trial | 200 nights | 365 nights | 1 year | 200 nights |
| Guarantee | 10 years | Lifetime | 10 years | 10 years |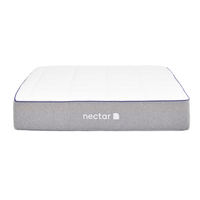 Nectar Memory Foam mattress
The all-foam Nectar mattress is the closest competitor to the Emma in terms of both price and comfort, and if you're after a slightly firmer mattress it could well be the better choice for you. The Nectar's strong all-rounder, with good motion isolation and decent temperature regulation, and you get whole year to trial it as well as a lifetime warranty.
Read our Nectar Memory Foam mattress review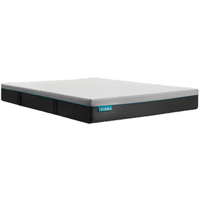 Simbatex Foam mattress
Looking for a really firm all-foam mattress? The Simbatex could be right up your street. It's probably a bit too firm for lighter sleepers, but if you're of heavier build or sleep on your back or stomach you should find it a good fit. There's great motion isolation, but this one's a little lacking in edge support
Read our Simbatex Foam mattress review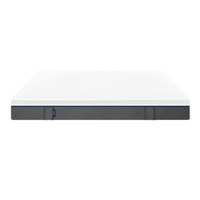 Emma Premium mattress
For a step up from the standard Emma mattress, the Emma Premium is a hybrid option that's equally good value with enhanced features for an even better night's sleep. With six layers of foam and springs it's breathable and comfortable with great pressure relief and motion isolation, although edge and corner support could be better.
Read our Emma Premium mattress review
How I tested the Emma Mattress
To review the Emma Original, I slept on the mattress for approximately three weeks. Performance wise, I looked at all major areas of performance including pressure relief, motion isolation, edge support, cooling, and ease of set up.
I also assembled a testing panel, made up of several people of different heights and body weights, and with different sleep needs (including two hot sleepers). We had side sleepers, back and stomach sleepers, and combination sleepers all testing the Emma Mattress.
For a more objective view of factors such as firmness, motion isolation and edge support, I also conducted tests using weights.
Grace Franks is an experienced sleep and mattress writer who has written for our sister sites Tom's Guide and T3, among other brands. She's interested in organic and eco-friendly sleep products, and how good sleep can improve our general wellbeing. When not writing about mattresses, Grace loves reading, creative writing, and practicing yoga.