We've all been there – showing off a Youtube video or just watching some Netflix and then, all of a sudden, everything stops and the buffering starts. This leads to an unbearable awkward silence that fills the room around you as you wait for your agonizingly slow internet to do its thing. Not a great experience, is it? If this happens regularly to you, it might just be time for an upgrade. Luckily there are some nice Black Friday deals going on for the best routers right now. You could just pay a higher monthly rate and get better internet, but that's not always the best move – your first instinct should be getting your hands on one of the best Wi-Fi routers you can.
But there are literally dozens of wi-fi routers to choose from when you look on Amazon, so how can you tell what's the best Wi-Fi router for you? We can help with that, we've created a list of the best Wi-Fi routers on the market today, and as long as you stick with our recommendations, you should be ok. And, you can trust us here, because every router on this list has been extensively tested and/or reviewed by the TechRadar editorial staff – so you know that no router is included here without deserving it.
1. Google Wifi
The future of wireless networking gets affordable
Speed: 802.11ac 5GHz down: 101.41 Mbps, 2.4GHz down: 47.53 Mbps | Connectivity: 2 x Gigabit Ethernet ports per Wifi point (1 WAN and 1 LAN port each) | Features: AC1200 2 x 2 Wave 2 Wi-Fi, TX beamforming, Bluetooth Smart ready
Super simple setup
Great value
Limited hardware control
Lower AC rating
Gone are the days when the only way to achieve true wireless broadband speeds around the whole house was with a wall outlet-bound range extender. It's more evident than ever that Google Wifi, and other wireless mesh systems like it, are indicative of what the future looks like for routers. Google Wifi's premise is simple – you buy a set of 'points' and position them throughout your house. Then, you simply scan a QR code to set them all up and voilà!
Read the full review: Google Wifi
2. Netgear Orbi
Wireless coverage that's high-end, almost to a fault
Speed: 802.11ac 5GHz down: 90.14 Mbps, 2.4GHz down: 93.69 Mbps | Connectivity: 4 x 10/100/1000Mbps Gigabit Ethernet ports (1 WAN + 3 LAN for Router, 4 LAN for Satellite), 1 x USB 2.0 port | Features: 4GB flash memory, 512MB RAM, AC3000, MU-MIMO ready
Excellent coverage
Easy setup
Mighty pricey
Finicky Wi-Fi band settings
Unlike Google Wi-Fi, the Netgear Orbi wireless mesh system ships with two units rather than three: a router and a satellite, much like a cell phone signal booster. It's expensive, but once you get past the price, you'll see that the price tag is justified. Its simple setup, requiring little more than being plugged into a modem and a spare wall adaptor, makes the Orbi accessible to say the least. Add that to its stately performance and you'll see why we love it so much.
Read full review: Netgear Orbi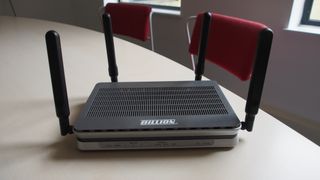 3. Billion BiPac 8900AX-2400
A highfalutin router that doubles as a modem
Speed: 802.11ac: 2,400Mbps 802.11n: 2,400Mbps | Connectivity: 1 x DSL port, 4 x 1000Mbps Gigabit Ethernet ports, 1 x EWAN Ethernet port, 1 x USB 2.0 | Features: Built-in ADSL2+ modem, 1 x 2.4GHz; 1 x 5Ghz bands, LED status lights, reset button, power button
Good performance
ADSL2+ modem included
Clunky interface
Only USB 2.0
Billion is back at it again, this time with the fastest router it's ever produced. Exhibiting a throughput of 2,400Mbps over both a 2.4GHz and 5GHz band, the BiPac 8900AX-2400 isn't conventionally attractive by society's standards, but it is immensely capable. In lieu of a shabby interface, this router dons a wide range of ports for added storage down the line in addition to integrating a state of the art ADSL2+ modem.


4. Starry Station
Wi-Fi made easy (and attractive)
Speed: 802.11ac: 1,300Mbps 802.11n: 450Mbps | Connectivity: 2 x Gigabit LAN port | Features: Dual-band Wi-Fi technology, 3.8-inch LCD touchscreen, embedded speaker/microphone
Elegant, simple interface
Touchscreen offers info and control
May need to rewire source
Gets noticeably loud
For those of us clinging to (presumably leased) routers supplied to us by our ISPs, the Starry Station makes Wi-Fi easier without handing over your clean money month after month to a greedy conglomerate. Not only is it fast, bearing download speeds that are typically around the same as a Verizon FiOS stock router, but the Starry Station is stylish enough where you won't have to tuck it away in a cabinet that will inevitably obstruct its signal. What's more, it manages to avert those pesky numerical gateways that no one wants to memorize.
Read the full review: Starry Station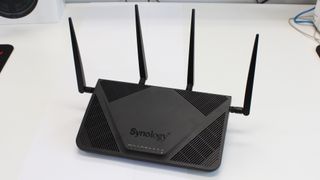 5. Synology RT2600ac
NAS or router – why don't we have both?
Speed: 802.11ac: 1,733Mbps 802.11n: 800Mbps | Connectivity: 4 x Gigabit WAN, 1 x USB 2.0, 1 x USB 3.0, 1 x SD card reader | Features: 512MB RAM, 1.7GHz dual-core ARM Qualcomm IPQ8065 processor, MU-MIMO, beam-forming, 4GB flash storage
Easy-to-use web interface
Great hardware extras
Pricier than other AC2600 routers
Not the fastest 802.11ac router
It's not everyday you encounter a router that doubles as an NAS, or network-attached storage device – a type of server box that allows you to store and access files over your local internet connection. The Synology RT2600ac, on the other hand, combines the best of both worlds, going as far as to deliver third-party applications such as VPNs and DLNA media servers. There's even Apple Time Machine support for over-the-air Mac backups.
6. Linksys WRT 3200 ACM
Kickin' it old school (and open-source)
Speed: 802.11ac: 3x 867 Mbps, 802.11n: 600 Mbps | Connectivity: 4x Gigabit Ethernet, 1x USB 3.0, 1 x ESATA/USB 2.0 | Features: Tri-Stream 160, 1.8GHz dual core CPU, 512MB RAM, 256MB flash memory
Open source firmware support
Excellent features
Coverage sometimes spotty
More suitable in an office than a home
The antithesis to wireless mesh systems, the Linksys WRT 3200 ACM doesn't boast a particularly flashy design. However, by compromising in the looks department, Linksys was able to pull off a versatile wireless router aimed at traditional PC enthusiasts. Giving you boundless control over your wireless network connections, whether you want to toggle on and off guest connections or prioritize media devices, the WRT 3200 ACM has you covered.
Read the full review: Linksys WRT 3200 ACM


7. Zyxel Armor Z2 AC2600
An extraterrestrial gaming router that covers all bases
Speed: 802.11ac: 2,167Mbps, 802.11n: 800Mbps | Connectivity: 4 x Gigabit Ethernet, 1 x WAN, 1 x USB 2.0, 1 x USB 3.0 | Features: MU-MIMO support, StreamBoost, dual-core 1.7GHz processor, 512GB RAM, Zyxel One Touch app-based setup
Good MU-MIMO wireless speeds
Excellent traffic analysis software
Few current devices use quad-stream 802.11ac
Average USB port speeds
Known for its NAS devices, extenders and powerline adaptors, it's a wonder Zyxel would ever come out with a dual-band gaming router. Yet, although it's not nearly as extravagant (or spider-like) in its outward appearances as the Asus RT-5300, the Armor Z2 AC2600 is a solid gaming router debut from Zyxel. Toting Dynamic QoS, otherwise referred to as StreamBoost, for the prioritization of more demanding connected hardware, a configuration app called Zyxel One Touch and MU-MIMO support, this router's lofty price tag is damn near justified.
Read the full review: Zyxel Armor Z2 AC2600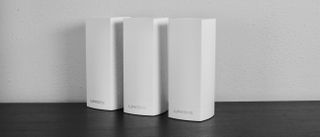 8. Linksys Velop
Layman's mesh Wi-Fi comes at a cost
Speed: 117.46 Mbps single node, short range; 74 Mbps two nodes, far range | Connectivity: 2 x Gigabit Ethernet per unit (1 WAN and 1 LAN each) | Features: App-based setup; dual-stream (2x2), 802.11ac networking; 716MHz quad-core ARM Cortex A7 processor, beamforming
Fully modular mesh network
Inconspicuous design
Pricey in comparison
Performance too dependent on position
Like Google Wifi and Netgear Orbi, Linksys is fighting the good fight to keep wireless routers simple. Although it costs a bit more to use than those aforementioned mesh systems, the Linksys Velop is easily configured in about five minutes, thanks to the companion app you can get via either the App Store or Google Play. It cuts out the middleman, i.e. Wi-Fi extenders, in favor of a seamless wireless internet that will cover the whole house without requiring you – the user – to constantly switch networks as you enter another room.
Read the full review: Linksys Velop
9. Asus RT-AC88U
4x4 and 1024-QAM deliver the best possible wireless performance
Speed: 802.11ac: 2167Mbps 802.11n: 1000 Mbps | Connectivity: 9x Gigabit Ethernet, 1x USB 2.0 1x USB 3.0 | Features: 1024-QAM, MU-MIMO, WTFast Gamers Private Network, Asus AiProtection, AsusWRT Software
Fastest wireless speeds
Comprehensive software UI
Expensive
Requires special hardware for fastest speeds
You might recognize the name from its ROG gaming hardware, but what you may not be aware of is that Asus has shaken up wireless networking as we know it with an evidently rigorous array of hardy wireless routers. The RT-AC88U is no exception. Outfitted with the top-of-the-line 802.11ac spec, Asus's quad-antenna, whale of a router is made better only by its inclusion of NitroQAM technology, which is designed to allow for 4K video streaming and online gaming to take place simultaneously under the same roof.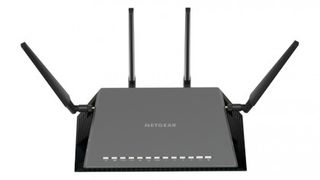 10. Netgear Nighthawk X4S VDSL/ADSL Modem Router D7800
Built-in VDSL modem and 4x4 wireless speeds make this a great all-rounder
Speed: 802.11ac: 1733Mbps, 802.11n: 800 Mbps | Connectivity: 5x Gigabit Ethernet, 2x USB 3.0, 1x eSATA | Features: VDSL 2 modem
Great wireless performance
VDSL 2 modem
Lacks 1024-QAM
Requires special hardware for fastest speeds
If routers had a fashion contest, Netgear's D7800 would be among the top contenders. Its solid black finish is complemented by a quartet of antennas. Plus it's damn fast and bettered by its inclusion of a duo of USB ports paired with an eSATA connector. The real centerpiece, though, is the VDSL 2 modem built into the Nighthawk X4S D7800, negating the need to buy or lease one separately. The outfitted software isn't too shoddy either; a simple Dynamic QOS system makes it a breeze to govern a multitude of devices on a single home network.
Joe Osborne and Gabe Carey have also contributed to this article