The best wireless router is the one you don't have to think about, right? When your internet is working flawlessly and without physical tethers, your router can typically be stuffed into a cabinet and never discussed again. However, router technology is accelerating to the point where it may be time for an upgrade if you're still working with older hardware.
The days of your router being limited to a single 2.4GHz band are behind us, with dual- and tri-band routers featuring a 5GHz connection or two now on the rise. Plus, if you're in a home or office with multiple rooms, mesh routers like Google Wifi have ousted range extenders everywhere from the states .
Google leading the charge, competing companies have followed suit with their own hubs. The , for example, boasts security-centric features that aim to make up for is more extravagant price tag. With so many routers – both traditional and trendsetting – to choose from, we've gone hands-on with a wide range to find only the 10 best wireless routers below.
Asus RT-AC88U
Netgear Nighthawk X4S VDSL/ADSL Modem Router D7800
Linksys WRT1900ACS
1. Google Wifi
The future of wireless networking gets affordable
Speed: 802.11ac 5GHz down: 101.41 Mbps, 2.4GHz down: 47.53 Mbps | Connectivity: 2 x Gigabit Ethernet ports per Wifi point (1 WAN and 1 LAN port each) | Features: AC1200 2 x 2 Wave 2 Wi-Fi, TX beamforming, Bluetooth Smart ready
Super simple setup
Great value
Limited hardware control
Lower AC rating
Gone is the seemingly distant past where we had to purchase Wi-Fi extenders in addition to our wireless routers for installation throughout the house. Wireless mesh systems are the future, and Google Wifi only reassures us of this. Though it's not the fastest Wi-Fi mesh system to be had, Google Wifi is one of cheapest and, moreover, the easiest to configure.
It's as easy to set up as scanning a QR code on the cylindrical unit connected to your modem via Ethernet, and a few seconds after setting the name and password of your network, you can start broadcasting. The performance is equal to or greater than the Netgear Orbi at any given moment, though Google Wifi is more about covering a wider space than exhibiting the fastest speeds.
Google Wifi also comes armed with traffic prioritization functionality, which makes sure more bandwidth is devoted to tasks which demand it, such as 4K video playback or online gaming. Sure, it requires that you buy a trio of units just to use it to its full potential, but the design of the hardware – and even the software – more than outweighs any negatives.
Read the full review: Google Wifi
This product is only available in the US and UK as of this writing, but will arrive in Australia on July 20.
2. Netgear Orbi
Wireless coverage that's high-end, almost to a fault
Speed: 802.11ac 5GHz down: 90.14 Mbps, 2.4GHz down: 93.69 Mbps | Connectivity: 4 x 10/100/1000Mbps Gigabit Ethernet ports (1 WAN + 3 LAN for Router, 4 LAN for Satellite), 1 x USB 2.0 port | Features: 4GB flash memory, 512MB RAM, AC3000, MU-MIMO ready
Excellent coverage
Easy setup
Mighty pricey
Finicky Wi-Fi band settings
Like Google Wi-Fi, the Netgear Orbi is a wireless mesh system more than a standard router. As such, it's intended to give you zippy Wi-Fi coverage throughout the entire house rather than demanding that you buy an extender just to get by. Unlike Google Wi-Fi, it ships with two units rather than three: a router and a satellite, much like a cell phone signal booster.
It's expensive, but once you get past the upper-echelon price tag, you'll start to see why the Netgear Orbi costs so much to begin with. The matte plastic hardware units are relatively simple to configure, but not quite as straightforward as the Google Wifi. That matters very little, however, when it's about the same procedure as just about any router you can find, albeit with one extra step.
Simply plug the router into a spare wall outlet or surge protector as well as into your modem with an Ethernet cable. Likewise, connect the satellite to an outlet and you're already halfway there. Using the handy Sync button found on each block, naturally the two bricks will start interacting. Then just set your password and SSID in a web browser. It's that easy.
Read full review: Netgear Orbi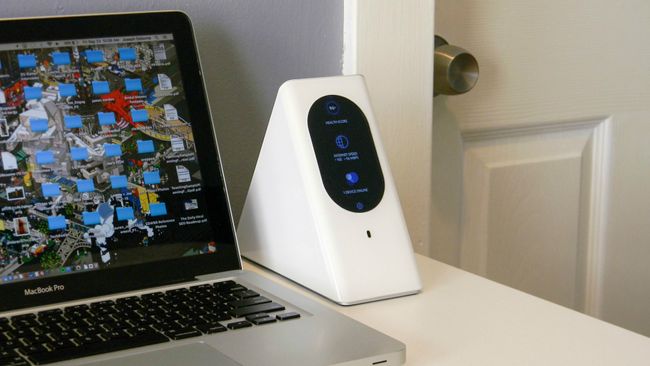 3. Starry Station
Wi-Fi made easy (and attractive)
Speed: 802.11ac: 1,300Mbps 802.11n: 450Mbps | Connectivity: 2 x Gigabit LAN port | Features: Dual-band Wi-Fi technology, 3.8-inch LCD touchscreen, embedded speaker/microphone
Elegant, simple interface
Touchscreen offers info and control
May need to rewire source
Gets noticeably loud
The Starry Station is not like most routers in its price range. Instead of chasing after the fastest speeds and longest range, it's all about two things: convenience and aesthetic. The triangular design and curious LCD display make the Starry Station a welcome addition to your home whether it's sitting atop your desk or on a coffee table in your living room.
Sure, it's expensive for what it is, considering it offers little performance advantage over your ISP's stock router, but what the Starry Station lacks it more than makes up for in style and ease-of-use. Just be sure that your source connection isn't in, say, your closet.
Read the full review: Starry Station

4. Synology RT2600ac
NAS or router – why not both?
Speed: 802.11ac: 1,733Mbps 802.11n: 800Mbps | Connectivity: 4 x Gigabit WAN, 1 x USB 2.0, 1 x USB 3.0, 1 x SD card reader | Features: 512MB RAM, 1.7GHz dual-core ARM Qualcomm IPQ8065 processor, MU-MIMO, beam-forming, 4GB flash storage
Easy-to-use web interface
Great hardware extras
Pricier than other AC2600 routers
Not the fastest 802.11ac router
The Synology RT2600ac is exactly what you get when you fuse a traditional wireless router with a network-attached storage device, or NAS. It doesn't boast the fastest specs or even a conventionally attractive shell, but the Synology RT2600ac packs a ton of features that make it worth your while.
Though it only has 4GB of storage built-in, you can connect a hard drive and configure your own cloud service similar to Google Drive or Microsoft OneDrive. You can even download NAS-grade apps like a VPN client and server. Unfortunately, the app selection is sparse as a result of the barren community support.
Though it's not exactly foolproof in its setup process of the more complex functions it offers, the Synology RT2600ac is much more accessible than most NAS devices. Bear in mind that this is only Synology's second attempt at devising a router of its owns, so despite its shortcomings, there's plenty of room to improve.
5. Linksys WRT 3200 ACM
Kickin' it old school (and open-source)
Speed: 802.11ac: 3x 867 Mbps, 802.11n: 600 Mbps | Connectivity: 4x Gigabit Ethernet, 1x USB 3.0, 1 x ESATA/USB 2.0 | Features: Tri-Stream 160, 1.8GHz dual core CPU, 512MB RAM, 256MB flash memory
Open source firmware support
Excellent features
Coverage sometimes spotty
May look more suitable in an office than a home
Effectively the antithesis to a wireless mesh like Google Wifi or the Netgear Orbi, the Linksys WRT 3200 ACM has an unflattering design that it's damn proud of. That's because, unlike systems that are stylish but limited when it comes to personalization, the Linksys WRT 3200 ACM gives you unadulterated control over your wireless network connections.
It may be a little more complicated to set up, but once it is, you'll be ready to start rolling. Whether you want to toggle on and off guest connections, prioritize media devices, initiate parental controls or access the OpenVPN server, all the functionality you would expect from a router of this price is there. Not only that, but all of this is in place with the option of using whatever firmware you'd like, thanks to its open-source advocacy.
Keep in mind, however, that although the protruding antennas might imply otherwise, the Linksys WRT 3200 ACM may require signal extenders if you're planning on using it to give a whole house Wi-Fi. Aside from that, this should be the open-source tech geek's router of choice. The Linksys WRT 3200 favors functionality over style, and it benefits all the same.
Read the full review: Linksys WRT 3200 ACM

6. Zyxel Armor Z2 AC2600
An extraterrestrial gaming router that covers all bases
Speed: 802.11ac: 2,167Mbps, 802.11n: 800Mbps | Connectivity: 4 x Gigabit Ethernet, 1 x WAN, 1 x USB 2.0, 1 x USB 3.0 | Features: MU-MIMO support, StreamBoost, dual-core 1.7GHz processor, 512GB RAM, Zyxel One Touch app-based setup
Good MU-MIMO wireless speeds
Excellent traffic analysis software
Few current devices can use quad-stream 802.11ac
Average USB port speeds
It may appear as though it would abduct a close friend or family member, but we assure you, the Zyxel Armor Z2 AC2600 isn't as alien in function as it is in looks. Equipped with MU-MIMO support, which improves speeds when multiple devices are connected to the same network, the Armor Z2 AC2600 prides itself on its performance capabilities.
Paired with StreamBoost, otherwise known as Dynamic QoS, Zyxel has devised a router that can not only handle ample traffic, but it can actually prioritize that traffic based on resources required by each device. If you're watching 4K Netflix and the person in the other room is browsing Facebook, the Armor Z2 AC2600 will allocate more bandwidth to the video streaming service.
There's also compatibility with the Zyxel One mobile app, which can be used for a simple router setup over the air. This works flawlessly alongside the streamlined and web-based Armor Z2 software, which can be tuned to a more comprehensive interface when switched to "Expert" mode. Whatever the case, you won't be disappointed.
Read the full review: Zyxel Armor Z2 AC2600
7. Linksys Velop
Layman's mesh Wi-Fi comes at a cost
Speed: 117.46 Mbps single node, short range; 74 Mbps two nodes, far range | Connectivity: 2 x Gigabit Ethernet per unit (1 WAN and 1 LAN each) | Features: App-based setup; dual-stream (2x2), 802.11ac networking; 716MHz quad-core ARM Cortex A7 processor, beamforming
Fully modular mesh network
Inconspicuous design
Pricey in comparison
Performance too dependent on position
The Linksys Velop makes a sound argument for a wireless mesh network's ease of setup. With the aim of replacing both your router and your now-antiquated range extender, the Velop arrives at a time when companies like Google and Netgear are doing the same thing; that is, an arrangement of two or more nodes and a base unit that interact with each other to achieve the best signal possible.
The main way Linksys hopes to differentiate its contender in the wireless mesh networking space is with a user-friendly setup that anyone with a smartphone can understand. With just a visit to the App Store or Google Play marketplace, you'll have your first node up and running in a matter of minutes. Better yet, adding a second node requires completion of the same process.
Configuring the Linksys Velop only seems to get trickier when lining up units at a distant range and in separate rooms. In our own testing, we experienced a rather significant slowdown with the node positioned around 15 meters from the main unit. Considering its looming price tag, the Linksys Velop is a tad finicky when it comes to the placement of units, but it's a worthwhile snatch for such a simple setup alone.
Read the full review: Linksys Velop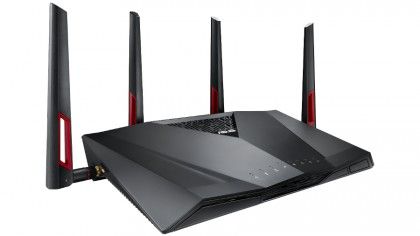 8. Asus RT-AC88U
4x4 and 1024-QAM deliver the best possible wireless performance
Speed: 802.11ac: 2167Mbps 802.11n: 1000 Mbps | Connectivity: 9x Gigabit Ethernet, 1x USB 2.0 1x USB 3.0 | Features: 1024-QAM, MU-MIMO, WTFast Gamers Private Network, Asus AiProtection, AsusWRT Software
Fastest possible wireless speeds
Comprehensive software interface
Expensive
Requires special hardware to use fastest speeds
The Asus RT-AC88U justifies its above-average pricing with unrivalled record-breaking next-generation 802.11ac wireless performance. With four antennas and NitroQAM technology, which pushes speeds further still, this router enables wireless performance that can break the 1GB/sec limit.
There's a minor catch - you'll need to invest in a NitroQAM wireless adapter, such as the Asus PCE-AC88, to see those faster speeds. It's worth it though. Coupled with comprehensive built-in software, a generous array of eight external LAN ports and 100MB/sec performance from its USB 3 port, this router is a champion, and more affordable than the Asus RT-AC5300 Tri-band gigabit router we mention above.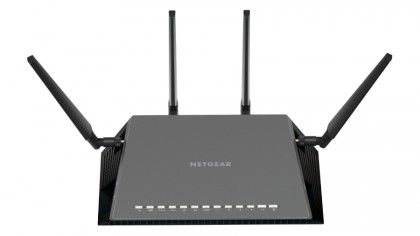 9. Netgear Nighthawk X4S VDSL/ADSL Modem Router D7800
Built-in VDSL modem and 4x4 wireless speeds make this a great all-rounder
Speed: 802.11ac: 1733Mbps, 802.11n: 800 Mbps | Connectivity: 5x Gigabit Ethernet, 2x USB 3.0, 1x eSATA | Features: VDSL 2 modem
4x4 wireless up to 1733 Mbps for great wireless performance
VDSL 2 modem
Lacks 1024-QAM
Requires special hardware to use fastest speeds
If routers had a fashion contest, Netgear's D7800 would be among the top contenders. Its solid black finish is complemented by a quartet of antennas. Bolstering speeds faster than a vanilla 802.11ac, this router promises an alluring 1,733Mbps over its 5GHz band and a still-remarkable 800Mbps over a 2.4GHz connection.
The Nighthawk X4S is is bettered by its inclusion of a duo of USB ports paired with an eSATA connector, thereby offering plenty of room for expanded connectivity. The real centerpiece, though, is the VDSL 2 modem built into the Nighthawk X4S D7800, negating the need to buy or lease one separately. The outfitted software isn't too shoddy either; a simple Dynamic QOS system makes it a breeze to govern a multitude of devices on a single home network.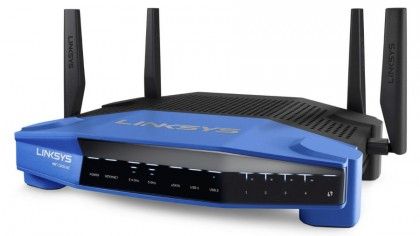 10. Linksys WRT1900ACS
This bright blue box from Linksys is rather impressive
Speed: 802.11ac: 1300 Mbps, 802.11n: 600 Mbps | Connectivity: 5x Gigabit Ethernet, 1x USB 2.0, 1x USB 3.0, eSATA | Features: OpenWRT compatible, LinkSys Smart Wi-Fi support
Slick, comprehensive software
Great range and performance with fast USB shared storage
Lacks the nifty 4x4 antenna speeds of some routers
Relatively pricey
With three wireless streams, the Linksys WRT1900ACS is a less expensive proposition than the above quad-stream 802.11ac routers, and while it doesn't offer the same blistering performance, it still packs performance and great software. Its internals are very powerful.
A dual-core 1.6 GHz processor and 512MB of memory drives a great-looking software interface that makes it a doddle to set up and customise a home network, with a built-in VPN, great wireless range as well as fast external connectivity via USB.
Joe Osborne and Gabe Carey have also contributed to this article