It's hard to stay up to date with the latest game releases. Every month brings exciting new releases and for most of us, it's hard to find the time or the money to play them all as soon as we'd like.
If your want-to-play list has been growing steadily, Amazon Prime Day is the perfect opportunity to transfer some titles over to your more physical but much smaller still-to-play list.
You can get some of the best console releases of 2017 for up to half price this Amazon Prime Day and we've rounded them up here to help you. We've also had a look around the web for better offers and put them here too so you don't miss out on the best price.
Be aware though – these deals expire at midnight tonight, so act fast!
Remember to click the 'View Offer' button off to the right of the screen to ensure the correct price is shown!
Injustice 2
£29.99 on PS4 and £29.99 on Xbox One
Released in May of this year, Injustice 2 is a game that takes most of your favorite characters from the DC Universe and allows you to fight them Tekken-style. Injustice 2 is a great addition to the fighting genre with a single-player story mode and the all-important multiplayer. Satisfying mechanics and the right balance of depth and silliness make it a worthwhile purchase with high replay value.
You can pick this game up cheaper on base.com for PS4 where it's £29.85.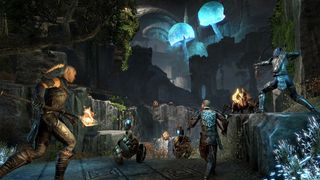 Elder Scrolls Online: Morrowind
£22.99 (down from £39.99) on PS4 and £22.99 on Xbox One
Released in April of this year, The Elder Scrolls Online: Morrowind is a massively multiplayer online role playing game that builds on the original Elder Scrolls Online title. You don't need the first to buy this game and it's a great opportunity to take a more high-definition trip back to one the most memorable Elder Scrolls locations from the third game in the series.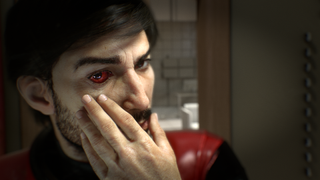 Prey
£20.99 on PS4 and £20.99 on Xbox One
Be aware, though, that Base.com has the game for slightly cheaper at £19.99 for PS4 and Xbox One.
Only two months old and you can already get it for under £25 on PS4. Prey is a first-person space shooter that we called "a captivating exploration of how far humans will go to sustain their species, even at the cost of their own lives or others" in our review which you can read here.
For Honor
£19.99 (down from £54.99) on PS4 and £19.99 on Xbox One
It was first released on Valentine's Day but romantic this game is not. For Honor is a hack and slash game that allows you to fulfill your childhood history lesson dreams of being a knight, samurai or viking.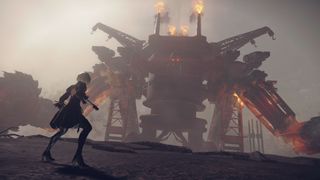 Nier: Automata
£29.99 (down from £54.99) on PS4
The Game Collection has this for slightly cheaper than Amazon at £27.95
Nier: Automata is a PS4 exclusive that definitely stands out as a different game from all the others on this list. Released in February of this year, it's an action role playing game that takes you to a dystopic future world populated by Androids. The game's combat is fast-paced and frantic and its art style is distinctive and stunning. For under £40 you'd be mad not to try it.
WipEout: Omega Collection
£19.99 (down from £29.99) on Amazon for PS4
ShopTo and Base.com are offering this game for a similar price of £19.85
This game only came out last month but you can pick it up for a great price. Tied intrinsically to PlayStation this combat racing game has appeared in some form on every console since 1995. It's time to join on PS4.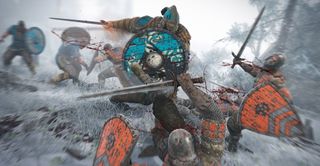 Dark Souls 3 Fire Fades Edition
£28.99 (down from £49.99/£44.99) on Xbox One and PS4
Dark Souls 3 isn't a 2017 release and you've no doubt heard of it by now, but the Fire Fades Edition which includes the main game with the season pass and all new maps, bosses, enemies and additional weapon and armor sets certainly is new. And it's under £40.
Act fast! You only have until the stroke of midnight takes you into July 12 to pick these deals up.
It's Amazon Prime Day 2017, the online shopping giant's annual mega sale. Stick with TechRadar for how to grab all the best deals.