The best 65-inch 4K TVs of 2021 are excellent choices for anyone looking to significantly upgrade their home cinema setup. Average TV sizes tend to grow year on year, and 55-inch is currently the flagship size. Which means there isn't a better way to differentiate yourself – and ensure you're getting a higher-impact picture – than to opt for a 65-inch 4K TV instead.
Given the size of these TVs, it's obvious that the best 65-inch 4K TVs you can buy today won't suit every taste, home or budget. That's why, before you begin shopping for the best 65-inch TV, we recommend you make sure that you have room for it in your home.
The best 65-inch TVs pack in a lot of premium features to amp up the picture quality, whether that's OLED panels, 8K resolution, or just the processing to keep motion smooth and brightness to ensure colors stay vivid consistently during TV shows and films. 4K resolution and decent HDR support is also pretty much standard at this size, too. But there are also more affordable models that sacrifice the polish of higher-end sets to drastically lower the asking price.
We saw a number of new TVs at CES 2021 earlier this year. The big tech expo is where all the upcoming tech for the next twelve months is showcased and we saw new TV models of all sizes – which we'll be adding to this list once we've had a hands-on with the new launches.
Other TV sizes to consider
Best 32-inch TV
Best 40-inch TV
Best 55-inch TV
Best 75-inch TV
Sure, most smart TVs these days have 4K resolution built-in, and feature color and contrast improvements with HDR (high dynamic range). You can get 48-inch OLED TVs these days too – all meaning you don't necessarily need to go for such a huge size if you want the latest tech.
One of the main benefits of a larger TV is that a 65-inch model can help showcase enhancements in far more detail than any 40-inch TV set could.
Of course, there is the option to go even larger. If you've got the space for it, you might want to consider these 75-inch TVs – or make a huge statement with Samsung's massive microLED TV The Wall, a new Samsung TV for 2021, which is available in three different sizes – 110-inch, 99-inch, and 88-inch.
Of course, for under-performing TVs, going for a bigger screen size can just mean its flaws (video noise, inconsistent brightness, etc) are on display far more visibly than on a small TV.
That's why we've created this list of the best 65-inch 4K TVs. We've selected the very best TVs at that size available to buy right now – and whether you're scouting for a TV from Samsung, LG, Sony, or someone else altogether, we have the TV for you.
Best 65-inch TVs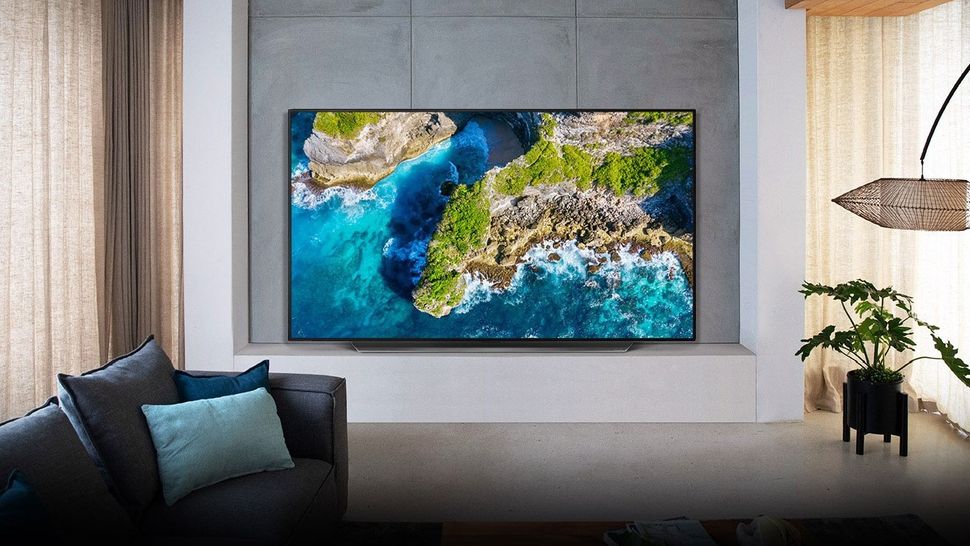 Easily one of the best TVs of 2020, this OLED set offers drop-dead black levels, incredible picture quality, and LG's as-usual stellar design. There's not much different compared to the LG C9 (which held this spot last year), aside from an upgraded chip to better improve the picture processing algorithms.
The display is also incredibly thin, at just a couple of millimeters deep – while still managing to fit in four HDMI 2.1 ports (with eARC too) and a brilliantly low input lag, meaning this is one set able to handle those next-gen consoles coming later this year. (Support for Nvidia G-Sync make this a decent choice for PC gamers, too.)
Not to forget LG's webOS smart platform, which is market-leading in its intuitive interface and helpful content rows. You'll get Dolby Vision and Atmos support, too, even if HDR10+ isn't currently supported by LG TVs.
You can nab it in 48-inch, 55-inch, and 77-inch sizes too, but those of you after a jaw-dropping 65-inch TV need look no further. The 65-inch model retails at $2,499 / £2,799 (around AU$3,800), almost twice the cost of the 48-inch size.
Read the full review: LG CX OLED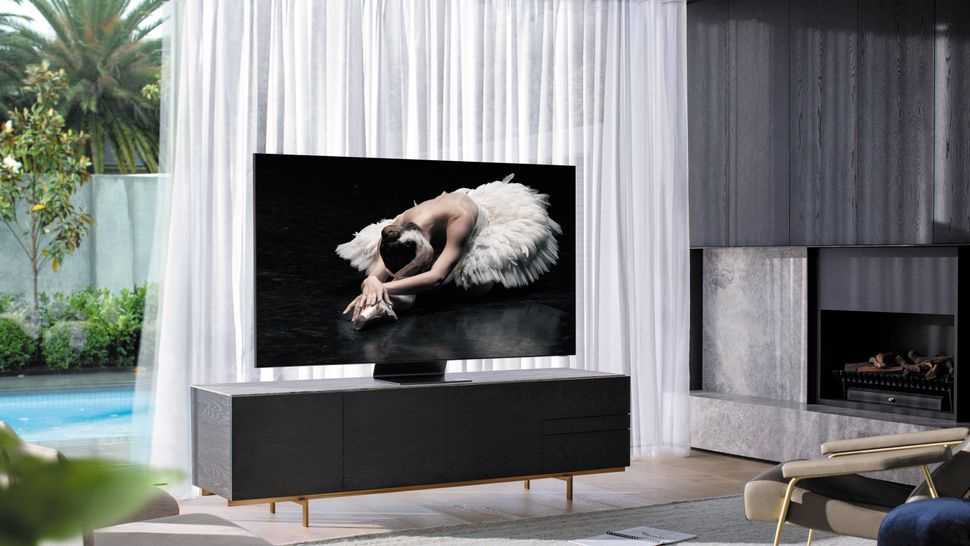 There are plenty of new Samsung TVs to consider this year, but the Q800T 8K QLED might be one of the most eye-grabbing.
While it hasn't have the panache of the more premium Q950TS, it does feature the same impactful OTS+ (Object Tracking Sound) audio system, with various drivers placed around the screen for vertical and horizontal range. You're also getting one of Samsung's 8K TVs for the same price the 4K Q90R retailed for last year, making this a great choice for someone put off by 8K's lofty price tag in previous ranges.
Samsung is aggressively pursuing 8K these days, so much so that it's saving the best specs and features for 8K models. That means the Q95T we reviewed isn't quite as impressive as its previous iteration, and means the best Samsung TVs are including more and more 8K screens as time goes on.
The Q800T offers predictable exceptional upscaling, with even HD looking crisp and detailed on its 8K screen. Colors aren't always as popping as on the LG CX above; this Samsung set does however have ample brightness, even if the full array backlight tends to temper its brightest images to reduce blooming of 'halos' against dark backgrounds.
Read the full review: Samsung Q800T QLED TV
The Panasonic HZ1500's OLED panel and HCX Pro Intelligent processor work together beautifully, with deep and immense blacks that stop just shy of crushing dark areas of the screen. HDR images are truly vibrant too – all the better for Panasonic's universal HDR support, opting to include both HDR10+ and Dolby Vision (as well as HLG and HLG Photo Mode) instead of picking sides.
There are a couple of notable omissions that stop the HZ2000 climbing higher in the list – mainly the lack of the Disney Plus streaming service, as well as the absence of HDMI 2.1 ports.
That last point, combined with unremarkable input lag, means this isn't a gamer's dream – but the crowd Panasonic is really out to please is cinephiles. You won't be disappointed with the picture, and the 80W Dolby Atmos speakers will ensure that the sound doesn't slack, either. There is a HZ2000 model with a custom OLED panel and total 140W audio output, if you really want a TV that pushes the envelope too.
You won't get this set in the US – despite Panasonic's cosy relationship with Hollywood colorists – but those of you in the UK, Europe, Australia and Canada can count on it coming to you. Starting at £2,499 for the 55-inch model, and going up to £3,499 for the 65-inch.
Read our full review: Panasonic HZ1500 TV review
Finally, the Sony A9G OLED got knocked off its perch. Sony's new-for-2020 A8/A8H OLED TV takes everything we love about Sony's premium TVs and repackages it at a more reasonable price point.
You're getting premium OLED picture performance, with Sony's top-line X1 Ultimate processor, Sony's Pixel Contrast Booster (for more intense image highlights), and a new OLED version of the X-Motion Clarity feature Sony initially developed for its FALD LCD TVs.
The impressive sound system, too, combines a two-subwoofer bass system with screen-shaking Acoustic Surface Audio tech, making for a real treat as a TV to watch movies and TV shows.
What's notable about the A8H is that it applies HDR mastering to all SDR sources in Vivid, Standard and Cinema picture modes – but that this across-the-board application actually works, enhancing scenes without turning them into palettes of off-color images. There's no HDR10+ support, though.
Upscaling, too, is as exceptional as we found with the A9G. If you can deal with the slightly low brightness, you'll get to experience some of the most refined pictures of any OLED TV to date.
Read the full review: Sony A8H OLED TV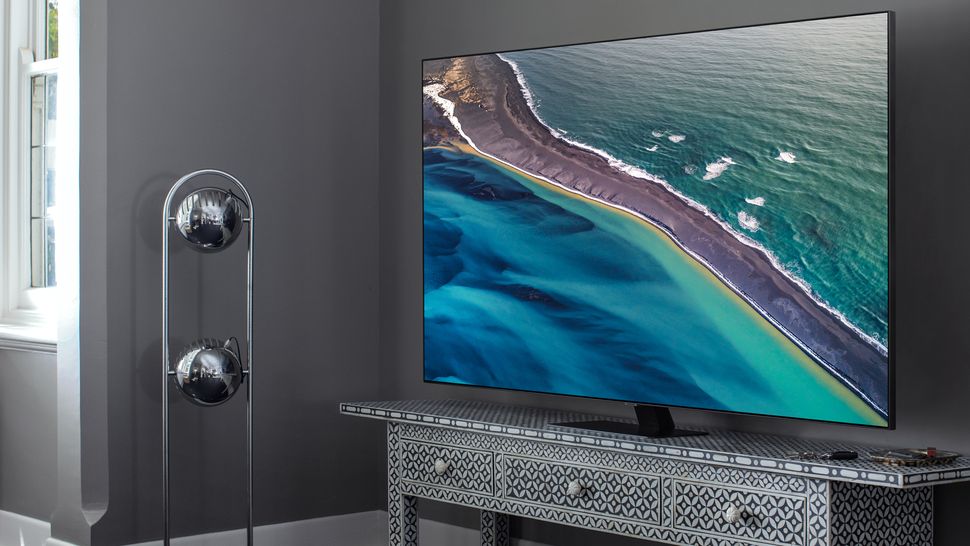 Samsung's 2020 QLED TVs are still trickling into the market, but we've already got our hands on the really-quite-excellent Samsung Q80T QLED.
The Q80T isn't the fanciest QLED in this year's range, but it really does offer a lot, as the cheapest 2020 QLED with a full-array backlight, meaning you don't have to skimp with an edge-lit display (like last year's Q60R).
It's a fantastic choice for gamers, given consistently low input lag to ensure your gaming console of choice – PS4 Pro, Xbox One X, or otherwise – is funnelling video output to your screen with as little delay as possible, at just 8.7ms image lag. The set's dedicated Game Motion Plus setting also reduces judder and blur for smoother gameplay, at a still-respectable 19.7ms lag too.
The externals of the television are a bit plainer than some of the higher-end QLEDs out there, like the zero-bezel Q950TS 8K QLED, and we found in our tests the odd speck of blooming around bright light sources – but the picture is still pretty exceptional, with bright HDR and AI-enhanced images to make this a great choice for any viewer-gamer buying a TV in 2020.
The 65-inch Q80T QLED is currently retailing at $1,799 / £2,299 / AU$3,339. It's technically an update to last year's Q70R, rather than the higher-end Q80R, so we possibly wouldn't advise upgrading if you have the latter already.
Read the full review: Samsung Q80T QLED TV
Budget picks
The Hisense H8G is a cheap, capable television definitely worth checking out if you're after a 65-inch 4K TV without the eye-watering price.
Hisense is often a reliable TV brand for budget sets, offering premium technologies like Dolby Vision HDR and Dolby Atmos audio for far less than the competition – and indeed, you'll find both of those supported on the H8G.
The 65-inch model retails at just $700, too, making it a real bargain for the amount for screen that you get. You'll get a full array backlight, rather than measly edge-lighting, too.
You are skimping on looks compared to some sets on this list, and the Android TV interface isn't the smoothest – even if it is relatively easy to use. But if you're not fussed about the bells and whistles, the H8G will still dazzle you with its lively and colorful picture, and isn't that the most important thing?
Read the full review: Hisense H8G Quantum Series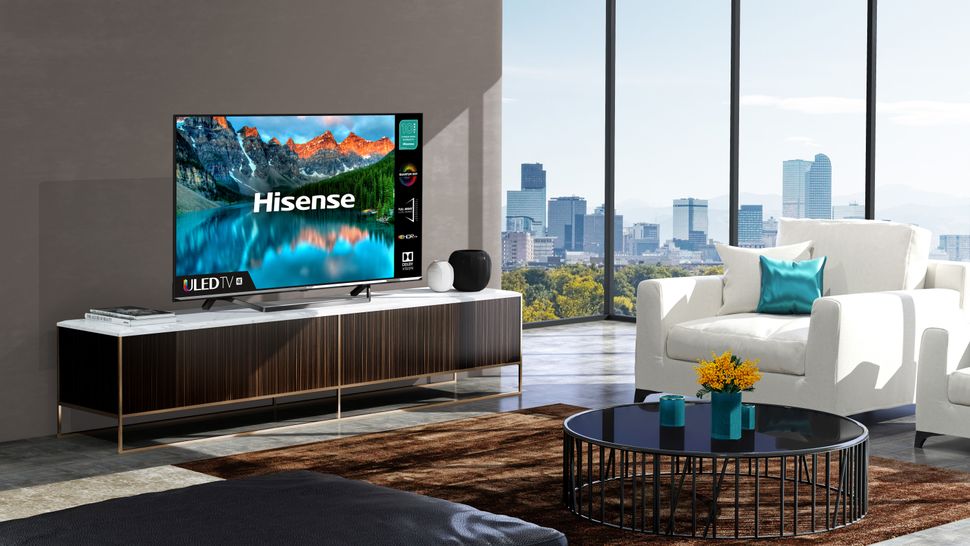 If you're looking to save some cash on a new 65-inch TV, this Hisense U7QF could be a good fit for you.
Now just £799 for its 65-inch size, the U7QF is very affordably priced, especially considering it originally retailed for £1,499. It's a real looker too, with a sleek TV stand design (with sharp accents on the bottom bezel) that's far more confident than the timid feet you'll find on the XH95.
You'll get universal HDR support, with HDR10+, Dolby Vision and HLG all thrown in to ensure all bases are covered. The crisp 4K picture also applies to upscaled HD content, meaning you'll never have to make do with grainy content, even when sourcing older DVDs or HD streaming content. While you're not getting true 10-bit HDR, the frame rate control used as workaround still shows off a decent amount of the HDR spectrum.
Our only real issue is with some motion judder, which won't make this the best set for action movies or sports matches. Some undercooked VIDAA U services attempting to replicate Samsung TV Plus and Art Mode fall short, but they're relatively easy to ignore.
The U7QF was a bit pricey for what it offered at launch, but now it'd a great choice for the price.
Buying advice
Best 65-inch TVs: buying advice
The sets in this list give you a wealth of choice at the popular 65-inch TV size, but as we've said, sometimes a lot of choice gets confusing. That's why we're here to try and help you answer the question: which one is right for you?
Currently, our favorite 65-inch TVs are LG's series of OLED TVs, boasting exceptional black levels and premium HDR in the form of Dolby Vision. On the other hand, they aren't the best option for brightly lit rooms.
If your living room's ratio of windows to doors is too high, you might want to consider Samsung's QLED TV series for your 65-inch 4K TV purchase instead. In comparison to the LG models, these are bright and colorful, and pack in technology that helps them cope with overly bright environments.
Of course, Sony TVs come with both OLED and LED panels, and you can't go wrong with these either – so you really are spoilt for choice when it comes to picking out the best 65-inch TV set.
Don't forget 60-inch TVs either – we haven't highlighted any in particular in this list, but you still get a decent-sized set, all the benefits of a 4K resolution, and the usual set of smart TV features too. Oh, and they're a little bit cheaper.
As you consider what you can afford, how bright your room is and where it'll look best in your living room, let's take a look at our favorite 65-inch TVs right now. Each one in this list has been tested and approved by our expert team of reviewers, so you can make a well-informed decision.
65-inch TV deals