There's nothing like having a wider screen to settle back with on the sofa, the beach or bed - and for that, you need a good tablet.
There are loads of great options to choose from, and whether you're looking for something from Apple, the Android range or perhaps a little taste of Windows, we've got the best deals currently available for you listed below.
So decide on a price range and the kind of features you want (if you need a little helper there, you can check out our best tablet list) and scroll down to see the top choices.
iPads
If you're after a tablet, then you should probably check out an iPad first - there are a range of styles, sizes, power options and prices - so there's something to fit nearly any budget .
An iPad in some form has been our best tablet since this list began, thanks to the comprehensive range of apps and sleek form factors that make them the ideal device to throw into a bag.
The iPad Pro range comes in a 9.7- or 12.9-inch screen sizes and have optional Pencil stylus and keyboard add-ons, where the iPad Mini range is the smaller (and cheaper variant).
Apple keeps its older iPads on sale at a lower price point, and there's not a lot of difference in performance if you're just browsing the web, so it's worth checking them out.
iPad Pro 9.7
Lots of power
Great build quality
More expensive
Lacks grunt of larger model
If you're after the best iPad (nay, the best tablet around) this is the one you should be looking at.
It's got loads of power, a great screen that adapts the colour depending on your light source and offers a strong range of accessories to make it into a decent laptop replacement too.
In short, it's the ultimate tool for productivity, entertainment or reading comics - if you need a tablet for something, the iPad Pro 9.7 can handle it.
Read the full review: iPad Pro 9.7 review
iPad mini 4
High-power iPad at a lower cost
Compact design
Competent specs
No 3D touch
Older processor
After one of the latest iPads at a lower price? The mini 4 is your friend here, offering great specs in a compact form factor.
It's thinner and more than powerful enough to handle your entertainment and gaming needs, with a sharp display to boot.
It might not be the perfect device to replace a laptop, but it can run all the iPad apps in a more compact form factor. This is now the only iPad mini you can buy, so it's worth keeping an eye on as it might be axed soon (which means cheaper prices as the stocks clear!)
Read the full review: iPad mini 4 review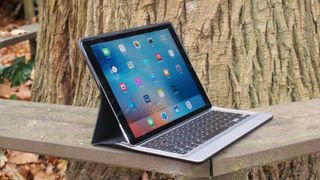 iPad Pro 12.9
A monster laptop replacement
Massive screen
Most powerful iPad out
Expensive
Can't perform full desktop apps
The iPad Pro 12.9 is the original Pro, and to many is the superior model. With a massive screen and incredible sound from such a slim device, it's a great entertainment center.
It'll also take on a number of laptop tasks, and paired with the Apple Pencil makes a decent fist of things like Photoshop or more power-intensive tasks.
The price is higher, so make sure you'll really appreciate the screen real estate or need the extra grunt inside - otherwise you'll find the Pro 9.7 might make more sense.
Read the full review: iPad Pro review
iPad Air 2
A good way to get a cheaper large-screen iPad
Lower price
Still a strong tablet experience
Older processor
Lacks dedicated keyboard and Pencil support
The iPad Air 2 feels like older tech - well, it is - but that doesn't diminish its capabilities as a top tablet.
It can handle all the best iPad apps, which means you can play all manner of games, enjoy a number of apps designed for a large screen experience or just watch movies in a more comfortable way.
The older tech will only become an issue in two or three years - so if you just want an iPad with a bigger screen, look no further.
Read our full review: iPad Air 2 review
Android tablets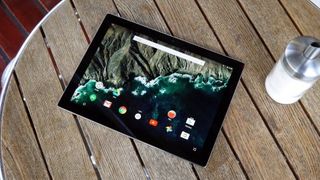 If you're not a fan of the iPad (or the high prices it commands) then an Android tablet is a good place to start.
There aren't a lot of great choices out there at the moment, but that's not to say you can't have a decent experience - while many of the options are a little older, the price has dropped as a result.
Asus Zenpad 3S 10
Quality screen
Strong sound
Mediocre battery life
Build quality
This is a good Android tablet for anyone looking for iPad-like quality without that pesky operating system underneath. It doesn't quite offer the same build quality or battery life as Apple's choice, but it does have a great screen.
There are a few other budget Asus options out there, and Samsung's still got some of the best Android tablets, but this is a nice model to check out nonetheless.
Read our full review: Asus Zenpad 3S 10 review
Samsung Galaxy Tab S2
A top-notch Android tablet
Great Super AMOLED screen
Expandable storage
Mediocre battery life
Ageing tech
While it's getting on in years a little bit (launched in September 2015) the Tab S2 remains an interesting tablet to check out.
It's got a quality Super AMOLED screen that's got an iPad-matching 4:3 aspect ratio, and offers a microSD slot to help you get more memory on board.
It's on Android Marshmallow right now, which is good enough, although we'd like to see it get the latest Nougat update to make it a really strong tablet recommendation.
Read our full review: Samsung Galaxy Tab S2 review
Google Pixel C
One of the best Android tablets around
Clear and bright screen
Quality design
Lower battery life
Pricey keyboard accessory
The Google Pixel C is still one of our top tablets simply because it's a good mix of power and the latest software in the shape of Android Nougat.
It's got a strong processor from Nvidia inside, a screen that's bright and pin-sharp, and a good build that's comfortable to hold.
The optional keyboard accessory is welcome (but pricey) and helps turn this into a more productivity-focused machine - a good effort from Google.
Read our full review: Google Pixel C review
Samsung Galaxy Tab A
A cheaper tablet from Samsung
Sharp screen resolution
S Pen integration
Lower resolution than some
If you're after a Samsung Galaxy tablet but want to spend a little less, then check out the Galaxy A range. Available in both 10- and 7-inch variants, they've got a lot of the same features as the top models.
The main draw is the S Pen, with the ability to get precise with your markings on the touchscreen, and expandable memory on board too.
Windows tablets
Want a tablet that's a proper desktop replacement? These are the tablets for you, offering the full Windows experience while separating out to become great slates when the keyboard is no longer in use.
Be warned, they're a little more expensive than the others on the list as a result, but for that extra cash you're getting heaps more functionality.
Microsoft Surface Pro 4
Not a replacement, just a great laptop
Raw power
Improved, included Surface Pen
No battery life improvements
Entry level uses Intel Core M3
The Microsoft Surface Pro 4 could be considered something other than a tablet given it offers a full desktop experience - but without the keyboard attached it's an insanely powerful slate still.
The Surface Pen is included and multi-functional, the optional keyboards transformative, and it runs full Windows 10 - which is great for having a full and portable desktop environment that doubles as a cracking entertainment center.
Read our full review: Microsoft Surface Pro 4
Samsung Galaxy Tab Pro S
Super thin
Impressive display
Trackpad too large
Flimsy keyboard
While similar in function to the Surface Pro 4, the Tab Pro S from Samsung is more of an entertainment wizard, with great design and audio performance coupled to one of the best tablet screens out.
The keyboard design is a little on the flimsy side, and it's in the higher price bracket for the specs is offers, but it does have a superbly thin design that makes it easy to fling about.
Read our full review: Samsung Galaxy Tab Pro S review
Huawei MateBook
A Windows tablet with strong design
Clever fingerprint reader
Premium build
Poor battery life
Disappointing performance
The Huawei MateBook is a 2-in-1 that offers great design and a range of accessories that push it up towards the premium end of the market.
The integration of the fingerprint scanner impresses, as does the all-aluminum frame which surrounds it. We found the performance to be a little on the dull side though, so this is a case of style over substance in some ways.
However, making a full Windows Slate as thin as an iPad Pro is no mean feat, and this first effort from Huawei in this space should be applauded for that.
Read our full review: Huawei Matebook review