The best productivity apps for iPad
Our favorite iPad apps for being productive with notes, to-dos, reminders, mind-mapping, calendars and calculators.
NordVPN (various IAP)
NordVPN is a VPN for your iPad. It secures and encrypts all internet traffic from your device, making it almost impossible for anyone else to decipher. Because you can connect to servers in specific countries, you can also use it to get around geographic restrictions.
This might all sound a bit suspicious, but VPNs are increasingly vital. They enable you to secure your connection on public Wi-Fi, and to access key websites and services that would otherwise be inaccessible – whether for political or commercial reasons.
NordVPN works very nicely on iPad. It's easy to set things up, and a breeze to use. Connections tend to be reliable and only rarely noticeably slower than standard Wi-Fi. Do, though, subscribe via the NordVPN website rather than through the app, because you'll get much better offers.
MindNode 6 (free + $14.99/£14.99/AU$22.99)
MindNode 6 is a desktop-quality mind-mapping tool. You can start with a blank canvas and a central thought, and add further nodes to connect. Or there's a Quick Entry system that converts a bullet-point list to a mind map with a single tap.
Either way, once you get going, you'll appreciate MindNode's flexibility. The app makes good use of the touchscreen, allowing free-form diagram construction, or you can enforce stricter layouts by way of pre-defined positioning.
Should your mind map become complex, you can focus on one part, fading out the rest. Stickers, images, and color options ensure what you create can have added context and visual interest.
With iCloud support, your mind maps are available to other iOS devices as well. And a wide range of export formats means the ideas you get out of your head are easily shareable with others.
1Blocker X - Adblock ($4.99/£4.99/AU$7.99)
1Blocker X - Adblock blocks annoyances that may otherwise worsen your internet browsing experience on iPad.
Approve 1Blocker X in Settings, then configure it to block adverts, trackers, social widgets and more on a global basis. You can also hide specific web page elements, if they annoy or bother you. The net result is nippier browsing and more privacy.
If there are sites you'd like to support by not blocking their ads, 1Blocker makes this easy, too. You can manually define a whitelist in the app itself, or whitelist directly in Safari from the Share sheet.
With 1Blocker X being a premium app, and the indie creators prizing privacy, you can be sure this is the real deal. In short, it's best-in-kind on iPad, and highly recommended.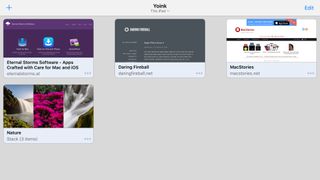 Yoink (US$5.99/£5.99/AU$9.99)
Yoink is what's known as a 'shelf' app – a kind of souped-up clipboard that can be used to collate files and content from disparate sources.
On iPad, Yoink proves especially useful, working in Split View and Slide Over, and making it a cinch to gather images, text, URLs and documents. You can import items as well, and even get at things you've stashed on other devices by way of iCloud sync.
With extended use, Yoink feels like an app that sweats the details. Copying and removing items depends on the status of a padlock icon. What you've saved in Yoink can be browsed in Apple's Files app. You can edit text documents within Yoink, and interact with it via Siri. In all, it's indispensable for power users – or anyone wanting a place to quickly store items before subsequently sharing them.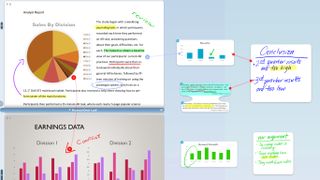 LiquidText PDF Reader (free + US$29.99/£29.99/AU$46.99)
LiquidText PDF Reader has a misleading name. Although it is for reading and annotating PDFs, thinking it only capable of those things does the app a disservice. Really, you should consider it a hugely powerful product for dynamically gathering your thoughts, and quickly getting at important content within documents.
For free, you can import PDFs (along with Microsoft Office files), make highlights, and drag excerpts to a work area. Go pro and you can gather and link information across multiple files.
The app feels perfectly suited to the touchscreen. You can use Apple Pencil to scribble live ink lines that become dynamic links between documents. Gestures enable you to quickly collapse lengthy documents to read highlights, search results, or non-contiguous pages. For students, researchers, and anyone who wants to go beyond paper, LiquidText is a must-have.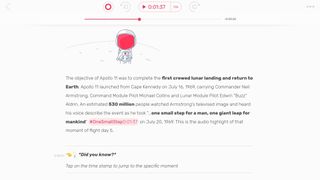 Noted (free + $0.99/79p/AU$1.49)
Noted cleverly combines an audio recorder and notepad. The rich text editor is like a simplified Pages, with predefined styles for headings and lists, image support, and a highlighter for drawing a reader's attention to important bits.
That's nothing new on iPad, but the way text and audio integrate is. During recordings, tapping the tag button adds an inline '#TimeTag'. Tapping this tag later will jump to the relevant point in the recording. This means you can spend more time in meetings and lectures listening, and later return to flesh out brief notes, adding context based on the audio.
Naturally, Noted's own format is bespoke, but you can share notes with other users via iCloud. Otherwise, you can export audio to M4A format, and everything else to PDF. In all, then, an ideal productivity aid for a wide range of scenarios.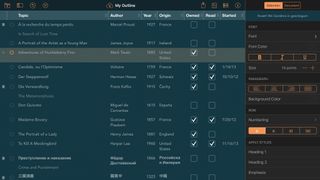 OmniOutliner 3 (from $9.99/£9.99/AU$14.99)
OmniOutliner 3 is a desktop-quality outlining tool that aims to bring structured writing to the masses.
It's effectively two apps in one. Essentials is about quickly getting down and organizing ideas hierarchically. It's quick and easy to add, promote and demote items (including with a physical keyboard, so you don't have to keep reaching for the screen), and to shift rows around with drag and drop. The built-in search further elevates the app from more basic tools, filtering out non-matching rows so you only see only what's relevant.
If your needs are greater, you can opt for Pro (US$39.99/£38.99/AU$62.99). This pushes the app towards word processing and spreadsheet territory, adding automation, styling options for document types (lists, book drafts, mathematical and so on) and section navigation from a sidebar. In either incarnation, the app is excellent, and a free two-week trial lets you switch between both versions to see which best suits.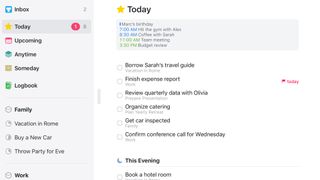 Things 3 ($19.99/£19.99/AU$30.99)
Things 3 is a powerful task manager based around to-dos. Its ultimate aim is to ensure you get more done, and this is achieved by a smart and sleek workflow model that makes it simple to collect your thoughts, figure out your day, and plan far into the future.
The app can be as expansive or as simple as you need it to be. You can live in the Today and Upcoming views, working from basic to-dos, or add extra context and nested lists for more complex tasks. As of iOS 11, Things 3 added support for Split View and drag-and-drop, so you can drag links or emails right to a to-do.
This is the kind of app where you quickly wonder how you lived without it. And although it's pricey when you buy it across iPad, iPhone and Mac, the time you'll gain ensures it's good value for money.
Fantastical 2 ($9.99/£9.99/AU$14.99)
Apple's own Calendar app is fiddly and irritating, and so the existence of Fantastical is very welcome. In a single screen, you get a week view, a month calendar and a scrolling list of events. There's also support for reminders, and all data syncs with iCloud, making Fantastical compatible with Calendar (formerly iCal) for macOS.
The best bit, though, is Fantastical's natural-language input, where you can type an event and watch it build as you add details, such as times and locations. On iPad, we do question the layout a little - a large amount of space is given over to a month calendar view. Still, in portrait or, better, Split View, Fantastical 2 is transformative.
Notability ($9.99/£9.99/AU$14.99)
There are loads of note-taking apps for the iPad, but Notability hits that sweet spot of being usable and feature-rich. Using the app's various tools, you can scribble on a virtual canvas, using your finger or a stylus. Should you want precision copy, you can drag out text boxes to type into. It's also possible to import documents.
One of the smartest features, though, is audio recording. This enables you to record a lecture or meeting, and the app will later play back your notes live alongside the audio, helping you see everything in context. Naturally, the app has plenty of back-up and export options, too, so you can send whatever you create to other apps and devices.
Soulver ($2.99/£2.99/AU$4.49)
Soulver is more or less the love child of a spreadsheet and the kind of calculations you do on the back of an envelope. You write figures in context, and Souvler extracts the maths bits and tots up totals; each line's results can be used as a token in subsequent lines, enabling live updating of complex calculations. Drafts can be saved, exported to HTML, and also synced via Dropbox or iCloud.
Initially, the app feels a bit alien, given that people have been used to digital versions of desktop calculators since the dawn of home computing. But scribbling down sums in Soulver soon becomes second nature.