Our favorite free Android apps for painting, drawing, sketching, design and animation.
Tattoodo
If you're looking for tattoo inspiration then Tattoodo is a great place to start. The app has an enormous number of tattoo images, which you can browse, or you can follow tattooists to see their designs, or search for a specific style or image.
Tattoos that you like can be saved so you can easily find the image again, and Tattoodo also lets you find nearby tattoo shops, upload images of your own tattoos, book appointments and request consultations.
That's just half the app though – albeit the half that most people will probably be interested in. But Tattoodo also lets you set up an artist account, which allows tattooists to add their tattoo studio and portfolio to the app and makes them visible to numerous potential customers.
Google Arts & Culture
We've written about Google Arts & Culture before, but it's worth highlighting again, as the app has been steadily updated with new content and features.
In fact, there's an almost overwhelming amount of content tucked away inside this free app. You can, for example, view high-quality versions of famous artworks and zoom in close for a better look at them. You can also see 360-degree videos and – with the help of a VR headset – virtual reality tours of museums and other attractions.
You can also tour many of these sites using Street View, with both exteriors and interiors covered. There are also articles, information on local events and exhibits, the ability to save favorite artworks to easily return to later, and lots more.
And if you make it to an exhibit in the real world, you can also use Google Arts & Culture to learn more about artworks, simply by pointing your phone's camera at them. If you have even a passing interest in art or culture, this is an essential download.
Over
Over could be the app to take your social media game to the next level, as it has all the tools you need to create stylish designs full of photos, images and text, fit for Instagram, Facebook and most other social sites or even for use on posters and flyers.
The app lets you select from a range of canvas sizes, many of which exactly line up with the sizes used by popular social sites, then lets you add images and text to them, with various options available, including a range of fonts, the ability to adjust colors and positioning, and more.
Over also includes plenty of pre-made graphics to spice up your projects, and when you're done creating you can easily share your design to other apps or save it as a JPG or PNG.
The basic tools are mostly free, but power users might want to pay for the Pro subscription, as this gives you access to more of everything: more fonts, more graphics, plus a database of templates, so you don't have to build up your designs from scratch.
Houzz
Redecorating or improving your home can be a daunting prospect, but Houzz could make it a little bit more manageable.
It could do that by inspiring you through its library of millions of photos, showing exteriors and interiors of various styles.
It could also do that by giving you a single storefront to find and buy all the furniture and other items you need, even going so far as to let you see products in your home, using augmented reality.
And it can do that by helping you find experts – such as architects and builders – to do the hard work for you.
If you're planning to take on the task yourself then there are also plenty of articles on hand to help, as well as the ability to ask the Houzz community for advice.
Sticker Maker
If you use WhatsApp, you're probably aware that the service has finally added support for stickers, so as well as emojis and GIFs you can now send larger emoji-like images. But while there are plenty of sticker packs to choose from there's also – thanks to Sticker Maker – the option to make your own.
The app first has you create a new 'sticker pack' which you can name, then simply load up an image on your phone and cut out the part of the image that you want to use as a sticker. You can do this freehand or use tools in the app to cut a perfect square or circle.
You can also rotate the image if you want and then save it to your pack when you're happy. Packs can contain up to 30 stickers, but need at least three. Once you've made at least three you'll be able to send the pack to WhatsApp, where you can use your custom stickers just like any others.
If you later want to add or remove stickers from the pack, you can do that. You can also make additional packs if you have more than 30 sticker ideas or just want to keep the packs themed.
Sticker Maker is a slick app, and a useful one for anyone who likes WhatsApp stickers but just wishes they were more personalized.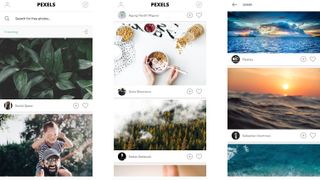 Pexels
Pexels is a database of photos that you can use for free for any purpose, including commercial uses, with no attribution needed (though it notes that attributions are still appreciated).
You can search using keywords or browse trending images, while tapping the photographer behind a photo will show you their other work on Pexels and let you follow them, so you never miss anything new that they upload.
You can also 'like' and collect photos within Pexels and if you want to take them outside the app you can easily share them with Instagram or other apps, save them as your wallpaper, or simply download them.
But Pexels also lets you become one of the photographers, as you can upload any of your own photos to the app for other people to use. However you choose to use Pexels though, it's a slick, beautiful app.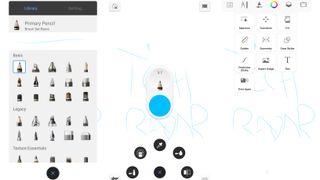 SketchBook
SketchBook isn't a new app, but while many of the features used to cost money, it's now completely free, making it worth revisiting.
The features that are now free include more than 130 brush presets, customizable canvas sizes, various rulers, high quality image imports and more.
And that's on top of all the basic tools that were already free, such as a layer editor and pen mode, all of which combine to make this one of the most generous free sketching apps available on Android.
Coming from Autodesk, the power of SketchBook should come as no surprise, but it's an app that seemed worth the money previously and is now utterly essential if you've even toyed with the idea of digital sketching.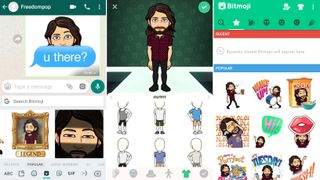 Bitmoji
Ever wanted your own custom emoji and stickers that star you, rather than a generic face? Then you should definitely download Bitmoji.
This lets you recreate your likeness in cartoon form, with loads of tools available to make the look as perfect as possible. Then you can choose an outfit and get access to dozens if not hundreds of stickers, each of which feature you.
These can be shared to various chat and social apps, but Bitmoji has deeper integration with Gboard, letting you share its stickers direct from the keyboard. It can also be linked to your Snapchat account, making your Bitmoji your Snapchat avatar.
You can alter the look of your Bitmoji at any time, so if you change your own hairstyle you can change theirs to match, or just give them a new outfit, and new stickers and customization options are being added over time, so you shouldn't get bored.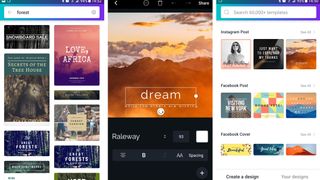 Canva
Canva was a hit on iOS and now it's arrived on Android, giving you a simple yet powerful way to create posters, collages, flyers, cards, Instagram posts, banners and headers for blogs or other social media, and more.
It's a graphic design app, and one that's intuitive from the moment you launch it. Start by choosing the type of content you want to design, then take your pick from a wide selection of ready-made templates (or search for something specific). Once that's done, you're ready to get editing.
You can tap on any part of a template to change it with context-sensitive tools. Tap on text, for example, and you can write something new, or change the font, size, color and spacing.
Select an image to change the color, add a filter, adjust the brightness, contrast, saturation, or switch it for a different picture altogether – either one of the many in Canva or one from your gallery.
You can also drag and rotate things, and there's unlimited undo, so you can go back as many steps as you want if you make a mess of the whole thing.
When you're done, you can save your creation to your phone or share it online. It's also saved in the 'Your designs' section of the app, which you can access from the web and other devices, so you'll never lose a design you've made.