Our favorite free Android apps for learning new things, from history to music to coding and beyond.
Duolingo
If you've ever tried using an app to learn a language then you've almost certainly come across Duolingo. So why are we highlighting it? Well, it's very, very good, and its features and language selection have improved vastly over the years, so it's worth revisiting.
Duolingo has a massive library of languages to choose from, covering everything from French, Spanish and German, to Japanese, Arabic, Vietnamese, Swedish, Hebrew and beyond.
Pick a language that you want to learn, and you'll then be taken through fun bite-sized lessons that gradually teach it to you. The whole process is colorfully presented and has lots of gamification. This won't work for everyone, but we find it helps keep us motived, as does the ability to compete with friends. Best of all, Duolingo is almost completely free, though you can pay to remove ads and unlock a few extra features.
Tree ID – British Trees
Tree ID – British Trees is mostly one for UK users, but if you have any interest in trees then it could be worth a download wherever you are.
The main purpose of the app is to help you identify trees. It covers trees that are either native to the UK and common non-native ones, and you can work out which one you're looking at by answering a series of questions.
Start by picking a feature, such as the leaf, bark or flower, and the app will ask you to describe it, showing you images and descriptions of different possibilities so you can drill down. For example, if you choose to focus on the leaf, you can then pick between 'needles', 'scales' and several other kinds of leaf, then select the color. After that, the app should be able to tell what tree you're looking at.
Once it finds the tree, it will show you photos and all sorts of details, such as where it's typically found, how to identify it, what it's used for, what threats it faces and even any associated mythology or symbolism.
There's also a map of where specific trees are found in the UK, to which you can add your finds. And if you just want to browse British trees, you can do that too, with an A-Z of them built into the app.
SmartPlant
SmartPlant is a database of plants, including care information for most of them, such as how much and often to water them and where to place them.
You can search for a plant by name, browse by category, or scan a barcode or snap a picture for the app to identify, then you're presented with images and details.
You can save plants to a wish list or tell the app that you have the plant already, and if you do the latter then it will add entries to an in-app calendar, telling you the optimal times of the year to do specific things with it, such as when to move it into direct sunlight.
With an optional $3.99/£3.99 monthly subscription you can also message experts to get more specific advice and answers to any plant-related questions you might have, but even the free version of the app is worth having to build up a database of your plants and get basic care instructions.
Big Bang AR
You might have read about the birth of the universe, but with Big Bang AR, you can see it. The app takes you on a journey starting 13.8 billion years ago, covering the Big Bang through to the development of Earth.
It does this with the help of augmented reality, letting you view the universe through your phone and look around by moving your handset. At points you can even do things like hold out your hand and see the Big Bang happen in your palm.
There will also be points where you can tap on things for additional information, and the journey is narrated by Tilda Swinton, so it's engagingly delivered and it's well worth experiencing at least once.
St John Ambulance First Aid
The St John Ambulance First Aid app isn't new, but it is worth highlighting as it could save a life. It includes a selection of situations that you can choose from, such as 'chest pain' and 'choking', then talks you step by step through what you should do to help a person with these issues.
There are also guides to useful techniques that you might need, such as CPR, and the app – while functional rather than stylish – is easy to navigate.
Whether you ultimately choose St John Ambulance First Aid or not, we'd strongly recommend having at least one first aid app on your device - and this is one of the best.
StudySmarter
StudySmarter aims to help you do just that. When you first launch the app, you can pick your area of study from numerous categories, such as law and mathematics, then you get access to various flashcards aimed at teaching you the subject.
But better yet, you can create your own flashcards and optionally share them with the rest of the StudySmarter community. Speaking of the community, there's also an area where they can ask and answer questions related to subjects.
StudySmarter users can also upload documents related to a subject, ensuring they have access to all their study materials within the app and also giving access to other users, and users can even add their own subjects to the app.
The result is an app with a whole lot of potential, because as the user base grows, so will the number of study aids. Right now, the content is somewhat limited, meaning it's most useful just as a way to create and use flashcards, but as a free download that's enough to recommend it and if enough people take to it then StudySmarter could one day be a very smart way to study.
StorySign
StorySign is designed to help deaf children learn to read, by translating children's books into sign language.
To do this you need not just the app but supported books too, which at the time of writing in the UK is limited to just Where's Spot?, but more are expected to be added.
With book in hand, just point your phone's camera at the page and an animated character in StorySign will read the page in sign language. And children will know which words are being signed as the word will be highlighted. As such they'll both be able to enjoy the books unsupervised and learn to read in the process.
While the content of StorySign is somewhat limited so far, there's a lot of talent involved, with Aardman Animations (the company behind Wallace and Gromit) designing it and Huawei AI powering it, while Penguin Random House has partnered with it to supply classic children's books to the app.
Even in its limited form, StorySign is well worth trying if you have a deaf child young enough to appreciate it, but we expect that this is one app that will just keep getting better as its library grows.
Scripts
Scripts is a language-learning app focused specifically on learning to write and read in Chinese, Japanese or Korean. These languages are among the trickiest to learn as each one has a unique alphabet, but Scripts gives you a fighting chance.
It does this by showing you letters from the language you choose to learn, and then taking you through short exercises which see you swipe across your screen to draw the letter yourself. Initially you'll be swiping across an outline of the letter, but it quickly moves on to just showing the letter at the top of the screen or not showing it at all, so you really have to learn to progress.
You'll repeat the same letter a lot, but the exercises are all bite-sized, and so is your study, as you can only practice for five minutes each day unless you pay.
That's not necessarily a bad thing, as everyone should be able to fit in five minutes of learning, but if you do want more you can pay $10.99/£10.49 per month, with discounts if you commit to a year.
That gives you unlimited time, removes adverts, lets you access Scripts offline and gives you full access to Drops. We've covered Drops previously but it too is a language learning app, but it's broader, rather than just being focused on the alphabet.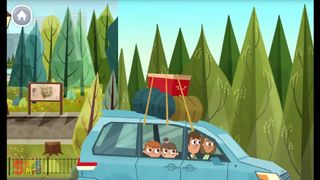 Khan Academy Kids
Khan Academy Kids is packed full of games and activities designed to entertain and educate young children.
From sorting objects based on their color, to selecting the right letter to complete a word, to drawing and a whole lot more, there are apparently thousands of activities in here, and while we haven't tested that many, the ones we have tested are varied and well put together, with colorful drawings, songs and sound effects.
Most of the interactions use simple tap and swipe gestures, so most children should be able to navigate the app comfortably. A colorful character sits in the corner, and can be tapped whenever help is needed.
There's a lot here, and Khan Academy Kids should be suitable whether you want something your kid can do on their own, or something they can play through together with you.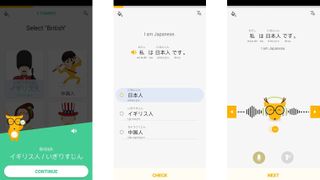 LingoDeer
There are a lot of language learning apps on Android, but when it comes to languages such as Japanese, Mandarin and Korean, which have different alphabet systems, most apps fall a bit flat in teaching you to read and write in the language.
But that's where LingoDeer excels, with various exercises designed to teach you the alphabet and grammar, as well as more conventional lessons focused on speaking and hearing the language.
LingoDeer can feel a bit intimidating at times, especially if you're a complete beginner, as these alphabets can look completely alien, but we're not sure there's any way around that. Learning one of these Asian languages is going to be hard, and LingoDeer is a good way to get started.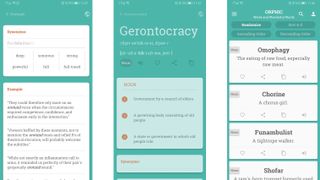 Orphic
There are so many words in the English language, including all sorts of weird and wonderful ones that you might never have come across. But how do you come across them? Browsing a dictionary is inefficient, so instead you could try Orphic, an app dedicated to the more unusual and interesting parts of English.
The app contains hundreds of words and will highlight a new one for you every day, even sending you a push notification for it if you want, so you can constantly learn new words.
You can also head into the app and explore its library of language at your own pace. For every word you can see definitions, example sentences and even hear an audio clip, so you can be sure you're saying it right.
You can also add words to a list of favorites, so you can easily return to them later, and Orphic promises to add new words regularly, so the app should get better over time.