Our favorite free Android apps for having fun on your phone or tablet, through watching videos, reading, socializing and more.
Dinggo!
If you often spend as long deciding what to watch on Netflix as you do actually watching things, then Dinggo! could be the app for you.
It's essentially Tinder for streaming video. Pick the genres and subgenres that you're interested in and select whether you want a movie or a show. The app then shows you posters for various titles, which you can swipe left on if you aren't interested, swipe right on to add to your favorites, or tap on to get information and links to watch them.
As well as surfacing films and shows that you might not discover otherwise, Dinggo! can also search through multiple streaming platforms in one place. You can choose to get suggestions from any combination of Netflix, Amazon and Hulu.
At the moment it's US-focused, so if you're using the app elsewhere it might suggest things that aren't actually available, but that aside it's a handy way to help with indecision.
Goodreads
If you're much of a reader then you've probably already come across Goodreads, and if you haven't then you really should.
Goodreads lets you log the books you've read and those you want to read, so you'll never forget about a book.
You can also rate and review books, and read the reviews others have written. There are lots of tools for finding new things to read too, including personalized recommendations based on what you've read previously, genres and 'best of' lists to browse through.
You can follow friends to see what they're reading, and take part in reading challenges where you aim to read a certain number of books in a year. Plus there are handy tools, like the ability to scan a book cover to instantly search for the book on Goodreads. There's a lot here, and it's well worth digging into.
Steam Chat
If you game on PC then chances are you use Steam, and if you use Steam then Steam Chat is sure to be useful.
The app not only lets you chat with your Steam friends, but also see which of them is online and what they're playing.
You can take part in group chats, add people to your friends list, view people's profiles, and customize what you'll get notified about – so you can choose to only receive message notifications or game invites from specific friends, for example.
Steam Chat on mobile isn't likely to replace the desktop service for most people, but as it's free, it's a great additional option.
AP News
AP News is an official app from the Associated Press, serving up a constant stream of news stories from around the world.
If you trust the AP for your news – and as news sources go, it's arguably one of the most reliable – then the app is well worth having.
Beyond giving you a slick way to access its stories on your phone or tablet, the app doesn't do much that's overly exciting, but you can see a feed of the top stories or filter by category, and also choose which categories you do and don't want to see, for a more customized experience.
You can also watch news videos and access AP Radio through the app, in case you prefer watching or listening to your news to reading it.
Disqus
There's no official Disqus app on Android, but this option from Try&Catch does pretty much everything you might expect an official app for the comment hosting service to do.
You get notifications when people reply to you, and can view your comments and their replies in the app. You can also post replies from the app, and follow channels and people. And there are several themes, so you can customize the appearance.
Some things can't be done in-app – changing your profile for example – but there are links from the app to the Disqus website to do this.
Aside from a few limitations like that, our only issue with this Disqus app is that it seemed slightly unstable in our experience, and crashed while we were using it. It seems to be regularly updated though, so we'd expect it will get more stable over time.
Novel Effect: Read Aloud Books
Novel Effect brings books to life by adding music and sound effects. The app – which is aimed at young children – listens to you reading the book aloud, so that the right sounds are played at the right time.
There's a small selection of free ebooks included in Novel Effect, including some classics such as The Tale of Peter Rabbit, but to get the most out of the app you'll need to buy or supply other books.
Over 200 books and poems are supported with more regularly added, and there are links to buy many of the supported books from Google Play Books. But if you've got a physical copy or an ebook in a different format that works too, you just have to tell the app what book you're going to read and then start reading.
Curated
Curated lets you curate a list of the movies, songs, articles, podcasts, books and other content that you come into contact with.
Simply search for the content on the app or add a link, then add a short review and any relevant tags, and other users of the app will be able to read what you think. In turn, you can also see the content other people post and follow people with similar tastes to you, so it's a way to share and find interesting new content of all kinds.
You can comment on other people's posts, browse specific tags to find related content, and 'save' content that you want to remember to check out another time.
For most things in Curated's database there will also be relevant information. For example, for a podcasts there will be links to listen to it, and for a film there will be a trailer, cast list and synopsis, so you're not reliant purely on the comments posted by other users. It's a good app, and with more people using it Curated could be great.
VLC for Android
VLC isn't new; in fact, in both Android and PC form, it's been around a long, long time. It's also been included on this list before, but continual updates mean it's worth highlighting again.
The app, in short, is one of the best and most powerful video players for Android. It supports just about every audio and video file format, as well as network streams, DVD ISOs and pretty much anything else you might reasonably want to play.
Subtitles and closed captions are supported, and there are various tools when playing content, including an equalizer, Google Cast support, and numerous aspect ratios. There are also gesture controls for things like volume and brightness, making them easy to adjust without digging into menus.
It's also completely free, so while VLC isn't the only video player app for Android, it's probably the only one you'll ever need.
Telegram X
Telegram is a popular, powerful messaging app, and Telegram X is that but faster, with better animations and experimental features.
That last point is both a pro and a con, since some of those features won't be as polished or useful as you might want, but most of them are minor (such as a night mode and some customization options) and can be ignored if you want.
For the most part, Telegram X is just like Telegram, which itself is a lot like WhatsApp, but with some features that help it stand out. You can, for example, create group chats with up to 100,000 participants, and share files with no limits on the size or type.
Telegram claims to be the fastest chat app on the market (other than Telegram X). That's a tough claim to test, but it certainly seems slick. It also uses encryption, so your chats are secure, and it works on tablets and PCs as well as phones.
The real issue with both Telegram and Telegram X is that they're only useful if you know other people who use them. If you do, or can get people to start, then they're well worth exploring, but that could be a tough ask.
Pocket
For years Pocket has been helping people find the time to read all the articles they find online that would otherwise go ignored.
You know the situation: you're idly browsing but don't have much time or should be doing something else, when you happen across an article that looks interesting. Maybe you plan to read it later and then forget, maybe you just resign yourself to the knowledge that it will go unread.
But with Pocket, you can save it to a reading list so it won't be forgotten, and make it available both offline and on just about any device with an internet connection, so you can read it wherever and whenever.
It's a great app, but as of recently Pocket has got even better, as now you can also listen to articles you've saved, so you don't even need to read them. Pocket's look has also been updated in an attempt to make it more pleasant to read from for long periods. So if you're not already using it there has never been a better time to start.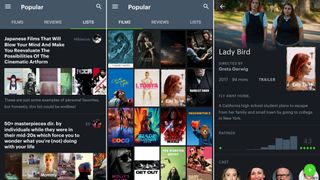 Letterboxd
If you're a movie lover then you might already know about Letterboxd, and if you don't you should. It lets you keep track of movies you've watched, add them to your list with a single tap, review them, give them a star rating, and say when you watched them.
It also lets you keep track of what you want to watch, thanks to a comprehensive film database and the ability to add films to a watch list – again with a single tap.
Letterboxd helps you discover films by highlighting what's currently popular, and offering thousands of lists created by users of the app. These lists all have a theme, and while that's sometimes as simple as someone's favorite movies, usually it's a lot more interesting than that, for example one list is titled "They aren't films, they're experiences".
Of course, you can also make lists of your own, and Letterboxd is a bit of a social network too, letting you follow other users and comment on their lists.