Our favorite free Android apps for having fun on your phone or tablet, through watching videos, reading, socializing and more.
SaveMoneyCutCarbon Home
Why you can trust TechRadar We spend hours testing every product or service we review, so you can be sure you're buying the best. Find out more about how we test.
SaveMoneyCutCarbon Home is an app for the SaveMoneyCutCarbon online store – but it's worth looking into even if you have no interest in shopping there (or can't do, as this is a UK site).
As the name suggests it's focused on reducing your environmental impact while saving you money, and the store therefore is packed full of eco-friendly products. But the app? That has a lot more to it, including a Swap Shop section which lets you select a room of your home, then highlights environmentally damaging products you probably have in there, and suggests alternatives that you might not be aware of.
You might for example replace the clingfilm in your kitchen with beeswax wraps or silicone covers. You can of course buy these from SaveMoneyCutCarbon itself, but even if you choose to shop elsewhere, knowing what your options are is handy.
Beyond that there's also a range of articles about sustainable living, and – if you do choose to shop here – it will also build up an impact statement of how your purchasing decisions have benefited your wallet and the planet.
Mastodon
If you're a Twitter fan but don't like aspects of it – or Elon Musk's vision for it – then Mastodon is worth checking out, as it aims to be Twitter without the problems.
That might sound like a lofty goal, but it has a clever solution – rather than being one centralized social network, it's decentralized, so you don't just join Mastodon, you instead join an independent Mastodon community, with its own rules and values.
That doesn't stop you interacting with other communities – unless your community has banned them – but it means that in theory everyone can find the kind of moderation and guidelines they're looking for.
The website has been around for a while, but now that there's an Android app it's much more convenient to use from your phone. And the app has all the core features of the site, letting you browse, post, follow people and more. There's also a dark mode, which is certainly appreciated.
Widgetshare
Widgetshare is a fun little app that lets you share photo widgets with friends and family. Just snap a picture or add one from your gallery, optionally edit it (which you can do in-app with some basic tools), and then get someone else with the app to enter a code, which will then share the image with them.
That image can be displayed as a widget on either of your phones, but the fun bit is that either person can edit or change the image at any time, and the widget will update accordingly. So it's a fun way to send photos to each other and have them appear on your home screen.
There's not much more to Widgetshare than that, but it's free and there's an iOS app too, with cross platform support.
Clubhouse
Clubhouse is an app you might have heard of, as it's been making waves on iOS for a while, and now it's finally available for Android too.
So what is Clubhouse? It's an audio-only hangout app where you can find or start discussions about various topics. And if you'd rather not talk, you can join these discussions as a listener too.
These discussions can be with friends, random internet users, or in some cases known names, and you can also follow people and 'clubs' so you won't miss discussions that you might be interested in.
Clubhouse is an interesting idea, though not without its issues when it comes to moderation. It's certainly doing well, with a sea of imitators rising up already, so it's worth checking out just to see what all the fuss is about if nothing else.
Swell
Is audio the future of social media? With the growing popularity of services like Clubhouse it very well might be, and an Android app called Swell is also trying to get in on the act.
Swell essentially lets you record and listen to mini podcasts. These can be movie or book reviews, reactions to a news story, interviews, advice, or any number of other things, and anyone can record and share their own.
While setting up a profile you'll be asked which topics interest you. This will affect what appears on your feed, but you can also just search for anything else.
You can follow users so you never miss their content, and leave voice replies to peoples' posts – essentially allowing you to build up an audio conversation. You can also set up invite-only groups, for more private conversations.
It's a solid app, with the main issue currently being the one most new social networks and similar services face – the need to get users. At the time of writing there's not a huge amount of content, but hopefully it will swell over time.
eko - You Control The Story
eko - You Control The Story sits somewhere between the ill-fated Quibi with its selection of short shows, and a game. The app offers a selection of shows - including scripted comedies and dramas - and lets you make decisions about what characters do at key points, changing how they play out.
Each episode of these shows is short – usually under 10 minutes, but since you're making decisions there's plenty of replay/rewatch value. And it's not limited to fiction – there's also for example a travel show that lets you choose what to see.
Impressively, eko is also free, though it's not devoid of advertising within the content – Walmart is quite heavily pushed in some of its shows, for example.
Still, it's good fun, and while the quality of the content is variable there should be some that's worth your time. The bigger problem is that there's just not all that much content on there at the moment, but its library should continue to grow, if it avoids Quibi's fate.
RBdigital
RBdigital aims to bring libraries into the modern age, by letting you borrow ebooks, audiobooks, magazines, comics, videos, and more on your phone or tablet.
While these are digital copies, you're still borrowing them from your local library, which means you need to be signed up there to register here. There's a chance then that your library won't support RBdigital, but if not it probably works with a similar service.
The availability of content will also vary by library, just like it would if you were actually borrowing physical copies of things, and just like a real library you can only borrow things for a certain amount of time. But this way you can borrow and return things without ever setting foot in the physical building.
Co-Star Personalized Astrology
Astrology isn't for everyone, but if it's an interest of yours – or something you're curious about exploring – then Co-Star Personalized Astrology is the free Android app for you.
The app provides predictions based on a map of the sky at the precise time of your birth (down to the minute), and that's used alongside NASA data to track the movement of the planets. Using that data, Co-Star's AI is then able to craft you personalized, precise horoscopes, so it's surprisingly scientific.
The app is pleasant to use too, with a stylish black and white design that puts your latest horoscope front and center – but with tabs to delve around into different dates and sections too.
It's unlikely to convert the skeptical, but it's an impressively detailed and well-designed app for those with an astrology interest.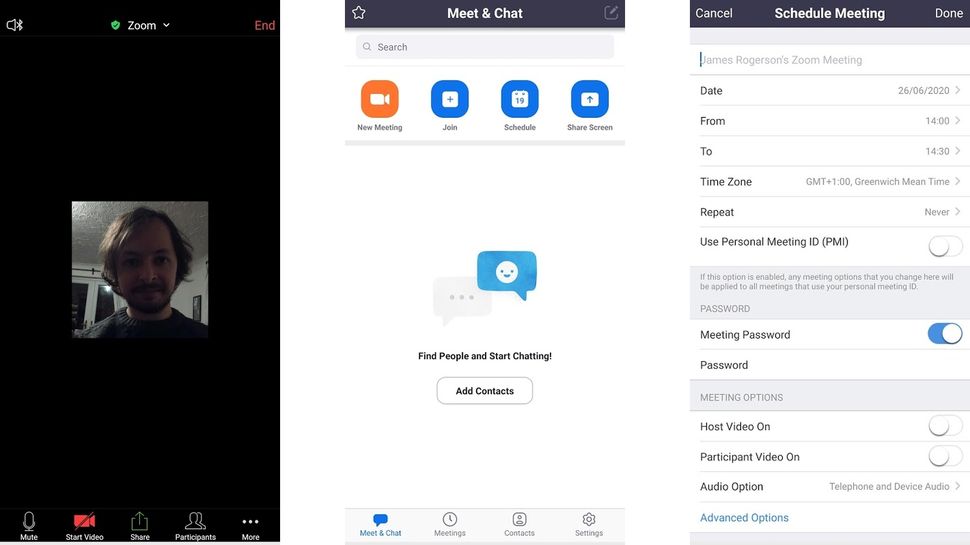 Zoom Cloud Meetings
Zoom is an app that probably needs no introduction, with millions turning to it in place of in-person meetings during the Covid-19 pandemic.
But, if somehow you haven't yet come across it, it's worth highlighting, as it's the video call app of choice for so many for a reason.
For one thing, it's feature-packed, offering things like meetings with up to 100 participants, custom backgrounds, screen sharing (with audio), a safe driving mode, and plenty more besides.
It's also very easy to use, and available across most devices, including Android, iOS, Windows, and Mac. It's mostly free to use as well, with one-to-one meetings being unlimited for free, and group meetings being limited to 40 minutes. For more than that you can opt for a monthly subscription – but even then, only the host needs to pay.
Xbox Game Pass
Xbox Game Pass is the best thing to happen to Xbox in a long time. It provides you with a large and ever-growing library of games – including brand new Xbox exclusives - for a reasonable monthly subscription. And it's not limited just to Xbox – there's also a version for PC, which confusingly has the same name.
As for the Android app, that gives you a convenient way to browse through all the games from your phone. You can see new arrivals or filter games based on genre and platform (Xbox One or PC). You can also get alerts when new games are added, and even set games to download from your phone, so they'll be ready to play when you get home.
You can also purchase included games at a discount, if you don't want to risk losing access to them, and add games to a 'Play later' screen, which helps you keep track of things you're interested in, but don't necessarily want to download or play right now. All in all, the Xbox Game Pass Android app is a nicely laid out way to interact with a great service whenever you're away from your PC or console.
It's only really useful if you're subscribed to Xbox Game Pass of course, but if you have an Xbox or a gaming PC then you really probably should be.
Goodreads
If you're much of a reader then you've probably already come across Goodreads, and if you haven't then you really should.
Goodreads lets you log the books you've read and those you want to read, so you'll never forget about a book.
You can also rate and review books, and read the reviews others have written. There are lots of tools for finding new things to read too, including personalized recommendations based on what you've read previously, genres and 'best of' lists to browse through.
You can follow friends to see what they're reading, and take part in reading challenges where you aim to read a certain number of books in a year. Plus there are handy tools, like the ability to scan a book cover to instantly search for the book on Goodreads. There's a lot here, and it's well worth digging into.
Letterboxd
If you're a movie lover then you might already know about Letterboxd, and if you don't you should. It lets you keep track of movies you've watched, add them to your list with a single tap, review them, give them a star rating, and say when you watched them.
It also lets you keep track of what you want to watch, thanks to a comprehensive film database and the ability to add films to a watch list – again with a single tap.
Letterboxd helps you discover films by highlighting what's currently popular, and offering thousands of lists created by users of the app. These lists all have a theme, and while that's sometimes as simple as someone's favorite movies, usually it's a lot more interesting than that, for example one list is titled "They aren't films, they're experiences".
Of course, you can also make lists of your own, and Letterboxd is a bit of a social network too, letting you follow other users and comment on their lists.