Our favorite free Android apps for improving productivity, whether through to-do lists, focus timers or other tools.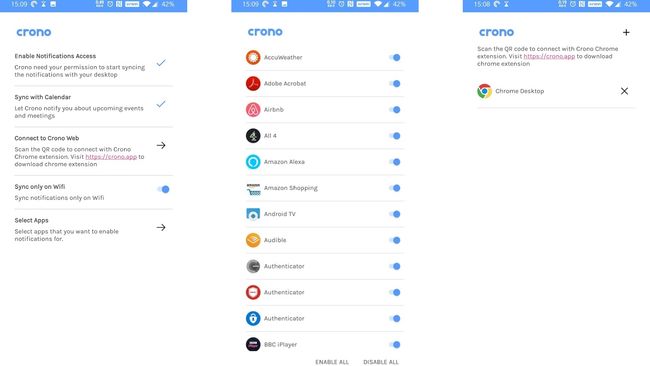 Crono
If you're working at a computer then you probably don't want to be constantly turning to check your phone. And with Crono, you don't have to.
The Android app - when paired with a Chrome extension - mirrors your phone notifications onto your desktop browser. Not only can you see messages this way, you can also reply to them, with Crono supporting replies from SMS, WhatsApp and supposedly all other chat and email apps (though we haven't tested absolutely everything).
You can also dismiss phone calls, share your clipboard, and if you clear notifications from Crono on your browser it will also clear them from your phone. Plus, if you misplace your phone you can ring it from your browser.
Crono isn't the only app of this type, but it works well and doesn't ask for any money.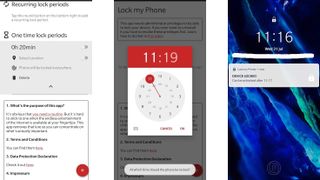 Lock My Phone for Study
One of the more interesting features found on the OnePlus 7 Pro is called Zen Mode, a mode which locks your phone for 20 minutes, so you can't use it even if you reboot it. It's essentially a nuclear option for keeping you from phone-based distractions, but it's one that appealed to a lot of people.
If you don't have a OnePlus handset, you're not out of luck, as a similar app – dubbed Lock My Phone for Study - has been created for other phones.
This lets you completely lock your phone for a duration of your choice, but handily it also has location-based locks, so you can set your phone to only lock when you're in the vicinity of a certain location, and recurring locks, so your phone will lock at the same time every day.
You can still access lock screen shortcuts and answer calls though, so you're not completely cut off from the world.
You can set up one 'lock' at a time for free, which should be all most people will need, but for a $1/£1 IAP you unlock the ability to have unlimited locks set up at once, which will be necessary if you want recurring locks, location-based locks and one-off locks all running at the same time.
Splitwise
If you're constantly splitting bills with friends, family, housemates, or anyone else, then Splitwise could simplify things. It's designed for keeping a running total of who owes what. Just tell the app who paid, how much and how the bill should be divided, and the app will log who owes how much and to whom.
That's useful, but it gets even more so after multiple transactions, as Splitwise will ensure the totals owed by and to each person account for all transactions.
This also means there's potentially less stress to pay people back immediately – the total is always shown in the app, and if you subsequently pay for something, their share will be deducted from what you previously owed. So you can just keep a running total and settle up as frequently or rarely as you – and the people you're splitting with – want.
In the US, Splitwise is even better, as you can make payments directly from the app using PayPal and Venmo integrations. Still, whatever country you're in, it's worth having.
Firefox Preview
Firefox Preview is for anyone who wants Firefox but faster, and potentially a bit less stable. It's an early version of Firefox Fenix – a new browser from the company that could one day replace the main Firefox Android browser.
Even in preview form it's up to two times faster, as well as having a new look and features that help it stand out from the main Firefox app, and most other mobile browsers.
The focus so far seems to be on privacy (with tracking protection enabled by default) and tab management (with a 'Collections' tool that lets you create folders full of pages related to a specific theme, project or other grouping).
It's a good start, and while there might be bugs, Firefox Preview feels more polished than you might expect, so if you want a taste of the browsing future today, this is the way to get it.
Split Screen Launcher
Split Screen Launcher is exactly what the name suggests – an app that lets you run two different apps side by side on your phone's screen.
Of course, some Android devices have this ability built-in, but if yours doesn't then Split Screen Launcher could be worth having.
To get started, launch the Split Screen Launcher app and select a pair of apps that you want to run in split screen. Split Screen Launcher will then create a home screen icon for that app pair, and tapping on this will launch those two apps.
It feels like a slightly roundabout way of doing things, but if you want to launch the same two apps side by side regularly then having a shortcut to them could be handy, and you can create as many of these shortcuts as you want.
Apps can be split-screened in portrait or landscape orientation, and once you're running the apps in split screen there's a bar between them, letting you resize the windows, so if one needs more space it can have it. Otherwise the apps work as normal – you just get to see two of them at once, rather than one.
Firefox ScreenshotGo
If like us you capture a lot of screenshots on your Android device then Firefox ScreenshotGo could be a game-changer.
As well as providing a gallery of all your screenshots, it lets you create folders that you can add them to, so you can sort them to make specific ones easier to find later. Firefox ScreenshotGo will even provide a pop-up every time you take a screenshot, which you can tap to instantly choose which folder to put it in (though you can turn that pop-up off if you'd prefer).
Where Firefox ScreenshotGo gets really clever is that it lets you search for screenshots based on the text found in them. You can also highlight the text in any screenshot, then copy it or search the web for it.
The app gives you new ways to take screenshots too; you can have it display a persistent notification that will take a screenshot when you tap on it, or have a floating icon sit on your screen that will also take a screenshot with a tap.
Even if you only occasionally take screenshots, this is probably worth a download. If you take a lot of them, then it's pretty close to essential.
Firefox Send
Firefox Send is a simple but potentially very useful app for sharing files. You can upload files of up to 2.5GB in size and get a link to share them with others. The link opens a webpage that you can download the file from, so the people you're sharing it with don't need the Firefox Send app.
So far, so basic, but where Firefox Send goes a bit further than some file sharing apps is in the ability to set how long a file is available for – you can choose to keep the link active for 5 minutes, 1 hour, 1 day or 7 days.
You can also choose how many times it can be downloaded before expiring, with a range of options between 1 and 100 downloads. And if you want you can also set a password, so no one can download it if they happen to stumble across the link.
All of which makes Firefox Send a great option for security and privacy while file sharing, especially as it also uses end-to-end encryption. If there's a downside it's that there's no option to have a file stay up indefinitely, but then we can't think of many situations where we'd want it to anyway.
AnyList
AnyList wants to replace Wunderlist and the like as your list-making app of choice and it puts forward a good argument for why it should.
It doesn't look like much, with a bland, functional rather than stylish design, but what it lacks in looks it more than makes up for in features.
These include categories that your list entries can be filed under automatically (with 'apples' appearing in the 'produce' section of a grocery list, for example). You can also make your own categories and move entries to different ones, or not bother with categories at all.
You can save regularly recurring items to your favorites, so they're easy to find and add back on to a list whenever you want, hide or display crossed off items, sort items alphabetically or manually, share lists with other people and plenty more besides.
The bulk of the app is free, but for a $9.99/£8.99 yearly subscription you can unlock all sorts of extras, such as passcode protection, cloud backups, the ability to add photos and prices, and a whole lot more. It's good value for money but even if you stick with the free version of AnyList you'll find that it's more feature-packed than most rival apps.
Calendar Notify
Calendar Notify is designed to make your upcoming calendar entries more visible, so that rather than having to open your calendar you can see them on your status bar, as well as optionally on the lock screen and as a widget on your home screen.
You can customize the look and size of these calendar displays and the app works with your existing Android calendar, so you don't have to start using something else.
The core Calendar Notify app is free, but for a one-off purchase of £3.39 (around $4.50) you can unlock the Premium Edition, which is packed full of extra features, most notably a range of advanced customization options, giving you near total control over the design and layout.
Wishlist
If you ever have trouble remembering people's birthdays then Wishlist is for you, as it lets you create a list of important dates for the people you care about. Other apps do this too, but with Wishlist you can set a notification to go off in advance of the date, so you have warning that it's coming up.
That too can be handled by some other apps, but Wishlist does it automatically. Just set how many days before a date you want a notification and that setting will be applied to all dates in the app. Ideally, we'd like to be able to set multiple notifications – one in advance and one on the date, for example, but this is a good start.
Wishlist isn't just for dates, either. As the name suggests, it can also be used to build up lists - in this case of present ideas for people - so each contact saved to Wishlist can have their own list of potential presents. That means if you ever see something that you think someone might like, you won't have to buy it months in advance of their birthday or hope you remember it, you can just add it to a list.
There are fields for not just the name of a gift idea, but also website links, the price, any notes, an image, and a priority rating out of 10.
Beyond all that you can also add a phone number to any contact you add to Wishlist and can then message or call them from the app. The idea is presumably for Wishlist to become your main dialer app, though we're not convinced you'll want to make that change right now as the interface is quite bare bones. But for its date and list features it could make a good companion to your existing apps.
InboxIt
InboxIt doesn't try to do everything. Rather, the app does one thing, but does it very well. That one thing is emailing things to yourself, be it photos, videos, URLs or text.
You might not think that you need a separate app to send yourself an email, but InboxIt speeds up the process. Once you've set the app up you simply tap the 'Share' icon on the content you want to send, then select InboxIt and the content will automatically be emailed to you. No need to select an email address, type out a subject or anything else.
And if you're in the habit of emailing yourself reminders, you can do that from InboxIt too. Just launch the app, select 'New reminder', type one out and hit 'Save'.
You can set the free version of InboxIt to send things to a Gmail address, which will probably suit most people just fine. But if you want to use a different email you can pay $0.99/£0.99 to unlock premium features, which also include the ability to use Gmail labels and a custom email subject prefix.
Hold
If you're anything like us then you probably open Facebook or Twitter about 600 times a day on your phone, even when you know nothing has changed and that you should be doing something far more important.
But if you're anything like us then you're also motivated by rewards, and Hold gives you them for not using your phone.
Simply activate it and put your phone down, and you'll receive 10 points for every 20 minutes that you resist the lure of your apps and messages.
These points can then be exchanged for rewards. These change over time and depend on what country you're in, but examples include free popcorn at the cinema and free contact lenses. You don't have to bank very many points for some of the rewards either, with many being available for as little as 20 points.
And if free and discounted stuff isn't enough incentive to stay off your phone, how about a little friendly competition? You can link up with your pals in the app and compete to get the most points.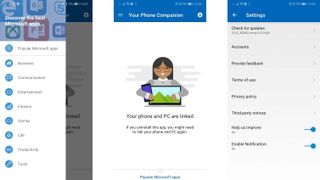 Your Phone Companion
Your Phone Companion is a companion app for a PC app called – you guessed it – Your Phone. The companion app itself doesn't do much, other than allowing the main desktop app to do its job of showing your phone's photos and SMS messages on your Windows 10 PC.
Both can be browsed, photos can be downloaded, and messages can even be sent and received on your desktop, so you don't have to keep turning back to your phone.
While that's 'all' the app does, those two features could be very useful for anyone who spends a lot of time at their computer, or who tends to email themselves photos to get them onto their PC.
It's worth noting that Google Photos does the photo part too, and is better at it, since it's a full-featured gallery app, but this is a good alternative for anyone not already using that.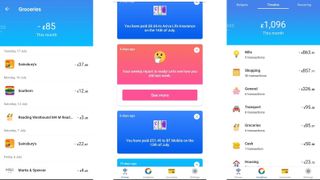 Emma
Emma helps you keep a close eye on your money. Link all your bank accounts (including credit cards) and you'll be able to see all their balances in one place.
But that's just the beginning. Emma also tells you how much money you have in total across all your accounts, as well as how much debt you have, and how much money you gain or lose in total each month.
It also lists all transactions and has a good stab at putting them into categories, such as shopping, transport or bills. This also means you can see at a glance how much you're spending in each category, which is a good way to make you more aware of your spending and potentially reduce it.
You can change any miscategorized spends, see a list of recurring payments, get a weekly breakdown of spending and income, and more.
Of course, Emma is secure too. It uses SSL 256-bit encryption, supports fingerprint locking and doesn't store your banking credentials.
Emma is an essential app if you have accounts with more than one bank, but even if you don't, chances are that it gives you a lot more insight into your money than your bank does. The only real downside is that it's UK-only.