Our favorite free Android apps for working out, reducing stress and crafting meals.
Mission Adventure
In the age of phones and tablets, it can be hard to get young kids out of the house and active. Ironically, a free Android app could be the solution.
Mission Adventure makes going on a walk more fun by giving children a story to follow and even participate in. First an adult sets a route in the app, with a number of markers along the way. Then you set off, following the route, with Mission Adventure chiming in whenever you reach a waypoint.
The app will sometimes ask simple general knowledge questions related to the story. Other times it will ask you to make a decision that affects how the story plays out, and other times still it might ask you to run to the next waypoint, justifying it by saying that you're chasing someone, or being chased.
For free, this all plays out against the backdrop of a pirate adventure, but there are other story packs that can also be purchased. Each story has three chapters, with each walk forming one chapter. Given that questions can be answered wrong and decisions made differently, there's a fair bit of replay value too.
Brewtime
Brewtime is a simple app for a simple activity: making coffee. Or, more specifically, making the perfect cup of coffee.
Whether you use a French press, V60, AeroPress, Chemex, Moka pot, vacuum pot or Clever Dripper, Brewtime will guide you through the process step by step, complete with a timer for how long you should spend on each step, and details of the exact amount of coffee, water, and temperature recommended. It will also keep a timeline of all the coffees you've made with its timer.
It's a basic app – you only get one coffee recipe for each preparation method, and not all methods are accounted for. But if yours is, and you like the recipe provided, then this is an easy way to upgrade your morning beverage.
321FIT
321FIT aims to turn your workout into something closer to a music playlist. Each exercise is the equivalent of a track, and you can either pick a pre-built playlist/workout or create your own, then hit play and the app will tell you what exercise to do and when to move on to the next one.
A timer counts down, so you can see how long you've got left, and blocky eight-bit animations paired with a retro music-player look give 321FIT more personality than a typical workout app.
The selection of exercises is perhaps a bit limited, and many require gym equipment, but this is a charming, straightforward app that does things a bit different, and it does more than enough for free.
Lorna Jane Active Living
Lorna Jane Active Living is an all-in-one exercise and healthy living app. It has a variety of free video workouts covering strength, cardio and stretches, plus meditation, recipes and a movement tracker that uses GPS.
You can save recipes and workouts to your favorites to return to later, but you can also build up an in-app calendar of workouts and meals, so you can always know what to cook and what exercise to do.
There are a lot of other handy tools too. Exercises are explained in text form alongside the videos, an in-app shopping list lets you add ingredients that you need to buy, and you can set and track goals.
Lorna Jane is a clothing brand, so there's also the expected shop section, but you can easily ignore this if you just want the exercises and/or recipes. All in all, this app is surprisingly full-featured and promises to get more so over time, with more exercises set to be added. And while Lorna Jane Active Living is heavily marketed at women, it's worth a look even for men.
CalorieCap
If you're on a diet or have specific dietary requirements, then finding a restaurant that offers suitable meals can be tricky. CalorieCap can help.
Within the app, you can choose the minimum and/or maximum calories you want a meal to offer, alongside a similar min/max for protein, carbohydrates, fat, sugar and sodium. You can also choose a specific 'lifestyle', such as gluten-free or keto.
Fill in as many or as few of these boxes as are relevant, then hit search and CalorieCap will bring up all the suitable meals from a range of popular restaurant chains. Or, if you already know where you want to eat, you can select that restaurant and just search the dishes there.
You can also save suitable meals to a 'My Meal' tab on the app, so you won't have to search for them again in future if you forget what you can eat.
It's a handy app, with the main downside being the limited selection of restaurants you can choose from. For one thing, it's very US-focused, so while some chains such as Pizza Hut and KFC will be found elsewhere, the app is by far at its most useful if you're in the US.
Even then though you're limited to chains and by no means all of them. It's understandable that it wouldn't be possible to have a database of everything, but if you tend to eat out at independent restaurants then you're on your own.
My Possible Self
My Possible Self aims to improve your mental health and reduce the symptoms of stress, anxiety and low moods in as little as eight weeks. We haven't yet used it for that long, but based on around a week of use it seems like it could make a real difference.
It includes 10 modules dedicated to improving different aspects of mental health. Each module has a number of fairly substantial 'sessions', made up of tips, examples and exercises to help you, say, manage stress or build happiness and wellbeing.
On top of that, My Possible Self also includes a mood tracker, letting you fill in how you feel every day and see a graph of your moods over time. Plus you can add 'moments', which are a snapshot of how you feel at any given moment, made up of text and optionally a photo.
There are other apps like My Possible Self, but this seems richer in resources than most. Having said that, it's only currently available in the UK, and many of the modules are hidden behind a paywall of £5.99 (about $8) per month or £59.99 (about $80) per year. It's not cheap, then, but also no more expensive than many meditation apps that are similarly focused on your wellbeing.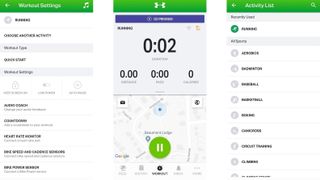 Endomondo
Endomondo is one of the oldest Android fitness apps and it's still one of the best, thanks in part to regular updates.
It's packed full of features, letting you track not just running, cycling and walking but also more than 60 other activities -, so if there's a sport you do, chances are Endomondo has some tools to help you monitor it.
GPS monitoring lets you track statistics such as distance and pace, but you can also manually log indoor workouts or anything else where GPS won't be much use.
Additionally, Endomondo can be paired with other accounts and wearables, such as the Fitbit app and heart rate monitors, allowing it to sync data with them.
With custom goals, challenges (that in some cases even have prizes) and the ability to compete with friends, there's a lot to keep you motivated and the app itself is slick and easy to use.
All of these features are free, but you can unlock various extra tools such as personal training plans and advanced statistics if you subscribe to Endomondo Premium, which costs £9.99 (around $13) per month, though it's only around a third of that price if you commit to a year.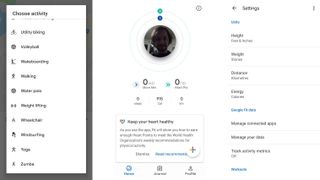 Google Fit
Google's official health and fitness app, Google Fit has been around for a while, but it's now been overhauled and is better than ever as a result.
At the heart of the overhaul there's 'Move Minutes' and 'Heart Points'. The former records your general movement throughout the day and aims to encourage you to make small changes, such as walking up stairs rather than taking the elevator.
Heart Points reward you not just for the amount of time you're active but for how much you raise your heart rate - a feature which really helps the app stand out.
In line with most fitness apps, the core features are still available; you can track various workouts, monitor and adjust your goals, and even get some basic customized tips and coaching, based on the activity that you do.