Our favorite free Android apps for customizing and improving the security of your device.
Everyday – Calendar Widget
At first glance, Everyday – Calendar Widget might struggle to stand out. It is, after all, simply a pair of widgets for your phone's calendar, and we've seen calendar widgets before.
Where this has a bit of an edge though, is not in functionality so much as customization, because you can completely change the look, choosing your own primary, secondary and background colors, as well as primary and secondary text colors, corner size and background opacity.
You can also choose the starting day of the week, how many days and events to display, whether to show past and declined events, and more besides.
One of the two widgets shows your agenda, so you can see upcoming events from your home screen, while the other gives a more zoomed out view of your calendar, showing two weeks at a time, but not including the actual entries until you tap on a day.
Standard stuff then, but if you like the idea of a calendar widget but need it to look a certain way, then Everyday – Calendar Widget could well do the job.
Abstruct – Wallpapers in 4K
There are loads of wallpaper apps on Google Play, but Abstruct is one of very few that we've felt compelled to spend money on – and much of the app is free too.
It's crafted by the person responsible for the official OnePlus wallpapers, and you'll find those in this app, but there are also many, many more that he's made that aren't used by OnePlus.
They're all somewhat abstract, but some are altered paintings or landscapes, while others are completely digital creations across a number of themes. There's quite a lot of variety and many of them look absolutely stunning, especially as they're delivered in up to 4K quality.
There are over 300 wallpapers in all, and you can get around half of them for free, while the rest are unlocked for just $1.99/£1.99.
LockBox
LockBox is a simple, secure way to store information that you want to keep handy but don't want to risk anyone unauthorized getting access to.
The app has a simple interface letting you type out basic text notes and put them in named folders. But these notes are automatically encrypted (using AES-256 bit encryption with PBKDF2 SHA-256 and salted hashes), so they're more secure than your average note app, and as LockBox stores data in the cloud you can access it anywhere.
The sorts of things the app imagines you storing include passport numbers, social security numbers, credit card information and the like, but you can use it for anything.
The app also requires a password or fingerprint to login to of course, so if someone gets access to your device, they won't get access to your notes.
Hide Camera Hole
Some phones such as the Samsung Galaxy S10 now have punch-hole cameras cut into the screen. These eliminate the need for a bezel or notch, but it means there's a potentially distracting circle in the corner of your phone's display instead.
Hide Camera Hole is one of several apps that tries to address this by supplying a selection of wallpapers designed to, well, hide the camera hole. In many cases that just means a dark area where the camera is, while others will have a similar circle in the image, positioned to line up with the camera.
You can adjust colors and positioning, ensuring the wallpaper fits perfectly, and the app has wallpapers that account for both single and dual-lens cameras on either the right or left of the display. Indeed, that's one of the main advantages to this app over some others, which are focused just on the Galaxy S10 range and don't work with other handsets.
App Tiles
Your Android device likely has all sorts of shortcuts on its notifications screen and you can probably customize which ones are displayed, but what you probably can't do is add shortcuts to apps.
App Tiles adds that option, letting you create up to six shortcuts to apps of your choice, meaning whatever screen you're on you'll always be able to swipe down to display your shortcuts, tap on the relevant app and be taken straight to it. For apps that you use a lot, this could be a real time-saver.
App Tiles is easy to set up – it doesn't require you to change any settings on your phone, just launch it and assign apps. App Tiles does have adverts, but you'll only have to put up with them when you're setting it up. Once the shortcuts are in place you never have to launch the App Tiles app itself again.
Hiya
Scam callers and other unwanted calls seem to be getting ever more frequent but fortunately there are ways to tackle them, such as Hiya.
This app has a database of numbers, so it's often able to identify who's calling, as well as flagging spam calls. There are also tools in the app that let you automatically block 'scam and fraud calls', 'suspected spam calls' and calls from private numbers.
Hiya can also identify the sender of text messages, and there's a Call Screener tool, which blocks calls from unidentified numbers and sends them a text message asking them to identify themselves and call back. You can also manually block and look up numbers from within the app.
It's a handy, easy to use service, and while it's not the only option (Truecaller which we've recommended before does a similar job), it's a great choice.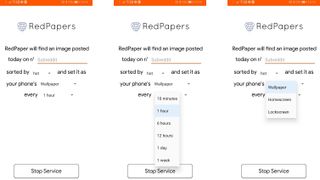 RedPapers
There are loads of wallpaper apps, but surprisingly few that will automatically cycle through designs so you can get new wallpapers on your phone without having to lift a finger. And those which do offer that service are often quite limited in terms of content.
Not so with RedPapers. This app lets you pull images from any subreddit and have them set as the wallpaper for your home or lock screen. You simply type the subreddit name, pick how often you want the wallpaper to change (with a range of options from every 10 minutes to every 1 week), pick whether to sort the wallpapers by what's hot or what's new, and away you go.
RedPapers itself is just a single screen where you select those options, so there's not much to the app, and it's not much of a looker in itself, but it's really useful if you get bored of staring at the same wallpaper every day.
1.1.1.1: Faster & Safer Internet
If you ever use public Wi-Fi networks, then 1.1.1.1: Faster & Safer Internet is for you. That's because public Wi-Fi is notoriously lacking in privacy and security. There's a chance the provider will sell your browsing data and it also allows other people – if they have the skills – to snoop on your browsing data.
But 1.1.1.1 helps stop either of those things from happening by changing your DNS resolver to one managed by Cloudflare (the company that makes this app). It promises never to sell your data or use it to target adverts, and by browsing through Cloudflare you're also hiding your data from any other potential snoopers.
As an added bonus, you might even get a speed boost, as Cloudflare's DNS resolver is the fastest public one. The app is also completely free and easy to use – there's just a single toggle to turn 1.1.1.1 on or off. That's it.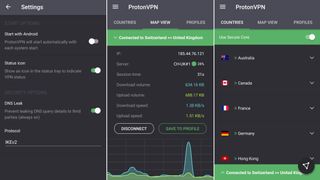 ProtonVPN
Two of the main reasons for using a free VPN are accessing geo-restricted content and maintaining your privacy and security online.
ProtonVPN can help with both of those, and costs a lot less than most rivals. In fact, the core service is totally free, and there are no bandwidth restrictions, so you can use it as much as you want.
There are no ads either, because it's fully funded by optional paid subscriptions (starting at around $5/£3.50 per month). These unlock higher speeds, VPN servers in more countries and the ability to use ProtonVPN on more than one device.
But for free you still get access to VPNs in three countries, and a whole lot more security than you'll have without a VPN, as your activity will be encrypted and protected by Swiss privacy laws, and it won't be logged.