Our favorite free Android apps for making music, listening to music, finding podcasts and everything else to do with audio.
Spotify Stations
Spotify Stations is a more streamlined alternative to the main Spotify app, but before we get ahead of ourselves, it's worth noting that at the time of writing this one is just for those in the US or Australia (though we imagine it will launch more widely over time).
With that caveat out the way – Spotify Stations lets you listen to playlists (or 'Stations'), rather than selecting specific songs or albums.
These stations might focus on a genre, or a mood or activity. For example you could get a 'Relaxing jazz' station, or a 'Workout' one. You can also create stations based around a selection of musicians that you like.
But mostly Spotify Stations seems to be aimed at getting you listening faster, without any typing or searching, and helping you discover new music, something which it gets better at over time, as it learns what sorts of things you like.
A lot of this stuff is in the main Spotify app too, but here it's front and center, without any distractions.
You need a Spotify account to use Stations, but you don't need to be a paying member. However, if you are, you'll be able to skip an unlimited number of tracks, and won't have to put up with adverts.
Swoot
Swoot aims to make podcasts social, by sharing what you're listening to with any friends who also use the app.
This is primarily useful to help you find new podcasts to listen to, especially as there's also a recommendation feature, which lets you actively recommend a podcast to friends in the app (optionally adding text to explain why you recommend it).
Swoot also has a 'Trending' tab, so you can see what's popular with people who aren't on your friends list, and beyond all that it's a basic but competent podcast player, letting you subscribe to podcasts, download episodes so you can listen offline, and change the playback speed.
The interface could use some work – it's fine but a bit bland in appearance, but otherwise this is a great app if you have friends who are as into podcasts as you.
Endel
Endel creates soundscapes to help you relax, help you focus, help you sleep or for when you're on the go.
Unlike some apps such as TaoMix 2 you can't customize the sounds, but what Endel can do is access time, location and weather data, and even your heart rate if you have a monitor and give it access to your health data, and it uses this information to tailor the soundscapes to your current situation.
Beyond picking a mode you can also set a timer if you want it to shut off after a certain amount of time, but that's about all. This is a simple, stripped back app on the surface, that's doing lots behind the scenes to ensure it's properly personalized.
It's also an attractive, easy to navigate app, so whether you want something to drown out the background noise, bring on sleep or motivate you to keep moving, Endel could be a good choice.
Louder.me
Louder.me aims to both help listeners discover new independent music, and musicians get their music out there – and maybe even win cash prizes in the process.
As a listener, you can hear samples of independent songs in the arcade section of the app. If you like what you hear you can heart it and there's also the option to listen to the full track or add it to a playlist.
But the tournament section is perhaps the most interesting part of Louder.me. This pits the 64 songs with the highest rating in arcade mode against each other.
It pairs them up – so there are 32 pairs of songs - and lets you listen to samples (or the whole song if you'd prefer) and then say which of each pair you preferred. Over a number of rounds and eliminations a winner is ultimately declared, winning $1,000. Of course, even the losers get extra exposure this way.
As a musician you have to use the website to upload your tracks to Louder.me – that functionality isn't offered in the app, but as a listener the app somewhat gamifies the listening experience, making for a fun twist on music discovery.
Aroundsound Audio Recorder
Aroundsound Audio Recorder is a seemingly simple audio recording app with a surprising amount to it.
It's designed to allow you to quickly and easily record any sound with a single tap - be it a conversation, the wind in the trees, or anything else.
Recordings are saved automatically, named based on the time of day, and given a location tag. Tapping on a recording then plays it back. Simple.
You can also adjust the recording quality, pause a recording and continue the same recording later, trim a recording or edit out unimportant parts, and share recordings with people or apps as a web link, so there's no need for others to have the Aroundsound app or to download a file in order to listen to your recordings.
You can also change the names of your recordings and add bookmarks to important points in them, so you can easily find the key parts later. These bookmarks can even have a note attached. Plus, you can back up your recordings to the cloud, so they'll never get lost.
There's a lot here, but most of its stays out of the way, so if you want to stick to the basics you won't find endless buttons and toggles intruding on the experience.
Sound Amplifier
Sound Amplifier is an app from Google designed to enhance audio when using headphones. Well, we say an app, but it won't appear in your app drawer and you can't launch it as such. Instead, you'll find it in the Accessibility section of your phone's main settings screen, and only when wired headphones are connected.
Once there, you can reduce unwanted sounds, adjust the mic volume and boost or fine tune the audio from one or both sides of your headphones.
The primary purposes of the app are to make sound clearer by increasing quiet sounds without over-boosting loud sounds, and to reduce background noise so you can better focus on the audio.
It did a fairly good job in our tests, but there's one major issue, namely the need for wired headphones. This of course is a problem for anyone who prefers to go wireless, and even more of a problem on the ever-growing number of phones that lack a 3.5mm headphone port.
The app also seems as though it could really benefit those with hearing issues, yet many such people use wireless hearing aids, which won't be compatible with it. Hopefully Google will drop the need for wires before too long.
Radio by Deezer
Radio by Deezer is a slick if slightly basic radio player app, and although it comes from Deezer (a company known primarily for its Spotify-like subscription service) it's free to use.
The app has around 30,000 FM and online radio stations sorted into various categories, such as 'pop' and 'rock'. So you can browse them that way, or search for a specific station.
Stations that you recently played or play the most often will be added to lists on the 'My Stations' tab, though in a weird omission there's no way to manually add stations to your favorites.
You can however favorite songs that are being played, but unless you have a Deezer subscription this will just show you a list of them, rather than actually letting you listen to them again.
It's an app that needs work, but it looks good, is easy to navigate and makes for a great companion to the main Deezer service.
BBC Sounds
BBC Sounds brings all of the BBC's live radio content and podcasts to one app, so you can listen live on your phone, and subscribe to and stream podcasts.
BBC Sounds also lets you pick up where you left off on another device, so if you get halfway through a podcast on your phone, you'll be able to start from that point on your tablet automatically. It can also recommend content based on what you've been listening to, so it's a good way to discover new things.
It's basically iPlayer for radio (in fact the plan is for it to ultimately replace BBC iPlayer Radio) and if you listen to a lot of BBC content it's arguably a smarter, better choice than listening on a radio or using another podcast app.
At the moment the BBC Sounds app is UK-only, but given that the iPlayer Radio app is available globally we wouldn't be surprised if BBC Sounds is one day too.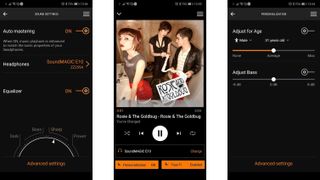 SW True-Fi Beta
SW True-Fi Beta aims to maximize the potential of your headphones by tuning sound settings specific to the headphones you have plugged in. You do this by selecting yours from a long list of supported headphones, then True-Fi does the rest.
But you can also adjust the sound according your age and make manual tweaks to aspects of it, such as the bass.
The adjustments only work when playing music through the SW True-Fi Beta app, but that needn't be a problem, as not only can it play local music files, it can also connect to Spotify and play music from there.
Not all headphones are currently supported, which is the main limitation of the app, but if yours aren't then you can contact the company to ask them to be added.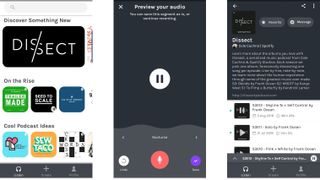 Anchor
Anchor is both an app for both listening to podcasts, and creating and sharing your own. It's that second part that's the most interesting.
You can record audio straight from the Anchor app, or import recordings. You can also add friends to a recording, even if they're elsewhere in the world, allowing you to have a recorded conversation that you can use as a podcast.
You can add various sound effects, and rearrange and edit parts of the podcast, so you're not limited to a single audio file.
Once you're done you can share your podcast, not just on Anchor itself, but also on the likes of Google Podcasts and Apple Podcasts. When it's out in the world, you can use Anchor to track how many listeners it has, and which parts of the podcast are most played.
If all you want to do is listen to podcasts then there are other apps that do the job just as well or better (Pocket Casts is always a favorite), but Anchor is a slick, simple way to get into podcasting yourself.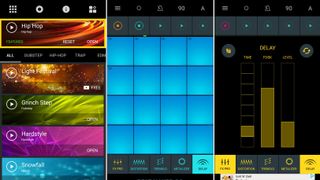 Drum Pads – Beat Maker Go
Drum Pads – Beat Maker Go is a drum machine which lets you easily make beats on the go. There are numerous sound packs split across various genres, such as dubstep, EDM and hip-hop, and once you select one you can get tapping on the drum pad.
There are various effects that you can apply to your track, such as distortion and delay, you can create loops and save your finished pieces, then share them with friends.
Drum Pads is accessible enough that beginners should be able to have fun with it (though some trial and error will be required), but there's enough here to appeal to more advanced users too.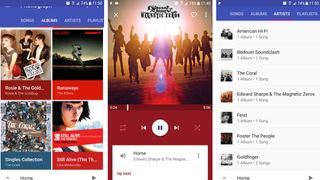 Phonograph Music Player
While many of us have moved to streaming music, there is still a place for locally stored music on Android, and Phonograph is one of the better players.
Phonograph puts aesthetics and ease of use first, so it's always pleasant to operate. The app has a Material Design look that fits with Google's vision of Android, but it's also packed full of album art and color, so there's never a dull screen.
You can also customize the colors and overall theme and look of the app, while the color of the main 'now playing' screen will change based on the album artwork of the current track.
The layout is simple too, with your music library sorted by song, album, artist or playlist, and you can switch between views with a swipe, while most other options are no more than a tap away.
Although not as feature-packed as some players, Phonograph has a number of handy extras and toggles, like gapless playback, information and images pulled automatically from Last.fm, a sleep timer, widgets and lock screen controls.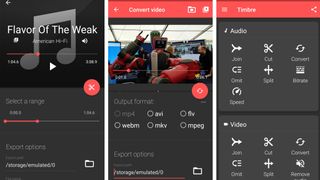 Timbre
Timbre's full name is 'Timbre: Cut, Join, Convert mp3', and that tells you almost everything you need to know about it: this is an app for cutting, joining and converting files.
But the MP3 bit in the name rather undersells it, because Timbre can also work its magic on WAV, FLAC, M4A, AAC, PCM, AIFF, Ogg, WMA, ALAC, MP4, AVI, FLV, MOV, WebM, MKV and MPEG files.
You can convert from one file type to another, which is handy if, for example, your music or video player doesn't like a specific file type.
You can also trim down audio and video files, or combine several files into one, which you might want to do if you're editing together a video with multiple scenes, or making a mixtape.
Those are the headline features of Timbre, but there are also tools to remove audio from a video file, split a single audio file into two parts, and change the bitrate of an audio file.
All of these things are simple to do, with Timbre sporting a clear interface, and it's completely free as well.