Our favorite free Android apps for shooting, sorting and editing photos and videos.
Curator
Curator claims to be the first gallery app that organizes your photos using AI entirely offline, giving you the search power of something like Google Photos, without compromising on your privacy.
It works well too. The first time you launch the app it will analyze and assign tags to all of your photos (which can take a long time), then if you search using a keyword, such as 'beach' or 'cat', it will show you every image containing that.
Curator has a nice interface too, with two themes and the ability to view albums, all images, or all of the tags that have been assigned.
Albums can be renamed and favorited, photos can be moved between albums and there are gesture controls, to help you navigate the interface faster. There are also new features on the way, such as private folders and shared albums.
If you don't care about the added privacy offered by Curator, then Google Photos is still the better app. Not least because it backs up your images and gives you access to them from other devices, but Curator is a strong alternative for those who prefer to keep their online presence to a minimum.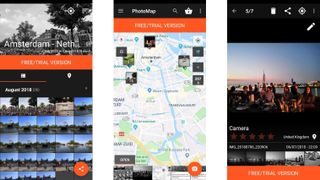 Photo Map
Photo Map is simply a world map that displays your photos over the parts of the world that you took them in.
Zoom out and you'll likely just see a single thumbnail of one of your images over each country that you've snapped shots in, but zoom further in and you will see photos grouped into much smaller areas too.
The thumbnails also have a number on them, telling you how many photos are in that gallery. You can easily see them all and enlarge them with a tap.
There are a few options, such as the ability to change the look of the map or add terrain or satellite imagery to it, but mostly it's just a great and simple idea – a visual way of separating your photos based on where they were taken. This is definitely one for those who like to travel!
Photo Map is free to use, but a one-off $1.49/£1.29 IAP will get rid of adverts.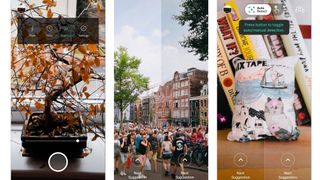 Picai
If you love slathering filters all over your photos then there's a good chance you'll love Picai, as it makes the process a lot smarter than most apps.
But this isn't just a tool for sticking filters on photos you've already taken (though you can do that too). Rather, it's a camera app. Simply point it at something you want to photograph and it will use AI to detect what you're looking at, even going so far as to provide a text pop-up telling you what it sees.
From there it will automatically choose filters that it thinks would be a good fit and overlay two of them on the viewfinder – one on the left half, the other on the right. That means you can see what a filter will look like before you even take a photo.
If you're happy with one, you can swipe horizontally across it to select it, or you can swipe up or down to cycle through filters. It's a clever idea, well implemented and completely free.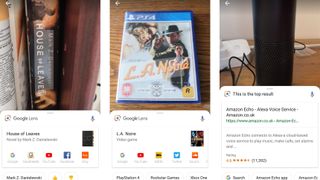 Google Lens
Your phone might already have Google Lens built in, but if not you can now download it from the Play Store, and that's worth doing.
Once you've launched the app you can point your camera at almost anything and get information on it. Point it at a book and it will give you links to reviews of the book and places to buy it. Other products also produce store links, or if Google Lens can't definitively identify something it will suggest similar products.
You can also point it at a landmark to get information on it, at foreign text to translate it or at an event to add it to your calendar. You can even point it at plants or animals to identify them.
The results aren't perfect. In our experience Google Lens will regularly incorrectly identify something or fail to come up with any suggestions for what something might be, especially with more unusual items, but it works often enough to be genuinely useful, especially once you get used to the kinds of things it's likely to work with – so you know whether to even bother booting it up.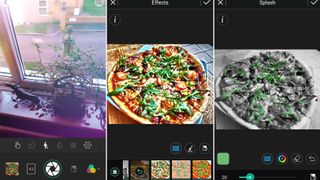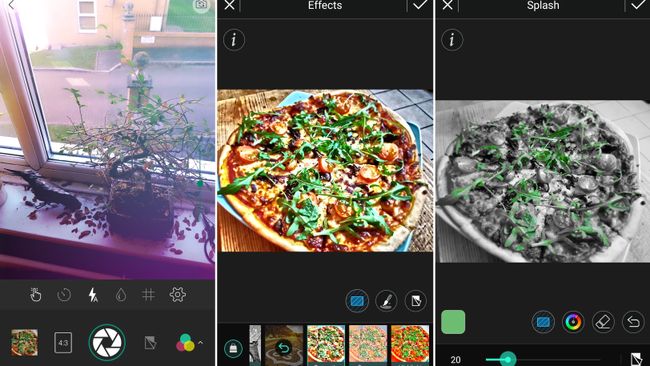 PhotoDirector
PhotoDirector is one of the more powerful and polished photo editing apps available on Android. It's got you covered for fun filters, frames and effects, but it gives you more control than some of its peers. For example, you can adjust the strength of effects and choose to apply them globally or selectively.
You get a lot of control over the core image too, as you can adjust the white balance, saturation, hue, sharpness, tone and more.
You can also rotate, crop or mirror the image, cut out sections, adjust the perspective, and if you've taken a portrait remove red-eye. There's more here, too much to list, but suffice it to say, PhotoDirector is a comprehensive app.
You're not limited to just editing photos you've already taken either; there's also a camera component, allowing you to take new shots and see how effects and filters will look before you've even taken a picture.
PhotoDirector is free to download and use. There's an optional subscription for £2.59 (around US$3.70) per month if you want to unlock additional tools, remove adverts and improve the output quality, but the core app is already far more generous than most free offerings.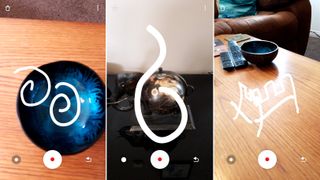 Just a Line
Just a Line is a simple example of the creative potential offered by AR (augmented reality). It lets you view the world through your phone camera and draw on scenes by touching the screen.
You can see your drawings from multiple angles as you move the phone around, and you can film your creations to save them or share them with others.
There's not a whole lot more to it than that, and Google (which built the app) describes Just a Line as an experiment, so you should go in expecting a curiosity rather than a full-featured app, but it's a fun introduction to AR that can be enjoyed by all ages.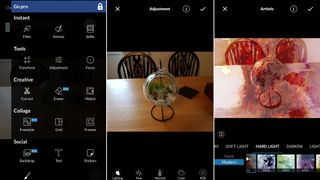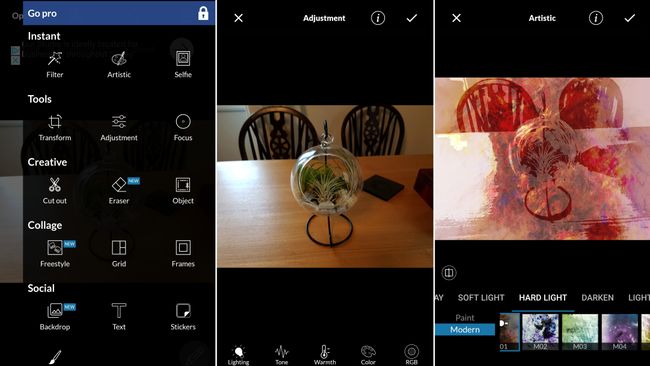 LightX Photo Editor
There are loads of filter apps and photo fixers on Android, but LightX Photo Editor is one of a much smaller number of comprehensive editing apps.
It has plenty of filters, as well as tools for sharpening images and removing blemishes, and much more besides.
You can tweak the hue, saturation and tone, adjust the focus, add a frame, sticker or text, merge images, create collages, flip, crop and rotate, draw on pictures and change the perspective.
All of that is free, though there's an optional IAP to remove adverts and add a few extra features.
Whether you opt for the free or paid version, LightX is a powerful, feature-packed app that should suit most mobile photo-editing needs.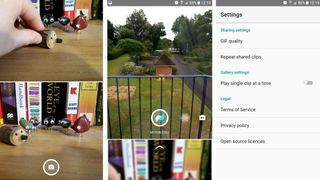 Motion Stills
It's not often that Google's apps come to iOS before Android, but Motion Stills did, as it was designed to stabilize Live Photos, so they'd come out smoother. Now though it's out on Android too, letting you shoot a short video clip which the app stabilizes.
Clips that you shoot can be saved as a video or a looping GIF and then shared on social media, and Motion Stills also lets you use a 'Fast Forward' mode, which will condense up to a minute of footage into a shorter clip. This too is stabilized, to keep it smooth, and you can pick the playback speed.
Motion Stills only works for new footage – so you can't import and stabilize anything you've already shot (though if you just want to turn old footage into a GIF there are plenty of other apps that will do that).
But for anything new you shoot Motion Stills is a great way to make a GIF or short video and ensure footage remains smooth. It's fast too, as footage is stabilized in real time, so you don't need to wait for it to process your clip, and it's completely free.
Google Photos
There are probably hundreds of photo apps around, but Google Photos stands out as it gives you unlimited storage for photos and videos, all for free.
That's reason enough to jump on board, especially as it works not just on Android but on iOS and computers too.
But with basic editing tools and the ability to make collages and albums this is more than just photo and video storage, it aims to be your first and last stop after taking a picture. To achieve that it will need a few more features, but it's well on its way.