Our favorite free photo editors for Android for shooting, sorting and editing photos and videos.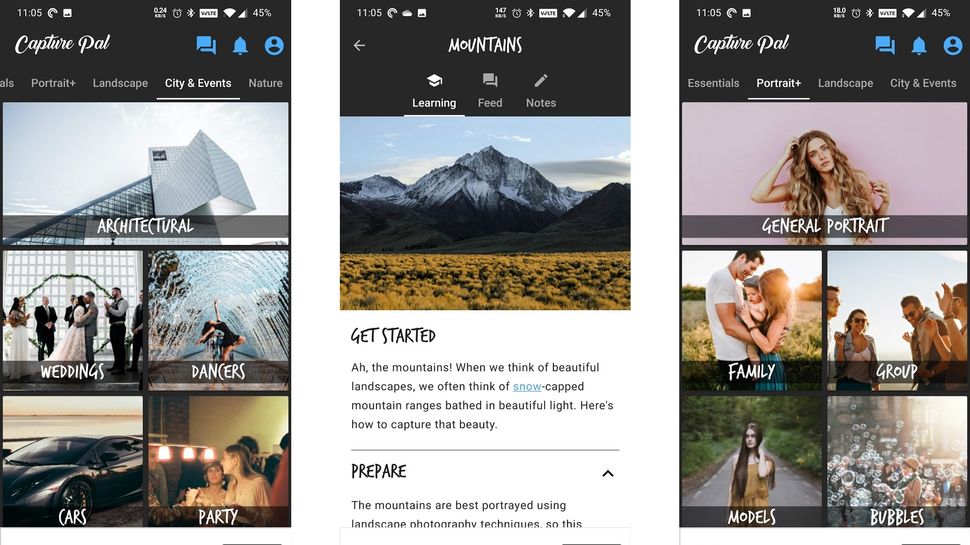 DSLR Photography Training apps - Capture Pal
Why you can trust TechRadar We spend hours testing every product or service we review, so you can be sure you're buying the best. Find out more about how we test.
If you want to take better photos then – whether you're a beginner or more advanced – Capture Pal should be able to help.
The app is basically designed as a reference manual and cheat sheet, covering most of the basics – such as the exposure triangle and metering – along with guides to shooting various landscapes, portraits, cities, events, and nature.
It's all clearly laid out so the right information is never hard to find, and Capture Pal talks you through preparation and any specific gear you'll need for a type of shoot, as well as walking you through the shoot itself, with a range of handy tips.
You can also add notes to any of the sections, so you can easily use Capture Pal like a photography notebook too, and there's also the ability to post photos, tips, and questions to the community – or view and reply to those posted by others.
1 Second Everyday: Video Diary
1 Second Everyday: Video Diary is a way to document your life – one second at a time. The app lets you shoot a one-second clip every day, then you can mash them together to create a video that shows all of them.
Early on that won't amount to much, but once you've been using 1 Second Everyday for months or years it can make for a significant video. You can then share the resulting video if you want, and all of this functionality is free – along with some basic editing tools, the ability to attach a written journal entry to your days, and optionally get daily reminders to record.
Upgrade to 1 Second Everyday Pro and you can back your clips up online, record two separate snippets each day, use clips of up to three seconds rather than just one, add music, and more.
Doing so isn't cheap – it costs $49.99 / £45.99 per year and even more if you pay monthly – so it's fortunate that you get so much for free.
Adobe Photoshop Camera
Adobe offers all sorts of apps and most of them are good, with Adobe Photoshop Camera being no exception. Don't let the Photoshop name fool you though – this is a simple free Android app for applying filters to your photos, but it does a good job of it.
You can see how filters will look before even taking a photo, and there are over 80 to choose from, including ones aimed specifically at certain things, such as food or the sky.
Photoshop Camera will also often suggest the filters it thinks are best based on what you're shooting, and switching between filters is simple – a swipe on the screen swaps between variations on the same one (for example different pop art effects), while along the bottom of the screen there are totally different filters that you can swap to with a tap.
Once you've taken a shot you can edit it in-app, with tools that let you adjust highlights, vibrance, exposure, saturation, and the like. There are also tools specifically for improving portrait shots, such as bokeh and face lighting. If you like filters then Photoshop Camera should have everything you need.
Curator
Curator claims to be the first gallery app that organizes your photos using AI entirely offline, giving you the search power of something like Google Photos, without compromising on your privacy.
It works well too. The first time you launch the app it will analyze and assign tags to all of your photos (which can take a long time), then if you search using a keyword, such as 'beach' or 'cat', it will show you every image containing that.
Curator has a nice interface too, with two themes and the ability to view albums, all images, or all of the tags that have been assigned.
Albums can be renamed and favorited, photos can be moved between albums and there are gesture controls, to help you navigate the interface faster. There are also new features on the way, such as private folders and shared albums.
If you don't care about the added privacy offered by Curator, then Google Photos is still the better app. Not least because it backs up your images and gives you access to them from other devices, but Curator is a strong alternative for those who prefer to keep their online presence to a minimum.
Photo Map
Photo Map is simply a world map that displays your photos over the parts of the world that you took them in.
Zoom out and you'll likely just see a single thumbnail of one of your images over each country that you've snapped shots in, but zoom further in and you will see photos grouped into much smaller areas too.
The thumbnails also have a number on them, telling you how many photos are in that gallery. You can easily see them all and enlarge them with a tap.
There are a few options, such as the ability to change the look of the map or add terrain or satellite imagery to it, but mostly it's just a great and simple idea – a visual way of separating your photos based on where they were taken. This is definitely one for those who like to travel!
Photo Map is free to use, but a one-off $1.49/£1.29 IAP will get rid of adverts.
Picai
If you love slathering filters all over your photos then there's a good chance you'll love Picai, as it makes the process a lot smarter than most apps.
But this isn't just a tool for sticking filters on photos you've already taken (though you can do that too). Rather, it's a camera app. Simply point it at something you want to photograph and it will use AI to detect what you're looking at, even going so far as to provide a text pop-up telling you what it sees.
From there it will automatically choose filters that it thinks would be a good fit and overlay two of them on the viewfinder – one on the left half, the other on the right. That means you can see what a filter will look like before you even take a photo.
If you're happy with one, you can swipe horizontally across it to select it, or you can swipe up or down to cycle through filters. It's a clever idea, well implemented and completely free.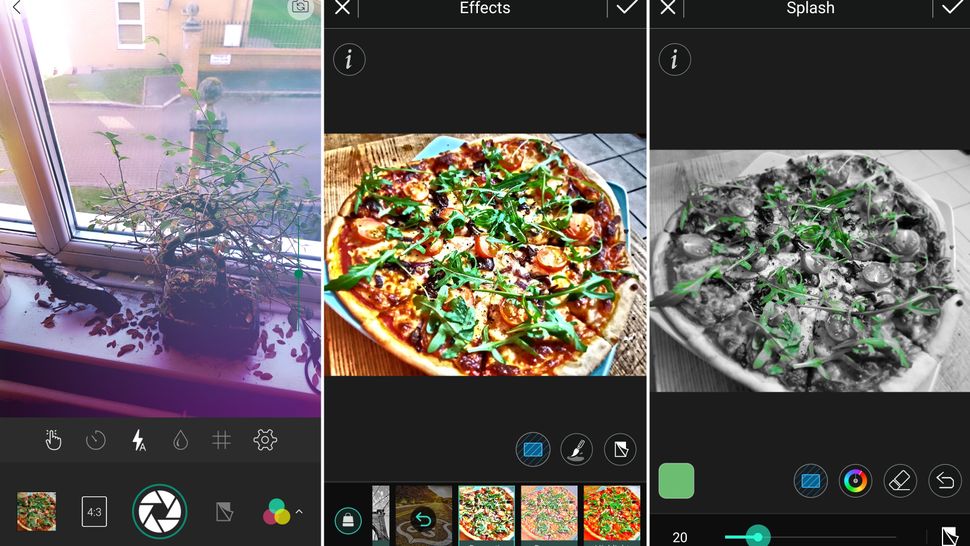 PhotoDirector
PhotoDirector is one of the more powerful and polished photo editing apps available on Android. It's got you covered for fun filters, frames and effects, but it gives you more control than some of its peers. For example, you can adjust the strength of effects and choose to apply them globally or selectively.
You get a lot of control over the core image too, as you can adjust the white balance, saturation, hue, sharpness, tone and more.
You can also rotate, crop or mirror the image, cut out sections, adjust the perspective, and if you've taken a portrait remove red-eye. There's more here, too much to list, but suffice it to say, PhotoDirector is a comprehensive app.
You're not limited to just editing photos you've already taken either; there's also a camera component, allowing you to take new shots and see how effects and filters will look before you've even taken a picture.
PhotoDirector is free to download and use. There's an optional subscription for £2.59 (around US$3.70) per month if you want to unlock additional tools, remove adverts and improve the output quality, but the core app is already far more generous than most free offerings.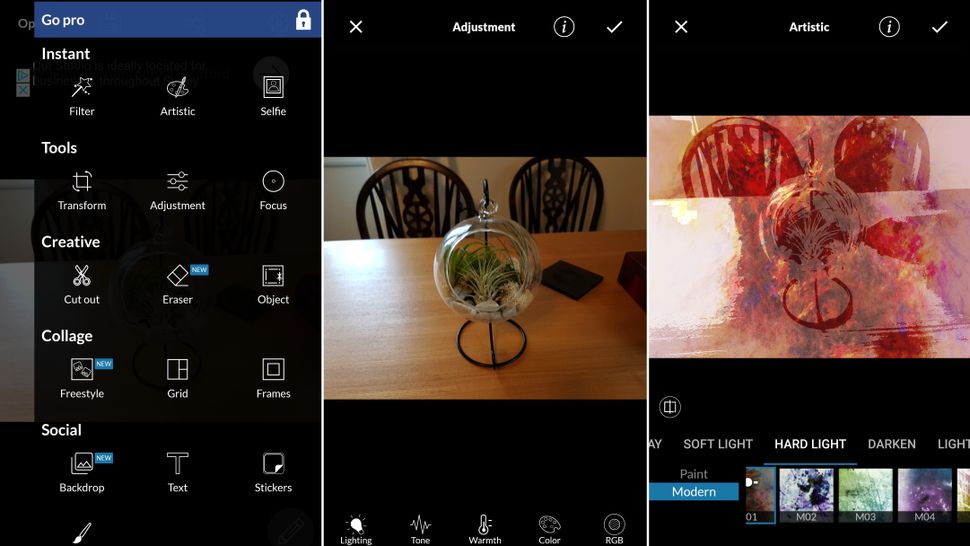 LightX Photo Editor
There are loads of filter apps and photo fixers on Android, but LightX Photo Editor is one of a much smaller number of comprehensive editing apps.
It has plenty of filters, as well as tools for sharpening images and removing blemishes, and much more besides.
You can tweak the hue, saturation and tone, adjust the focus, add a frame, sticker or text, merge images, create collages, flip, crop and rotate, draw on pictures and change the perspective.
All of that is free, though there's an optional IAP to remove adverts and add a few extra features.
Whether you opt for the free or paid version, LightX is a powerful, feature-packed app that should suit most mobile photo-editing needs.
Motion Stills
It's not often that Google's apps come to iOS before Android, but Motion Stills did, as it was designed to stabilize Live Photos, so they'd come out smoother. Now though it's out on Android too, letting you shoot a short video clip which the app stabilizes.
Clips that you shoot can be saved as a video or a looping GIF and then shared on social media, and Motion Stills also lets you use a 'Fast Forward' mode, which will condense up to a minute of footage into a shorter clip. This too is stabilized, to keep it smooth, and you can pick the playback speed.
Motion Stills only works for new footage – so you can't import and stabilize anything you've already shot (though if you just want to turn old footage into a GIF there are plenty of other apps that will do that).
But for anything new you shoot Motion Stills is a great way to make a GIF or short video and ensure footage remains smooth. It's fast too, as footage is stabilized in real time, so you don't need to wait for it to process your clip, and it's completely free.