Best parental control app of 2023
Best
Contributions from
last updated
Keep your family safe online
Best parental control app: quick menu
The best parental control apps make it simple and easy for you to keep your family safe against unwanted content and security threats.
With it increasingly ordinary for children to be able to access the internet these days, especially through their phones, many parents will naturally be anxious about them accessing inappropriate content. This is especially when children don't have to seek it out to be exposed to it, with many popular social media websites commonly abused by bots to spam users with private messages containing ads for adult content.
This is where the best parental control apps enter the picture to give adults peace of mind, to give their children the freedom to wander through the world wide web without stumbling across inappropriate content.
We believe that it would be appropriate to learn how your children use the internet and communicate with them before you decide to enforce any restrictions with the parental control apps. If children feel that you're imposing your will without a proper reason, and they get frustrated enough, they will find ways to circumvent any restrictions you may impose, despite the fact that you have their best interest at heart.
Unlike hardware parental control options that control the websites you can access over your Wi-Fi, the parental control apps have a broader usage, regardless of whether your kids are using your Wi-Fi or are anywhere else, surfing the web. Namely, the apps often offer location tracking, alerts, calls, text monitoring, screen time management as well as website filtering. With that in mind, we've also tested and reviewed the best free parental control apps.
These solutions will keep your kids safe on whatever device they use, whether it's a smartphone, tablet or laptop and regardless of whether they use the Android or iOS operating systems.
We've also featured the best identity management software.
---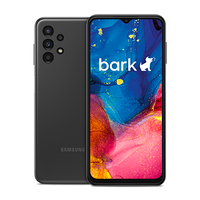 Quick list
Best parental control app for restricting specific content
Best for restricting specific content
Reasons to buy
+
Easy setup and simple to use
+
Alerts the parents in case of cyber-bullying
+
Additional security features
Reasons to avoid
-
No standalone parental app
-
Can be pricey if you don't need all the extra protection
Subscribe if
✅ You're concerned about offensive content and cyberbullying: Aura alerts the parents if their child becomes a victim of cyberbullying, and it can also prevent kids from accessing unwelcome content.
✅ You want full protection: Aura has plenty of other features and uses. You're not only getting a parental control app but also identity protection, antivirus, VPN, password manager, and more.
Don't subscribe if
❌ You don't want to pay for everything: Aura is one big digital security solution so if you only need a parental control app and not all the other things Aura provides, you might not want to spend that extra money.
The bottom line
🔒 Aura is a powerful digital security software that does a huge number of things, and does them well. The parental control app that's included in the Family plan has a bunch of features that every parent out there will be glad to have. ★★★★½
Aura is an all-in-one solution that has pretty much everything you need to protect yourself and your family from the dangers lurking on the internet. It includes a password manager, VPN, antivirus, password storage, ID protection, and of course the parental control app.
Setting up the parental control app is quick, while the app is simple to use. You'll need to scan the QR code to download the app on the device you wish to use it on, and you're ready to start. Do note that you'll need to state the child's age, as the app can't be used by anyone older than 18.
Parents monitor and manage the device's usage via the screen time analytics feature. This allows the parents to keep track and limit the amount of screen time. One of the things that makes this app great is the ability to send alerts to parents in case of cyberbullying. In addition, the app can prevent the children from accessing or seeing unwelcome and offensive content, as well as provide insights for parents which is something you won't find often.
The parents can also restrict or block certain websites, apps, and games. They can also customize what their children can access. For instance, they can block certain channels on YouTube. If you don't want to block something completely, you can set a timer that allows the kids to see that specific content, but when the timer expires, it will automatically block it.
Read our full Aura review.
Best parental control app overall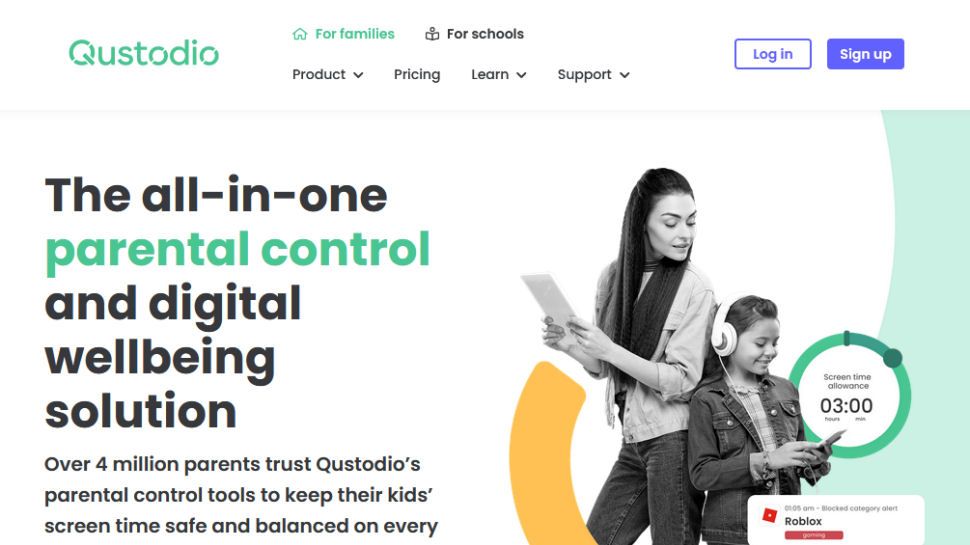 Best all-rounder
Reasons to buy
+
Excellent content filtering
+
Easy to use
+
Supports up to 15 devices and is available on multiple platforms
Reasons to avoid
-
Expensive
-
Does not block VPN usage
Subscribe if
✅ You want something easy to use: Despite its wealth of features, the interface for Qustodio is intuitive, and the help center really is... helpful.

✅ You want a great free option: The free option for Qustodio is still quite comprehensive, and few of its rivals can match it on that front.
Don't subscribe if
❌ Your child knows about VPNs: If your child is at all in the know about VPNs and how to use them, then Qustodio will be rendered useless, since it can't legislate for their use.

❌ You're on a budget: The free version of Qustodio protects just one device, and the premium tiers are expensive compared to the competition.
The bottom line
🔒 Qustodio is the best parental control app all things considered, offering great filtering functionality and many other features. Just hope that your child isn't using a VPN. ★★★★½
One of the best parental control apps we've tested, Qustodio is a great all-rounder with a fantastic free offering that is available across Mac, Android, iOS, Kindle, and Chromebook platforms, supporting up to 15 devices in total.
If you don't have the budget for the paid version, the free app remains one of the most comprehensive parental control tools around, enabling you to set rules and time schedules, as well as block pornography and other unsuitable content. However, the paid versions are in our opinion pricey, though they do offer a rich feature set. Yet, if your children decide to use a VPN, you will be paying for naught, as the app doesn't block VPN usgae.
Qustodio's interface was easy and intuitive for us to use, making it easy for parents to gain some control over what their children are accessing online. As you explore the system, a slew of icons await you in the menu on the left-hand side: Your Family, Your Devices, Your Account, Help Center, and Logout. Although, disappointingly, the multi-factor authentication feature is absent from the "Your Account section," you can still make alterations to your subscription and disable email alerts. The Help Center is a treasure trove of information adorned with user-friendly categories, readily accessible guides, and a search bar at your fingertips. Through this easy to use interface, you can easily limit your children's activity and filter what type of content they are allowed to access.
Qustodio also offers excellent customer support in our view, including one-to-one help for customers paying for the Care Plus package. With Care Plus, you can book a call at any time and talk to a Qustodio expert to help you solve problems you encounter when using the app. In fact, you don't even need a problem before you place a call. Qustodio's experts are on hand to simply guide you through the installation process. With its great support and raft of features for a wide range of platforms, Qustodio is undoubtedly one of the best parental control solutions around.
Read our full Qustodio parental control software review.
Best parental control app for content filtering
Best for content filtering
Reasons to buy
+
Custom web filtering options
+
Great dashboard
+
Detailed reports
Reasons to avoid
-
Unreliable app
-
Geofencing limits
Subscribe if
✅ You want custom content filtering: The filtering options for Net Nanny are plentiful, and it uses real-time analysis to determine the safety of sites.

✅ Your child uses YouTube: YouTube monitoring is built in, which is super handy given its popularity.
Don't subscribe if
❌ You want a reliable app: Based on our testing, the app didn't always perform well, even crashing on occasion.

❌ You want platform parity: Some of Net Nanny's features only work on certain platforms: location tracking doesn't work on Windows and Mac, for instance.
The bottom line
🔒 Net Nanny is another very capable parental control app, with intelligent content filtering and YouTube monitoring. We didn't find the app that reliable, though, and desktop platforms have no location tracking. ★★★★
We love Net Nanny's focus on social media and the customization it offers, especially for the screen time monitoring functions. Perhaps Net Nanny's biggest strength is its intelligent content filtering, which doesn't simply rely on blacklists or blocking by category. Instead, Net Nanny uses real-time content analysis to flag any issues with the sites your child is attempting to access.
Net Nanny also has all the essential features that we would expect from a parental control app. This includes the ability to block or restrict app usage, limit screen time and view a report on your child's screen use. The app also comes with YouTube monitoring built in, which we think is essential given the popularity of the video streaming site - and the nature of some of the uploads there. Net Nanny also includes tracking tools that give you the ability to view the location (and location history) of all your children on a single map.
We found that all of this information is neatly presented through the app's intuitive dashboard, where you can dig deeper into the reports the app offers. However, it is worth noting that when used the app during our review, it did crash a couple of times, letting us access any website we liked, so it seems it isn't the most robust.
Net Nanny is available for Windows, Mac, Android, iOS and Kindle Fire platforms but it's worth keeping in mind that the features you have access to vary depending on the platform being used. For example, Windows and Mac laptops don't support location tracking.
In terms of price, Net Nanny offers three different plans. Protecting one desktop device, PC or Mac, will set you back $35.99 a year, a five-device family protection plan costs $54.99, while the 20-device option is priced at $89.99. These prices may not be the cheapest we came across but they compare well against other advanced parental control software - and, usually, these don't come with real-time content filtering.
Read our full Net Nanny review.
Best parental control app for Microsoft Store users
Best for users of the Microsoft Store
Reasons to buy
+
Controls access to Microsoft Store
+
Runs on Android, iOS, Xbox, Windows
+
Precise location tracking
Reasons to avoid
-
Web filtering supports Edge only
-
Limited iOS app
-
Lacks social media monitoring
Subscribe if
✅ You're a Microsoft family: Do you all use Microsoft products? Then Microsoft Family Safety will limit screen time on Windows machines and even Xbox, as well as block content on Microsoft Edge and downloads from the Microsoft Store.

✅ You want it for free: There is a free tier for Microsoft Family Safety, only requiring you sign up for a Microsoft account, and it offers plenty of control.
Don't subscribe if
❌ You don't use Microsoft products much: It can only block web content on Microsoft Edge, not Google Chrome or any other browser. Also, Safe Search is only enforced on Bing, not Google. The iPhone app is also limited.
The bottom line
🔒 Microsoft Family Safety is a parental control app with precise tracking and control for Microsoft users, and it gives most of its features away for free. If you use anything other than the company's products, though, its not very effective. ★★★
Microsoft Family Safety is a decent parental control app that we think really shines if you use a lot of other Microsoft platforms. We love that you can use it to limit screen time on Windows and Xbox devices and employs multiple filtering layers to block inappropriate web content in apps, games and Microsoft Edge. The major limitation we found with Microsoft Family Safety is its ineffectiveness where non-Microsoft operating systems and devices are concerned.
Microsoft Family Safety only offers web filtering through Edge, not Google Chrome or any other browser, and only enforces safe search for individuals using its own