Among the plethora of parental control apps available today, it can be difficult for parents to come to a clear decision over which tool is right for protecting the younger members of their household. MMGuardian should certainly factor in your decision-making process but the app is somewhat letdown by a clunky user interface.
That isn't to say that MMGuardian is without its strengths as a parental control app. In fact, the software comes with a generous range of features, including all the basic ones you'd expect. There is custom web filtering, social media monitoring, screen time scheduling, location tracking, and block controls.
In terms of more advanced functionality, MMGuardian also comes with a Lock/Unlock feature so parents can instantly block access to a certain website or app - or, conversely immediately make it available. You can also adjust how your child's smartphone behaves when locked.
So, all in all, not a bad parental control app but the main failing of MMGuardian is its user interface. For both the Android and iOS versions, the design is outdated and often frustrating to use. You'll need to look past that to choose MMGuardian over other parental control apps.
Getting started
In terms of installation, we'd say that it's definitely easier to set up MMGuardian via the app, rather than the web portal. If you're taking our advice, simply navigate to Google Play or the iOS App store (depending on your operating system of choice) and download the app. Be aware that there are two distinct apps to choose from - one for the parents and one for younger members of your household.
Whichever version of the app you are installing, MMGuardian will walk you through the process, including the permissions you need to enable. As an early indication of the frustrations that can come with using MMGuardian, the app never asks you for your child's name or age during the installation process. This needs to be added manually once you're all set up.
Something else worth pointing out with the MMGuardian installation is the fact that you are offered three different processes - one if you're the Device Owner, one Normal Download, or the Google Play version. If you select the Device Owner option, you get the most effective protection but requires that you conduct a factory reset on your child's device - something that probably won't go down particularly well.
Plans and Pricing
There's no quick way of detailing MMGuardian's payment plans. Although the pricing is the same for both Android and iOS smartphones, there's a separate pricing plan for Android tablets. For a single smartphone - Android or iOS- MMGuardian will set you back $4 a month, $35 a year or $80 for a five-year subscription. Pricing for an Android tablet, meanwhile, is set at $2 a month and $15 a year.
There are family plans on offer too, including a Family Android phone plan that covers up to five devices of any type. This costs $8 monthly, $70 a year or $150 for a five-year plan. If you remain unconvinced, you can try MMGuardian for free for up to 14 days. Alternatively, we've highlighted the best free parental control apps so you can see what's on offer from software solutions that won't cost you a penny.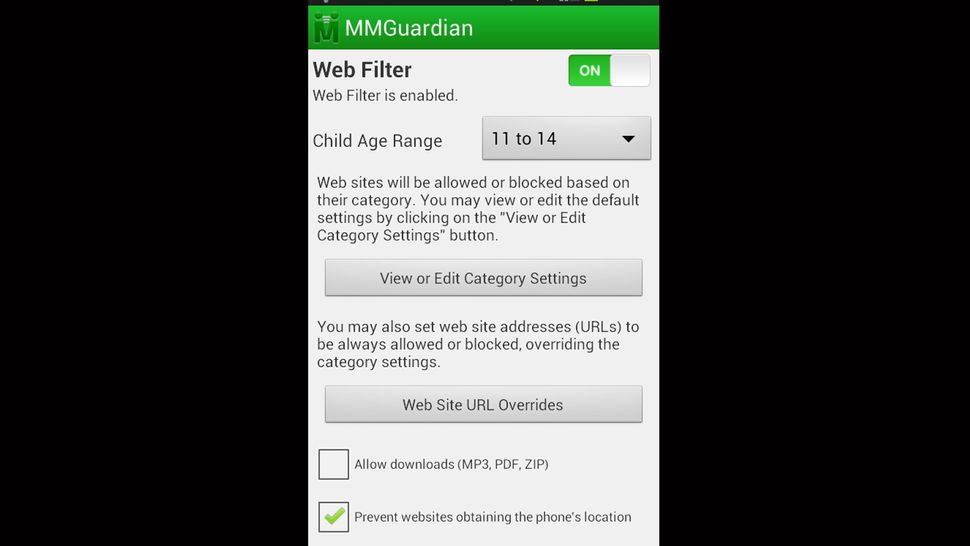 Features
It's important to point out that the features that MMGuardian provides often vary significantly depending on whether you are using the Android or iOS version of the app. In terms of web filtering, for example, the Android version provides filtering for Google Chrome, Firefox, and Opera, but you have to block or delete any alternative browsers that your child may use n iOS. That's because MMGuardian's filtering works by blocking the native browser and replacing it with its own.
One positive is that you certainly won't be short of categories to enable your web filtering. In fact, MMGuardian comes with 150 categories, which to be honest, is slightly excessive. It does mean, however, that there is bound to be one to suit the kind of content you want to restrict.
Again demonstrating the differences between MMGuardian on Android and iOS, the app's time-management feature is only available for Android users. This works as expected, letting you set your own schedules, even coming with default schedules for weekdays and weekends.
MMGuardian also comes with a decent range of location features, including a separate location map, location history, and location-tracking functions. The app lets you view your child's location history for the past 12 hours, today, yesterday, or the last seven days. The location features that come with MMGuardian may not be as good as the geofencing tools that come with other parental control solutions but it's a decent offering.
Design and UI
And so we come to MMGuardian's main failing. The interface is split into nine main tiles but the presentation looks very dated - as if you are using something from the Windows XP era. Considering the rapid pace of tech evolution, it's slightly concerning that MMGuardian is using such a poor design. It doesn't fill the user with confidence that it will keep their children completely safe.
What's more, MMGuardian also has to compete with other parental control apps that have a much more user-friendly interface. In fact, MMGuardian's interface is not just unsightly, it's also frustrating. The fact that you have to manually enter details that most competitors get you to provide as part of the installation process is a big misstep.
Final verdict
Although MMGuardian has a good range of features, it only has all the basics covered if you're using the Android version. The iOS offering is much more limited. More importantly, the user interface is very clumsy. If MMGuardian could improve on this, there might just be an effective parental control tool hiding in there somewhere.