Editor's Notes for March 2023
Welcome to 2023 and hopefully to a new you - just make sure that you protect your digital avatar from fraud and online crimes. As the internet turns 40, identity theft has become mainstream, especially with the explosive growth of social media. New threats have given rise to new tools to combat them.
We have seen a plethora of new features like social media monitoring or dark web monitoring as well as Credit Report and Score features and credit alert being added to the already extensive list of capabilities of consumer security software. Make sure that whatever identity theft protection you use next time, you've got yourself covered, digitally and in real life.
Désiré Athow, Managing Editor, TechRadar Pro
The best identity theft protection services make it simple and easy for you to safeguard your personal details against hackers and scammers.
This has become increasingly important due to large corporations losing customer data from hacking attacks, resulting in those customers having their personal information, such as names, contact details, and even credit card details, being put online on the dark web for other criminals to buy, use, and abuse.
Armed with the right type of protection, you will be able to know about any sensitive data breaches before it's too late, buying you time to suspend bank accounts or get in touch with an ID provider like the passport office.
Be aware that protecting your ID is different from protecting your computer and any data stored on it; for that, you may want to consider endpoint protection, antivirus software, or even an easy-to-use VPN. Affected computers will also be able to tap into a malware removal tool's capabilities.
We've compared these services across numerous aspects, like the types of monitoring they offer (credit, social media, banking, etc.), their alerting systems, and the notification channels and speed. We also looked at their compensation and insurance features, and their pricing plans, among other things. We've highlighted some of the best below, or take a look at the best identity theft protection for families.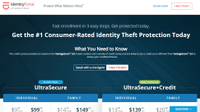 (opens in new tab)
Best identity theft protection service in 2023 is IdentityForce (opens in new tab)
Limited Time: 40% off UltraSecure+Credit IdentityForce is a powerful theft protection app that covers all bases - credit check monitoring, bank fraud, malware and ad blocking, and it even provides $1 million in insurance protection against lost wages and fraudulent purchases. Ask any questions to a real IdentityForce support staff member by calling 888-266-3930 toll-free in the US.
The best identity theft protection of 2023 in full:
Why you can trust TechRadar Our expert reviewers spend hours testing and comparing products and services so you can choose the best for you. Find out more about how we test.
To speak to an expert about how identity theft protection software can keep you secure online, call IdentityForce directly on this toll-free number 888-266-3930.
Massachusetts-based IdentityForce markets its identity theft protection packages towards many different use cases, including family plans with added child protection, as well as business and government-focused offerings. Web access is great, and while there are iOS and Android apps, they aren't rated highly among users of either app store.
The comprehensive credit monitoring pulls in data from the three main agencies: Equifax, Experian, and TransUnion, which tie into the system's real-time alerts covering credit report changes, address changes, court record appearances, and the sale of your data on the dark web, which is increasingly important in this day and age. SMS and email alerts quickly notify you of any changes so that you can act with pace.
More broadly, IdentityForce is far from short on features, and many new additions have appeared over recent years, too, including a VPN tool. It also has built-in malware and phishing scam spotting, and can monitor keystrokes and prevent malicious downloads, however this all comes at a cost, which like many other things recently, is heading up. The plans are mid-priced in comparison with other rivals, and can sometimes be found on offer, but the offers are so poor that there's little point waiting to get it at the lower price.
Read our full IdentityForce review.

If you're looking for something a little more budget-friendly, Aura is a great entry-level choice with a neat user interface and a detailed - but not overwhelming - dashboard. We say entry-level, but it seems that while the prices are low, the company hasn't trimmed back on features. All plans get the same features, and pricing differs depending on whether you need access for an individual, a couple, or a family (the latter comes with additional parental control support).
Antivirus and VPN software are available on up to 10 devices per person, in recognition that many people use multiple computers as well as other mobile devices, while several identity monitoring systems are put in place to complement an array of credit monitoring systems.
By their own admission, the Aura team has remediated identity theft incidents for 150,000 customers to date. Even more reassuring is the fact that Aura offers 24/7 support across every tier of its subscription pricing plan via a web-based support center, email, and direct support line.
Read our full Aura review.

Norton LifeLock scans more than 10,000 websites for any personal data that may have been exposed, as well as offering up detailed credit monitoring, criminal record reporting, and USPS change of address requests. Instead of hearing about something several days too late, a notification will alert you to suspicious activity that you can either confirm was your doing, or not, at which point the company's support team will leap into action.
If things do go pear-shaped, though, Norton comes into its own. The LifeLock team does the heavy lifting for you, instead of simply pointing you in the right direction, so while things can look expensive from the outside, it's a case of money well spent in such an event.
On that note, don't expect the service to come cheap. In fact, it's one of the most expensive identity theft protection services out there, but it's all the better for it.
Read our full Norton LifeLock review.

One of the biggest names in consumer credit reporting, Experian now maintains information on more than a billion businesses and individuals worldwide. The company's IdentityWorks is a capable if not standout service, offering access to its credit report and score, raising alerts when there are any significant changes, and keeping a careful eye on the dark web for any signs of the user's personal data.
Just like the rest of the company's products and in keeping with its general branding, things tend to be clear and easy to understand when using the no-nonsense web console, so you don't need to be an identity theft expert to get to the bottom of your data.
IdentityWorks Premium offers a far more comprehensive service, adding financial account activity, identity validation alerts, court records, as well as social and file-sharing network monitoring, all for a reasonable price.
Read our full Experian IdentityWorks review.

ADT is more famous for its monitored alarms systems, as part of its home security services, but the company has branched into the online world of identity theft protection for families as well. The solution is a pretty comprehensive service that covers all the basics, at a nice and basic price, too.
Features include standard credit checks on charge cards as well as bank accounts and SSNs, as well as credit score monitoring with annual reports. There are also identity checks on driver's licenses and passports, as well as phone numbers, medical insurance, addresses, court records, and even email addresses.
ADT also offers 24/7 fraud incident resolution, with a dedicated team who will walk you through all the steps required to recover from any incident, and guide you on claiming reimbursement for losses. Pricing is affordable, and there's no fixed term which is great, but note that it is an entirely separate package from the home security package, which means you may end up paying two bills to ADT.
Read our full ADT Identity Protection review.

From the makers of the FICO Score (the number that indicates a person's creditworthiness) comes the myFico credit monitoring service. We appreciate the intuitive interface of its website, which is carried over to its smartphone app given that many of its customers are less likely to log in to a computer for a quick glance.
Given that few of us are actually identity theft experts, we think myFico's color-coded system to indicate threats and dangers is especially helpful.
It's not quite the budget-friendly option that many others promise to be, and what's worse, the tiered system means that the most basic plan lacks some of the features that others would have, leaving subscribers having to pay more.
Read our full myFico review.

Complete ID works with three main protection features: credit monitoring, identity protection, and identity restoration. You get a range of monitoring services to ensure your identity has not been compromised, such as thorough dark web surveillance, SSN monitoring, as well as standard criminal record and credit score monitoring.
Among the other highlights is that Complete ID is particularly cheap for Costco members; eligibility for a membership covers a substantial proportion of the population, meaning that many people (or people that they know) can unlock incredibly discounted prices.
Furthermore, a bolt-on offers protection against criminal activity involving your children, which many would consider a must as we head deeper into the digital age. Ultimately, Complete ID delivers a very similar service to IdentityForce above, but at a discounted price. While there are some small trade-offs in terms of the user interface, the discounted rate makes Complete ID well worth considering.
Read our full Complete ID review.

IDnotify has more than a passing resemblance to Experian's IdentityWorks, and that is not just a mere coincidence. Rather, Experian is behind both products, deciding between the two tough.
There's a handful of plans on offer, including a wallet-friendly tier, but while it offers the basics such as a lost wallet service, identity restoration, and social network monitoring, it lacks some features that will leave you needing to spend more.
Double or even almost triple the price and you'll get things like an annual credit report, insurance, SSN tracing, payday loan monitoring, and even balance alerts. Overall, none of the plans offer exceptional value, further accentuated by the lack of an included TurboTax subscription (which was once the case).
Read our full IDnotify review.

It seems that every other day there's something in the news about a social media data breach, which can be disconcerting when so many of us store huge amounts of personally identifiable data online. Allstate's social media protection should provide a little more reassurance than some others on this list.
Besides that, Allstate just about covers all the basics and displays what you need to know clearly. There's a neat smartphone app, too, but it places more of an emphasis on alerts (which is great) rather than real-time status monitoring.
Pricing is on the lower end of the scale, and includes many of the core functionalities of a good ID theft protection offering, however some of the more premium services like social media account and credit monitoring cost almost twice the price.
Read our full Allstate review.

Anybody unfamiliar with the company may be interested to know that Zander is a big player in the insurance industry, giving it credibility as it enters the identity theft protection market. It's somewhat of a shame, though, that the ID-related product is fairly familiar - there's nothing out-of-the-ordinary on offer here.
A lost wallet service, dark web monitoring, and an industry-average level of insurance all lend themselves well to Zander, but its website seems to imply that it's a supporting product to its existing insurance policies, rather than the other way around which is what we might expect.
There's no arguing the value, though. Rock-bottom prices are among some of the lowest we've seen for identity theft protection services, and it doesn't get an awful lot more expensive as you climb the tiers.
Read our full Zander Identity Theft Protection review.
---
Identity theft protection: Frequently Asked Questions
What is identity theft protection?
Picture your online banking account, and consider what personal information you may have stored online. Now think about your other bank account, and that credit card. Social media, gaming platforms, recruitment sites, the list goes on, and the chances are many of us will end up with hundreds of accounts all potentially exposing sensitive data.
ID theft protection aims to notify you of any concerning changes, like data breaches, so that you can act before it's too late. Oftentimes, various databases will pull in things like bank card details, driving license numbers, health insurance information, and more.
The better identity theft protection plans also offer credit monitoring at one or more of the credit agencies. A change in the credit score can signal an identity theft as a loan can be taken out in someone's name, the cash obtained, and then defaulted on before you even knew the loan was taken out.
By monitoring these activities, an identity theft protection user can be sent an alert if any event is detected. This then allows you to be proactive and shut the breach down before it turns into a considerably larger loss. For example, canceling a credit card that you did not take out before it racks up thousands of dollars in bills is the better outcome than having your own credit score affected. Sometimes, your chosen company will offer to do things for you, too, helping you to save time and hassle.
How to choose the best identity theft protection for you?
When choosing an identity theft protection service, start by considering the type of monitoring you require, like — credit reports, social media, criminal and court records, or bank account monitoring.
You'll then want to check their availability and quality of customer support, ease of use, and ease of setup. Make sure to assess the alerting system, the speed of alerts, and the channels through which you can receive notifications. It can sometimes be helpful to look at real customers' reviews on forums if you're unsure, however we take these into account too.
Lastly, look out for the compensation and insurance features that the company offers, and their pricing plans for individuals and families. Value for money is important, but don't put cheapness ahead of protection.
Identity Theft Protection vs Monitoring Services: What's the difference?
The terms Identity Theft Protection and Credit Monitoring Service are often thought about and used interchangeably as both are designed to protect consumers from having issues with their credit score. However, they are not really the same.
A Credit Monitoring Service is designed to do just what the term implies: to keep a watch on a user's credit. If and when a change occurs, typically a decline in the credit score, the user gets a notification of some sort, such as an email, that the credit score declined. However, it offers little else, or what prompted the change.
Identity Theft Protection is a stronger offering. This service will monitor multiple areas, which can include the credit score, though they will often combine the monitoring of the dark web, criminal databases, Social Security Number repositories, and other resources to assess for any threats to an individual's identity being used for criminal purposes.
Signs of ID theft: what should I look out for to see if my identity was stolen?
When someone's identity is stolen, for the first few days, there may be no signs of anything amiss. From there, it may be as subtle as not receiving an expected bill, such as a credit card statement or bank statement as the thief may have falsely changed the address to delay the criminal act being uncovered.
Red alerts that your identity has been taken include receiving credit card charges that you did not make, or even a new credit card in your name that you did not apply for. Keep in mind that thieves often start with a small purchase to verify that the card works, so pay attention to even small purchases. Any of the above should prompt you to immediately contact the provider of the credit card so the charges can be protested, or the new card can be closed immediately before the charges accumulate.
Other things to be wary of include calls from collectors requesting money on a loan you did not take out. Finally, a significant drop in credit without an obvious issue, or a denial of a loan or credit card with a previously high credit should also sound the alarm.
What are the steps to take to prevent my identity from being stolen?
Naturally, efforts should be taken to prevent ID theft. However, if it does happen, there are important steps to get things right again.
It starts with contacting local law enforcement to file an identity theft report. Contact your financial institutions, such as your bank or credit card provider. Go through credit card charges, and dispute any that you did not make to limit the liability. Also, alert them of potential additional fraud, and have them put a fraud alert on the account. Most credit card providers can send out an email or text when they are used, indicating the amount of the charge, and where the card to use to alert you in real-time if unauthorized charges are being applied to the card.
Furthermore, check with the credit bureaus, and ask to place a credit freeze. This then limits the ability to open new credit accounts as additional protections are in place for anyone to access your credit information. Requesting to place the freeze at any of the three major credit unions (Transunion, Experian, and Equifax) alerts the other two to freeze it as well, because they share certain information like this.
The best identity theft protection: How we test
Our tests of the best identity theft protection apps will evaluate the features, pricing options, competition, and also the overall value of using each app.
These are not full hands-on reviews, since evaluating identity theft protection apps is almost impossible, requiring months of testing, purposefully hacking accounts to see if the protection app works, handing over personally identifiable information, performing multiple credit checks, and risking exposure of the reviewer's personally identifiable information.
We've deliberately chosen programs from big hitters in the security world as well as lesser-known gems that are worth your while. We've also aimed to cover a range of budgets, features, and use cases. The ten identity theft protection services we've highlighted in this buying guide cover a broad spectrum of use cases, including credit monitoring and scouring the dark web, and they're all highly rated in our individual reviews.
If you were in any doubt, we can easily say that identity theft protection is definitely worth it. Digital ID protection is a huge online problem, and the huge shift to home and hybrid working models has meant that more of us have become more attractive targets to malicious actors.
Whether it's by using phishing emails or social engineering tricks, fraudsters are constantly looking for ways to steal identities for their own monetary gain. Fortunately, the best identity theft protection services can help prevent this.