Norton LifeLock is a leading identity theft protection service for a good reason. The powerful and user-friendly app provides a variety of services, including Norton Secure VPN, which is available starting at $10 per month with the LifeLock Select plan.
Pros
+

Family plans include a VPN

+

Easy to use dashboard

+

Integrated credit monitoring on some plans

+

Stolen funds reimbursement
Cons
-

Confusing tiers for paid plans

-

Price increases after first year

-

Higher tiered plans are expensive

-

Lacks free tier
Why you can trust TechRadar We spend hours testing every product or service we review, so you can be sure you're buying the best. Find out more about how we test.
Our series on identity theft protection apps will evaluate the features, pricing options, competition, and also the overall value of using each app. However, these are not full hands-on reviews since evaluating identity theft protection apps is almost impossible. It would require several months of testing, purposefully hacking accounts to see if the protection app works, handing over personally identifiable information, performing multiple credit checks, and risking exposure of the reviewer's personally identifiable information.
One might argue without hesitation that Norton is the brand most associated with online consumer security and safety. Back in 1982, Symantec, now known as Norton LifeLock, was founded. The brand Norton is instantly recognizable due to the well-known antivirus software that comes preinstalled on many PCs. The Norton LifeLock identity theft protection app does offer some amount of assurance, despite the fact that this might all look like marketing and branding commentary. When it comes to entrusting this software with your personal information, the fact that it is a trusted brand from a well-known company has its benefits.
---

Norton LifeLock: Plans and pricing
The LifeLock Standard package provides one bureau credit check monitoring, protection against social security number theft, up to $25,000 in theft protection insurance, and up to $1 million for attorneys and experts. The annual subscription works out to $89.99 for the year, saving you money at a cost of $7.50 per month, or $9.99 per month for the first year. After the first year of subscription, there is a significant price increase as it rises to $11.99/month or discounted annually at $124.99/year, which is roughly $10.42/month.
Yeah, we did mention that this gets somewhat confusing, but at least we get prices, and LifeLock does a decent job of giving the prices by the month, and by the year, and for the initial year, and then thereafter.
The next paid plan, the Advantage plan, offers even more features, including $100,000 of protection, phone takeover monitoring, alerts for bank fraud and identity theft, but does not include a VPN. It costs $14.99/month for the first year when paid annually, or $17.99/month when paid monthly. The annual price increases to $19.99/month after the first year, while the monthly price increases to $22.99/month.
At the top tier resides the most expensive option, the $30 Ultimate Plus plan, which gives users access to credit monitoring for all three credit agencies, $1 million in protection, 401K protection, and home title monitoring. When paid monthly, the price similarly rises to $23.99/month for the first year and to $34.99/month for the second, with a similar reduction offered for annual subscriptions.
Note that each of the above plans are for individuals. There are also family plans available for two family members, or a plan with two family members and up to five children. Costs also increase, as expected, for example the Advantage plan for a family with children will cost $35.99/month for the first year, which then increases to $57.99/month thereafter when taken on a month to month basis. The family plans do include a VPN.
While there is no free trial, there is a 60-day money back guarantee on the annual plans.
Norton LifeLock: Interface
Norton establishes an immediate sense of caution and warning with its well-known yellow interface, which I'm sure is protected by copyright somehow. It makes you feel as though you are in a construction zone or are about to cross police tape. Although the LifeLock dashboard provides all of the features and settings in a straightforward and appealing manner, the constant use of yellow serves as a constant reminder that this is a serious subject. For instance, you may rapidly browse the choices and turn on security safeguards for your phone and credit cards in the privacy area. To view your personally identifiable information, you can navigate to a different section.
Recognize as well that if you really want to defend against identity theft, you should really use a VPN. Unfortunately, not many identity theft protection programs come with a VPN as standard, and others only offer it as an add-on for a monthly price or not at all. While LifeLock used to include Norton Secure VPN on some individual plans, we are now seeing it as a feature only on the more expensive family plans.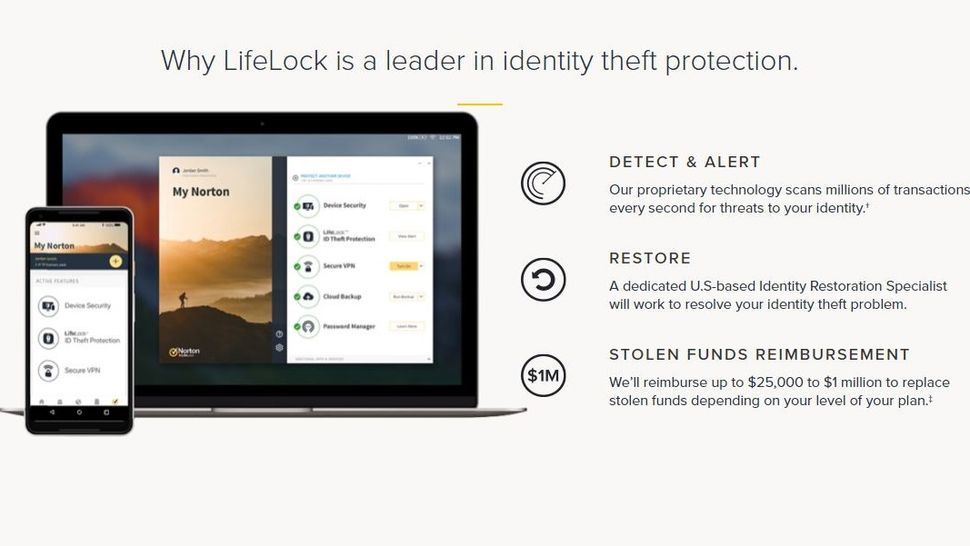 Norton LifeLock: Features
Many of the features offered by LifeLock are comparable to the typical functionality of programs like IdentityForce and IDShield, but they are presented in a recognizable interface with a polished appearance that makes them easy to use. You can tell that there was thought put into the user interface, which gives you confidence that a reputable organization is guarding your sensitive data.
However, many of the traits are comparable to those of IdentityForce and IDShield, to name two specific examples. The top LifeLock tier includes 401K protection, tools for crimes reported in your name, and monitoring for all three credit agencies. LifeLock now offers TransUnion Credit Lock and PayDay Loan Lock services at the Advantage plan level and higher, which are other standout features.
IDShield, however, provides a few extra functions that LifeLock does not. Other identity theft protection apps lack features like social media monitoring and discussions with criminal justice professionals that the IDShield app does. Additionally, LifeLock only provides its top tier plans with a number of the monitoring and tracking features that are included in competing applications' more affordable premium plans.
Norton LifeLock: The competition
Similar to Facebook and Google, it is difficult to think of a security firm that, at least in terms of consumer safety, has the same level of immediate brand awareness as Norton LifeLock. The fact that this app is advertised on network television undoubtedly contributes to this, as does the number of years that this company has been operating. Anyone who used computers throughout the early Windows and Mac years will certainly be familiar with the Norton name.
Other identity theft protection apps must therefore compete with one of the most reputable brands in consumer security. Despite not being as well known, other programs like IdentityForce and IDShield offer very comparable functions. ADT is a well-known name in physical home security, and they also provide an app to safeguard against identity theft. However, none have the household recognition of the Norton name when it comes to cybersecurity.
Furthermore, the interface of LifeLock is arguably easier to use,, and cleaner, which means you'll often find more of the options available with less clicks.
Norton LifeLock: Support
All plans feature 24/7 live support, and a toll free number is featured prominently on the LifeLock site. We did not find a chat, email or support portal option. The top tier of LifeLock also gets the higher priority of support.
There are also answers to common questions, and articles on a blog. However, there are no videos or webinars.
Norton LifeLock: Final verdict
In conclusion, Norton LifeLock must compete with every other identity theft protection software not just on features, which are very comparable amongst the apps, but also the brand awareness of Norton LifeLock. The paid plans can be complicated because you are required to choose from a variety of options, and it can be difficult to determine which options best suit your needs for family size and personal security. In the end, we were impressed with the interface's clean design and ease of use for all of the features.
We've also featured the best identity theft protection, best antivirus and best VPN
Contributor
John Brandon has covered gadgets and cars for the past 12 years having published over 12,000 articles and tested nearly 8,000 products. He's nothing if not prolific. Before starting his writing career, he led an Information Design practice at a large consumer electronics retailer in the US. His hobbies include deep sea exploration, complaining about the weather, and engineering a vast multiverse conspiracy.