UPDATE: Just in time for Halloween, Netflix has delivered the best horror series of the year with The Haunting on Hill House — find out all about it below!
Since its arrival on Australian shores, we've enjoyed unfettered access to all of Netflix's critically-lauded original shows. Not only that, users also have access to a wealth of other licensed material.
If you're like us, you spend a good deal of your time Netflixing. Sure, Netflix also streams movies, but its television output is perhaps the reason most people have signed up for an account. There's nothing quite like firing up Netflix and binge-watching a series at your own pace. Getting instant access to entire seasons of Stranger Things from day one is half the appeal.
This is why we've created the TechRadar guide to the best shows on Netflix Australia right now (in no particular order). We'll keep this best TV show list constantly updated with the latest television shows that you should be watching on Netflix in Australia and also tell you why.
The best new shows on Netflix Australia
Of course, the list includes Netflix Australia classics like Stranger Things, House of Cards, Making a Murderer, Black Mirror, Narcos and BoJack Horseman, but there's so much more to binge on the service than the well-known titles.
We've selected more than 60 great series worth watching over the following pages, but if you've watched 'em all already you can also find out what's new on Netflix this month right here, or cut to the chase with our quick picks for the top trending shows on Netflix right now.
The following list charts the best shows that are currently trending right now on Netflix Australia. For our complete list of shows, which has been separated into genre, continue on to the next page or select your preferred genre from the drop-down list above!
1. The Haunting of Hill House
Loosely based on the 1959 gothic horror novel by Shirley Jackson, The Haunting of Hill House follows seven members of the Crain family who are forever traumatised by their brief time living at an old mansion in 1992. From the show's title, you've probably surmised that the house is haunted, however, these particular ghosts will continue to haunt the Crain children well into adulthood – no matter where they live. Regularly flicking back and forth between the present and past, The Haunting of Hill House gets under your skin slowly, gradually revealing the escalation of horror that led the family to be as fractured as it is today. As chilling as The Haunting of Hill House is, it's the family drama aspect that resonates most. That said, you'll probably want to sleep with the lights on after binging this is one. If you're a fan of films like The Conjuring, It and Hereditary, you're going to love this.
Seasons on Netflix: 1
2. Riverdale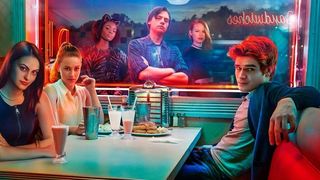 Set aside any pre-conceived notions that you might have about a 'sexy Archie' series and get ready for one of the most addictive new shows of the moment with Riverdale. First things first — this ain't your grandpappy's Archie show. A modern day re-imagining of the beloved comics franchise that has spanned almost eight decades, this Twin Peaks-inspired version of Riverdale is fraught with murder, deception and small town scandal. Famous characters like Jughead, Veronica, Betty and even Josie and the Pussycats are all present and accounted for, only with a decidedly millennial twist. The first season followed the murder of star quarterback (and most popular kid in school) Jason Blossom, and the mystery surrounding it. This was followed by the arrival of a Zodiac-style serial killer who terrorised Riverdale from behind a black hood. Now, Archie must prove his innocence after last season's shocking cliffhanger ending. With new episodes fast-tracked from the US every Thursday, your only problem will the seven day wait between episodes. Check out the season 2 recap below.
Seasons on Netflix: 3
3. Maniac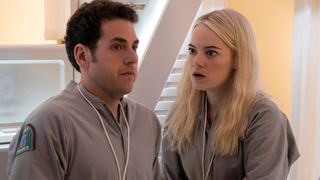 From director Cary Fukunaga (True Detective) comes Maniac, a sci-fi dramedy that's almost impossible to describe (we'll try our best, though). Set it a retro-futuristic version of New York City (think 'Big Apple' by way of Blade Runner), Maniac follows two troubled individuals (played by Emma Stone and Jonah Hill) who sign up for a mysterious pharmaceutical trial that promises to improve their lives exponentially. Placed in a series of dream-like states, the pair somehow find themselves repeatedly drawn to each other in their shared delusion. Do the two characters share a destiny, or is this just a side-effect of the trial? Featuring beautiful visuals and incredible performances, Maniac is the kind of mind-bending miniseries that deserves your time.
Seasons on Netflix: 1
4. BoJack Horseman
The best way to approach BoJack Horseman is to let it slowly grow on you. Chances are you won't be blown away by it from the first episode, but once you get hip to its rhythm, you'll likely find it to be one of the best animated comedy shows since Bob's Burgers (only with a lot more depth). Will Arnett voices BoJack, a washed-up '90s sitcom star who spends his days being bitter about his failures alongside his perpetual houseguest, Todd (Breaking Bad's Aaron Paul). Things get complicated when his cat girlfriend and agent Princess Carolyn (Amy Sedaris) hires ghost writer Diane (Alison Brie) to pen BoJack's memoir. Filled with hilarious characters that could only exist in drawing-form, BoJack Horseman is a real winner. Now back for its fifth season, BoJack finds himself leading a terrible new cop show for a television channel that shouldn't exist. Meanwhile, Diane finds herself on a spiritual journey after her break up with Mr. Peanutbutter.
Series on Netflix: 5
5. Orange is the New Black
Back for its sixth season, Orange is the New Black is showing no signs of slowing down, with the women of Litchfield now experiencing some new problems after having been moved into a maximum security prison following last season's riot. It may have never reached the heady heights of House Of Cards, but Orange Is The New Black is another show that proves Netflix is now up there with HBO when it comes to offering decent programming. As per its prison setting, Orange doesn't shirk the big issues of violence and rape but manages to mix these with a heady dose of black humour and some occasional romance. If you haven't gotten onboard the OITNB train, now's the time to start your binge! For those who are up to date, check out the trailer for season 6 below.
Seasons on Netflix: 6
6. The Staircase
A harrowing true crime series that's as binge-worthy as Making A Murderer (but was actually released long before it), The Staircase follows the real-life murder trial of noted author Michael Peterson for the mysterious death of his second wife Kathleen, who violently lost her life at the bottom of the family home's staircase. While the accused vehemently protests his innocence and (most of) his family stands by him, it isn't the first staircase-based death of a loved one that's taken place in his orbit. Though it appears to be an open and shut case at first, various factors surrounding this second death seem to defy explanation. Was it an accident or was it murder? We promise that your opinion on the matter will flip frequently throughout the original eight-part series, and will continue to do so in the three brand new episodes accompanying it on Netflix.
Seasons on Netflix: 1
7. Queer Eye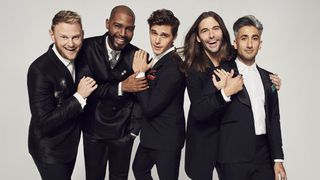 Queer Eye is back! Taking over from where the original Fab Five left off, the new team has been put together with the same ultimate mission: to remodel individuals into the best possible version of themselves, whether it be their wardrobe, living arrangements, grooming, diet or even their confidence. We know, makeover shows are usually pretty lame, but this one is fantastic in the way that the guys really get to the emotional heart of each subject they undertake. Often, there's a reason these men (and for the first time, a woman) have let themselves go or have put up defensive walls against the outside world. Because the Fab Five really seem to care about them, it becomes incredibly rewarding to watch them go from unhappy to full of life. Chances are you'll cry at least once per episode.
Seasons on Netflix: 2
8. Marvel's Luke Cage
Netflix has been killing it with its Marvel shows so far, having already launched a number of top-tier shows including Daredevil and Jessica Jones. With Luke Cage, we got a new kind of hero — one who's proud to use to his powers in an effort to represent and protect his community. If you've watched Jessica Jones, you'll already be familiar with this literally unbreakable character, as he played a pivotal role in that show's first season. HIs own series, however, picks up some time after that, with Cage relocating from Hell's Kitchen to Harlem, and finding himself coming to blows with local gangsters. And, now that Luke Cage's second season has arrived on Netflix, it's time for Harlem's hero to once again re-enter our list of trending shows. Expect plenty of intense action with a real hip-hop flair.
Series on Netflix: 2
9. GLOW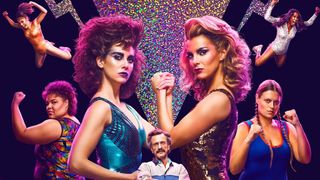 From the makers of Orange is the New Black comes GLOW, a show based on a real-life all-women wrestling league that existed in the '80s. Why's it called GLOW? It stands for Gorgeous Ladies of Wrestling, that's why! The show stars Alison Brie (Community) as an aspiring actress who auditions for the wrestling gig after being fed up with the lack of meaty female roles in Hollywood. Here, she can be a fierce warrior, one who is in charge of her own destiny and gets to play opposite other strong women. Like Orange is the New Black, GLOW is a show that masterfully balances comedy and drama. In its second season, we follow the ladies as they try to keep the show on the air — we can only hope that Netflix's GLOW gets as many seasons as its real-life counterpart.
Seasons on Netflix: 2
Based on the classic 1960s television series (and rather forgettable 1990s film) of the same name, Lost in Space is the latest show to get its own Netflix makeover. The space colonist family Robinson has found itself stranded on a mysterious planet once again, and it's up to them to find a way off that rock and back on course to its actual destination. Darker and more serious in tone than the original series, the new Lost in Space still offers the same sense of wonder, albeit with a new emphasis on survival in a harsh new realm. Visually spectacular.
Seasons on Netflix: 1
10. Marvel's Iron Fist
While many Marvel fans found the first season of Netflix's Iron Fist underwhelming, steps have been taken to address the show's issues (the fight scenes, the lead character's personality), leading to a vastly superior second season overall. Danny Rand (Finn Jones), heir to the Rand Industries fortune, returns to New York City after being presumed dead for 15 years. During that time, Danny was being trained by monks, earning himself the title of the Immortal Iron Fist — protector of the mystical (and eternal) hidden city of K'un-Lun. Upon his return, Danny discovers that his company is secretly being controlled by The Hand, an order that has been at war with K'un-Lun for centuries. With the help of martial arts teacher Colleen Wing (Jessica Henwick), Danny must use his extremely powerful glowing fist to take down The Hand once and for all. Check out the trailer for season 2 below.
Seasons on Netflix: 2
Want to know more about Netflix's take on binging? Watch our very own Jon Porter live on the couch discussing his time at Netflix HQ!