The best Asus laptops 2023: our top picks of Asus notebooks
Best
Contributions from
last updated
Get the best Asus laptops to suit your budget
VERDICT
REASONS TO BUY
REASONS TO AVOID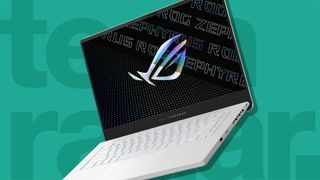 (Image credit: Asus)
EDITOR'S NOTE: December 2023
We have new entries this month, with the eco-friendly Ultrabook Asus Zenbook S 13 OLED (2023) and the gaming powerhouse that is the Asus ROG Strix Scar 17 (2023) joining the best Asus laptops list.
Michelle Rae Uy, Reviews and Buying Guides Editor, Computing
The best Asus laptops make it clear that Asus offers more than just budget alternatives to the big boys. These laptops, evidenced by the capable ROG Zephyrus line, are as capable as they are stylish, making them as relevant a choice as any model from companies like HP or Dell. On top of that, Asus tends to price their products just right.
From gaming laptops to budget-oriented portables and cutting edge options like the fantastically next-gen Zenbook Duo 14, Asus has grown its product line to cover just about every need. Want an OLED screen or a reduced carbon footprint? Asus has you covered.
As much ground as the company has covered with their various series, some are better than others so we've gathered what we think are the best that Asus has to offer. That includes luxurious some of the best Ultrabooks, light-on-the-wallet best Chromebooks, and a handful of the best 2-in-1 devices, not to mention more traditional laptops.
We would be remiss if we didn't include a few of the best gaming laptops around right now, along with some of the best laptop deals available.
Still the very best Asus laptop
Specifications
CPU:
AMD Ryzen 7 5800H – 9 5900HS
Graphics:
Nvidia GeForce RTX 3060 – 3080
Screen:
15.6-inch QHD (1440p), 165Hz, 3ms, 300 nits
Reasons to buy
+
Outstanding performance
+
Incredible battery life
+
Great price
Reasons to avoid
-
No webcam
-
Tenkeyless keyboard
Even though it's been kicking around for a little while now, Asus has yet to top the incredible ROG Zephyrus G15. The 'Republic of Gamers' line has a wide variety of great gaming laptops, but the Zephyrus G15 is definitely the best of the bunch.
We've got a powerful high-end AMD Ryzen CPU, a selection of Nvidia RTX graphics cards, and a gorgeous 1440p screen with a snappy 165Hz refresh rate, perfect for watching movies, playing games, or just browsing the web. Those powerhouse components are wrapped up in a sleek, durable exterior with a pleasingly refined design.
The battery life is stellar too, making this both an effective desktop PC replacement and a capable on-the-go workhorse. As one final shunt at its competitors, Asus also made the ROG Zephyrus G15 one of the best-value gaming laptops on the market; it's not a budget machine by any means, but it offers incredible performance for the asking price and you're not paying extra for the brand the way you will with Razer or Alienware.
Read the full Asus ROG Zephyrus G15 review
Premium Chromebook specs, economic Chromebook pricing
Specifications
CPU:
Intel Pentium 4405Y – Intel Core m3-6Y30
Graphics:
Intel HD Graphics 515
Screen:
12.5-inch, FHD (1,920 x 1,080) LED backlit anti-glare
Storage:
32GB – 64GB eMMC
Reasons to buy
+
Elegant tablet mode
+
Tactile keyboard
Reasons to avoid
-
No out-of-box Android app support
-
Middling speakers
The best Asus laptops aren't just premium all-singing, all-dancing devices with huge price tags, as the excellent Asus Chromebook Flip C302 demonstrates. The Asus Chromebook Flip C302 brings a lot of what we love about Asus laptops to an affordable Chromebook that's ideal for day-to-day tasks and for students working on their homework. That means it's got excellent build quality, a fantastic design and packs some great hardware that makes it one of the best Chromebooks out there, with an Intel Core processor, full 1080p display, touchscreen, backlit keyboard and USB-C port.
Read the full review: Asus Chromebook Flip
A premium Ultrabook that's powerful and eco-friendly
Specifications
Graphics:
Intel Iris Xe Graphics
Screen:
13.3-inch, 16:10, 2.8K (2880 x 1800) aspect ratio ASUS Lumina OLED display
Storage:
1TB M.2 NVMe SSD
Reasons to buy
+
Surprisingly robust performance
+
Incredibly thin and fairly lightweight
+
Gorgeous looking screen
+
Surprising amount of ports
Reasons to avoid
-
Speakers are a bit underwhelming
-
Premium price tag
-
Trackpad a bit too sensitive
Ultrabooks can very much be eco-friendly too, as the Asus Zenbook S 13 OLED (2023) proves. While made from recycled and recyclable parts, it feels just as premium with a stunning screen and robust innards to match. We found it to be incredibly thin and fairly lightweight as well, and for an Ultrabook, it has surprisingly great port selection.
Performance-wise, it handled some games well - CS:GO ran almost flawlessly during testing with only a dropped frame here or there and GTA IV ran smoothly on medium graphics. If we were to nitpick, we'd say that the speakers are serviceable at best: relatively thin with no low-end. Well that, and we felt like the trackpad was a little too sensitive. Considering its steep price, we had expected better. However, none of those are deal-breakers, not when everything else is pretty much spot on.
Read our full Asus Zenbook S 13 OLED (2023) review
Asus gaming laptop that combines the best of AMD and Nvidia
Specifications
Graphics:
NVIDIA GeForce RTX 4080 - 4090
Screen:
17-inch WQHD 240Hz IPS (2560 x 1440)
Reasons to buy
+
Aggressive yet thoughtful design
+
Phenomenal performance
+
Respectable image quality
+
Lovely sounding speakers
Reasons to avoid
-
720p webcam is unimpressive
-
No biometric security features or card reader
-
Battery life is sub-par
There's a reason why the Asus ROG Strix Scar 17 (2023) comes with an exceptionally high price of admission: it brings together the best of AMD and NVIDIA to deliver high performance gaming in a laptop that's unmatched and better than ever. This war-ready gaming laptop from Asus is an impressive audio/visual package, even if there are things that it could have done better such as its battery life and biometric security features.
It's not just in its gaming performance where it shines. Sure, it's impressive that it went to work on modern titles and big AAA games at max settings with respectable frame rates, handling Cyberpunk 2077 at 144 fps at ultra settings and Call of Duty: Modern Warfare 2 with virtually no input lag. But what's even more impressive is that it manages to stay relatively quiet nature and cool on our lap. Other mention-worthy features here are its lovely-sounding speakers and thoughtful design.
Again, you only get around four hours when doing general productivity, as we did during testing; the webcam is a 720p one, and there are no biometric security features. However, if what you're looking for is sheer power, this one's the best Asus laptop to get.
Read our full Asus ROG Strix Scar 17 (2023) review
Thin, light and capable
Specifications
CPU:
up to 10th-generation Intel Core i7 – i9
RAM:
8GB / 12GB / 16GB 2400MHz DDR4
Screen:
15.6" LED-backlit Full HD (1920 x 1080) 16:9 IPS level wide-view technology
Storage:
256GB / 512GB / 1TB PCIe SSD
Reasons to buy
+
Bright, colourful 15.6-inch screen
+
Weighs just 1.8kg
+
Powerful i7 processor
Reasons to avoid
-
Merely average battery life
-
Only 1080p resolution
-
ScreenPad is a bit weird
In a nutshell, the Asus VivoBook S15 is one of the best laptops we've tested in recent months. Short of handling heavy-duty gaming, this is an extremely capable laptop that's just as impressive as the 16-inch MacBook Pro, but is smaller, lighter and considerably less expensive. If you're looking for a powerful laptop without paying a premium, this is among the very few out there worth considering. And, you're getting a vivid screen, an ErgoLift hinge for a better typing position and that legendary ASUS ScreenPad to improve your productivity with it. So you're basically getting a feature-rich laptop for considerably less than its rivals.
Read the full review: Asus VivoBook S15
A capable and premium 2-in-1 laptop
Specifications
CPU:
10th-generation Intel Core i5 – i7
Graphics:
NVIDIA GeForce GTX 1050 with Max-Q
RAM:
8GB – 16GB LPDDR3 2133MHz
Screen:
15.6" (16:9) LED-backlit FHD (1920x1080) – 4K UHD (3840x2160) 60Hz Glare Touchscreen
Storage:
512GB – 1TB PCIe Gen3 SSD
Reasons to buy
+
Incredibly thin and light
+
Vibrant, glare-free screen
Reasons to avoid
-
Weak sauce graphics
-
Tinny speakers
If you are looking for a great all-rounder that ticks a lot of boxes, then you'll appreciate the Asus ZenBook Flip 15. This premium laptop delivers all the right basics and a few innovative extras on top of that. Among the best Asus laptops out there, this 2-in-1 top-notcher boasts powerful specs – including a discrete graphics card – as well as a stunning touchscreen display, a flawless design, plenty of ports, facial recognition login, and a portable chassis. As for its extras, if the unique 360-degree ErgoLift hinge, Asus ScreenPad, Harman Kardon speakers and Alexa integration don't impress you, we don't know what will.
Read the full review: Asus ZenBook Flip 15
A super-affordable gaming laptop
Specifications
Graphics:
Up to Nvidia GeForce RTX 3070
Screen:
15.6" FHD (1920x1080) 240Hz
Reasons to buy
+
Amazing performance for the price
+
Thin, lightweight form factor
+
Very good battery life
Reasons to avoid
-
No webcam
-
Keyboard backlighting can't be customized
With the Asus TUF Dash F15, budget-minded gamers have another excellent option on their hands. While the price tag isn't exactly bargain basement and the performance won't compete with high-end gaming laptops, it's among the best Asus laptops for those who want a really good price-to-performance ratio.
It's also generally just a pretty great laptop, with a snappy 240Hz display and a decent selection of internal components. The price ranges a fair bit depending on what spec you want, but even the RTX 3070 model isn't outrageously expensive and will give you top-notch 1080p gaming performance. As an added bonus, it's also impressively thin and light for a gaming laptop, with fans that won't deafen everyone around you!
Read our full Asus TUF Dash F15 review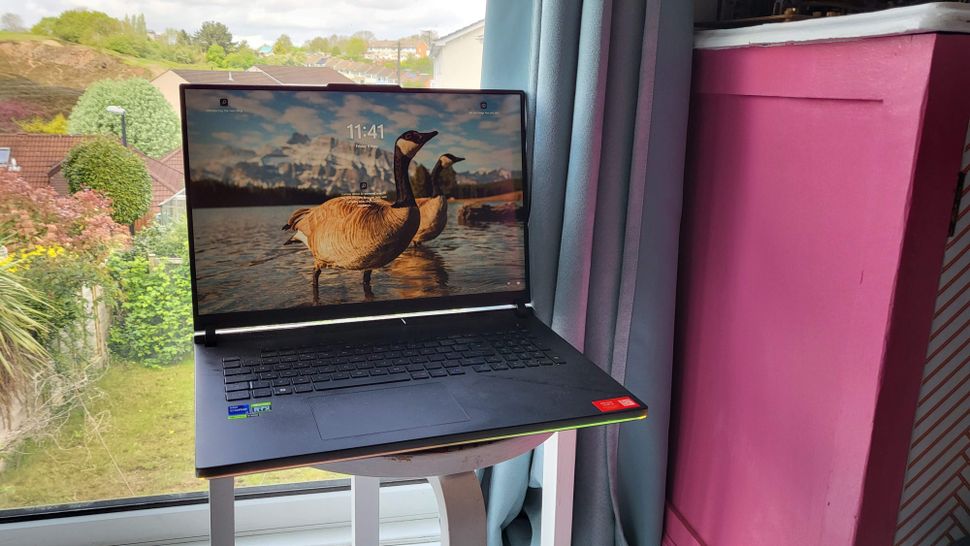 The best Asus laptop in raw power if you can afford it
Specifications
CPU:
Intel Core i9-13980HX
Graphics:
NVIDIA GeForce RTX 4080 - 4090
Screen:
18" 16:10 IPS QHD+ (2560 x 1600), 240Hz, 3ms response, G-Sync, Dolby Vision, Pantone Validated
Storage:
2TB + 2TB NVMe M.2 SSD
Reasons to buy
+
Top-line GPU and CPU
+
Clever case design and cooling
+
Amazing screen
Reasons to avoid
-
Fans can get loud
-
Spine-bending weight
-
Almost unattainably expensive
If a massive laptop screen and pure, unadulterated power is what you seek in a gaming laptop, then you'll want to get the Asus ROG Strix Scar 18 (2023)... if you can afford it, that is. This 18-inch laptop, one of the very few out there, wins in specs, featuring an Intel Core i9-13980HX, an RTX 4080 or an RTX 4090, and up to 64GB of Ram. It's so kitted-out in internals, in fact, that it feels intimidating. Of course, so is its price, which is above most people's budget. Way above.
But, if you can afford it, you are rewarded with an outstanding gaming experience. During our testing, it shrugged off Cyberpunk 2077, blazed through Dirt 5, and coped with everything else we threw at it without even a slight complaint. And while that 18-inch display is not 4K, its picture quality is absolutely fantastic, with superb clarity and stunning colors.
Being a gaming workhorse, there are a couple of downsides to it. It's incredibly heavy, which means I won't enjoy lugging it around, and its cooling could be better. When pushed, those fans are absolutely loud - loud enough to mask the speakers.
Read our full Asus ROG Strix Scar 18 (2023) review
A 13-inch laptop with a number pad
Specifications
CPU:
Intel Core i7 10510U
Graphics:
Intel UHD Graphics 620
Screen:
13.3" (16:9) LED-backlit FHD (1920x1080) 60Hz
Reasons to buy
+
Has a numpad
+
Really compact
+
Long battery life
Reasons to avoid
-
Weird keyboard layout
-
No Thunderbolt 3
Asus is offering another reason to go for 13-inch laptops – the numeric pad that's understandably a constant no-show on most laptops. The Asus ZenBook 13 UX333FAC has found a way to add the feature, albeit a virtual one, on its trackpad, which now acts like Apple's Touch Bar to accommodate it.
But, it isn't the only feature this laptop boasts. It's got excellent battery life lasting 13 hours 50 minutes in our PCMark 10 battery test, a thin-bezeled display, and an impressive performance in a sophisticated chassis that you can easily show off at business meetings. We found the keyboard to be slightly cramped and the display is non-touch, but it's pretty affordable so those aren't deal-breakers.
Read the full Asus ZenBook 13 (2021) review