Quick Menu
1. The list in brief
2. Best overall
3. Best budget
4. Best for creators
5. Best for 1440p
6. Best 17-inch
7. Best 240Hz display
8. Best AMD
9. Best super-thin
10. How we test
The best thin and light gaming laptop will let you play the latest titles while you're on the go. Thin and light laptops are made to be portable. They're made of lightweight materials like plastic and aluminum, which keeps the weight down. And the chassis is kept thin as well through the use of equally thin components and ventilation systems.
That's because the pricing and specs can greatly vary. Some of these laptops can pack just as much of a performance punch as some of the best gaming laptops that have more bulk to them. Others are just as wallet friendly as some of the best budget gaming laptops on the market, while maintaining that slim form factor that sets them apart from other heavy laptops. And thanks to advances in technology over the years, battery life is another factor they don't slouch on.
Oftentimes, the best thin and light laptops can overlap with other greats within their own brands including the best Asus gaming laptops, the best MSI gaming laptops, and the best AMD gaming laptops.
To help you make the best decision, we rigorously test every thin and light gaming laptop to hit the market in order to find the best of the best. That means we know exactly which of the best thin and light gaming laptops are really worth considering.
We've put together some of the best thin and light gaming laptops, each of which we've thoroughly tested to guarantee both their quality and performance. Take a look at our picks below along with the best gaming laptop deals out there to help you save money.
The quick list
Want to cut to the chase and find out what the best thin and light gaming laptops are? Below, you'll find a roundup of our choices, and you can jump to a more detailed review of every pick, along with our price comparison tool to help you find the best deals.
Load the next 2 products...
Best AMD
The best AMD thin and light
Pairing performance with a competitive price, thanks to is AMD components, this 16-inch option also comes with a fast 240Hz refresh rate.
Super-thin
The thinnest gaming laptop
With its particularly slender form factor, this belies some top-notch specs while weighing less and being thinner than the rest of the options here.
The best thin and light gaming laptops in 2023
Why you can trust TechRadar We spend hours testing every product or service we review, so you can be sure you're buying the best. Find out more about how we test.
Below you'll find full write-ups for each of the best Windows laptop in our list. We've tested each one extensively, so you can be sure that our recommendations can be trusted.
The best thin and light gaming laptop overall
The Asus ROG Zephyrus G14 may be missing a webcam and a Thunderbolt 3 port, but it's damn near close to perfection, garnering our coveted yet rarely given five-star rating. This is an absolute beast of a gaming laptop, delivering an incredible performance with its AMD Ryzen 4000 processors and Nvidia RTX 2060 graphics card while touting best-in-class battery life that will last you all day long, a fast display with a 120Hz refresh rate, and a lightweight, ultrathin design.
During testing, this thin and light gaming laptop absolutely smashed its rivals in all of our CPU-heavy testing workloads thanks to the AMD Ryzen 9 4900HS inside our test unit. In Geekbench 4, it won the multi-core contest with 29,907 points, beating the i9-9980HK-powered Alienware m17.
This is definitely the best thin and light gaming laptop in 2022. For a laptop this impressive, we're surprised Asus isn't asking for more money.
Read the full Asus ROG Zephyrus G14 review
The best budget thin and light gaming laptop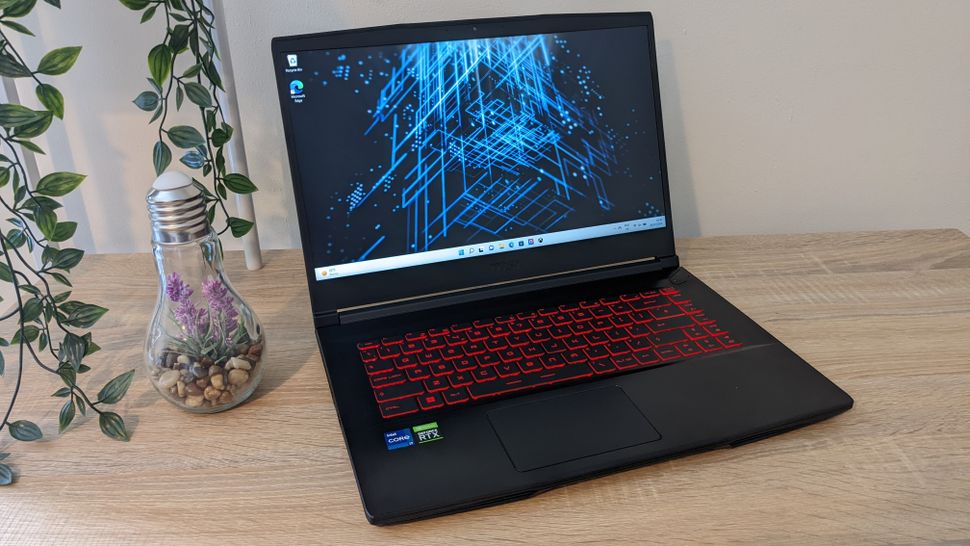 Budget gaming laptops that still deliver on performance are hard to find, which makes the MSI GF63 Thin (2022) an excellent choice for those wanting to save without having to sacrifice too much in specs in return. The starting price is one that most gaming laptops can't hope to match in this generation of performance behemoths, especially one that's also so thin and lightweight. Its battery life is average, but that's what you'd expect from a gaming laptop in the first place.
Its specs include up to an Intel Core i7-11800H CPU, though the Core i5 version is more prominent, and up to an Nvidia GeForce RTX 3050 Ti GPU. For the latter, you can also get the GeForce GTX 1650 GPU version for a cheaper price point, which still can handle most games just fine, but we found after testing that it's best to pay a bit more for the 3050 Ti, as the gaming performance is more than worth it.
The display is also 1080p HD and we found that when combined with its 144Hz refresh made for a smooth gameplay experience and a clear vibrant picture quality. However, it's not well-suited for high demand tasks, like 4K video editing and running number-crunching scientific programs. The port selection is excellent as well, with every type you need. In fact, in comparison to many other current-gen gaming laptops we've tested, it surpasses them all. It does have issues with bloatware, and sometimes the charging cable can block those many ports too.
Read the full MSI GF63 Thin (2022) review
The best thin and light gaming laptop for creators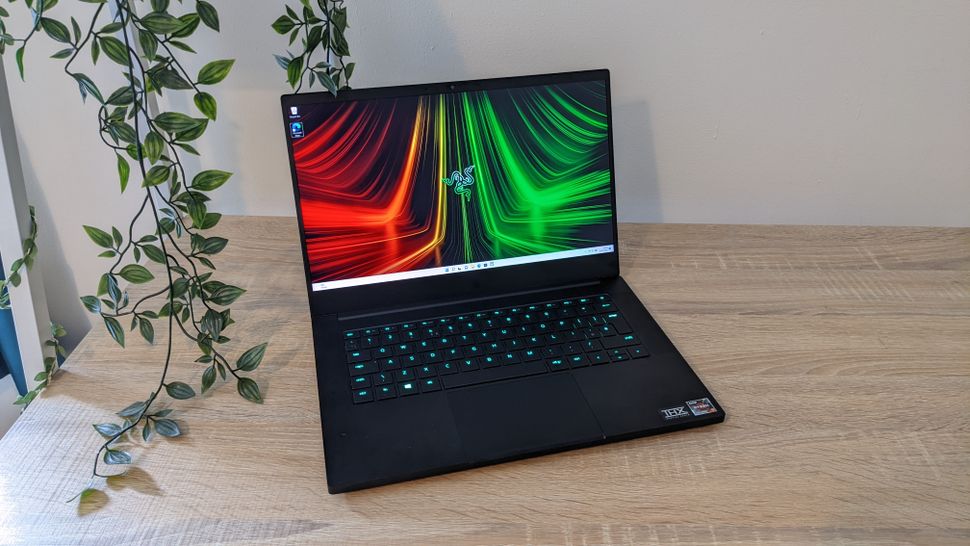 The Razer Blade 14 is a brilliant demonstration of just how far gaming laptop technology has come. Razer has fit some seriously impressive components into the slimline body of this Blade, making it among the best thin and light laptops for 1440p and 1080p gaming.
This thin and light gaming laptop boasts a stylish yet robust aluminum chassis, a decent selection of ports, and a display that will be the envy of all gamers and content creators. A 165Hz refresh rate makes it well-suited to esports games and its 100% DCI-P3 color reproduction makes it ideal for creative endeavors.
Performance-wise, we found its performance to be good, hitting 60+fps at 1440p consistently in most games. And, that's at maxed-out graphical settings. What impressed us the most was just how quiet it stayed running through the demanding tasks we put it through. It's equally competent when it comes to longevity as well, lasting around eight hours of general use about three to four hours of gaming.
Read the full Razer Blade 14 (2022)
The best thin and light for 1440p gaming
If you're looking for a premium gaming laptop that not only has excellent specs, a great display, and can game at 1440p, all while maintaining a lightweight form factor with an ergonomic and comfortable design made for long sessions, the MSI Stealth GS66 12UGS is the perfect choice.
Packing up to an Intel Core i9-12900H CPU with a Nvidia GeForce RTX 3070 Ti GPU we found that, after extensive benchmarking, it tackles any of the best PC games at high settings with ease. We pushed this laptop to its limits and the resulting performance with games like Dirt 5 and Cyberpunk 2077 were truly excellent.
The battery does take ages to charge, but since it's a gaming machine there's no reason to remove it from power in the first place. It does pay for that performance with some noisy fans and a high price, but if you don't mind either it's a great investment.

Read the full MSI Stealth GS66 12UGS review
The best 17-inch thin and light gaming laptop
The Dell XPS 17 (2022) is the best laptop for people who are looking for a large screen but also want a slick and stylish device that can be comfortably carried around. This impressive thin and light laptop comes with Intel's latest 12th-gen Alder Lake CPUs and can even be kitted out with a graphics card.
While we wouldn't suggest making this as your primary gaming laptop, it is excellent for some 1080p gaming on the go thanks to that RTX 3050 or 3060 under the hood. It's also excellent for graphic-intensive tasks like photo editing. It tore through everything from video encodes to 3D renders with ease during our testing.
Couple that with its gorgeous display and outstanding design, and you've got a laptop to show off while at the office, at the coffee shop, or on the long haul flight if you travel for work. It's got a fantastic battery life that will let you keep working for hours.
Read the full Dell XPS 17 (2022) review
The best thin and light with 240Hz display
Alienware laptops and PCs are well known for their quality, unique designs, and performance, and the Alienware x15 R2 is no slouch in any of these factors. Featuring a stunning design combined with beautiful white color and RGB lighting in the back, it's a laptop that's guaranteed to turn heads. This is coupled with its thin chassis that feels incredibly lightweight despite it being five pounds, due to how well-balanced the laptop is.
Its performance is also top-tier, as it scored well in every benchmark we ran the CPU and GPU through, as well as general stress testing with a variety of high-end PC games. In fact, we found that after testing it thoroughly it beat out most other laptops sporting similar specs and sizes.
Unfortunately, it does have a few caveats. Its terrible webcam is technically 1080p though it doesn't look that way when we tested it out during a conference call and found the framerate and visuals lacking. The battery lasts at most about three hours, so prepare to keep this bad boy plugged in. And its thin chassis comes at an overheating cost, though the excellent software can mitigate that through its fan settings.
Read our full Alienware x15 R2 review
The best AMD thin and light gaming laptop
Lenovo is well-known for its quality and practical laptops, though they tend to be lacking in thinner form factors and attractive aesthetics. The Lenovo Legion Slim 7 hopes to change that, combining performance and looks at a hopefully more competitive price. And based on our hands-on with the laptop, it absolutely knocks it out of the park in terms of a lightweight and thin form factor. Weighing in at about four and a half pounds, it doesn't any of that, most likely due to a well-balanced chassis similar to the Alienware x15 R2.
In terms of specs, while it has plenty of variation it maxes out at an Nvidia GeForce RTX 4070 mobile GPU and either an AMD Ryzen 9 7940HS GPU or a 13th Gen Intel Core i9-13900H CPU. Judging by other similar laptops we've tested so far this generation, we should be seeing some impressive benchmark scores, especially in the gaming performance and framerate sections. And since it's packing a 4070 GPU, there shouldn't be too much of a CPU throttle issue that stronger GPUs have caused.
The 16-inch display is excellent quality, sporting a WQXGA (2560 x 1600) IPS with up to an incredibly fast 240Hz refresh rate and 3ms response time. Based on laptops we tested with similar specs, this will make for some impressively fast and smooth gaming that even competitive players should benefit from. And that 500 nits of brightness means you can see the screen clearly even in bright sunlight. Finally, thanks to the 100% sRGB or DCl-P3 depending on the model, it's ideal for creative work as well.
Read our hands-on Lenovo Legion Slim 7 review
The thinnest gaming laptop
Among thin and lightweight laptops, the Alienware X14 (2022) has a particularly slender form factor, which belies some top-notch specs. Equipped with an RTX 3060 GPU and a 12th-gen Intel Core i7 CPU we found that, during our performance testing, it was able to handle high-end PC games at high settings with no issues. Normally you would have to pay for the honor of great specs wrapped in such a small and gorgeous chassis, but Dell is currently selling it for a much-reduced price point.
The lightweight is especially impressive for a gaming laptop, and even more so because we compared it to the Razer Blade 14 and found the X14 weighs less and is thinner to boot. And despite the thin size, it still manages to cram in a diverse port selection with nearly any slot and port that a buyer could possibly want.
The 14-inch display is no slouch as well, packing in a 1080p LED screen with a 144Hz refresh rate and 7ms response time that's more than responsive and smooth enough for most gamers on the go, and certainly enough to impress us when we tested it using the likes of Cyberpunk 2077, Dirt 5, and other demanding games. However, you'll have to contend with a less-than-stellar battery life that lasts at most a little over six hours, and a subpar HD webcam.
Read our in-depth Alienware X14 (2022) review
How we tested these thin and light gaming laptops
Much like our regular laptop reviews, we have a standard process of judging the price, design, performance, and battery life of gaming laptops. In this case performance is not only in reference to how well they perform standard benchmark tests, but also noting how fast it loads up the best PC games and how smoothly they run.
When it comes to thin and light gaming laptops, we made sure the laptops truly deliver on their promise of being slim and easy to transport. We also run the laptops all day to test their battery life to make sure you really can game throughout the day without issue. Price will vary per gaming laptop, but we don't hesitate to let you know if an item is more expensive than its competition.
Today's best thin and light gaming laptop deals