Editor's Note: February 2023
CES 2023 is in full swing, which means gaming laptop manufacturers are launching their lineups this year. Some of those models, like the Asus Zephyrus M16, might make it to our best thin and light gaming laptops list, and we'll update it accordingly after we've put them to their paces.
Christian Guyton, Computing Editor
Get one of the best thin and light gaming laptops if you want to game on the go. If you're a dedicated PC gamer who travels a lot, these stylish and slender laptops can be a very sound investment.
Thin and light gaming laptops can pack just as much punch as chunkier gaming laptops or even a midrange gaming PC while being compact enough to be travel- or commute-friendly. That's all thanks to advancements in mobile computing that have resulted in smaller, more energy-efficient internal components that deliver more power and faster speeds.
So, we now have more thin and light options for gaming than ever, many of them so power efficient that they have a great battery life. Just keep in mind that you might be hard-pressed to find one of the best cheap gaming laptops that is also thin and light, as portability still comes at a price.
We've tested hundreds of gaming laptops over the years, and we've put many such lightweight models through their paces. That means we know exactly which of the best thin and light gaming laptops are really worth considering. Take a look at our top picks below.
Not much of a gamer? One of the best Ultrabooks or the best thin and light laptops might be a better option for you.
The best thin and light gaming laptops 2023
Why you can trust TechRadar Our expert reviewers spend hours testing and comparing products and services so you can choose the best for you. Find out more about how we test.
The Asus ROG Zephyrus G14 may be missing a webcam and a Thunderbolt 3 port, but it's damn near close to perfection, garnering our coveted yet rarely given five-star rating. This is an absolute beast of a gaming laptop, delivering an incredible performance with its AMD Ryzen 4000 processors and Nvidia RTX 2060 graphics card while touting best-in-class battery life that will last you all day long, a fast display with a 120Hz refresh rate, and a lightweight, ultrathin design.
During testing, this thin and light gaming laptop absolutely smashed its rivals in all of our CPU-heavy testing workloads thanks to the AMD Ryzen 9 4900HS inside our test unit. In Geekbench 4, it won the multi-core contest with 29,907 points, beating the i9-9980HK-powered Alienware m17.
This is definitely the best thin and light gaming laptop in 2022. For a laptop this impressive, we're surprised Asus isn't asking for more money.
Read the full Asus ROG Zephyrus G14 review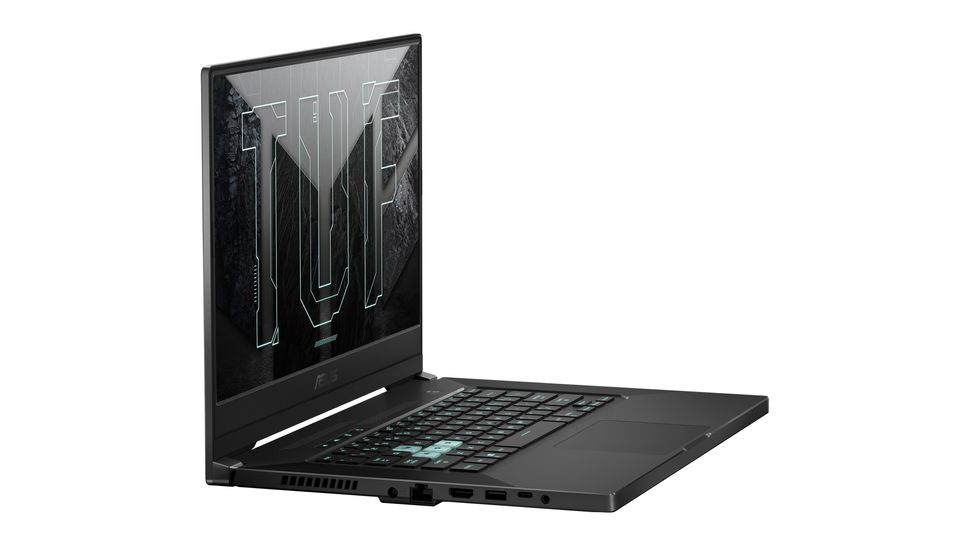 The Asus TUF A15 keeps things accessible to budget-conscious gamers. So, if you've been preparing your wallet in anticipation of a thin and light gaming laptop purchase, you will be pleasantly surprised here. In our view, this is the best gaming laptop you can buy if you're on a budget, touting powerful components while still keeping the price impressively low.
It brings an Intel Tiger Lake processor, Nvidia GeForce RTX 3000 mobile GPU, and up to a 240Hz 1080p display down to a more accessible price point. It tears through the latest AAA games, no matter what game we throw at it, pulling an acceptable frame rate.
Naturally, its legendary chassis is back, keeping things light, thin, and military-grade durable. At under an inch thick and less than 5lb, this is a gaming laptop you want with you wherever you need to go. As is its long battery life, this time around nearing 10 hours, so you have the juice to last you an entire workday if you also want to use it for work.
Read the full Asus TUF Dash F15 review
The Razer Blade 14 is a brilliant demonstration of just how far gaming laptop technology has come. Razer has fit some seriously impressive components into the slimline body of this Blade, making it among the best thin and light laptops for 1440p and 1080p gaming.
This thin and light gaming laptop boasts a stylish yet robust aluminum chassis, a decent selection of ports, and a display that will be the envy of all gamers and content creators. A 165Hz refresh rate makes it well-suited to esports games and its 100% DCI-P3 color reproduction makes it ideal for creative endeavors.
Performance-wise, we found its performance to be good, hitting 60+fps at 1440p consistently in most games. And, that's at maxed-out graphical settings. What impressed us the most was just how quiet it stayed running through the demanding tasks we put it through. It's equally competent when it comes to longevity as well, lasting around eight hours of general use about three to four hours of gaming.
Read the full Razer Blade 14 (2022)
The Alienware x15 R2 is the latest in Dell's line of thin and powerful laptops and this one manages to fit some powerful specs into such a slim and sleek form factor. Despite it weighing five pounds, you'll never feel any of that weight due to how balanced the design is.
This laptop features a 1440p screen with a 240GHz max out refresh rate, a Core i7-12700H CPU, an RTX 3070 Ti graphics card, 32GB of RAM, and 2TB of storage, putting it at one of the best gaming laptops out there. The port selection, barring an ethernet port, is excellent, and its design and color palette are drop-dead gorgeous.
Its performance while actually gaming is excellent, hitting well above 60FPS in most games at maxed-out settings. And though it could run hot at times, the Alienware Command Center allows you to up the fan settings and overclock the machines. It also has an excellent sound system, as well as a tricked-out and responsive keyboard with a smooth and equally responsive trackpad. This is a great gaming laptop to invest in if you have the money for its premium pricing.
Read the full Alienware x15 R2 review
The Dell XPS 17 (2022) is the best laptop for people who are looking for a large screen but also want a slick and stylish device that can be comfortably carried around. This impressive thin and light laptop comes with Intel's latest 12th-gen Alder Lake CPUs and can even be kitted out with a graphics card.
While we wouldn't suggest making this as your primary gaming laptop, it is excellent for some 1080p gaming on the go thanks to that RTX 3050 or 3060 under the hood. It's also excellent for graphic-intensive tasks like photo editing. It tore through everything from video encodes to 3D renders with ease during our testing.
Couple that with its gorgeous display and outstanding design, and you've got a laptop to show off while at the office, at the coffee shop, or on the long haul flight if you travel for work. It's got a fantastic battery life that will let you keep working for hours.
Read the full Dell XPS 17 (2022) review
How we test thin and light gaming laptops
Much like our regular laptop reviews, we have a standard process of judging the price, design, performance, and battery life of gaming laptops. In this case performance is not only in reference to how well they perform standard benchmark tests, but also noting how fast it loads up the best PC games and how smoothly they run.
When it comes to thin and light gaming laptops, we made sure the laptops truly deliver on their promise of being slim and easy to transport. We also run the laptops all day to test their battery life to make sure you really can game throughout the day without issue. Price will vary per gaming laptop, but we don't hesitate to let you know if an item is more expensive than its competition.