You've come for a Black Friday deal on an iPhone 13, and you're in the right place. Maybe you thought the best you could do for a price cut on last year's model was the $50 Apple Gift Card from Apple (opens in new tab), a deal that started today. We have some more creative options as well, especially if you're looking to sign up with a new mobile network.
Mint Mobile, for instance, has a very unique deal on an iPhone 13. You pay full price for the phone, then you get mobile service free for six months. Normally carriers do this deal the other way - they give you a free phone if you agree to pay for service. That leaves you with a monthly bill, and a two- or three-year agreement. We like that Mint's option leaves you with no monthly bill, and the chance to walk away in half a year.
We never see huge Black Friday Apple deals, so signing up with a carrier is your best bet for a deal on an iPhone 13 or an iPhone 13 mini, the last mini iPhone that Apple sells. You can get the iPhone mini for free from Verizon if you sign up for a new unlimited plan, and you don't need to trade anything to get that deal. We love that offer for folks who don't have a phone they can give back.
Below you can find all the early iPhone 13 Black Friday deals available right now and some more advice on how to make the most of the end-of-year sales.
Black Friday iPhone 14 deals (US): quick links
Black Friday iPhone 13 deals are now starting to pop up here and there and with lots of big retailers like Best Buy and Walmart launching early Black Friday sales, there's already find some very convenient opportunities for iPhone and many other cell phone deals.
The best early Black Friday iPhone 13 deals in US
Black Friday iPhone 14 deals (UK): quick links
The best early Black Friday iPhone 13 deals in UK
More of today's best iPhone 13 deals
Should you wait for a Black Friday iPhone 13 deal?
The easy answer here is no. From our analysis of previous years, and in particular last year, iPhone deals on older devices - which iPhone 13 is now - start landing as soon as early October.
For example, last year we saw prices on the iPhone 12 dropping to their lowest yet in early October and early November, and actually, those really cheap deals didn't come back during Black Friday.
The moral of the story - if you see a good deal, snatch it up before it's gone.
Black Friday iPhone 13 deals: Our predictions
When will the best Black Friday iPhone 13 deals start in 2022?
This year we are predicting even more deals starting in October than previously seen. Last year, Black Friday iPhone 13 deals weren't as impressive as 2020 and overall Adobe's 2021 Holiday shopping report (opens in new tab) found that the discount percentage average went down from 14 per cent in 2020 to 8 per cent in 2021.
iPhone 12 deals last year were the equivalent of the iPhone 13 deals this year - the one-year old phone that is still really good value. We noticed that while on the day deals weren't as good as the previous year, iPhone 12 sales were much more discounted in October and early November.
So, what does that mean for this year? We believe this will be mirrored this year with prices starting out pretty low already from mid-October for iPhone 13 deals.
Where will the best iPhone 13 Black Friday deals be?
But of course all of the best Black Friday iPhone 13 deals will be right here. But if you want to do some research ahead of time or would like to start shopping yourself now, we have prepared a complete list of the best retailers to browse for SIM-free, contract, trade-in, and buy now pay later deals.
US iPhone 13 deals
UK iPhone 13 deals
How good will this year's Black Friday iPhone 13 deals be?
Let's be completely honest, last year's Black Friday deals weren't anything to write home about, but consumer demand was still pretty high. This year we are sort of expecting a change in direction because demand will be a lot lower due to the cost of living and energy crisis.
For that reasons we think deals will be pretty good come Black Friday. The launch of iPhone 14 has already brought prices of iPhone 13 models down by $100 and during the Black Friday sale we can expect at least another $30 to $50 off - which in total would make a saving of up to $150.
Should I buy an iPhone 13 - or upgrade to iPhone 14 on Black Friday?
This is what most of us are all thinking right now. The iPhone 14 is the most up-to-date iteration with a camera that has been improved even further - particularly in low-light conditions - and a new A16 Bionic chip processor with a 5-core GPU. iPhone 14 deals at the moment are pretty expensive and while they will see some sort of discount during Black Friday and other retail events, it probably won't be as significant as for iPhone 13.
It could be a good time to start searching for iPhone 13 Pro deals, on the other hand. It is a slightly older phone that will still give you great performance, battery life, and an excellent camera. Its age and (still) expensive price are the main reasons to consider moving straight to the iPhone 14. And while you might get a good deal during Black Friday, it's likely you will still have to spend over £500 to bring home an iPhone 13. For that price, some may find that you might as well spend an extra £100/150 to get the latest version.
Will the iPhone 13 sell out over Black Friday?
Last year we experienced a lack in stock of iPhone 13 due to shortages in chips, which was also aggravated by the increase in sales over Black Friday. So will that repeat this year?
Apple has repeatedly said that they have been taking measures to prevent any shortages during the release of iPhone 14. A lot of retailers, in theory, will have stocked up on the devices for Black Friday, allowing them to still offer the iPhone 13 devices. But, even if this is true, it will likely mean retailers will have to limit the number of devices they sell.
In other words, expect limited stock, long delivery times and maybe some limitations on colours and storage with your iPhone 13 this Black Friday.
What factors should you consider when buying an iPhone?
There are a few factors to keep in mind when making your purchase of a new iPhone. Whether you're looking for something SIM-free or on a contract, you'll have to know what you're looking for:
SIM-free or contract:
This will be a big decision you'll have to make but it will likely be an easy one - do you want to buy your new device on a contract or as a SIM-free device.
If you go for a contract, most of your costs will be bundled into monthly payments making it easier to pay. However, this will be the overall more expensive option and will likely tie you in for longer.
Alternatively, a SIM-free phone will be cheaper overall and gives you more freedom but, it will require a much larger payment at the start having to buy the phone outright.
Data caps:
On almost all SIM plans and phone contracts these days, your calls and texts will be unlimited or well into the thousands. The factor that usually differentiates is data.
It can be hard to know how much data you'll need but a basic rule is that the majority of people these days will need more than 5GB. If you don't stream or download on the go, you could get by with under 5 for social media, maps and general internet searches.
We'd say look for something between 20-50GB. Of course, over Black Friday a lot of retailers will offer data boosts or loads of data for less. Having more than you need is always better than less!
Model:
Possibly the biggest factor to consider - which iPhone do you want? There are currently four groups for iPhone 13: the base model iPhone 13, iPhone 13 Mini, iPhone 13 Pro and iPhone 13 Pro Max. These vary in both price and specs.
Those who want something more powerful should stick with the 13 Pro Pro Max but those on a tighter budget will find the iPhone 13 Mini to be a better choice.
Apple is in a somewhat fortunate position that most retailers will want to have the best prices on its devices. This means no matter which iPhone you're interested in, you should be able to find a good price.
3 best iPhone 13 to watch out for on Black Friday
The iPhone 13 Pro Max is the best and most exciting of Apple's iPhone 13 range, with the battery life being an unexpected highlight. A whole lot of power here, thanks to Apple's A15 Bionic chipset, which provides significantly better performance not just than previous iPhones, but also more than most Android devices.
The camera has also seen an upgrade, with low light shots particularly impressing, and the new macro mode opening the iPhone range up to a whole new type of photography. As the difference between this device and iPhone 14 is a lot less marked this year, this will be a very popular phone during the Black Friday sale - so you might want to get on it early if you're aiming to buy one.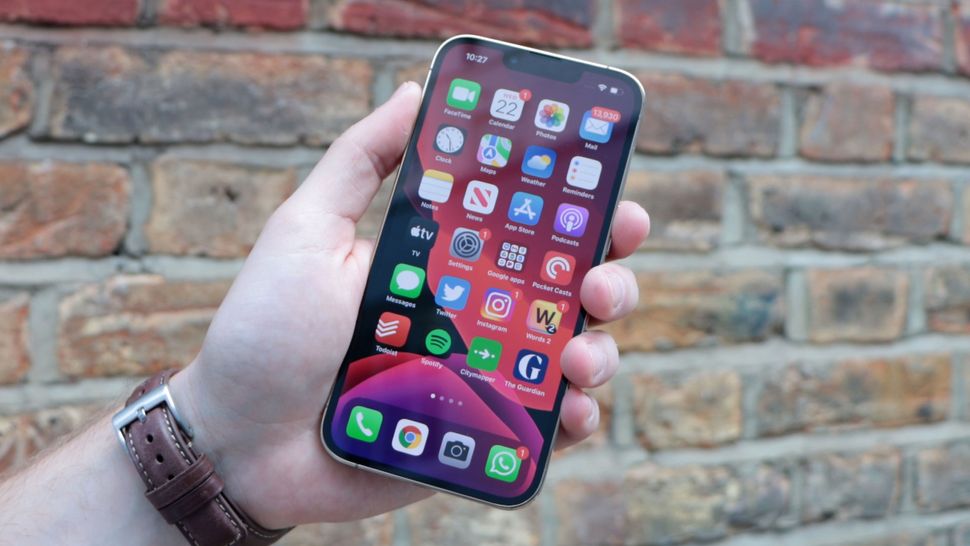 The iPhone 13 Pro has most of the same strengths and weaknesses as the iPhone 13 Pro Max, with its battery life being a highlight in our tests, if not quite as good as the Max model, and its A15 Bionic chipset providing stunning amounts of power.
Provided you can get a good 13 Pro deal that undercuts the 14, you get the same lead camera and chip but also gain a 120Hz ProMotion display, faster charging, better battery life, a better camera system, more memory and a nice finish, to name but a few benefits.
This is still an outstanding iPhone for those who want a relatively compact 6.1-inch display, or don't want to spend as much as the iPhone 13 Pro Max costs.
One big omission from the new iPhone 14 line is a new mini iPhone, making the iPhone 13 mini the last of its kind right now. The iPhone 13 mini is arguably still the best small phone on the market, thanks to a gorgeous compact design and some great hardware under the hood.
Its 5.4-inch Super Retina XDR OLED screen is smaller than many smartphones, but that means the phone fits comfortably in your hand and is easy to use single-handed. It looks great too, being notably brighter than the iPhone 12 mini before it. The camera is similarly improved year on year and its low-light performance is remarkably good on this camera too. What's more, it's all backed up by Apple's A15 Bionic chipset. The iPhone 13 mini is small yet mighty and still one of the only worthwhile options for small phone lovers.