August is fast slipping away, which means Father's Day is soon approaching and is now less than one week away. That means time is running out if you plan to get that father figure in your life a gift, so we're helping you out with some great last-minute Father's Day gift ideas too. Whether he considers himself a bit of a tech aficionado or is a little averse to electronics, we've got you covered with plenty of practical gift ideas he'll actually use (with a few ideas outside tech too).
Father's Day falls on Sunday, September 4 this year, so if you're shopping for dad, then you ought to get cracking right away to give yourself time to have your present delivered on time. Our Father's Day gift guide has got recommendations for the best smart displays, coffee machines, headphones, ereaders and much more, to help you nail your gift this year, along with handy links to take you directly to the retailer(s) where it's available online.
Here are our picks of the best Father's Day gift ideas for 2022:
Last minute Father's Day gift ideas
Binge subscription
Why you can trust TechRadar We spend hours testing every product or service we review, so you can be sure you're buying the best. Find out more about how we test.
Binge is the home of HBO in Australia, so if you want to give your dad instant access to new shows such as House of the Dragon, or classics including The Sopranos, The Wire and Curb Your Enthusiasm, you can't go wrong with a Binge streaming subscription. It has a good selection of movies, documentaries and kids content too, so it won't just be dad who benefits.
Binge offers a 14-day free trial, and you can get signed up for as little as AU$10 a month, though that'll only let you stream on a single screen at a time. If you've been thinking about signing up to Binge for yourself, then you could consider the standard plan, which costs AU$16 a month, and allows two simultaneous streams at once in HD.
Read our full Binge review

Kayo subscription
Got a sports-mad dad? A subscription to Kayo will be the gift that keeps on giving. Signing up to Kayo this Father's Day will get your dad almost everything sports-related that's available on Foxtel for a pretty nice price. You'll get over 50 sports live and on demand, plus a bunch of excellent features not available on any other platform.
That includes SplitView, which allows you to watch multiple streams at once, and a No Spoilers mode on replays to ensure you don't see the scores of the matches you've missed. Kayo offers a 7-day free trial and, after that, you can get a single stream for AU$25 a month, or two for AU$27.50 a month.
Read our full Kayo review

Outdoor experiences
If your dad isn't one for material things, an outdoor adventure is something special you can do together. Red Balloon is currently offering up to 30% off selected experiences, with everything from hot air balloon flights, whale watching expeditions and catamaran cruises all available to do with dad.
For thrill-seeking dads, Adrenaline is offering discounted experiences to get the blood pumping. You can take your dad for a few laps in a V8 race car, take him quad biking over sand dunes or go skydiving – undoubtedly an experience he'll never forget.
• Get a Father's Day gift from Red Balloon or Adrenaline.

Ebook subscription services
Is your dad an avid reader? There are a few ebook subscriptions services on the market, with the two big players being Kindle Unlimited and Kobo Plus. Kindle Unlimited will be best if he's already got a Kindle ereader, though it's also available to use on phones and tablets via the Kindle app.
Similarly, Kobo Plus is the best option if your dad has a Kobo ereader (if he doesn't, we've recommended the Kobo Libra 2 in this gift guide). Kobo Plus is also easily accessible through desktop, or via the app on your phone or tablet.
Other reading subscription services include Scribd and Readly. Scribd is a pretty versatile subscription service, with plenty of ebooks, audiobooks, magazines or podcasts available on the platform. Readly, on the other hand, is a one-stop-shop for magazines, with thousands of titles available from around the world on the platform for a small monthly fee.

Magazine subscriptions
If your dad still loves to read something physical, consider signing him up for a magazine subscription as a last-minute gift idea. We've got to shout out a few of our expert colleagues, who also write for various tech, gaming, photography, AV and guitar magazines in Australia. To take a look at all the titles our colleagues are writing in, go and check them out at techmags.com.au.

Amazon gift cards
If you're completely stuck for gift ideas, then your safest bet is probably a gift card. An Amazon gift card will give him an almost endless choice of items to choose from, so he's bound to find something he likes, and isn't that what really matters?
It's possible for Amazon to mail you a physical gift card, but with the date closing in, we think it's best to go for an eGift card which will be delivered straight to his inbox. Just click on the link below and you'll be taken straight to Amazon's gift card landing page.
Father's Day gift ideas
Philips OneBlade Pro
We don't test too many grooming products at TechRadar, but our colleagues at T3 do, and they recommend the Philips OneBlade Pro as one of the best beard trimmers you can buy. Unlike some others on the markets, the OneBlade Pro uses a replaceable blade that lasts anywhere between about six weeks to three months.
The dual-sided blade moves up to 200 times a second, so you can trim, edge and shave with accuracy. Better yet, this Pro model even comes with a cutting comb for longer beards. So no matter your dad's style, this should keep him looking well-groomed.
T3's Philips OneBlade Pro review found it considerably gentler than other trimmers, so if you know that dad might be prone to razor burn after a fresh shave, this is a good pick. That said, the review found it was best for cleaning up stubble and shorter beards, so if you're shopping for someone sporting a grizzly beard, take a look at the Remington B5 instead (also recommended by T3).

Therabody Theragun Mini
If the father figure you're shopping for this year is into fitness, or they just want to ease sore muscles and a stiff neck, a massage gun could be exactly what you're after. The Theragun Mini is designed to be compact and portable, so it can easily be slipped into a gym bag or backpack.
Unlike more expensive massage guns made for athletes, the Theragun Mini is squarely aimed at more casual, everyday use, such as those who want to ease the tension from their muscles after hours sitting in an office chair.
While we haven't spent time with this model at TechRadar, our colleagues at T3 have pulled through again with a Theragun Mini review, and they liked it for its ergonomic handle (good for reaching your traps, shoulders and neck) and its relatively quiet motor (compared to bigger and more premium models).

Amazon Echo Show 10
Amazon has a nice range of smart displays, from the smallest Echo Show 5 right up to the largest Echo Show 15, but we've chosen to highlight the Echo Show 10 here for one very cool feature in particular.
The Echo Show 10 is the most intuitive smart display Amazon has made yet, with a 10.1-inch screen that automatically turns to face you, so you (or dad) can walk around and stay in frame when making video calls, or you can stay focused on what you're watching when moving about the room.
It's a neat feature that can also be used while you're away, acting as a security camera to check in on what's happening at home. It could also be a good choice if you want a smart display to play music or video while you're moving around the house, with Prime Video, Netflix and Spotify all onboard. And, of course, it becomes a great hub to control your smart home.
Read our full Amazon Echo Show 10 review

Sony WH-1000XM4
We rate these as the best headphones you can buy, and we gave them a full five stars in our review (which doesn't happen all too often). While there's a newer version out there in the form of the Sony WH-1000XM5, we can't recommend them as strongly due to their significantly higher price tag (and the XM4s are more often on sale too).
So what's to like about these over-ear headphones? Well, they have excellent noise cancellation capabilities so dad can enjoy his favourite tunes, ebooks or podcasts in peace, plus balanced sound quality with powerful bass, and it's all delivered in a light and comfortable form factor. Other neat tricks such as multipoint pairing and conversational awareness sweeten the pot too.
Read our full Sony WH-1000XM4 review

Kobo Libra 2
You'll find the Kobo Libra 2 at the #1 spot in our best ereader buying guide, so if your dad's a bookworm, it's an easy recommendation to make. In fact, we can attest that it was genuinely difficult pinpointing any drawbacks to this ereader while we had it in for review.
It has an asymmetric design and page-turn buttons that make single-hand use comfortable and easy over long periods or in crowded public transport. The improved screen is also more responsive than before, with the text appearing clear and sharp and working exactly as it should.
Overall the reading experience is great and the user interface is self-explanatory. There's a whopping 32GB of storage onboard for dad to carry his entire digital library around, and there's Bluetooth as well for anyone who loves audiobooks (just pair with a set of wireless headphones).
The only people we wouldn't recommend it to are those that mostly read comics and graphic novels, because they don't always fit well on the screen. For all other readers though, the Kobo Libra 2 will make for a great Father's Day gift.
Read our full Kobo Libra 2 review

Lavazza A Modo Mio Deséa
Does your dad need a hit of caffeine to start the day? This pod coffee machine from Lavazza brews it quick and easy, and all in the one cup, so it's very convenient to use (at least for one person).
The drawback of making the coffee in the same cup it's served in is that it's probably not the best choice if you're making coffee for more than one person. It'll need to be divvied up, but we think it's easy enough to pour into separate mugs if you want (plus, you get the benefit of minimal washing up).
Speaking of minimal fuss, while most other coffee machines come with a dedicated milk frother, the Deséa froths the milk directly in the glass mug you drink from. So all dad needs to do is pour the milk, pop in the pod and press a button. Easy!
The milk's heating system is all part of a removable lid that's easy to clean too, and with countertop space at a premium in plenty of households, the Deséa is nice and compact, taking up minimal room.

Sonos Roam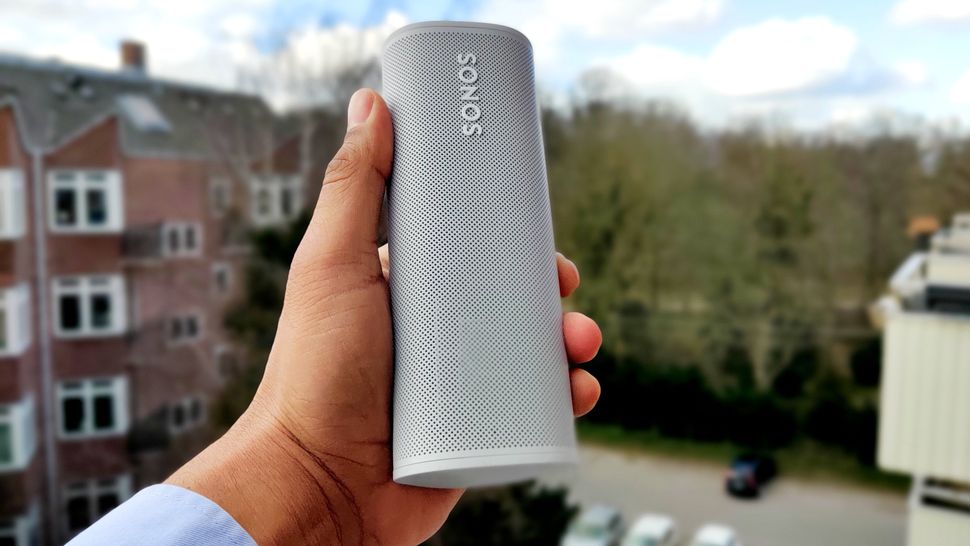 The Sonos Roam has got the #1 spot in our best Bluetooth speakers guide. Despite its deceptively small size, the Sonos Roam can pump out powerful sound. In fact, it even leans a little bass-heavy, perhaps a little too much at times. That sound profile – and its portable design – lends itself very well to outdoor use though.
And the aptly named Roam has definitely been designed for the outdoors. It has both Bluetooth and Wi-Fi connectivity, and its rugged build is waterproof up to the IP67 standard. When dad's partying away from a power outlet, the Sonos Roam can last up to 10 hours of use, so it's a great one for taking when you're out and about.
For indoor use, there's a neat Auto TruePlay feature that allows the Roam to automatically adjust its soundstage to suit the environment it's in. The rhythmic accuracy still isn't perfect though, so if your dad considers himself an audiophile, you might have to look elsewhere.
Read our full Sonos Roam review

Apple AirTag
For a dad that's the forgetful type, or just someone who wants some added reassurance that their valuables are safe when travelling, a Bluetooth tracker could be just the thing they didn't even know they needed. The Apple AirTag is the newest location tracker available, but as you might expect with Apple, it only works with iOS devices.
The Apple AirTags also have a Precision Finding feature, which can be used with an iPhone 11 or above. It uses the Find My app to locate the missing AirTag (or the item it's sitting in), and will provide onscreen instructions and your current distance from the AirTag to help you find it again. It does this by using anonymous data from other iPhones passing by, providing real-time feedback of its location – a handy feature that gives it the edge over competitors such as Tile.
Read our full Apple AirTag review

Garmin Fenix 6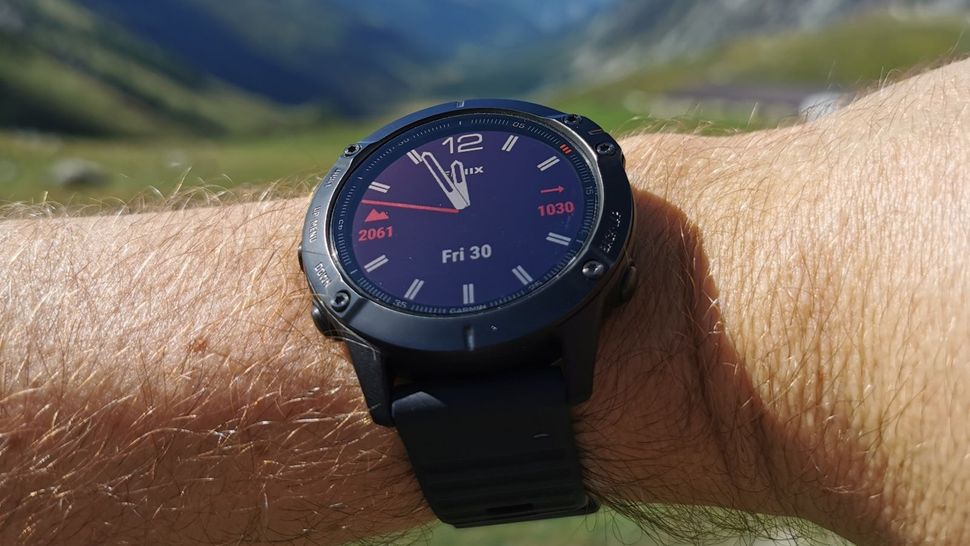 While there's a newer version of this multi-sports watch available in the form of the Garmin Fenix 7, we're recommending the slightly older Fenix 6 for dads who're into outdoor fitness because it can often be found for half the price. It's an excellent watch too, with impressive outdoor tracking, GPS-based mapping and a heart rate sensor that can even work underwater.
We should also note that the Fenix 6 received a major firmware update the day before the launch of the Fenix 7 (which was January if this year), so dad will be getting up-to-date fitness algorithms without the added extra cost to you.
Read our full Garmin Fenix 6 review

Logitech G915 TKL Lightspeed keyboard
If you want to get your dad a schmick new keyboard for the home office, our pick is the Logitech G915 TKL Lightspeed keyboard. We've found it to give a satisfying tactile feedback and typing experience, and it's wireless, with the ability to connect via Logitech's Lightspeed wireless or Bluetooth. We love its compact size and design aesthetic, though it comes at the expense of a wrist rest.
While this is technically a gaming keyboard, we think it's best for daily typing and general use. If you're looking for something more squarely aimed at gaming, our recommendation is the Razer Huntsman v2 Analog keyboard. It has Razers' own mechanical key switches that are fully customisable, and one of the most comfortable wrist rests we've ever used.
Read our full Logitech G915 TKL Lightspeed keyboard review

Nanoleaf Lines
Nanoleaf is the maker behind some truly impressive smart lighting, and the Nanoleaf Lines are the newest addition to its range. They're simple backlit light sticks that can be arranged into almost any pattern you'd like, and, once they're illuminated, they're striking.

Their colours are gorgeous, and if you think your dad won't want to get into the nitty-gritty of customising them himself via the companion app, Nanoleaf has a great selection of preset scenes to suit any mood. They can also be synced to a screen (either a computer monitor or TV, via the desktop app only), kicking dad's gaming or movie nights up a notch.
Read our full Nanoleaf Lines review

Sony PS-LX310BT turntable
Whether your dad's already got a burgeoning record collection or he's just starting out, a turntable could make for a very unique Father's Day gift. While we haven't reviewed this turntable at TechRadar, our colleagues over at What Hi-Fi? gave it a full five stars in their review, and we think it's available for a reasonable price too.
It's a fully automatic record player that's incredibly easy to set up, and it comes with Bluetooth 5.0, so it can be connected to wireless headphones. Sound quality is good too, and while it may not please the audio purists out there, it's perfectly fine for the everyday listener, with plenty of features to make up for it as well.

Ecovacs Deebot Ozmo N8 Plus
A robot vacuum is the gift that keeps on giving: freshly vacuumed floors with very minimal effort. Robot vacuums can be a rather expensive investment, but we're recommending the Ecovacs Deebot N8 Plus because we've often spotted it on sale, and it's a good mid-range option.
This robovac can vacuum and mop, and then empty the dust into its own charging station. Or, if you're not fussed on the auto-empty feature, you can get the regular Ecovacs Deebot N8 without the auto-empty station at a cheaper price.
Read our full Ecovacs Deebot Ozmo N8 Plus review

Belkin BoostUp Charge Pro 3-in-1
If your dad's got an iPhone 12 or iPhone 13, plus an Apple Watch and a pair of AirPods, this nifty 3-in-1 charger will be a welcome addition to his bedside table. It will recharge them all at once, and it does so wirelessly, using up to 15W fast charging to top them up with juice quickly. Belkin's also got plenty of options if he's got an Android device, with a good range of charging pads and charging stands all available.

Kärcher K4 Premium Full Control Home
Got a dad who loves keeping the deck or driveway clean? Consider a pressure washer to make this chore easy for him. Our colleagues at T3 gave the Kärcher K4 a full five stars in their review, and T3 also rates it at the top of its best pressure washer buying guide, so while we haven't spent time with it ourselves, we're confident it's a solid buy.
If you're still feeling unsure though, go check out the video in T3's review. You'll see this pressure washer peeling back caked-in dirt and mould from a patio, to reveal good-as-new light brown pavers underneath – it really is impressive. If your dad takes pride in his front and backyard, you'll nail it with this Father's Day present.