The Barista Touch Impress combines Breville's automated dosing and assisted tamping technology with a new generation of AutoMilQ frothing and an intuitive touchscreen to make it the company's most advanced automatic coffee machine to-date. This offering comes in a more compact form factor than the company's top of the line devices and it brings the price-point of fully-automated café-level coffee at home down significantly too. All adding up to make this the best automatic home coffee machine on the market.
Pros
+

Excellent, consistent espresso

+

Automatic dairy and alternate milk frothing

+

No experience needed
Cons
-

No pro-size 58mm portafilter

-

Full-manual machines cheaper
Why you can trust TechRadar We spend hours testing every product or service we review, so you can be sure you're buying the best. Find out more about how we test.
Breville the Barista Touch Impress: Two-Minute Review
Home-sized manual coffee machines are capable of making excellent coffee, but to really achieve café level quality there's still an expectation to know (or be willing to learn) a lot about how to be a barista.
The Barista Touch Impress is the culmination of Breville's journey over the last few years to work out what the most difficult elements of the manual coffee machine are for first-time users, and develop technological solutions for them.
This machine combines the compact integrated grinder, user-friendly assisted tamping and auto-dosing of the 2022 Barista Express Impress with the intuitive touchscreen and automatic milk frothing of the Barista Touch to make the most user-friendly manual coffee machine available anywhere.
The integrated grinder and tamping mechanism gives you feedback on how much coffee is going into your basket, and the touchscreen provides prompts on exactly what settings you need to change to make it perfect next time. When this info is combined with advice on what to do if the shot takes too long or finishes early, you get a coffee grinding system that can easily be dialled-in for excellent coffee by anyone.
Coffee is only half the equation, however, since the Barista Touch Impress has some impressive credentials for automated milk-heating and frothing too. One of the headline features is customised steam presets that automatically make great oat, soy or almond milks, to add to Breville's already established capabilities and dairy based milk frothing.
If you really know your way around a manual coffee machine, it's possible to make a better coffee than what you'll get using the automated settings on the Barista Touch Impress – but the difference won't be as big as you might think.
For anyone who doesn't like the idea of having to learn about coffee in order to make a good one at home, this is a game changing machine that opens up the doors to cafe-level coffee. Even for experienced baristas that are tight on time and space, the compact form and simplicity of dialling-in different coffees makes the Barista Touch Impress a highly desirable machine.
Breville the Barista Touch Impress: Price and release date
US availability since June 2023
Released on March 14, 2023 in Australia
$1,499.95 / AU$2,299
Releasing in the UK later in 2023
Breville released the Barista Touch Impress to the company's local market (Australia) in March, and then subsequently in June in the US. Breville is planning on rolling out availability across Europe, the UK later in 2023.
The device can be purchased directly from Breville, or through a wide array of local resellers and online marketplaces.
$1,499 / AU$2,299 for a coffee machine is definitely on the higher end of what's available, but even though it is at the top end of the price bracket – when you consider that this machine includes a grinder (often $200 / AU$300 extra), a user-friendly touchscreen and automatic coffee making skills… it's arguably still very good value.
Breville the Barista Touch Impress: Features
Automatic alternative milk frothing
Automatic, mess-free grinder
Approachable touchscreen
Dairy Australia estimates as much as 40 percent of households now drink plant-based milk, a fact that prompted Breville to update its already dairy-competent AutoMilQ frothing technology to include capacity for some of the most popular plant-based milks. The new AutoMilQ frothing capabilities extend to include oat, almond and soy milks by altering the intensity and duration of steam to accommodate for the various milk's fat and protein contents, which are key to the creation and retention of the microfoam volume.
The AutoMilQ technology works through the Barista Touch Impress' milk wand and combines with a base temperature sensor to fold and heat milk to a customisable degree. While you can choose to manually foam the milk yourself by putting the wand in an elevated position, one of the true perks of the system is that you can lock the milk wand down into a jug and walk away while the machine makes the milk for you. Even a seasoned barista will appreciate the convenience of being able to do other things while your coffee is being made.
Key specs
Group Head: 54mm portafilter
Accessories: 480ml milk jug, 1 an 2 cup single or dual walled baskets
Size: 41.7cm x 35.8 cm x 34.3cm
Capacity: 340g hopper, 2L water tank
Memory: 6 customisable coffee's
Grinder: 30 Grind settings, Baratza European Precision Burrs
Power: 1430-1700W
Technologies: ThermoJet heating system, AutoMilQ 40-70 degrees, Impress Puck System with 7-degree barista twist, Touchscreen
The time saving features of the new AutoMilQ tech is complemented by similar progress in the auto grinding and assisted tamping space. If you haven't tried the Barista Impress, it has a newer tamping system than the original automatic tamping fan you get on the Oracle Touch. It does require fractionally more effort than the fully automatic Oracle system, since you'll have to pull a lever to physically tamp your coffee into a puck, but this new system means a tamp that's flatter, more consistent and less likely to create an issue when coffee volume is fractionally off.
The Impress system features a contained grinder silo to minimise any stray coffee grinds, and you'll get feedback on whether you need more or less coffee based on the height of the tamp. Adding a bit more coffee is a simple one-touch solution, where the machine will estimate how much more you need. Simply tamping again will tell you if the added amount was enough to end up with the right dose, and while the process of getting too much coffee out is slightly harder (you have to scrape out the grinds with the included Razor puck trimming too) it doesn't happen regularly enough to be an issue.
The intelligent automatic dosing combines with a system that monitors coffee output time to alert you if your grinds are too coarse or too fine. This is usually a step you have to learn by reading a manual, and while it can seem simple initially, a surprising number of people find the relationship of coffee grind size to pressure difficult to remember.
This automatic information means that you can dial-in and continue to refine your grind size as your coffee oxidises and dries out in the hopper. Many aren't aware that a day of sitting in the hopper is likely to dry out your beans enough to make them need a whole level finer grind to get the same pressure. When you combine this grind size advice with the precise dosing feedback, the machine takes all of the knowledge requirements out of the process of putting beans in a machine and getting coffee capable of producing café level coffee.
Obviously the automatic grinding situation makes it much easier to dial in your machine and keep it producing perfect coffee, but it also has the additional benefit of making it less daunting trying new beans from different roasters. Coffee machines at this level are often built for café efficiency, so once you've dialled in a grinder for a particular coffee, it's much easier to use a separate grinder for single origin beans or for grinding filter coffee rather than constantly adjusting for each. The automatic recommendations on the Barista Touch Impress take one or two wasted shots out of the dial-in process however, which means you're more likely to try a new blend or flavour without feeling like you are adding a lot of work to your plate.
If all that wasn't helpful enough, the Barista Touch Impress also includes a touchscreen that will feel a lot less intimidating for first time users. The software allows you to save your favourite coffee grind, extraction and milk presets with a large set of images to make it really quick to find the coffee you need. From here most of the interactions allow a one button action system that means people without experience will soon find it easy. If you are keen on your coffee, there's enough customizability in easy to access places that means you will undoubtedly be able to customize a coffee to your exact parameters.
Usually we would mention that because this is not a dual-boiler system you won't be able to extract shots and froth milk simultaneously, but you can start a shot and schedule the milk to begin when the shot finishes. Because you don't actually have to hang around to do the milk yourself, the extra 15-20 seconds waiting for a shot to finish becomes way less critical since you're already free to do other things like put the milk away or tend to other breakfast tasks.
The combination of all these features add to form a machine that is truly unique in the home coffee machine space and will appeal to coffee novices and trained baristas alike.
Features score: 5/5
Breville the Barista Touch Impress: Design
Compact, integrated system
3 versatile colors
Great touchscreen layout
While the Barista Touch Impress didn't launch with a colourful Aboriginal Culinary Journey expression like some other Breville products, it does come in three fundamental colours that should be versatile enough to look great in any kitchen design. Whether you opt for the steel, black or white colourings you'll get a sleek looking coffee machine that won't clash with whatever other appliances you have front and centre.

It's not just the look that is great about the design though, since the integrated grinder capabilities means the Barista Touch impress is much more compact than your average home coffee setup. It'll occupy about 40cm of bench-space, which is around 30 percent less than what you'd need for a standard manual machine with grinder setup.
While the group head, milk station and hot water output can feel a little cramped at times, once you're used to where to position everything, you can get it all working seamlessly without too much effort. And when you consider how much space you're saving, having fractionally less work space isn't a massive tradeoff. Plus it's largely irrelevant once you've nailed the workflow since the coffee machine is the one automatically operating the components anyway.
Everything else on the system is expertly designed for ease of use. From the easy to operate tamping lever to the detachable internal kit caddy that slides out when you remove the drip tray, it all works well and feels like it works exactly as it should. The only two imperfect elements were that the water tank handle design means you miss out on an extra 15-percent of water storage space, and because the steam wand flushes itself clean after each use (which is an awesome feature) the drip tray can feel like it needs emptying faster than other machines. Both of these are tiny considerations in a complicated machine with so much done exceptionally well.
The last design feature that's worth commenting on is the touchscreen interface. The icon options for customisable coffee's are an excellent design choice, as is the staged layout of selecting your coffee then pushing a button for each of the processes. Having the hot water button top right next to the settings is an excellent UX design choice, alongside well-designed customisable presets for each of the processes. If all else fails you can watch the included tutorial videos directly on the machine's touchscreen, so overall the software design is a major win.
Design score: 5/5
Breville the Barista Touch Impress: Performance
Excellent and easy espresso
Great milk frothing
Simple to use and clean
A coffee machine can look great and promise a wide range of features, but the one area that is impossible to fake is if it can make a good coffee. The Barista Touch Impress builds on Breville's wide range of home coffee machine technologies to offer a setup that is up-there with the best coffee you can make at home.
The starting point for good home coffee is the grinder, and Breville has used precision burrs from well-known European grinder manufacturer Baratza to ensure the most consistent grind possible. Coffee nerds aren't afraid to get granular about grind size (sorry) so you can spend thousands on more precise grinders, but for a home machine like the Barista Touch Impress it's really only about grinding consistently and fine enough to produce excellent espresso through a 54mm single wall portafilter (the handle).

Throughout testing, I found that the grinder did a good job of repeatedly grinding recently roasted (within a month) coffee designed to be had with milk. The Barista Touch Impress is able to then turn these grinds into espresso shots with consistent and thick crema that covers the whole top surface in the vast majority of cases.
The 54mm portafilter is a slightly smaller surface area than 58mm commercial group heads, which allows Breville to get away with using a smaller pump. This is a really sensible solution in a home machine, as it produces an excellent coffee in a much more compact footprint, but the device did occasionally run an errant shot where the coffee puck would create enough pressure to force a significant over extraction when no settings were changed. It only happened a couple of times over the testing period, making it a problem rate of about 1 or 2 in around 300 – so we don't expect the grind size error to upset anyone, but it is indicative of why someone might invest in more precise professional components.
When it comes to milk, the AutoMilQ frothing capabilities are great for dairy, but your results will vary a bit for the alternate milks. Part of this equation is that alternate milks are simply less well suited to holding microfoam volume due to their lower protein concentrations, but you can probably get around 20-percent better volume and consistency if you are a well trained barista doing your best work. Some fanatics may disagree, but I found this to be a perfectly acceptable tradeoff for not actually having to invest the time to froth milk at all since you still get a great coffee at the end.
Where the AutoMilQ really shines is in consistency. It's not easy to adjust your frothing technique between different milks and achieve perfectly consistent results, so the AutoMilQ is likely to make better milk for those times friends come over with novel coffee requests. The AutoMilQ system means you're free to continue entertaining, but you can always transition to manual mode and take control if you really need a coffee to be perfect.
Breville's water dosage tech means that there's less variability in shot volume when a shot is over- or under-extracted, saving extracted coffee from the sink for anyone who has their coffee with milk. The user interface is really simple to use and allows you to do everything you would want, and refilling water, emptying the drip tray and the cleaning procedures are all straightforward and give you step-by-step instructions on the screen.
While more expensive professional-level machines will allow you to undoubtedly make better coffee, the Barista Touch Impress makes a great coffee and it does it consistently, without needing much oversight from a user. There's really nothing more you could expect from an at home coffee machine.
Audio performance score: 5/5
Breville the Barista Touch Impress: Value
Wide array of automatic features
Expensive, but worth it
Much cheaper than café coffee
While you can get the Barista Touch Impress on sale for less from retailers, the $1,499 (AU$2,299) price tag is one of the most expensive home coffee machines you'll consider. This is especially true if you factor in that it's running a single ThermoJet heating system that it shares between the group head and steam wand, but there's really only two considerations that anyone is going to care about long term: how well does it make coffee and how easy is the process.
As we elaborated in the performance section, the Barista Touch Impress can make an excellent coffee. It is possible for well trained people to get a better extraction from a more powerful 58mm portafilter machine – and if you really know what you are doing there's room for improvement in the device's milk folding and heating capabilities too – but this is really only when you're comparing the coffee here to what you'll get at the best boutique cafes, where coffee's are carefully crafted by professional baristas on $3,900-plus (AU$7,000) machines.
There aren't that many fully automatic home coffee machines... or at least not many that will make you a café level coffee. Those that are available really only start around the $1,400 (AU$2,000) mark, so while this might seem like a prohibitively expensive price for a coffee machine... it's actually excellent value for an automatic machine of this calibre.
Image 1 of 6
Yes, if you know what you're doing you can get similar results from much less expensive machines, but the Breville Barista Touch Impress is going to be capable of making coffee better than almost anyone who hasn't trained professionally – and it does it with minimal input. Even if you know how to make a coffee, the time you get back in not actually having to make it is massive and might be the difference between you saving a lot more by making more coffee at home.
Based on the fact that you'll save around $2 (AU$3) per cup (and it could be more depending on what ingredients you use), it wouldn't be unreasonable for an individual to net out even after a year of at home coffee, or 6 months for a couple. This means it's a machine that is likely to earn its keep many times over during its lifetime.
It's a big step up in price from a pod machine, but other automatic machines are often far more expensive and many will make really average coffee. The combination of Breville's home coffee automation innovations in the compact, single ThermoJet heating system means Barista Touch Impress is a much cheaper automatic coffee machine that offers comparable quality to the best machines with no added effort. This combination of factors make it the best automatic coffee machine for most people.
Value score: 5/5
Should I buy the Barista Touch Impress?
Swipe to scroll horizontally
Breville the Barista Touch Impress

| Attribute | Notes | Rating |
| --- | --- | --- |
| Features | Auto MilQ for all milks, Impress grinding and tamping, auto grind adjustment advice | 5/5 |
| Design | Compact, great colour options, good user interface | 5/5 |
| Performance | Great and easy espresso, impressive automatic milk, easy to clean and use | 5/5 |
| Value | Expensive, but competitive for automatic | 5/5 |
Buy it if...
You want the best value automatic coffee machine
Breville's Oracle Touch is about $1,200 (AU$1,000) more expensive than the Barista Touch Impress and while it can make slightly better coffee, its tamping system is a little more temperamental. It can't froth alternate milks and it is a bulkier machine. This device offers more novel technologies and an almost identical coffee (sometimes better) for a third less cost.
You want good coffee that's simple
There's not many other machines that will automatically make coffee as good as the Barista Touch Impress and none at the same price. If you want a machine that'll do it for you to a high-level, then this is an excellent option.
Don't buy it if...
You know how to make coffee
If you can operate a manual machine you can get the same coffee from the Barista Express for around a quarter of the price, or make better coffee on the Dual Boiler for up to half what you'll pay for the Barista Touch Impress. The automation is by far the most expensive element in the Barista Touch Impress so you can save a bunch with a DIY approach.
You're happy to do a little more for the best possible coffee
The Oracle occasionally goes on sale at prices less than the Barista Touch Impress, and while it has an older grinding system it can produce better coffee with a full 60ml espresso output from the 22g capacity 58mm portafilter. It's still automatic, but it doesn't offer the touchscreen elements that make it seem more approachable.
Also consider...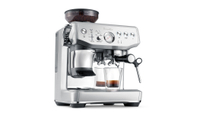 Breville the Barista Express Impress
If you like the idea of a no mess grinder, and have the skills to make espresso and milk using a manual machine then the Barista Express Impress is an excellent option. It's as capable as this machine at a fraction of the cost.
Read our full Breville the Barista Express Impress review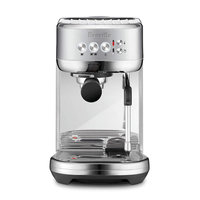 Breville the Bambino Plus
If you're tight on kitchen space or you don't mind sacrificing a bit on coffee quality then the Bambino or the Bambino Plus from Breville are also excellent options. Both offer 9-bar coffee from a 54mm portafilter and can do decent milk, the Bambino Plus just offers AutoMilQ frothing and a simplified pressure gauge.
Read our full Breville Bambino Plus review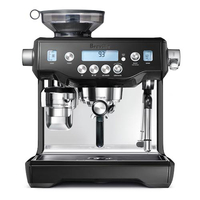 Breville the Oracle
The Oracle is Breville's non touchscreen top end automatic machine and it offers premiere coffee creation capabilities for a similar price to this device. If you're not interested in alternative milks and you're happy without the touchscreen then this is a good alternative.
Read our full Breville the Oracle review
How I tested the Breville Barista Touch Impress
Review test period = 2 months
Testing included = Making a wide variety of coffees
Used an array of premium beans and all variations of compatible milks
I used the Barista Touch Impress as my go-to home and home office coffee machine over a two month period. In addition to making multiple daily coffees using the Single O signature coffee and milk Reservoir blend I used various boutique single origin and robust blends to test various different kinds of coffee with all of the compatible milks. Coffee had been roasted around three weeks ahead of consumption and was stored in an Airscape 1kg canister, after opening, to preserve freshness.
Latest Updates

June 30, 2023
US availibility and pricing details added.

[First reviewed June 2023]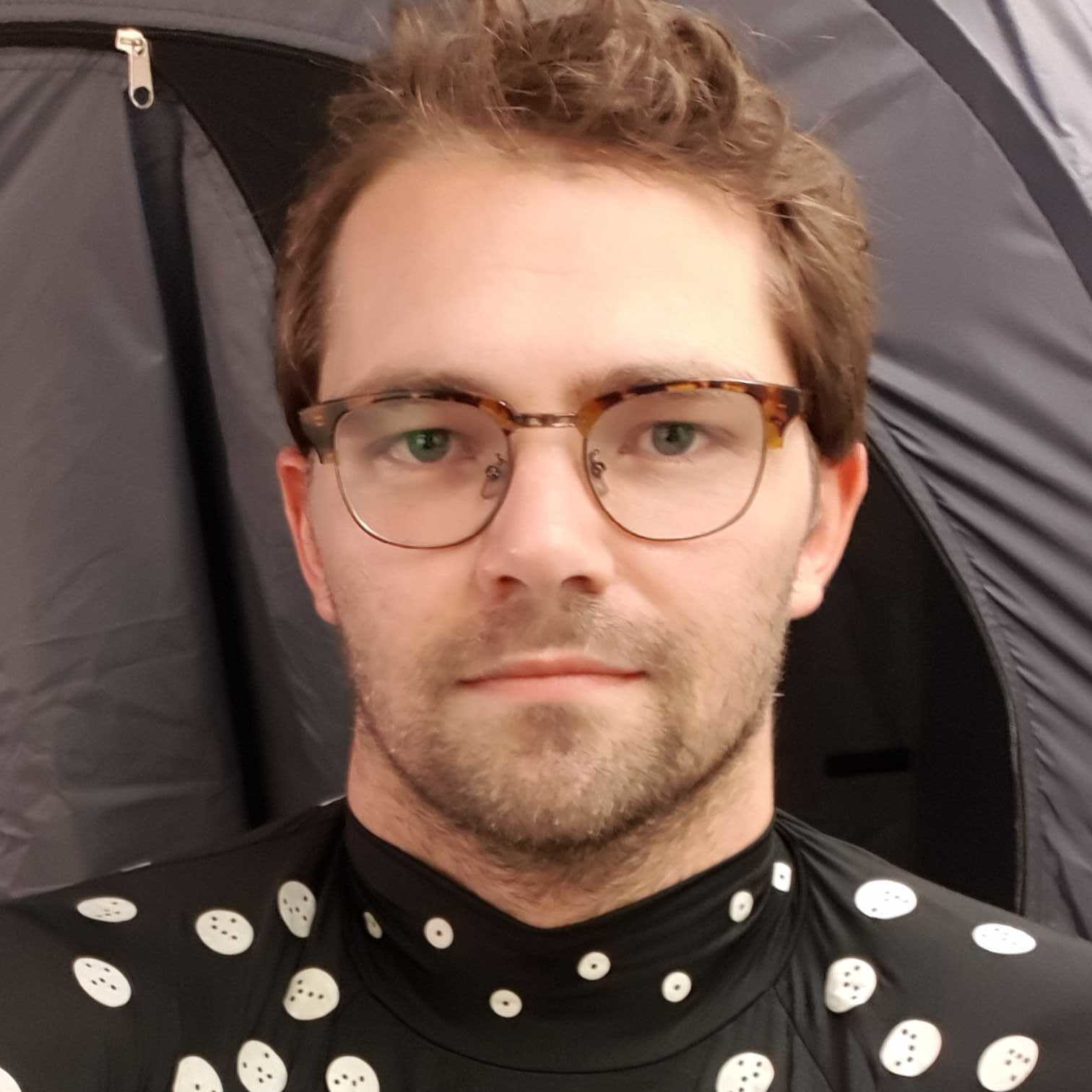 Joel has been the in-house benchmark monkey for the Australian TechRadar team and Australia's two biggest tech magazines (APC and TechLife) since 2014.