The best apps on PlayStation 4
Sony has positioned the PS4 as the ultimate gaming machine, but it's a pretty great device for video and music, too. While it might not be as rich with apps as the Xbox One, there are still plenty of great options for non-gaming entertainment on Sony's popular console, and all of the major apps are available.
With dozens of apps to choose from and many having additional subscription fees, finding the right PS4 apps can be daunting. This is why we've created the TechRadar guide to the greatest PlayStation 4 apps in the world right now.
We'll keep this best-of list constantly updated with the newest PS4 apps that you should download, and if we've left off your favorite, let us know in the comments section.
Netflix
When it comes to streaming apps Netflix is like Corn Flakes: it's the original and the best. Eighteen years after its inception as a DVD rent-by-mail company, Netflix has grown to become the most-used streaming service thanks to its immense library of on-demand movies and shows.
In fact, Netflix has grown to the point where it has now produces its own content, including comedy specials from top performers, and award-winning programs like House of Cards. It's a must-have on any system, so grab it for your PS4.
What's it cost? Streaming-only subscriptions run $8.99 per month (£5.99 for standard definition in the UK, £6.99 for high definition), but you'll get dozens of hours of entertainment for your money. Looking for suggestions? Check out our list of the best Netflix TV shows.
Amazon Instant Video
Remember back in the day when Amazon was just a really big online bookstore? It's grown considerably since and currently has a selection of digital movie purchases and rentals second only to iTunes. Beyond that, Amazon also has a pretty large selection of movies and TV shows that can be watched at any time and at any pace with an Amazon Instant subscription.
The PlayStation 4's Amazon app is actually far superior to the Xbox One version, as rentals and movie purchases can be made within the app. Xbox users, meanwhile, have to rent the movie on their computer, tablet, or phone first, then choose the video for their rental.
What's it cost? A subscription to Amazon Prime, required for access to Amazon Prime Instant Video on PS4, will run you $99/£79 per year. However, even without the Amazon Prime membership, you can still rent or buy digital copies of your favorite shows and movies, which varies in price.
Plex
Chances are you've paid for content before. Whether it's a DVD, a VHS or a digital copy, somewhere down the line you've picked up your favorite films for keeps. What Plex does is let you take the digital copies of those films stored on your computer and stream them to almost any device under the sun via the Plex Media Server.
Plex only recently hit the PlayStation Store, but has made a splash with its digital media-loving audience. As one of the best apps on PlayStation 3, Plex is no stranger to Sony systems. It was a key reason that media enthusiasts chose Sony last generation and may again this time around.
What's it cost? In order to use Plex on a PS4 you need to be a Plex Pass subscriber as well as own a mid-level computer that you can use as the media center. Plex Pass will run you $4.99 (£3, about AU$6) per month or, alternatively, $3.33 (£2, about AU$5) per month if you sign up for a year.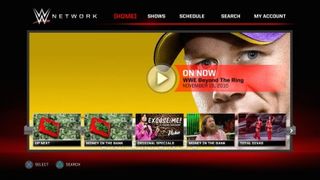 WWE Network
Before last year, the only way to keep up with World Wrestling Entertainment's biggest monthly shows was by spending $40-$50 dollars every month. Fortunately, there's now the WWE Network, an online-only channel that streams previous shows from WWE, WCW and ECW, original shows like top 10 lists and reality programs, and, of course, WWE's major events like WrestleMania, Money in the Bank and the Royal Rumble.
What's it cost? WWE isn't shy about telling viewers about the incredible value they get for "$9.99" (£9.99 in the UK), the monthly cost of a subscription. Heck, it's even on a t-shirt! It's obviously a great value for hardcore viewers, but that low price point makes the WWE Network a pretty fantastic value for lapsed fans as well.
YouTube
The most popular video site on the internet is also a pretty darn good app, too. Whether you want to watch comedy skits or long-form video game commentary tracks, there's plenty of stuff you can watch for long (or short) periods on PlayStation 4.
The Xbox One and PS4 versions of these apps are almost indistinguishable from one another, though it's hard to fault YouTube for failing to improve upon its tried and true console user interface.
What's it cost? As you might expect, downloading the app is free and most of the content is free to watch, though some creators (mostly major movie studios) do charge rental fees for a few videos. YouTube video creators have the option to insert advertisements at the beginning and in the middle of their video in order to make a little bit of extra money at the viewer's expense - an option which they often exercise.
HBO Go (US Only)
Formerly known for having the biggest library of recent hit movies, Home Box Office's real draw over the last decade is its consistent slate of award-winning original shows.
HBO Go collects a wide swath of recent movies and almost every major program that's aired on the channel. From classics like The Sopranos and Curb Your Enthusiasm to modern hits like Veep and Game of Thrones, there may be no greater collection of on-demand shows than HBO Go's.
What's it cost? Unfortunately, HBO Go is only currently usable if you have HBO on cable. On the bright side, most cable operators now offer cheaper packages that carry little more than local channels and HBO for a reasonable price (usually in the $20 a month range).
Another bit of bad news comes in the form of a weird restriction that keeps Comcast subscribers from accessing HBO on PlayStation consoles (whereas Xbox One owners can tie their Comcast accounts to their console). HBO has announced a standalone option called HBO Now, which debuted on Apple TV and other iOS devices in April, but it won't be available on non-Apple devices until July.
PlayStation Vue (US Only)
Former cable subscribers know how tough it is to make up for the sheer amount of content lost when cutting the cord. While the likes of Netflix and Hulu have quite a bit of content (and great original programming to boot), most alternatives lack the depth of a pricy cable plan with a spacious DVR.
While it's still very limited in its availability, PlayStation Vue could become one of the biggest cable-killers around. PlayStation Vue offers dozens of the most popular channels (either live or archived) at prices far more accommodating than cable. It's also smarter than any cable option we've seen, giving suggestions on live programming based on what you've watched before and storing far more content than any DVR thanks to cloud saving.
What's it cost? PlayStation Vue is a cable competitor and is priced as such. The cheapest option bundles over 50 networks for $50, while you can get over 80 channels for $80. Unfortunately, PlayStation Vue hasn't launched widely yet, as the services is only available in three markets: Chicago, New York City and Philadelphia.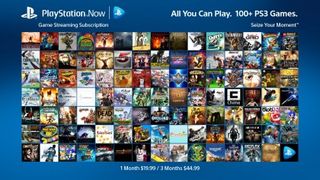 PlayStation Now
Don't be ashamed if you attempted to put a PlayStation 3 game in your PS4 after purchasing Sony's next-gen console. Both the PS2 and PS3 touted backwards compatibility as a major feature before the PS4 ditched it to focus more power on modern games. It may have taken awhile, but there is now a way to explore a portion of the PlayStation 3's catalog via streaming, and it's called PlayStation Now.
There are around 300 games to rent and over 100 with unlimited access via a subscription. This means if you're iffy about buying another big black box to attach to your television, Now has a ton of options for those who want to play the previous generation's greatest games.
The downside is that the service isn't exactly ready for prime time in the UK and is only available in beta form.
What's it cost? If you want to rent games (which is done directly through the PlayStation Store), prepare for some confusion. Rentals vary from $2 for four hours of access to 90-day rentals running $23. Some games offer multiple subscription options, while others stick with a single method.
While it cuts the availability by a third, for $20 a month you can subscribe to unlimited access to over 100 games via the PlayStation Now app. Or, you can pay $45 for three months of unlimited access. It's still a bit paltry for the price, but with Sony adding to the subscription pool every month the deal becomes better every 30 or so days.
PlayStation Music
Music apps get the short stick on consoles. On the occasion when you'd like to listen to some tunes on your TV , there's only one option for the PS4. Fortunately, it happens to be one of the best music streaming services in the world.
For the last seven years, Spotify has been amassing one of the largest streamable music libraries in the world, and it's at your disposal on the PlayStation 4. If there's a popular song you want to hear, there's a good chance you can find it amongst Spotify's 20-million-plus tunes, add it to your playlists, and find similar songs via Spotify's recommendations.
What's it cost? You can listen to Spotify for free, though you'll have to deal with an average sound quality and frequent advertisements between tunes. The $10/£10 monthly subscription eliminates ads, bumps up the sound quality, and allows users to download tunes for offline listening (though that last bit is only available on mobile devices and desktops, unfortunately).
Share Factory
Sharing your in-game activities is a central part of the PS4layStation 4 ... heck, there's even a button on your controller dedicated to it. Beyond the surface level stuff like your friends' activities listed for any game you choose, you can be a bit more proactive and disseminate your top gaming moments to the public at large.
In addition to streaming, there's the Share Factory app that allows for editing of video clips captured on your PlayStation 4. While your crazy headshot in Killzone or clutch home run in MLB 15: The Show may be impressive on its own, Share Factory provides the ability to add intro and outro graphics, text titles, audio commentary via headset, video commentary via PlayStation Camera and background music from Sony's catalog or your own collection. When you're done, you can even download the final product to a USB stick to send it out the way you want.
What's it cost? Share Factory is completely free, and you can add anything short of video to your clips without having to make a single purchase. If you want to put a face to your great gaming moments, you'll have to buy a PlayStation Camera, which currently sells for $60/£70.